Victoria, Texas is a vibrant South Texas City situated about two hours south of Houston on the banks of the Guadalupe River. With a population of over 60,000, it manages to exude small-town charm while still offering plenty of bigger city amenities. 
With so many fun things to do in Victoria, Texas, it's the perfect destination for a weekend getaway. It's conveniently located within two hours of Houston and San Antonio and is close to the coast as well. Our list of top things to do in Victoria includes many free options, which is great if you're on a tight budget. 
Here are thirteen of the top things to do in Victoria, TX.
13 Top Things to do in Victoria, TX
Victoria Educational Gardens
The Victoria Educational Gardens might be small, but it is definitely not something to miss. It's one of the top things to do in Victoria Texas for nature lovers, families, and anyone who wants to learn more about the local flora and fauna. The Gardens feature a variety of beautifully landscaped displays, showcasing different types of plants and flowers that are native to the region.
If you look closely, you might spy all 26 letters of the alphabet hidden among the plants, pointing to items that begin with that letter. 
The butterfly garden is a prominent feature of the gardens, as is the Butterfly Haven, an enclosed structure filled with plants associated with various butterfly species. 
Admission is free and the gardens are open from dawn to dusk daily.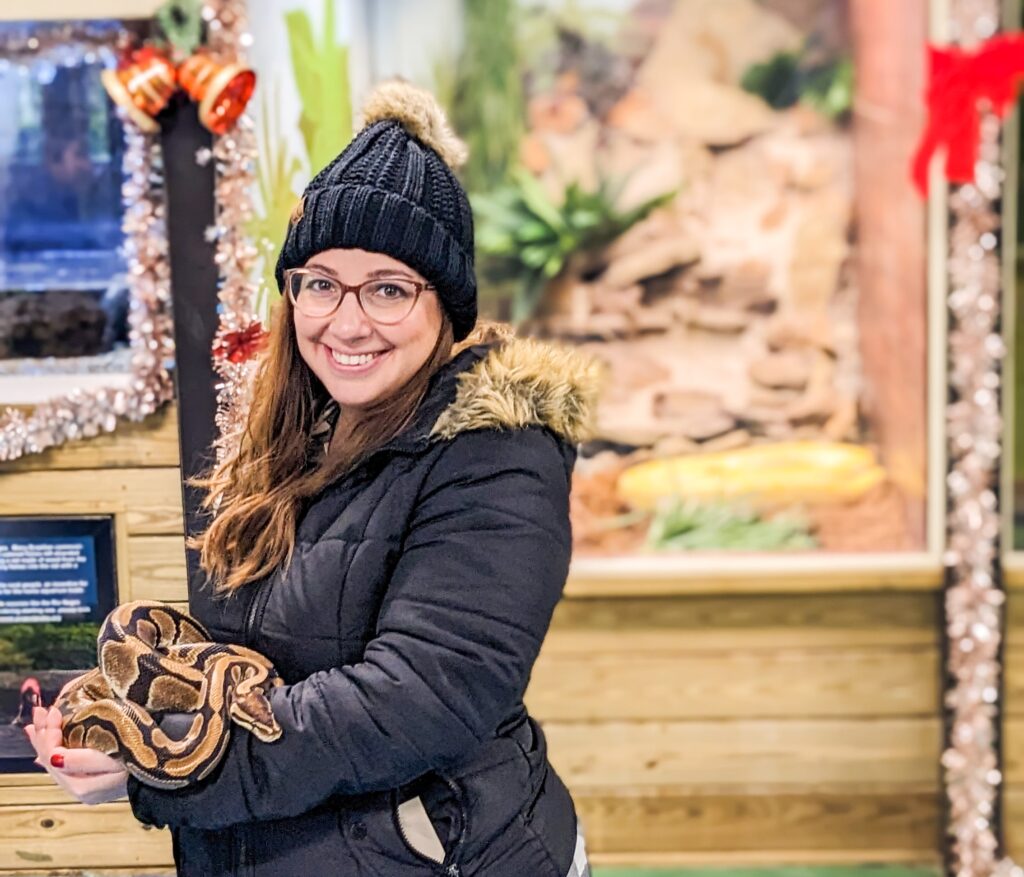 The Texas zoo houses over 70 species of animals, many of which are rescue animals that can't be returned to the wild, or come from owners who can longer provide care. Animals who call the Texas Zoo home range from native Texas species to exotic animals from around the world. We saw everything from bunny rabbits and prairie dogs to jaguars and tigers.
You can learn about the fascinating habitats, behaviors, and diets of the animals and see them up close in their well-maintained habitats. Plus, they offer opportunities to get up close and personal with the animals. We got to hold a snake, pet and feed the bunnies, and even feed a bear!
Admission: 
$10.50 Adults (age 13+) 
$9.50 Children (age 3-12)
$9.50 Seniors (age 55+)    
$9.50 Active/Retired Military 
Free Toddlers (age 2 and under) 
The Texas Zoo is open 7 days a week, Sunday – Saturday, 10AM-4PM
Riverside Park
Riverside Park is a beautiful park with access to the Guadalupe River. It's home to the Texas Zoo, an expansive playground, a golf course, a rose garden, and a disc golf course, to name just a few attractions. 
Victoria Paddle Trail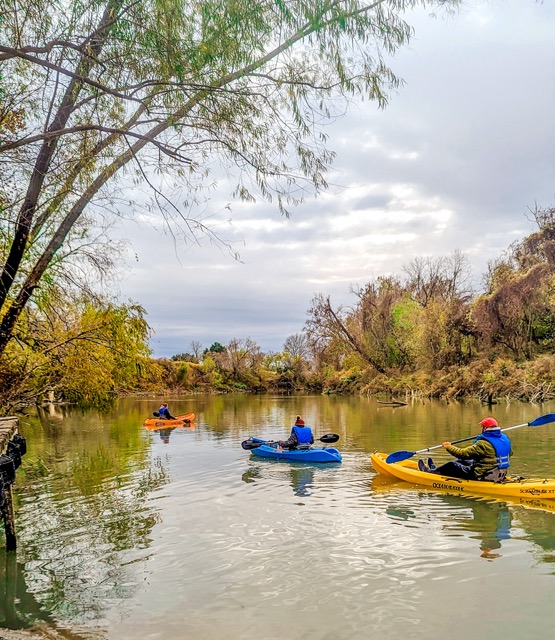 The Guadalupe River runs right through the city and provides plenty of opportunities for swimming, fishing, and paddling. We rented kayaks from Flow Paddle Co. and took a trip down the river. Even though it was winter, and a cold day at that, it was a beautiful paddle trip through calm water and stunning views.
Coleto Creek Park
If you can't get enough of the water, head over to Coleto Creek Park. Situated midway between Victoria and Goliad, the park surrounds the Coleto Creek Reservoir. The main purpose of the reservoir is to serve as a cooling pond for the Coleto Creek Power coal-fired power plant, but you can also fish and swim. There's a public boat ramp and numerous campsites, including cabins and RV hookups. 
Admission is $17/vehicle/day for up to 4 people and $5/additional person for larger groups.
Athey Nature Preserve
The Athey Nature Preserve is a wide-open grassy area with a few wooded trails. In addition to exploring the trails, you can head over to the Athey Nature Sanctuary Birding Deck to see what birds you can find. The city provides disposable cardboard binoculars for guests to better see the birds attracted to the various feeding stations around the deck.
Historic Downtown
In addition to all the beautiful nature, Victoria has a thriving historic downtown district undergoing revitalization. Colorful murals line the walls and even the crosswalks, and there are plenty of cute shops and restaurants to keep you busy all day.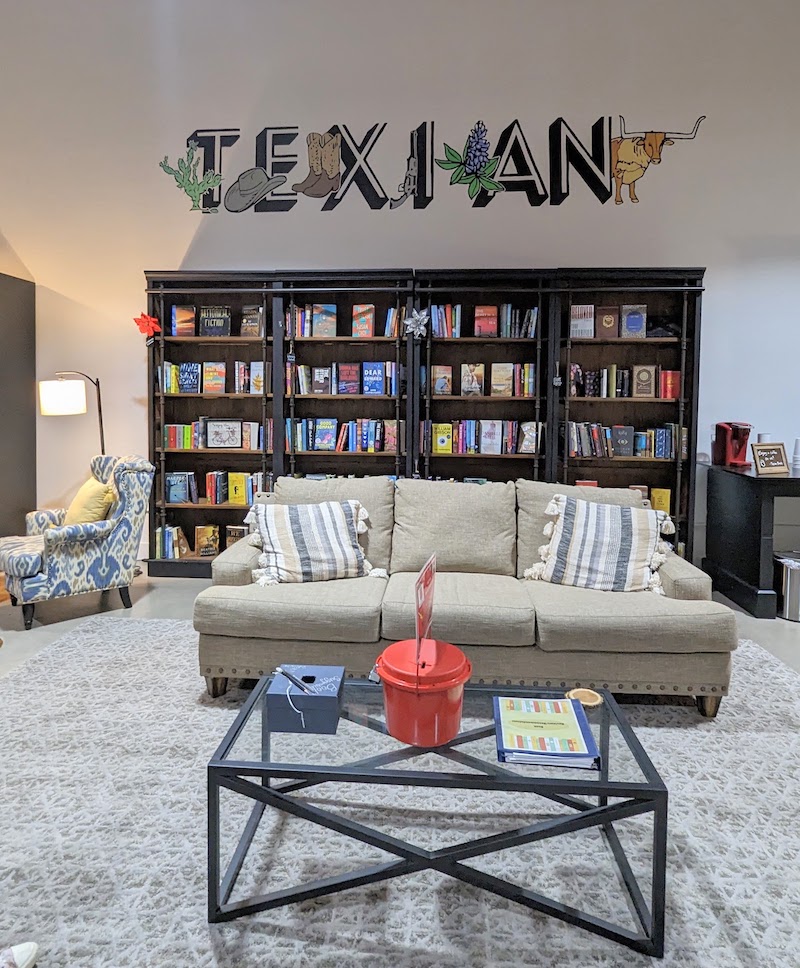 Our favorite store we visited was The Texian, a locally owned bookstore featuring a vast array of popular novels, children's books, and rare vintage books. There are comfortable seating areas for both kids and adults, with beanbags for the kids and artfully arranged couches and wing-back chairs for the adults. They even host book clubs where locals can gather to discuss the latest book.
Victoria Courthouse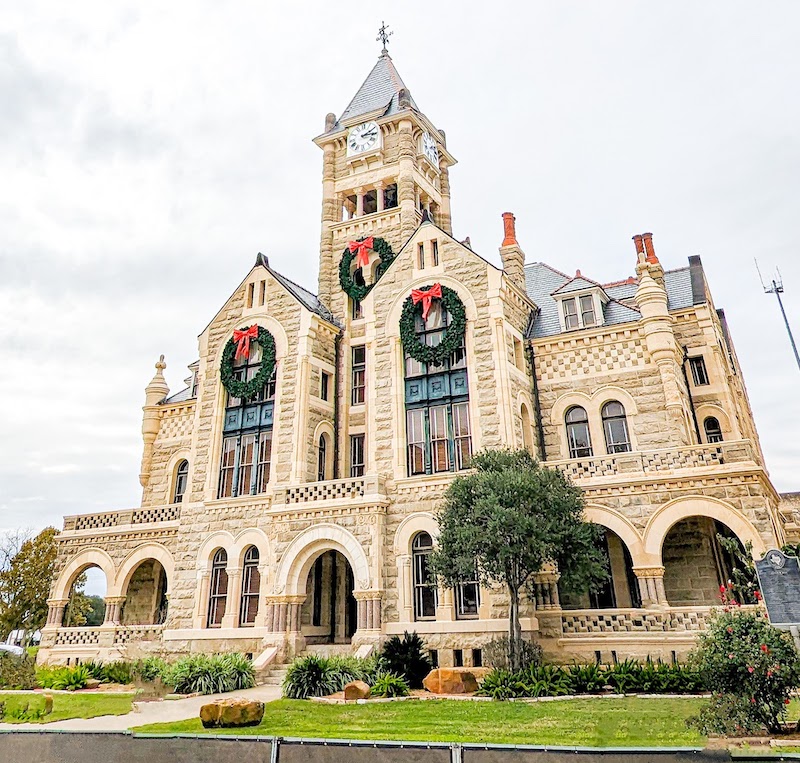 The Victoria Courthouse is one of the most beautiful courthouses in Texas. Built in the Romanesque style, this magnificent structure dates back to 1892 and is made of Texas granite and Indiana limestone. 
Open to the public, Monday-Friday 8AM-5PM.
Old Victoria Driving Tour
If you're obsessed with old houses like I am, you'll love the driving tour that takes you past some magnificent historic homes. There are 80+ homes on this tour, many of which are listed on the National Register of Historic Places and have been awarded Texas Historic Landmark status.
The Axe Society is a great place to let off some steam. In addition to being a great place to hone your ax-throwing skills (which is a lot harder than it looks), the ax yard also features incredible artwork all over the walls, created by the owner. But perhaps the most striking feature of The Axe Society is the giant 'Iron Throne' made up of dozens of axes.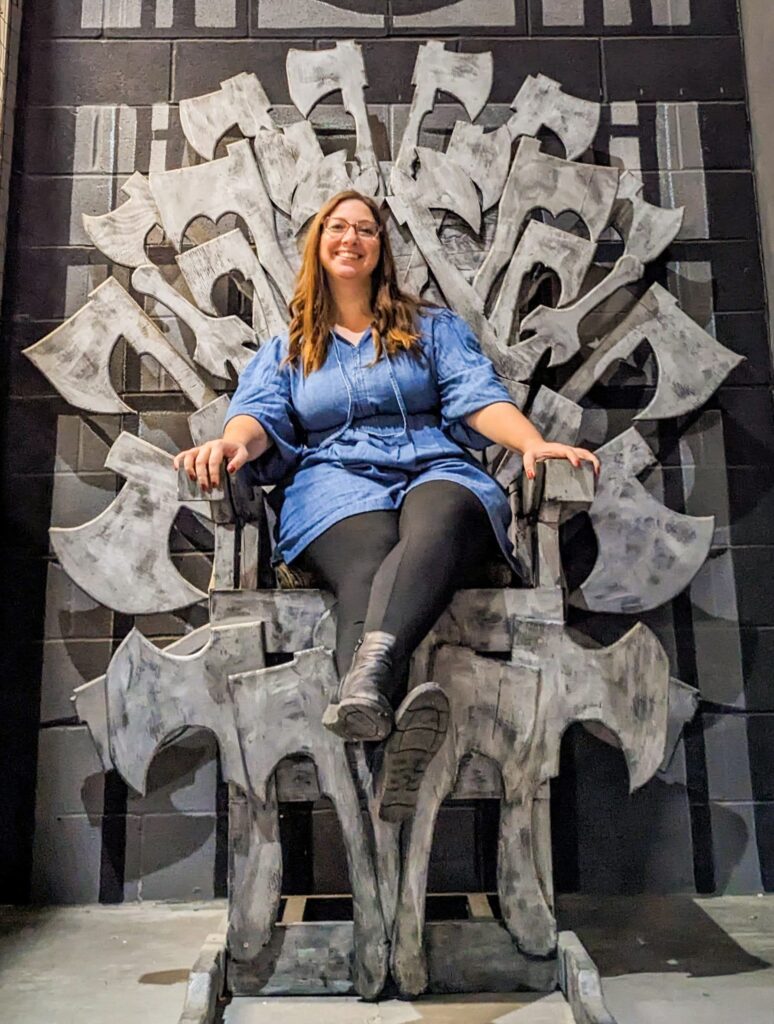 Reservations start at $22 per person per hour.
Monday 6:00 pm – 11:00 pm
Tuesday 6:00 pm – 11:00 pm
Wednesday 6:00 pm – 11:00 pm
Thursday 6:00 pm – 11:00 pm
Friday 6:00 pm – 11:00 pm
Saturday 1:00 pm – 11:00 pm
Sunday 1:00 pm – 9:00 pm
For some more family fun, head over to Outlaw Pass. Here you can enjoy arcades, mini golf, and other fun activities like bungee jumping, go-karts, a mini roller coaster, and more. You can opt to do just one activity for a quick visit or purchase a package of activities to save some cash. Grab some food while you're at it and make a day of it.  
Summer Hours
Starts May 30th
Tuesday – Thursday : 11am – 10pm
Friday : 11am – 11pm
Saturday : 10am – 11pm
Sunday : 1pm – 8pm
Closed Mondays
Winter Hours
Starts August 10th
Wednesday – Thursday : 3pm – 8pm
Friday : 3pm – 11pm
Saturday : 10am – 11pm
Sunday : 1pm – 8pm
Closed Mondays & Tuesdays
The Children's Discovery Museum is a fun outing for little kids. There are a variety of interactive exhibits, like building your own sailboat and placing it in front of a fan to see how fast it will sail, or building a maze of gears to see how one moving affects the others. There's also a mini town where kids can be bankers, supermarket cashiers, vets, doctors, frontiersmen, and even put on their own play.
The museum is open Tuesdays – Saturdays from 10am – 5pm.
Admission is $8 per person and children 23 months and younger are free.
Fannin Battleground State Historic Site
Major battles of the Texas Revolution were fought in this region of Texas. One such battle, the Battle of Coleto Creek, was fought right outside Victoria on March 19 and March 20, 1836. The Texas army, led by Col. James W. Fannin surrendered to Mexican forces, but in a macabre twist, Fannin and his men were executed by Santa Anna in nearby Goliad. "Remember Goliad!" became the battle chant after this brutal, surprise execution.
At the Fannin Battleground, you'll find a giant stone obelisk marking the spot where Fannin surrendered. There are picnic areas, a large group pavilion, and an indoor interpretive exhibit that delves deeper into the history of the Battle of Coleto Creek. This is a great stop to combine with a trip to Goliad State Park.
Victoria is a great place to visit on its own as a weekend getaway or as part of a larger road trip. With Houston not too far north, Corpus Christi to the Southeast, and San Antonio to the west, there is plenty to explore in the area. And while we tried to provide as much information as possible on all the top things to do in Victoria Texas, there's no substitute for heading over and experiencing it for yourself.
Looking for a place to stay in Victoria?
Move around the map below to find hotels and vacation rentals in Victoria.