As the second largest city in Texas, you'd expect there to be no end of fun things to do in San Antonio with kids, and you'd be right! San Antonio is a big city with a laid back vibe that makes it an ideal family vacation destination. It has a great mix of commercialized activities and old fashioned fun.
If you can, I particularly recommend visiting during the holidays, when the riverwalk is draped in thousands of lights that glisten and sparkle, reflecting off the water. But anytime you choose to visit will be a great time.
Here are some of my recommendations for the best things to do in San Antonio with kids, plus where to stay.
Fun Things to do in San Antonio with Kids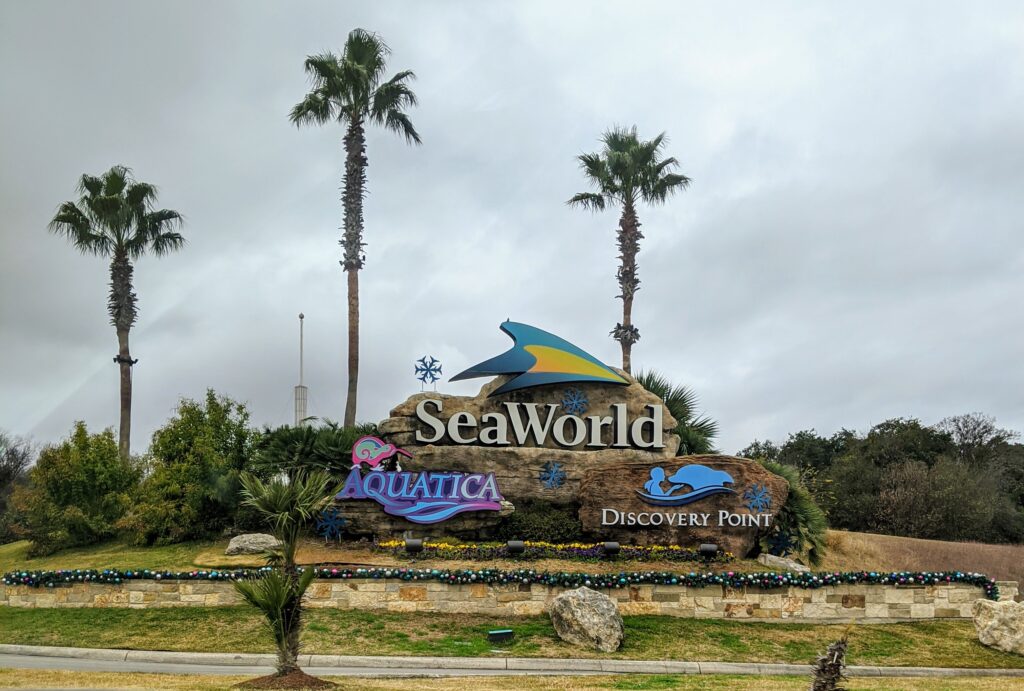 Most people think of Florida or California when they hear SeaWorld but there's actually a SeaWorld right here in Texas, in San Antonio! The park has plenty of rides, from high-speed roller coasters, including the Texas Stingray, the fastest, longest, and tallest wooden roller coaster in Texas, and the Steel Eel, (so named for the nerves you need to have to ride it, I believe), to a slightly less intense swinging, spinning, and river rapids rides.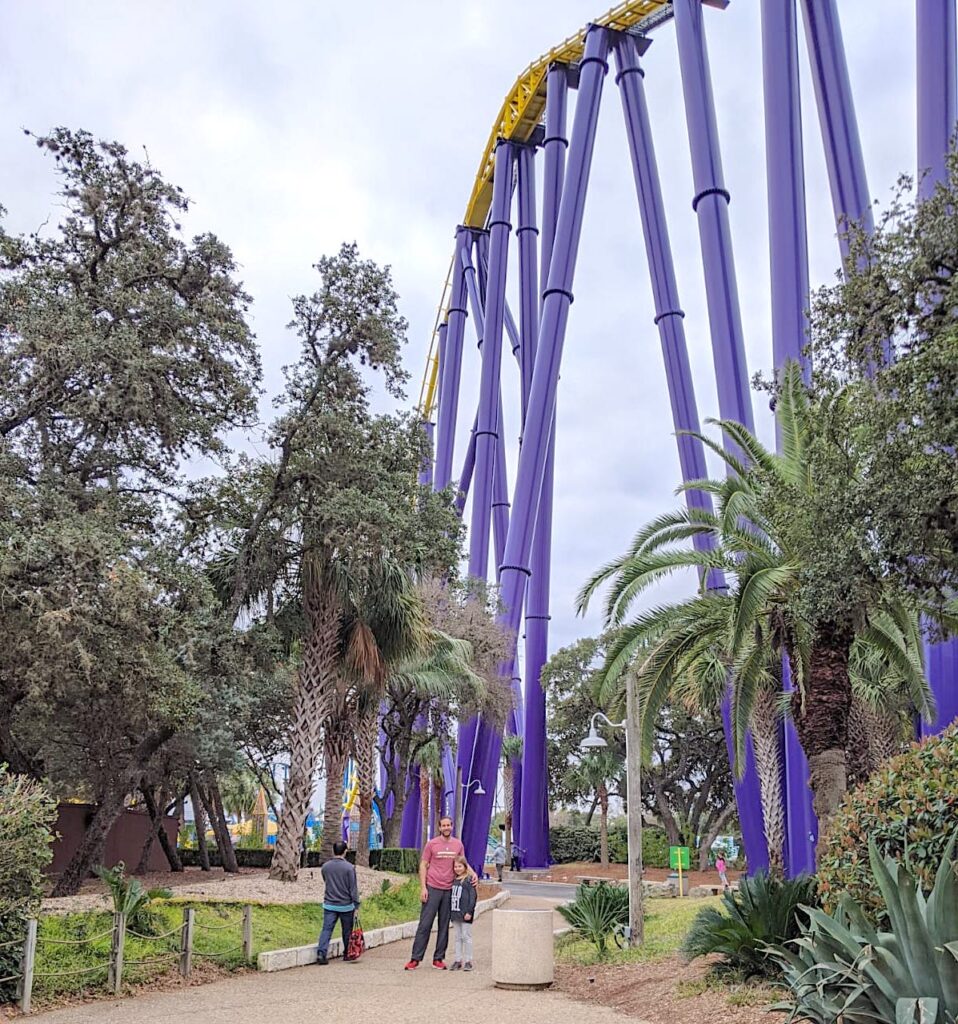 For those who prefer not to have their insides shaken and their brains turned to mush, there are plenty of animal shows and experiences to enjoy as well. Beware – some of their shows call for audience sacrifices – I mean participants – and your kids might not be able to contain themselves from laughter. I'm not speaking from personal experience or anything….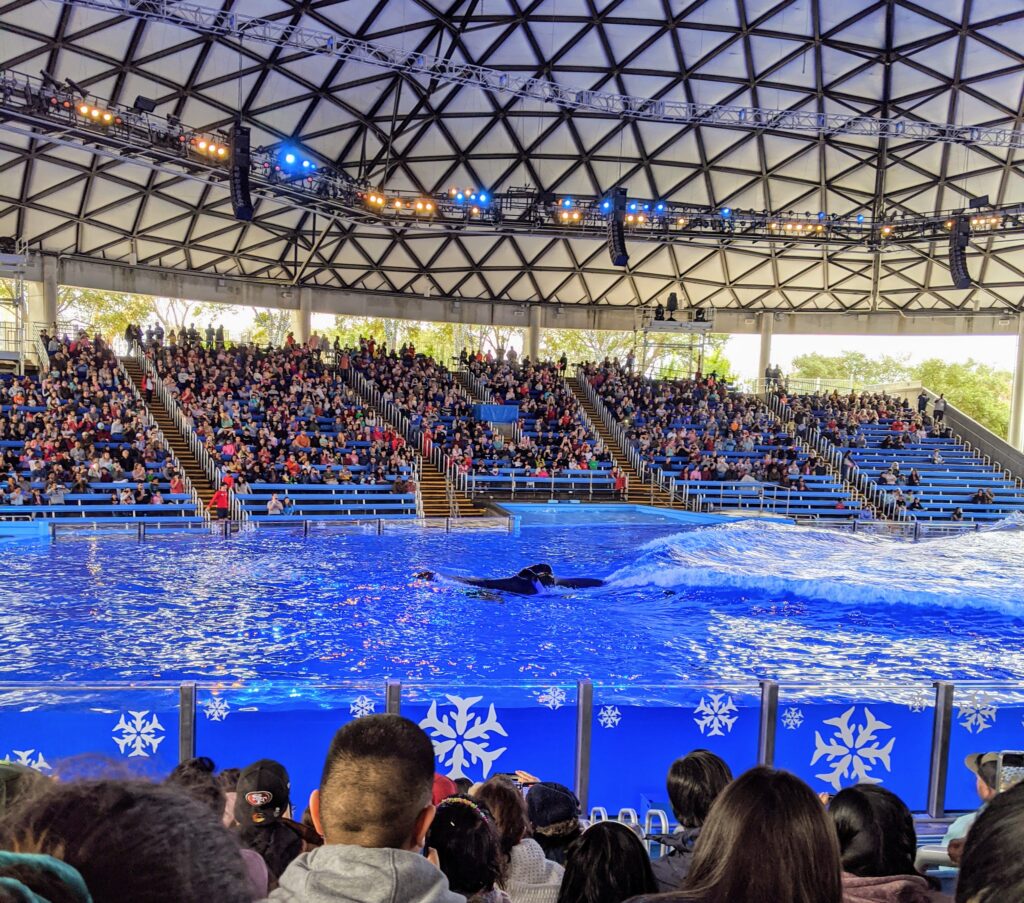 If you go during the winter, the whole place is decked out for Christmas and every show is Christmas-themed. If you celebrate Christmas, your kids will love it. If you don't, well, your kids will still love it 🙂
Legoland Discovery Center
There are actually two Legoland's in Texas, and both are 'discovery centers', which means their not full theme parks like the ones in Florida or California. The one in Dallas is bigger, and in my opinion, a better experience, but the one in San Antonio is fun too – just don't plan on spending more than a couple of hours here.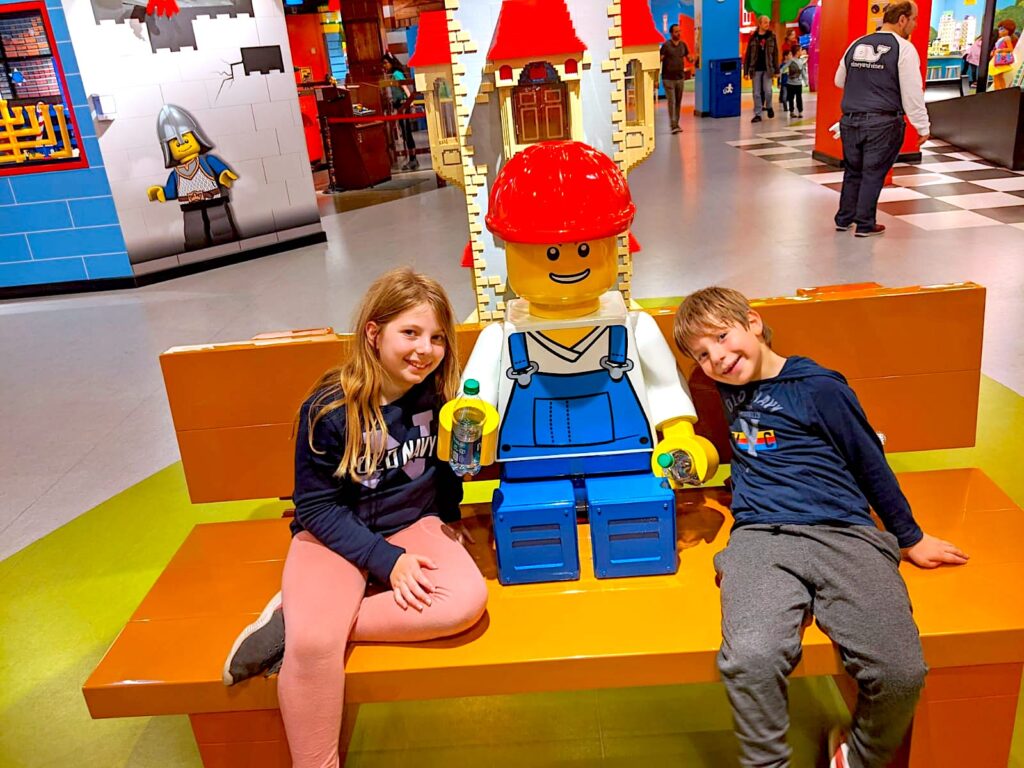 Legoland Discovery Center in San Antonio features 12 rides. Our kids loved the Merlin's Apprentice ride, where you had to pedal as fast as you can to get your cart to rise up as it 'flew' around and around. The Kingdom Quest ride was also fun. The 'chariot' takes you along a track and you have to shoot at trolls and skeletons to rescue the princess.
There's also a mini San Antonio built out of lego, which is incredibly fascinating. It features all of San Antonio's hot spots, including the Alamo, all the other missions, the river walk, Tower of the Americas, Breckenridge park, and more. It's made up of 1.5 million lego bricks!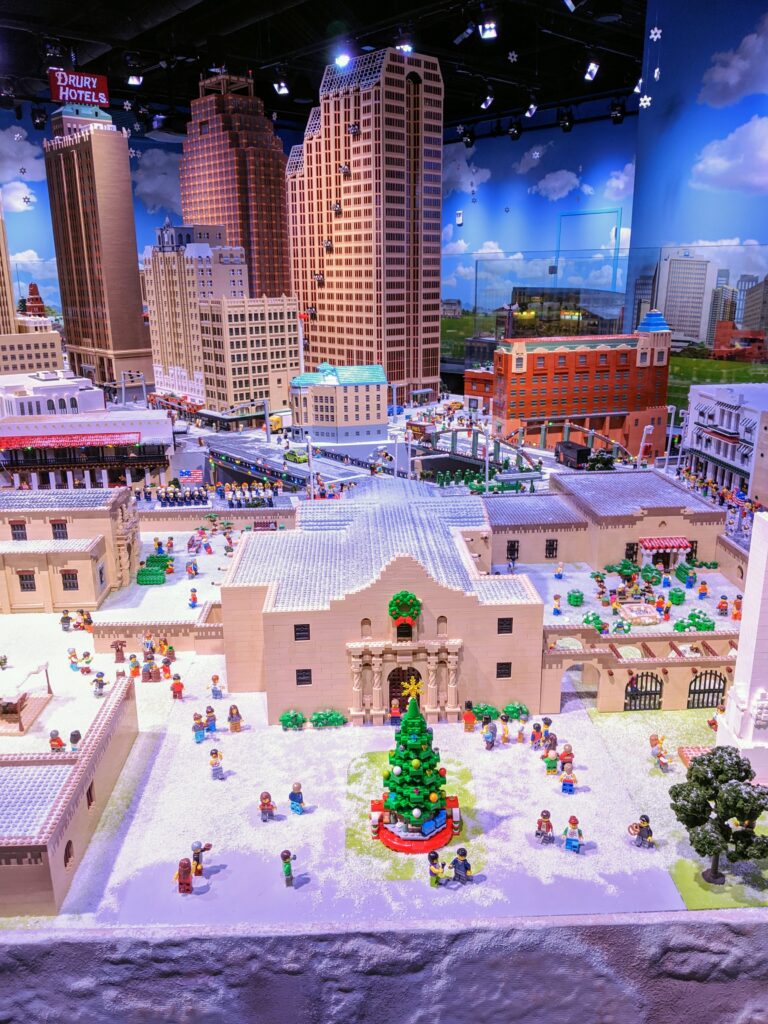 Other features include a lego workshop, where you can learn to build something small with lego, a 4D movie, a space to build and race lego cars, and a DUPLO village for the little ones. There's also a two story play area, LEGO® City Construction Site, complete with climbing walls, slides and a jungle gym, that was actually the highlight for our kids. They could have spent forever playing in there.
The Riverwalk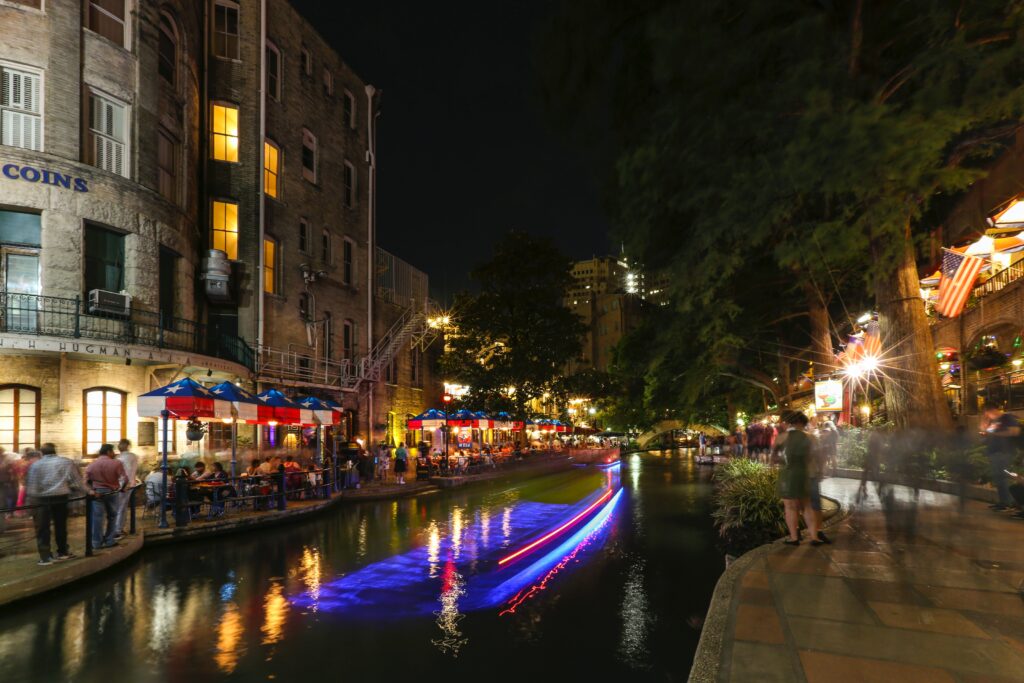 The San Antonio Riverwalk is beautiful to visit any time of year. Multiple cafes and shops line the paths, so you can shop with a view, and then dine outside at the river's edge. It's a really nice place to just walk around and see the sights.
You can take a guided boat tour down the river and hear the history of the riverwalk and San Antonio. You'll see signs directing you where to buy tickets. Recently, the city actually opened up that part of the river for kayaking for a short period of time, so depending on when you visit, that might be an option as well.
Breckenridge Park
Breckenridge Park is a beautiful park in the heart of San Antonio. It's right near some of San Antonio's other great attractions, like the Japanese Tea Gardens and the zoo, so you'll definitely want to hit it up when you visit San Antonio.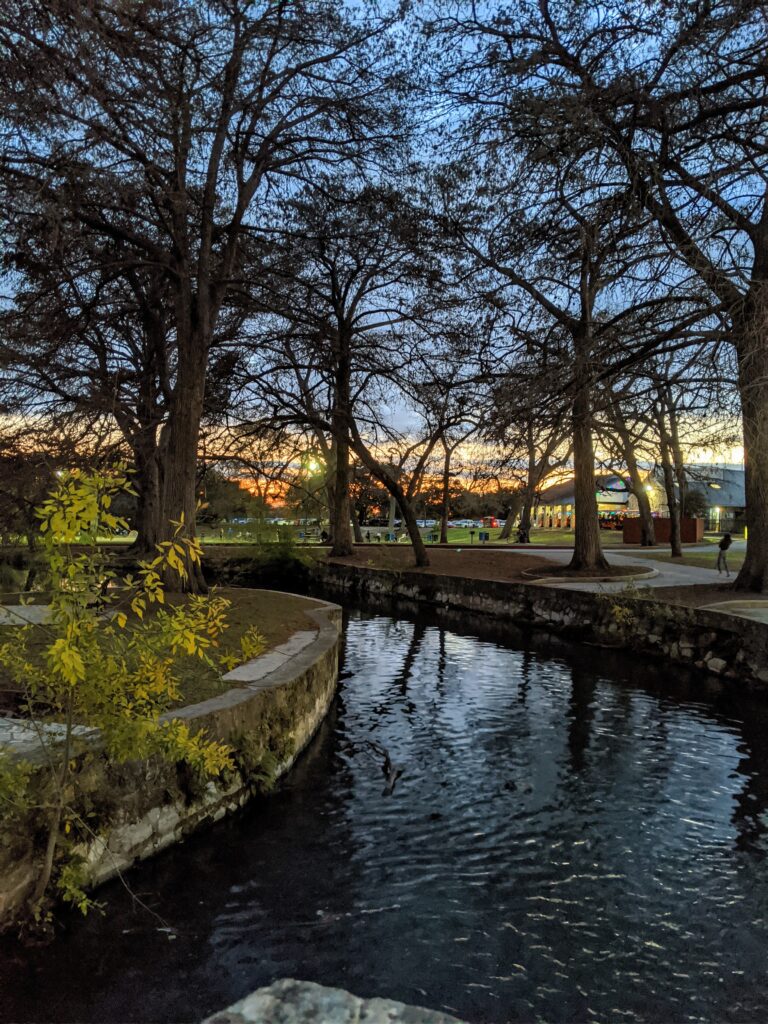 The San Antonio river flows through the park, so it's really pretty to walk around there. We had a great time playing soccer at the river's edge, praying the soccer ball didn't fall in. (We named that game 'soccer roulette')
We also took the train ride around the park, which gave us some great views of the park. You'll want to head to the Starbucks near the zoo entrance to pick up your tickets for the train ride.
Japanese Tea Gardens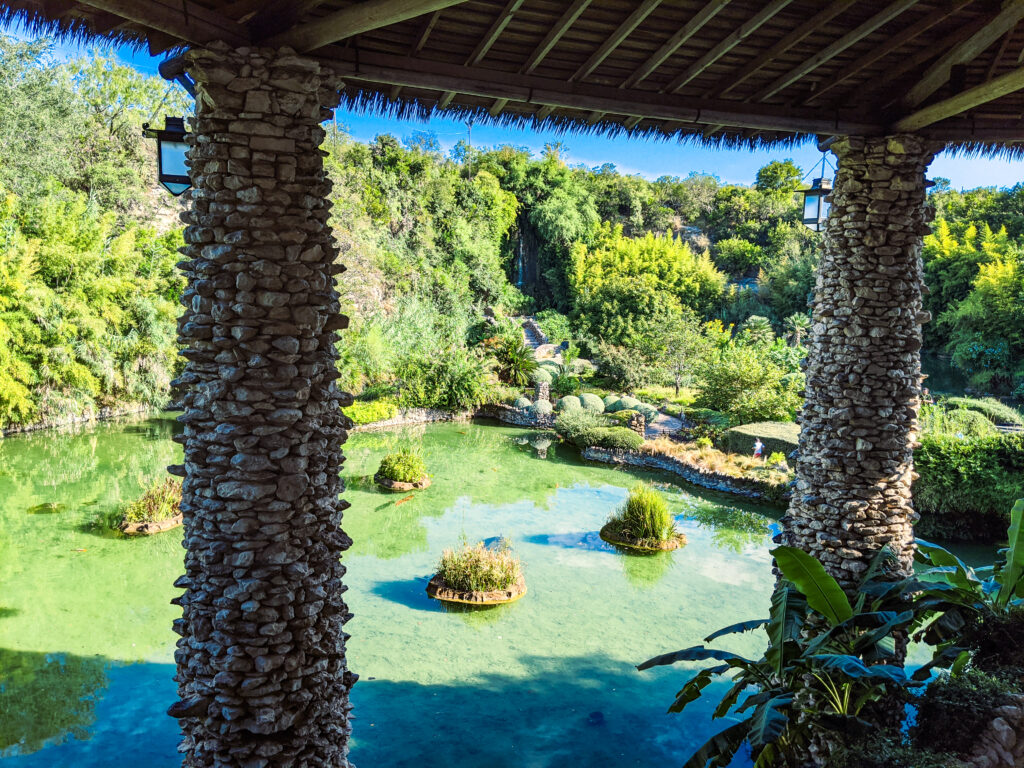 The Japanese Tea Gardens are absolutely beautiful. There's a huge pond with bridges and paths crisscrossing over it, and a tall waterfall at the end. Our kids loved looking into the clear water and watching all the different interesting fish swimming in there. It's a lovely place to walk around, and the fact that it's free to enter doesn't hurt either.
Buckhorn Museum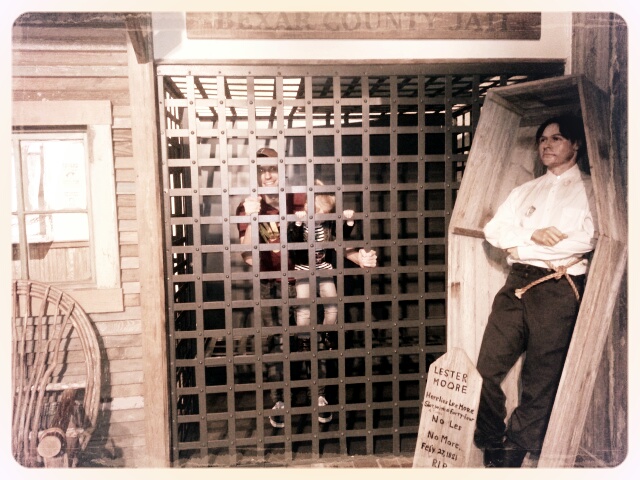 The Buckhorn Museum is one of our favorite things to do in San Antonio with kids. The museum features an exotic animal collection, The Texas Ranger Museum, a saloon, cafe, and a gift shop. Our favorite part was the little town, showcasing San Antonio at the turn of the 20th century, including a replica of Bonnie and Clyde's car, complete with bullet holes. You can read our full review of the Buckhorn Saloon and Museum here.
The Alamo
You didn't think I was going to leave the Alamo off this list, did you? You can choose from a free tour where you can explore at your leisure, or book a tour with a guide to learn about the historic battle during the Texas Revolution that cost the lives of all the defenders.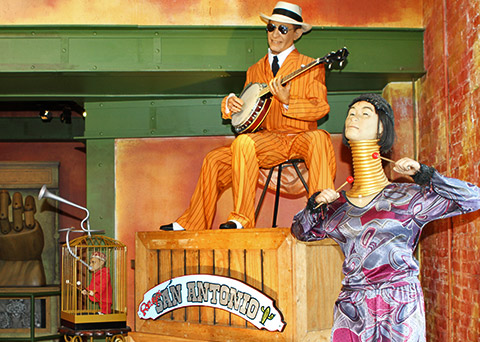 Ripley's houses three fun attractions in one building:
Ripley's Believe It Or Not Odditorium, a museum of oddities, ranging from a 1,400 lb man to a woman with the tallest neck, and everything in between.
Luis Toussad's Waxworks, where you can take a selfie with any one of over 200 incredibly lifelike wax replicas of your favorite celebrities.
4D Moving Theater, a multi-sensory motion simulator that's fun for all ages.
Disclaimer: I included this because I'm not here to pocket-book watch, but be aware that this is a pricey attraction. The odditorium will run you $23 per adult and $15 per child, and a ticket to all three will set you back $34 per adult and $23 each child.
San Antonio Zoo
Disclaimer here, we've never actually visited the San Antonio zoo. We always seem to have so many other things on our itinerary when we visit that we just never made it. That being said, if your kids enjoy the zoo, it can be fun to see what the zoos are like in other cities. Google reviewers give it 4.5 stars, so it's probably worth a visit!
Animal World and Snake Farm Zoo
I can never remember what this place is called because it seems to try to stuff in so many different terms into one name, but don't let that put you off. This place has so many different animals you've never seen anywhere else. It's actually in New Braunfels, but it's close enough to San Antonio that it makes the list.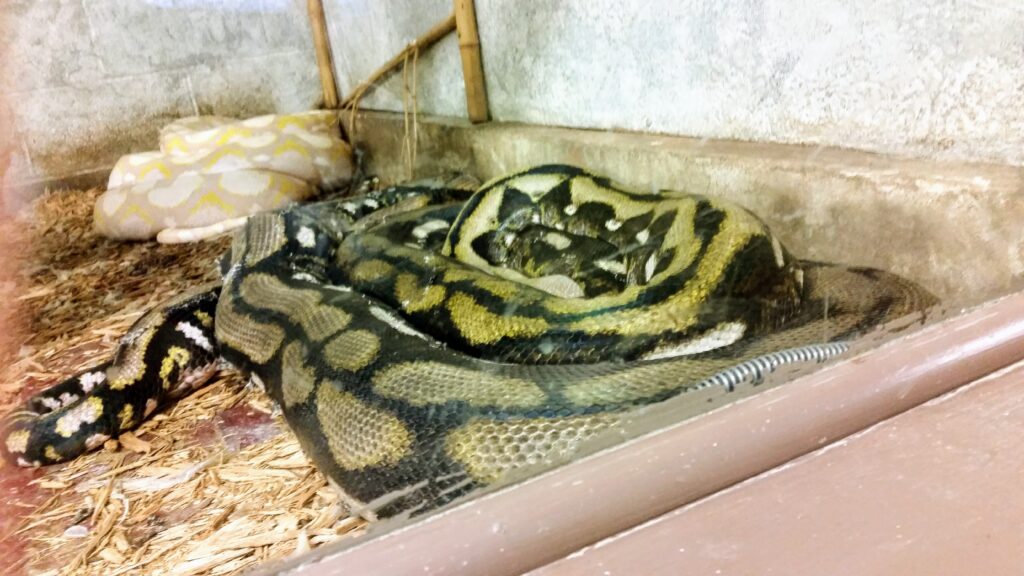 Inside, you'll find snakes of every size, shape and color. (All snakes are in tanks and cages, don't worry!) Outside, you'll find all sorts of interesting animals like porcupines, lemurs, binturongs, grey wolves, bison, peacocks, armadillos, crocodiles, warthogs and more! When we were there, we were delighted to see a peacock just minding its own business, strutting across our path.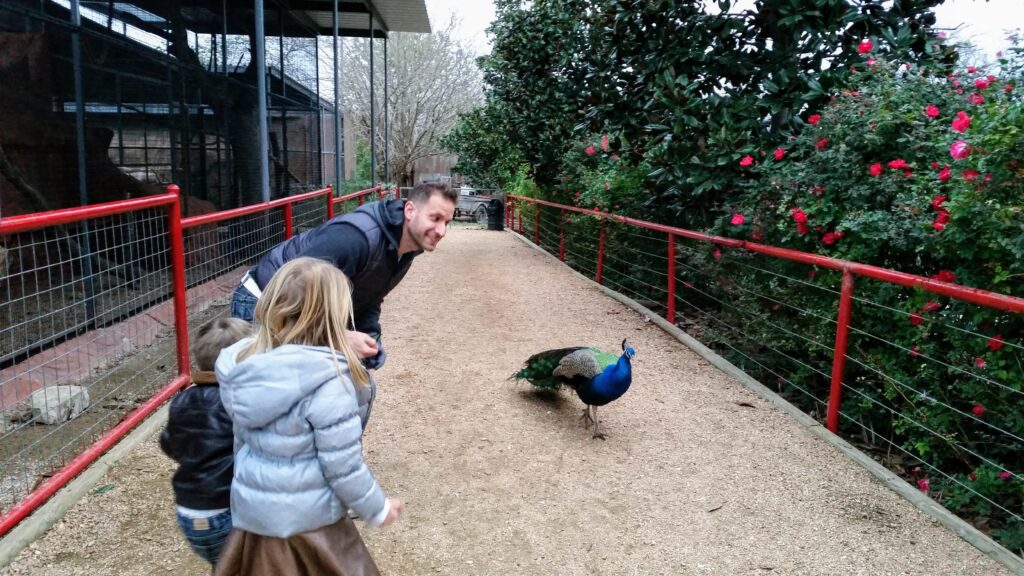 Tower of the Americas
Head up to the observation deck at Tower of the Americas for incredible views of San Antonio. Photos along the observatory floor help pinpoint different landmarks you might see, and provide some history and context about San Antonio. When you've seen all you can see of the city from one spot, catch the 4D movie that takes you flying around Texas and swooping in to capture scenes from around the state.
Kids and adults alike will love Six Flags Fiesta Texas, home to every kind of ride imaginable, including thrill rides, water rides, family rides, kids rides, and more! With over seventeen roller coasters, this park is sure to satisfy even the biggest thrill-seekers in your family.
Experience Batman, the ride that has you strapped in as you tumble back and forth, (and yes, upside down), along a track filled with peaks and valleys, and, of course a 12 story drop. Or, better yet, try the Joker Carnival of Chaos, a 17-story high monstrosity that swings you back and forth like a pendulum, at speeds up to 75 miles per hour!
I'm not a fan of roller coasters, can you tell? I'll take the Crow's Nest ferris wheel, or the Fiesta Texas Railroad, the liesurely ride on a classic locomotive that provides excellent views of the park (and the crazy people on the crazy rides). You might be able to get me on the Gully Washer, the rafting ride that takes you through rapids and under waterfalls, but only because it's a water ride, and hot days call for getting wet!
While not technically right in San Antonio, the Stars and Stripes close enough to make the trip a no-brainer if you're visiting San Antonio. It's the classic drive-in experience and it's open nightly. The cafe on premises offers a variety of hot foods and concessions, and there's even a playground for the kids to play on while you wait for the movie to start.
Canyon Lake
An hour north of San Antonio, Canyon Lake is the perfect place to cool off on a hot summer's day. There are eight parks around Canyon Lake, and three of them have beaches. Spend the day swimming, fishing, or even scuba diving at the lake. If it's not too hot, spend some time exploring one of the 31 trails in the parks surrounding the lake, covering over 170 acres of hill country views, accessible by foot or by bike.
Don't forget to check out the Canyon Lake Gorge. A 1-mile gorge was formed back in 2002 when Canyon Lake overflowed due to torrential rains – more than 34 inches. The water spilled over at a rate of over 67,000 cubic feet per second for six weeks, slicing open the ground and carving this gorge that has exposed rocks millions of years old. This is a great place to go fossil hunting.
In case you're wondering about the difference between a state natural area and a state park (I know I was), it's that a state park has recreation as its primary purpose, while a state natural area's primary function is preservation. It's more likely to be closed during rains to prevent erosion, and, like this Government Canyon State Natural Area, may only be open limited days a week.
Government Canyon State Natural Area is open Friday through Monday, for hiking or biking its more than 40 miles of trails, geocaching, birding, and, surprisingly, camping. It encompasses over 12,000 acres of Texas Hill Country and is vital in protecting San Antonio's drinking water.
Medina River Natural Area
The Medina River Natural Area offers acres of riverfront wilderness, with both paved and unpaved trails available. From experience, I'd view the trail difficulty guide with some skepticism – my kids were sorely disappointed when we chose a Level 3 trail, which was supposed to be very difficult, with 'extreme upper body strength required' and it turned out to be nothing more than an unpaved path, and fairly flat, at that.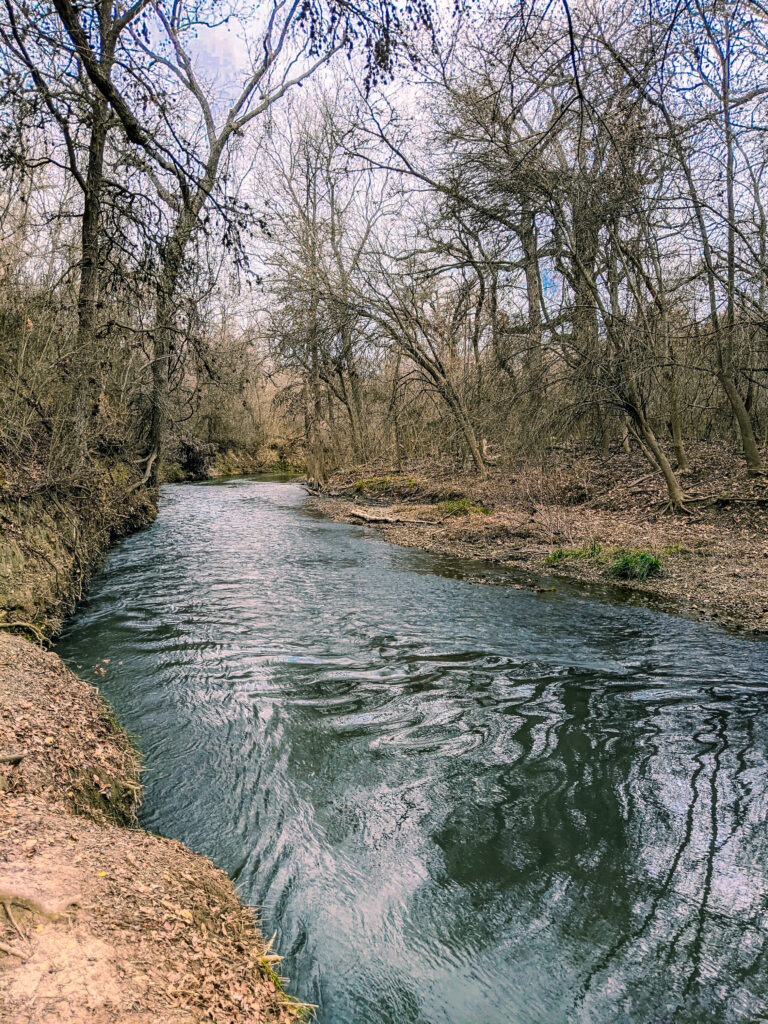 But the views of the river are beautiful and there are numerous places to sit and enjoy the sound of the rushing water. Because this park has a number of paved trails and clearly marks which trails are handicap accessible, this is a great place if you're pushing a stroller or a wheelchair.
Bonus: Defy Gravity at Gravity Hill
Gravity Hill is a hill in San Antonio where you can put your car in neutral and watch it roll UPHILL. Yes, uphill. We did it with our car, we did it with a ball – everything rolls uphill. Now, I'm sure there's a perfectly reasonable explanation about perception and optical illusions and all that but the ghost story is much more interesting.
Legend has it that a bus full of school children got stuck on the railroad tracks at the top of the hill. An oncoming train hit the bus and all the children perished. If you park your car on the hill, the ghosts of those children will push your car over the tracks (the tracks have since been removed). It is said that if you sprinkle talcum powder on the back of your car, you'll see handprints in the powder.
The address is 2902 Shane Road, San Antonio, TX. It's definitely worth checking out. The effect is very cool!
Where to Stay in San Antonio With Kids
For the ultimate San Antonio family resort experience, look no further than the JW Marriott. Kids will love the game room and beautiful activity pool, not to mention the beach area with real sand. Little kids have a shallow pool with two water slides and a play area all to themselves, and older kids can enjoy the 9-acre water park, including three different water slide experiences, ranging from a 35-foot high, 275-foot long tube slide, to a 60 foot high body slide, to a 650-foot long, low-gradient slide that mimics a natural river. Of course there is also a relaxing 1,100 foot lazy river!
Adults will enjoy the adult-only infinity pool, as well as the on-site spa and fitness center (with Peloton bikes!), and, of course, golf course.. The property also has tennis courts and basketball courts for the whole family to enjoy.
Rates start at $166 a night, plus taxes and fees.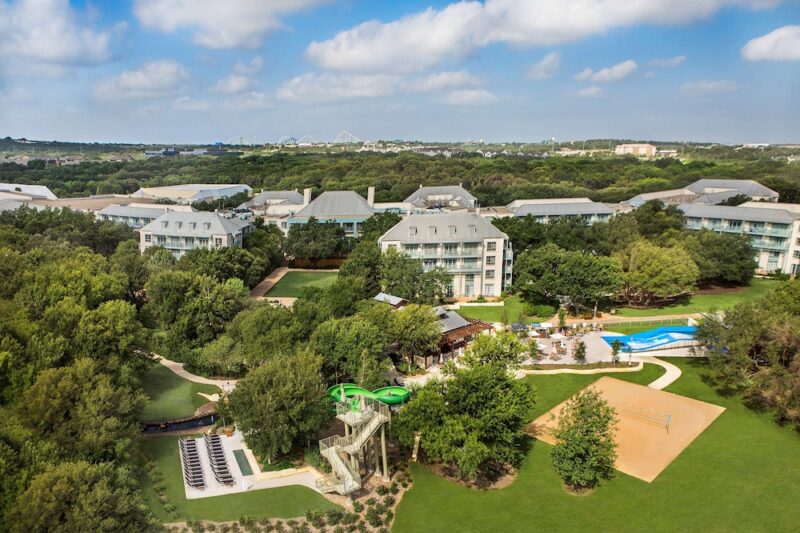 Hyatt Regency Hill Country Resort is a great option if you're planning to visit SeaWorld, but it's not too far from the Riverwalk and Downtown San Antonio either. This family-friendly property has a rustic, country feel and features numerous nature trails to walk or bike (bikes provided), a tennis court, a 5-acre water park, sand volleyball, and golf.
The water park consists of a 950-foot lazy river, a wave machine, 22-foot water slide, and multiple pools for kids and adults. There's also a fitness center, spa, and restaurant on site. Kids will love roasting their own s'mores (all ingredients provided) at the firepit every evening!
Rates start at $169 a night, plus taxes and fees.
San Antonio Marriott Riverwalk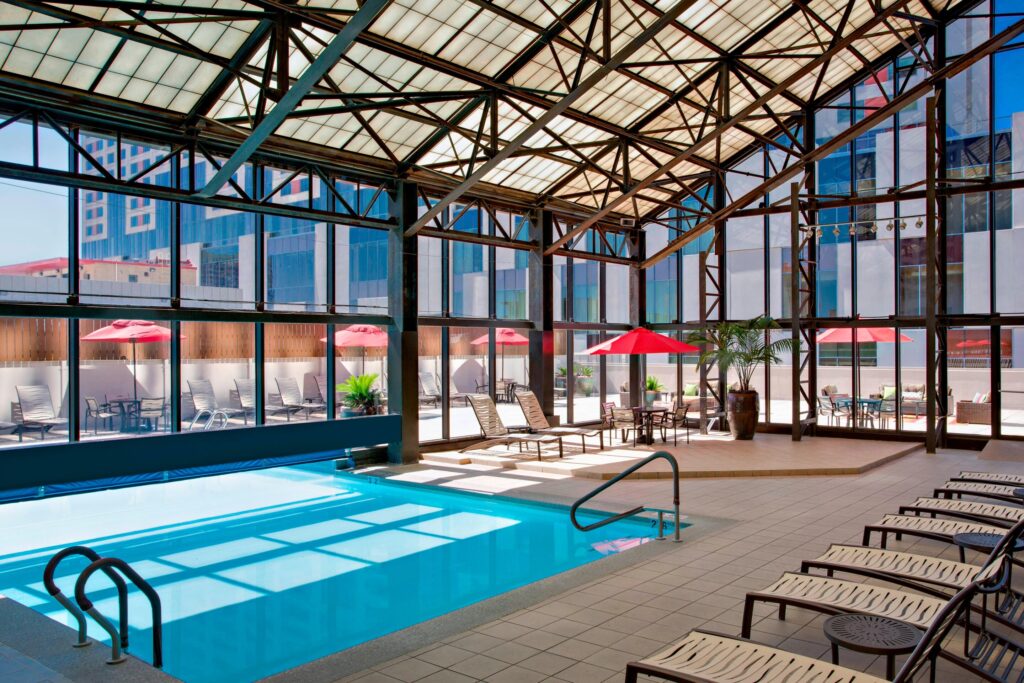 If you prefer to be on the Riverwalk, check out the San Antonio Marriott Riverwalk. The indoor/outdoor pool makes this the perfect destination all year round, and with its central location, you're close to shops, restaurants, and tourist attractions.
Rates start at $127 a night plus taxes and fees.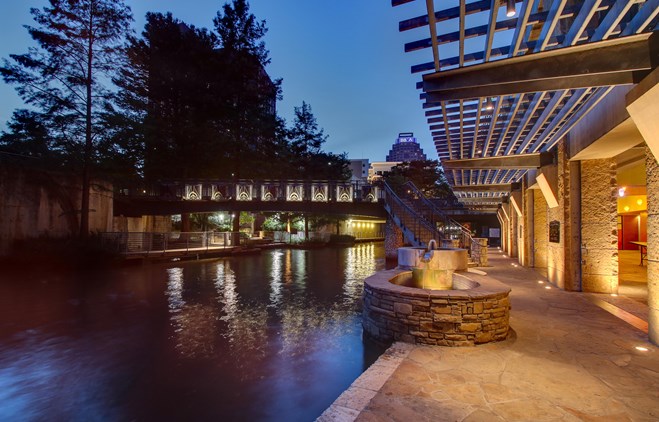 Drury is an affordable hotel chain that breaks the mold of affordable hotel chains. Their hotels are beautiful, clean, and make you feel like you're at a high end hotel at half the price. Drury Plaza hotels are a part of their upscale brand, and this particular hotel comes with free breakfast and two pools, an indoor pool and an outdoor, heated rooftop pool, for whatever the weather brings. The building used to be the Alamo National Bank, and you can see the old bank details throughout the building.
Rates start at $120 a night.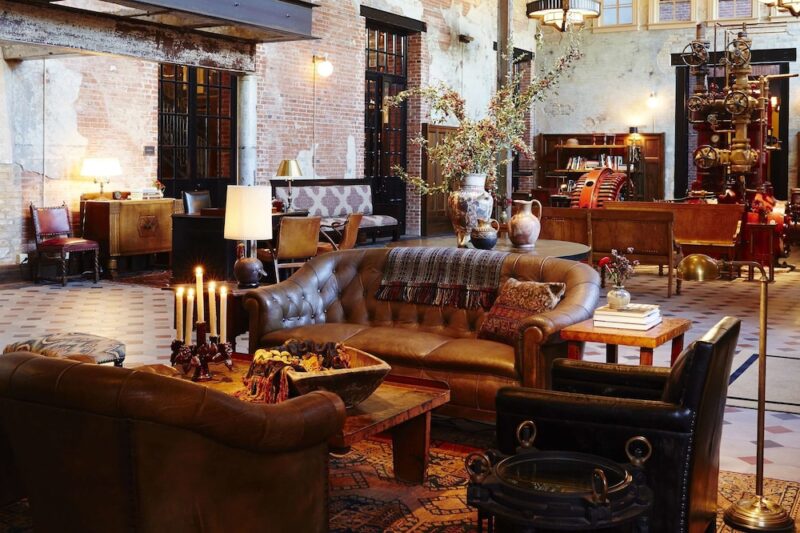 If you're looking for a more historic experience, consider Hotel Emma in the Pearl Brewery District. Housed in a converted brewery, this stunning hotel still retains many of the old brewery features. You'll find exposed machinery and piping running throughout this hotel, making it one of the most unique properties you've ever stayed at. It also has an outdoor pool, restaurant, and bar.
Rates start at $315 a night, plus taxes and fees.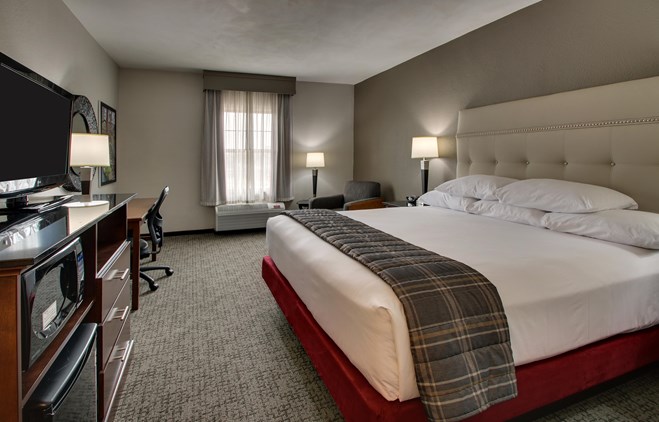 For a more affordable option, off the Riverwalk and away from the hefty parking fees that come along with it, try Drury Inn & Suites San Antonio Northwest Medical Center. It's just a short drive to downtown and the Riverwalk, and starting at $73 a night, the price can't be beat. It's clean and comfortable, with a nice lobby, free breakfast and an indoor pool.