Boere, Texas (pronounced 'Bernie') is a charming hill country town just northwest of San Antonio. Situated along Cibolo Creek, this town is full of history, character, and beautiful nature.
If you're looking for a weekend getaway, you'll find so many fun things to do in Boerne, TX. From its charming main street lined with unique boutiques and delicious restaurants, to its abundance of parks and hiking trails, Boerne has something for everyone.
Boerne is 30 minutes from san Antonio, an hour and a half from Austin, three and a half hours from Houston, and a little over four hours from Dallas. Its proximity to major cities and its prime hill country location make it the ideal vacation spot for a weekend getaway or a longer vacation.
We spent a couple of days in Boerne and fell instantly in love. Here are some amazing things to do in Boerne, TX.
If you're planning to spend more time in the area, check out our list of things to do in San Antonio.
Things to Do in Boerne TX
Shop and Dine on Hill Country Mile
Perhaps the most well known of all things to do in Boerne, TX is visiting Hill Country Mile, a stretch of charming boutiques and restaurants housed in historic buildings. If you love strolling down streets lined with 19th-century storefronts, you'll love Boerne's Main Street.
With over 80 shops and restaurants, this open-air shopping destination is the perfect place to find one-of-a-kind gifts, home decor, and more.
Some of our favorite stores on Hill Country Mile were:
The Downtown DIY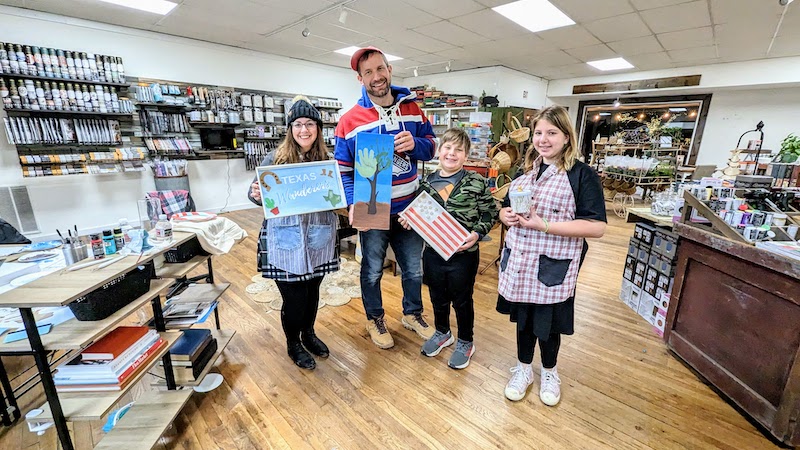 If you love crafting, you don't want to miss the Downtown DIY. With every kind of crafting material and tool imaginable, it's a crafter's paradise. This studio is run by a mother-daughter team and they helped us feel right at home.
They helped us select the perfect project and made sure we found the right materials with which to complete it. They custom-made stencils, and vinyl stickers for us on the spot, using their on-site Cricuts, so we were able to create fully customized projects.
From canvases to trays to wooden signs, to pretty much anything you could think of, if you can dream it up, you can create it at the Downtown DIY.
Free Roam Brewing Company
We stopped into this brewery because we were intrigued by their logo, which features hops turned into a buffalo. The owner was kind enough to take us to the back where the beer is brewed and give us a little tour. They're newcomers to the craft beer market but are already making their mark.
Flashback Funtiques
A collector's dream, Flashback Funtiques lives up to its name and then some. It is packed with fun antique gas pumps, slot machines, arcade games, gumball machines, and so much more. Grab a soda in a glass bottle while you're there to complete the old-time feel.
The store is mainly a place for collectors to buy and sell antiques, but they can also rent out some of their antique arcade games, like pinball, Ms. Pac-Man, and more, for events across Texas.
Hike the Trails at Cibolo Center for Conservation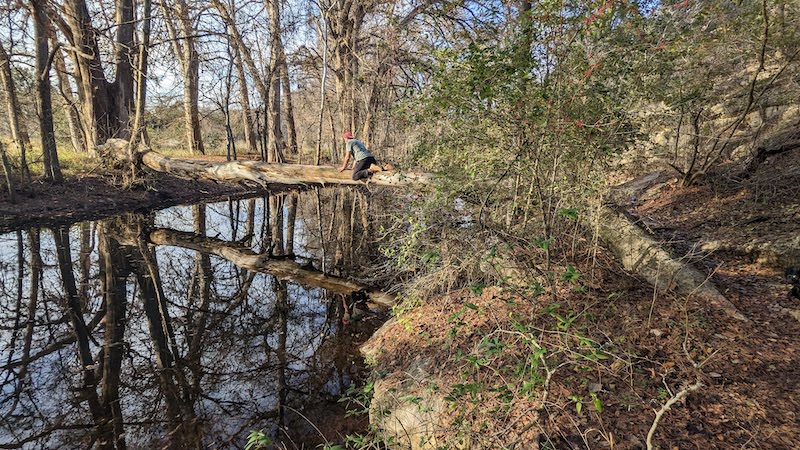 One of the best things to do in Boerne, TX is to enjoy all the incredible nature in and around the town. The Cibolo Center for Conservation is located right in the heart of town and offers more than six miles of trails across a variety of landscapes lining Cibolo Creek.
Beautiful cypress trees dot the creek and are a sight to see no matter the season. The creek is perfect for wading, but it's not always allowed due to bacteria levels, so you'll want to check posted signs.
We loved following the trail closest to the creek and crossing over to the other side of the creek via stepping stones.
There are plenty of logs crisscrossing the river, so if you have any adventurous souls in your party, be aware that you'll probably need to spend quite a bit of time as they maneuver their way into the perfect photo spot (see above).
Hike or Swim at Gudadalupe River State Park
Guadalupe River State Park is just a short 30-minute drive from Boerne. Here you can hike, picnic, swim, fish, paddle, camp, and more. I'd make sure to call ahead, as they close the trails for bad weather or to protect sensitive areas. When we tried to visit, all the trails were closed due to the rainy weather the day before.
Visit the Farmer's Market at Herff Farm
Herff Farm is a 60-acre park offering hiking trails and beautiful gardens. It is only open to the public on Saturdays, when you can also visit their Farmer's Market.
Hike Alongside the River at Kreutzberg Canyon Natural Area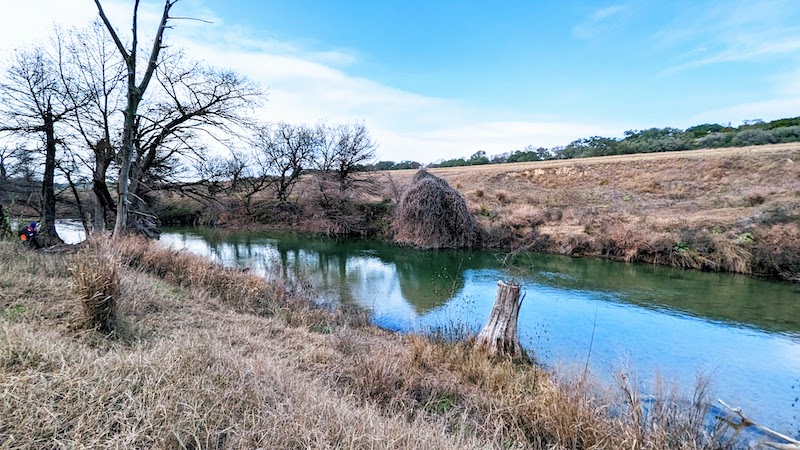 Kreutzberg Canyon Natural Area is a beautiful 117-acre park on the banks of the Guadalupe River. A wide beach offers the perfect river access for swimming and fishing. Posted signs warn against tubing from here, as the next public access point is quite a long way off.
The park offers three miles of hiking trails, three bird blinds, and the Kronkosky Interpretive Garden where you can practice plant identification skills, and learn about native animals and plants, fossils, Texas leaf-cutter ants, and alien invaders.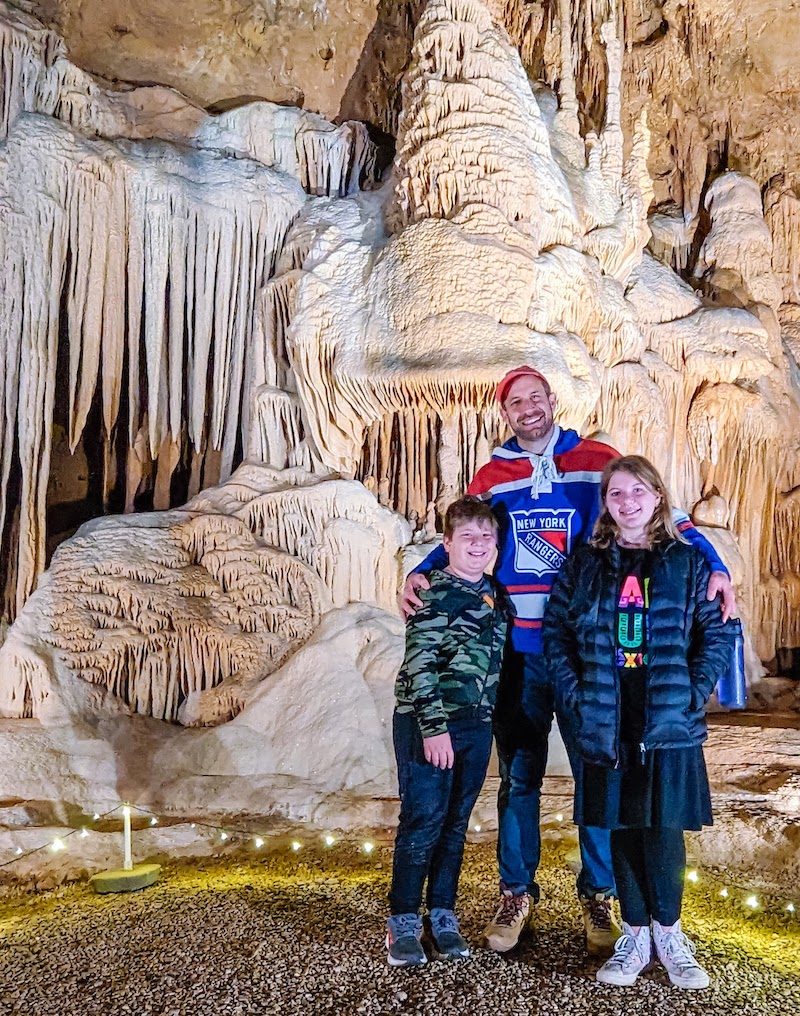 If you're looking for fun things to do in Boerne, TX, you don't want to miss the caves. One of two caves in Boerne, Cave Without a Name is a beautiful, natural, living cavern. You can tour the cave with a guide on a 60-minute tour that takes you through incredible rooms filled with Stalactites, Stalagmites, delicate Soda Straws, Cave Drapery, magnificent Flowstones, Rimstone Dams, and more.
The cave stays a constant 66 degrees all year round, so it's a perfect place to escape the heat – or, in our case, the freak 20-degree cold front that blew in on our visit.
Be forewarned, accessing the cave involves descending (and then ascending) 120 steps, so make sure you're up for that!
The cave also hosts concerts in the underground 'Throne Room.' The room can accommodate up to 200 and I can imagine the acoustics are incredible.
Before or after your cave tour, you can pick up a gemstone bag to take over to the sluicing area for some gemstone mining fun. You can also purchase a geode and they'll slice it open for you with a giant rotary saw.
Cascade Caverns is another cave in Boerne. They offer a standard 45-minute general tour, as well as a couple of tours that can only be booked with groups of 10-12.
The evening tour is a 90-minute tour using flashlights only. Their adventure tour involves a 3 – 4 hour spelunking tour of the lower cave system. Helmets, flashlights, and gloves are provided.
You can also mine for gems here in their mining pit. They'll give you a digging scoop, a sifter, a rock identification card, and a jar so you can take home your treasures
Tour the Old Jail Museum
The Kendall county jail was built in 1887 and served as the county jail for a century. Now, it's been turned into a museum and is open on Saturdays from 10 AM to 5 PM.
Open on Saturdays, the AgriCultural museum lets you experience history firsthand. Watch blacksmiths in action or tour the big red barn filled with antique buggies, chuck wagons, and farm equipment. The 5-acre property includes a wood shop, blacksmith shop, pioneer house, tractors, engines, and more.
On the 2nd and 4th Saturdays of every month, you can listen to live Bluegrass Jams.
Go Back in Time at the Kuhlmann-King Historical Complex
The Kuhlmann-King Historical Complex is open on the 2nd and 4th Saturdays of every month, where you can tour the historic home that dates back to the 1880s, and learn about the German family that once lived there.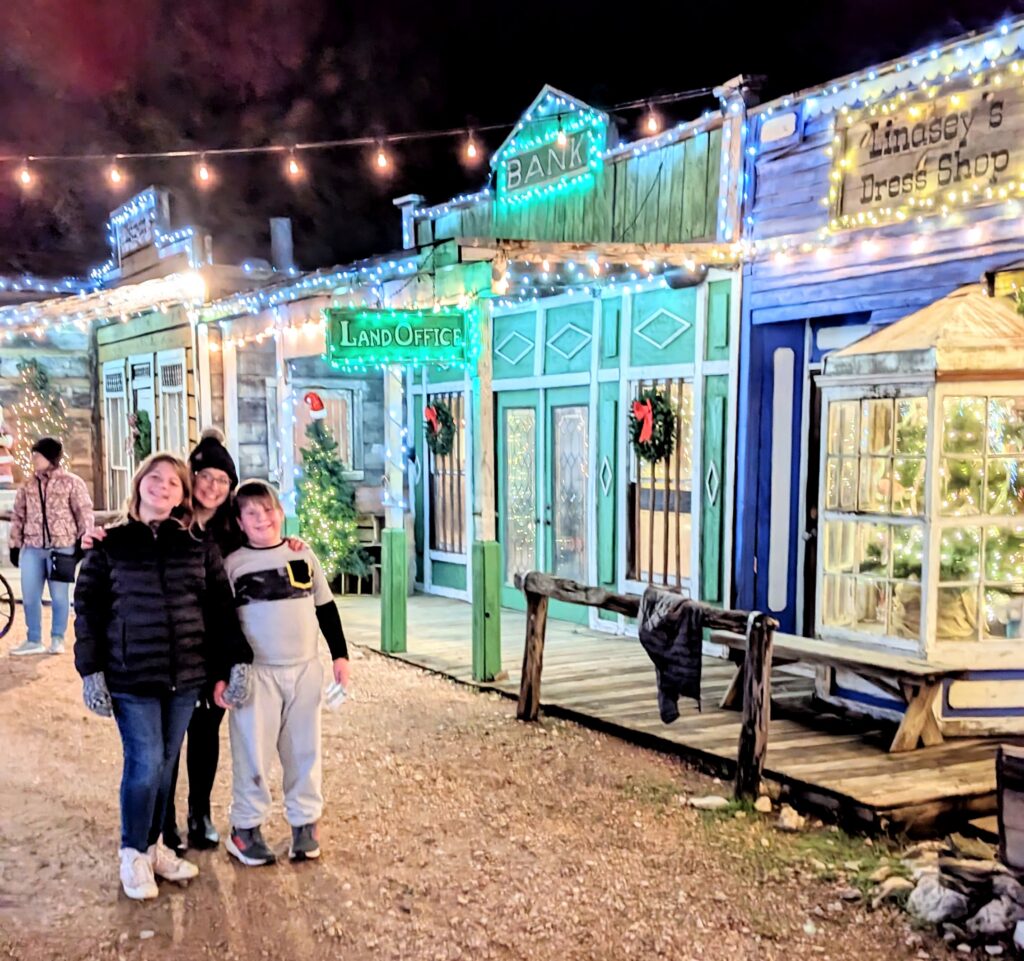 If you're visiting during the holidays, make sure to check out Old West Christmas Lightfest at Enchanted Springs Ranch. The old west replica town is draped in lights, with live music and drinks at every turn. There are also some fun activities like mechanical bull riding and laser tag.
There are so many incredibly fun things to do in Boerne, TX. With its plethora of charming shops, beautiful parks, exciting caves, and fun activities, Boerne is the perfect vacation spot. Visit for a weeklong vacation, extended weekend, or even just the day. However long you choose to spend here, you'll find plenty of things to do in Boerne to make it a great vacation.