Palmetto State Park is a beautiful, other-worldly park located just northwest of Gonzales, Texas. (For more things to do in Gonzales, Texas, click here.) With lush palmetto fronds lining the trails, one might be tricked into thinking they'd been transported into Jurassic Park. The park is conveniently located just over two hours from Houston, and one hour from San Antonio and Austin.
The hiking is beautiful, but our favorite thing to do at Palmetto State Park is swim. The oxbow lake is the primary destination for swimming, fishing, and paddling, with rentals available. But we prefer to swim in the clear, spring-fed waters of the San Marcos River.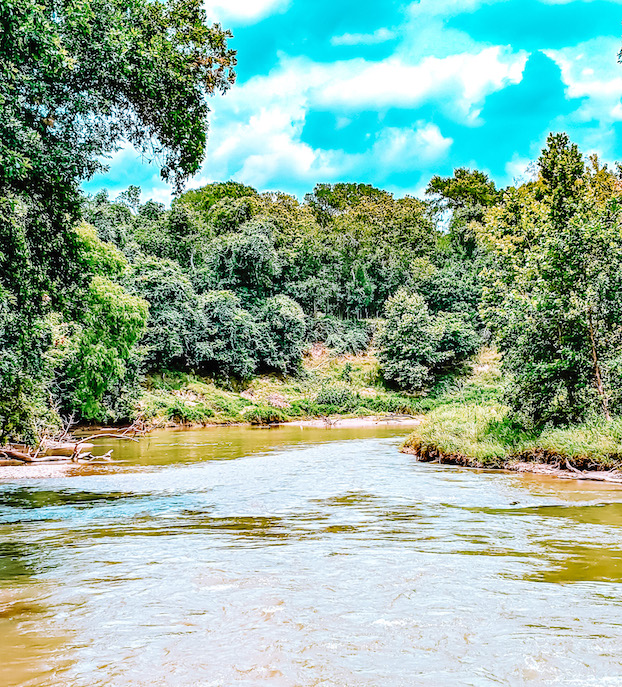 When we visited this park, we were told at the front desk that swimming is only recommended in the lake. There isn't any real access to the river, we were told. It's steep and there's poison ivy, so you're better off just sticking to the lake. We were disappointed but had every intention of complying.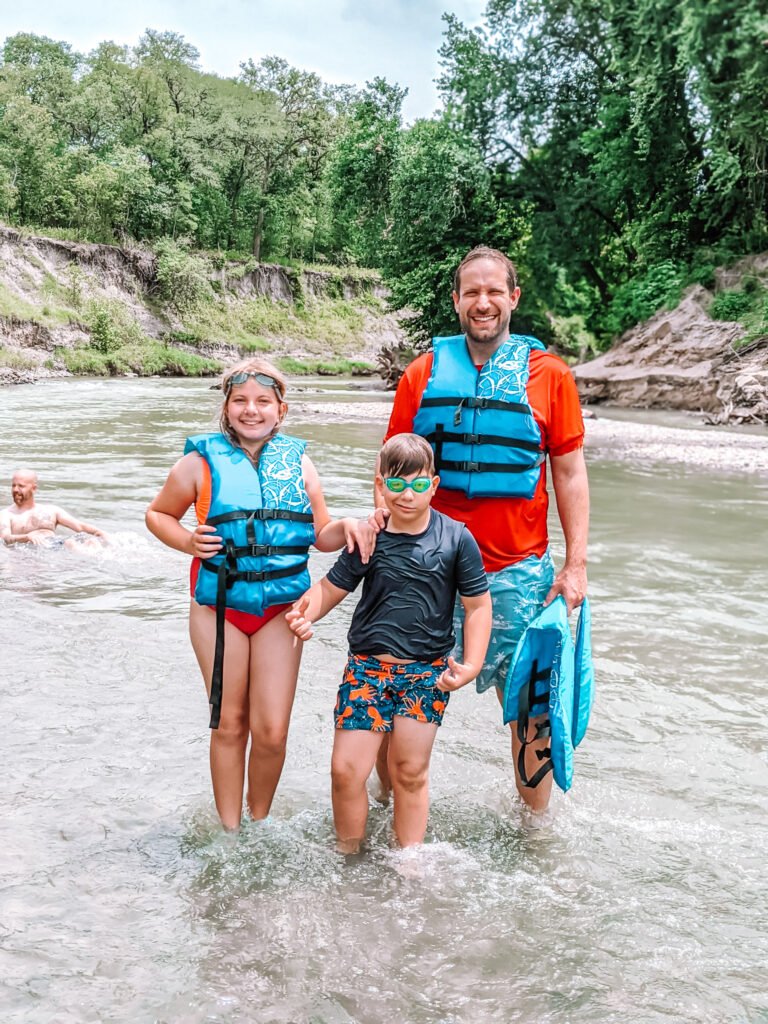 That is, until we took a quick driving tour to explore the campgrounds and spied the river. Despite the warnings we'd received, there were plenty of people swimming in the river, and we weren't about to miss out. We looked around for a path and found that the warnings weren't entirely off-base. The path down to the water was very steep. And it was lined with poison ivy in multiple places, but if you know what to look for, it's easy enough to avoid.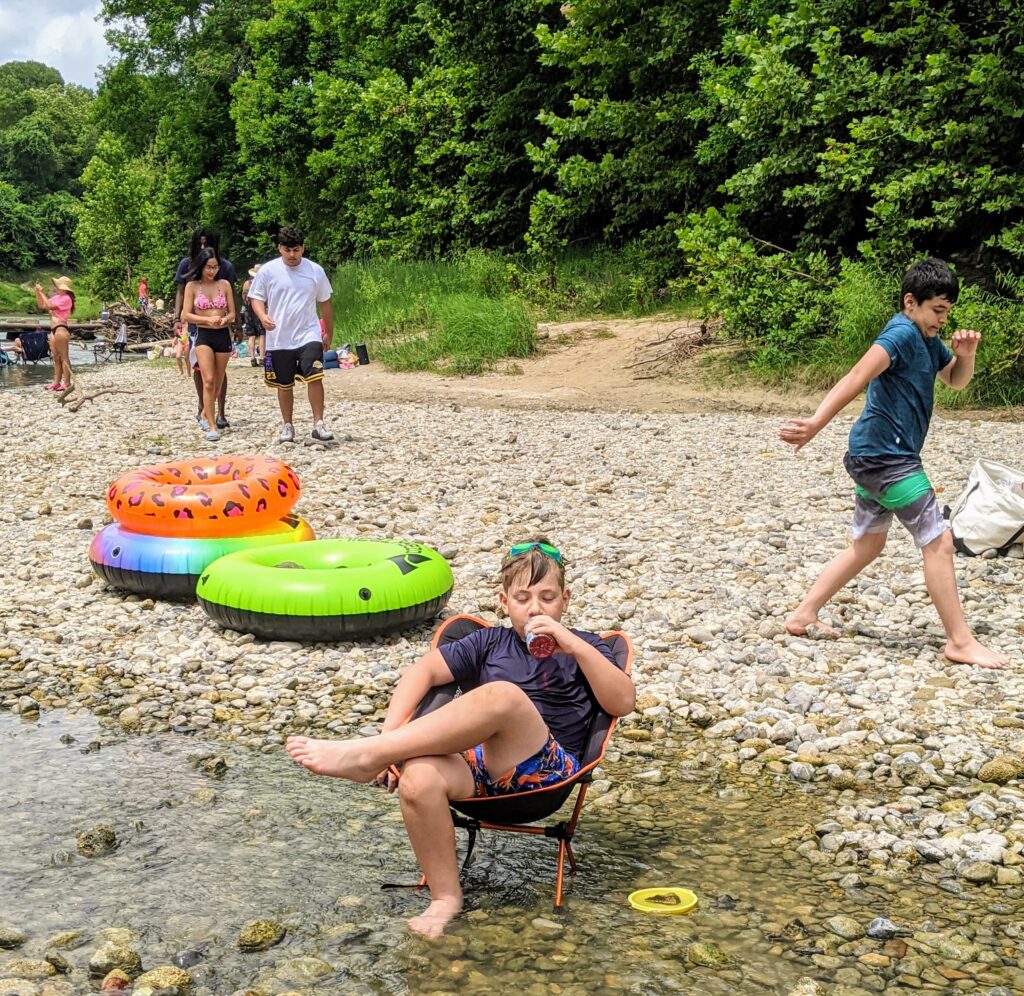 Down at the river, we found a small rocky beach area. The water was fairly shallow in most areas, but moving fast. It was very easy to get swept up in the current. We always ensure our kids are wearing life vests in situations like this, even though they can swim. Despite the shallow depth, the rushing water makes it hard to stand and therefore, as dangerous as deep water.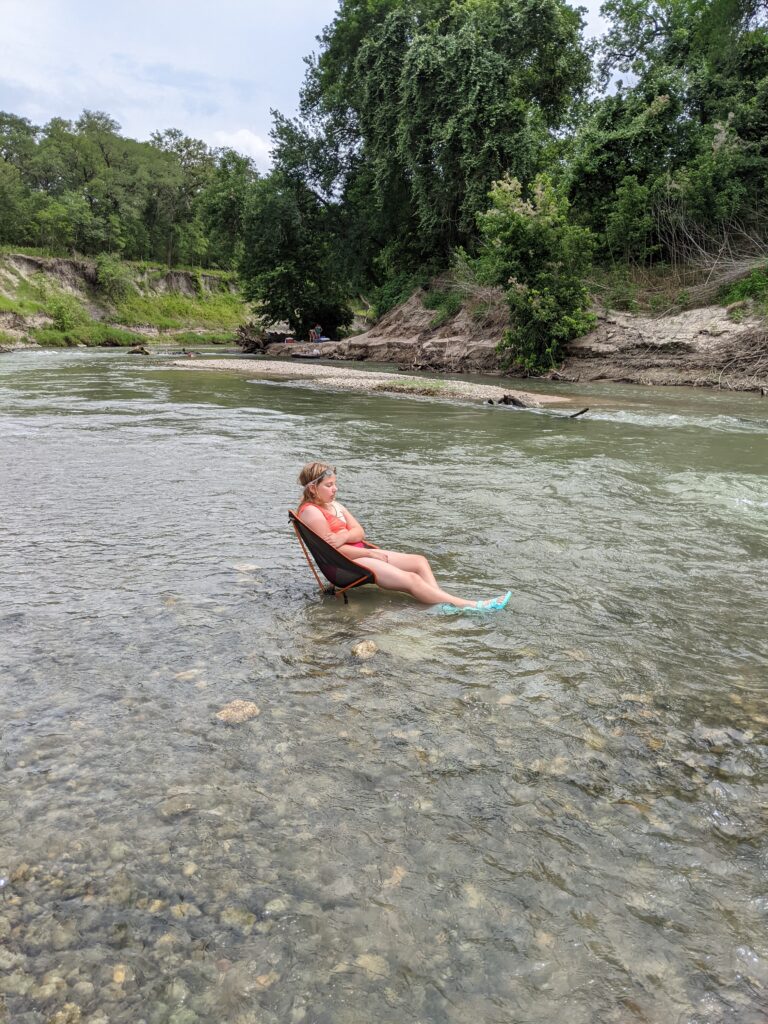 The fast-moving current does, however, make for great fun. The kids had a great time floating down the river, carried by the current. A convenient tree sticking up most of the way down made for the perfect place to catch on and slow down in case we wanted to make our way back to shore. You do need to keep an eye on your kids though – at one point, our son lost control and was swept down towards the low bridge, which was really scary. Someone further downriver grabbed him before he got too close though.
Things to do at Palmetto State Park
Hike
Bike
Swim in the river or lake
Paddle (rentals available)
Fish (equipment available for loan)
Camp (tent sites, RV sites, and one air-conditioned cabin available)
Equipment Needed at Palmetto State Park
Here are some of the items I recommend you have when visiting the park.
Water Shoes – the river is very rocky, which can be hard on your feet. Waterproof hiking sandals like these for men, women, and children are best.
Hydration packs are best if you're river swimming because the steep path down to the river might make carrying an insulated water jug difficult
Life vests – the current can be fast here and safety is the number one concern. Adults and very strong swimmers might opt for a tube instead.
Things to know about Palmetto State Park
Admission is $3 daily for ages 13+, free for kids 12 & under, or free entirely with a Texas State Parks Pass
Advance reservations are recommended, as the park fills to capacity during peak season
Shade level: The park trails seemed fairly shady, though there wasn't a lot of shade on the river.