Yogi Bear's Jellystone Park Waller is one of 75 Jellystone Park locations across the US and Canada. Just over an hour's drive from Houston, Jellystone Waller is the perfect Houston family getaway!
(Disclosure: This stay was hosted but this post contains my honest review and opinions)
The park offers multiple ways to stay, including cabins, RV sites, and tent camping. There is so much to do there, it can feel like stimulation overload at first. Keep reading or jump to the section that interests you for the full lowdown on everything there is to do at Jellystone Waller.
Mini Golf
We arrived on a beautiful sunny afternoon and the first thing we did was play some mini-golf. Disclaimer: I typically find mini-golf a bit boring, but the course here was fun and pretty and just all-around enjoyable. The heat did get to us after a while, so we decided to finish our game in the evening when it would hopefully be a bit cooler.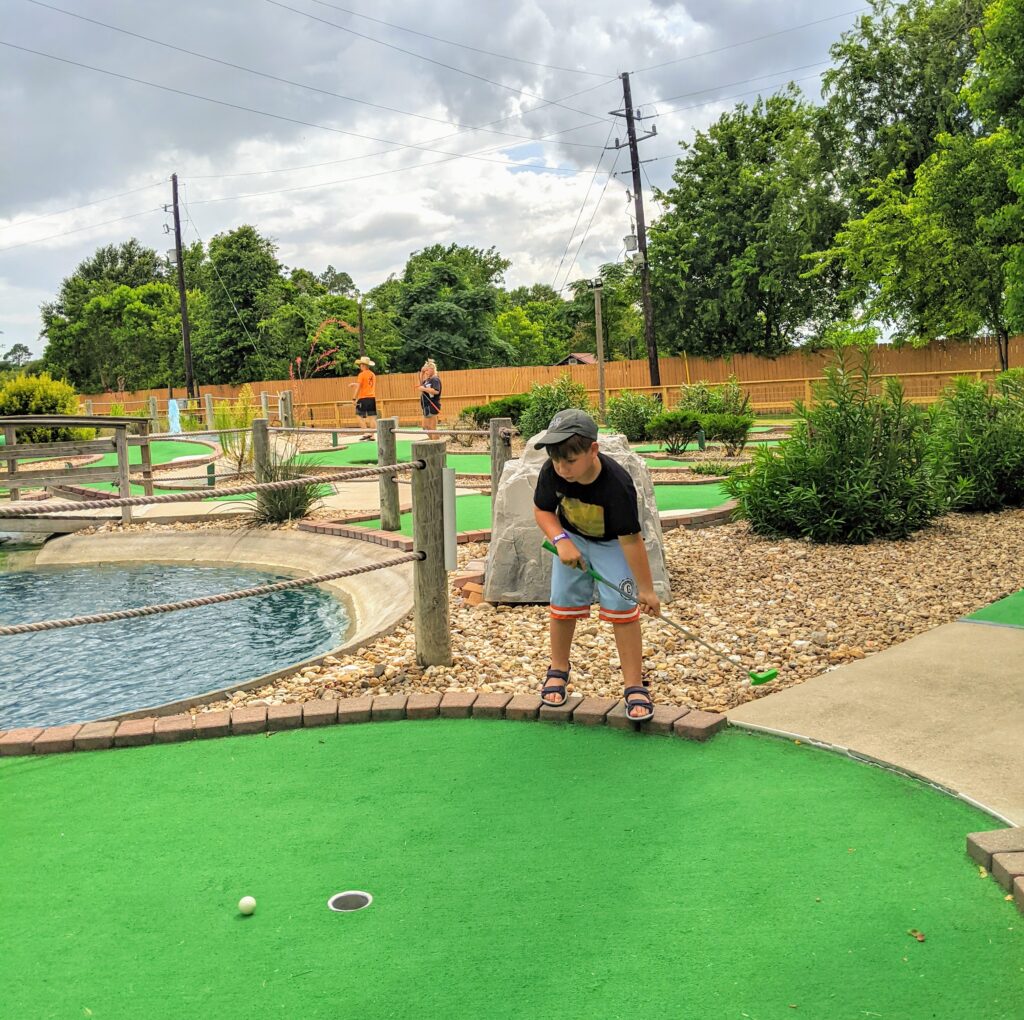 Jellystone Park Waller Pool Area
After our mini-golf game, we changed into our bathing suits and headed to the pool. The pool area is divided into 3 sections. One section houses the water zone, the second houses the lazy river, and the third has the giant slides.
Water Zone
The water zone contains two pools. One pool is a shallow pool with a giant playground in the middle, featuring multiple water slides, sprinklers, and, best of all, a giant bucket of water that gets dumped out every few minutes. It's cute to see kids of all ages running toward the splash zone when the buzzer goes off signaling that the bucket is about to turn over! This area is perfect for everyone from little babies all the way up to teens.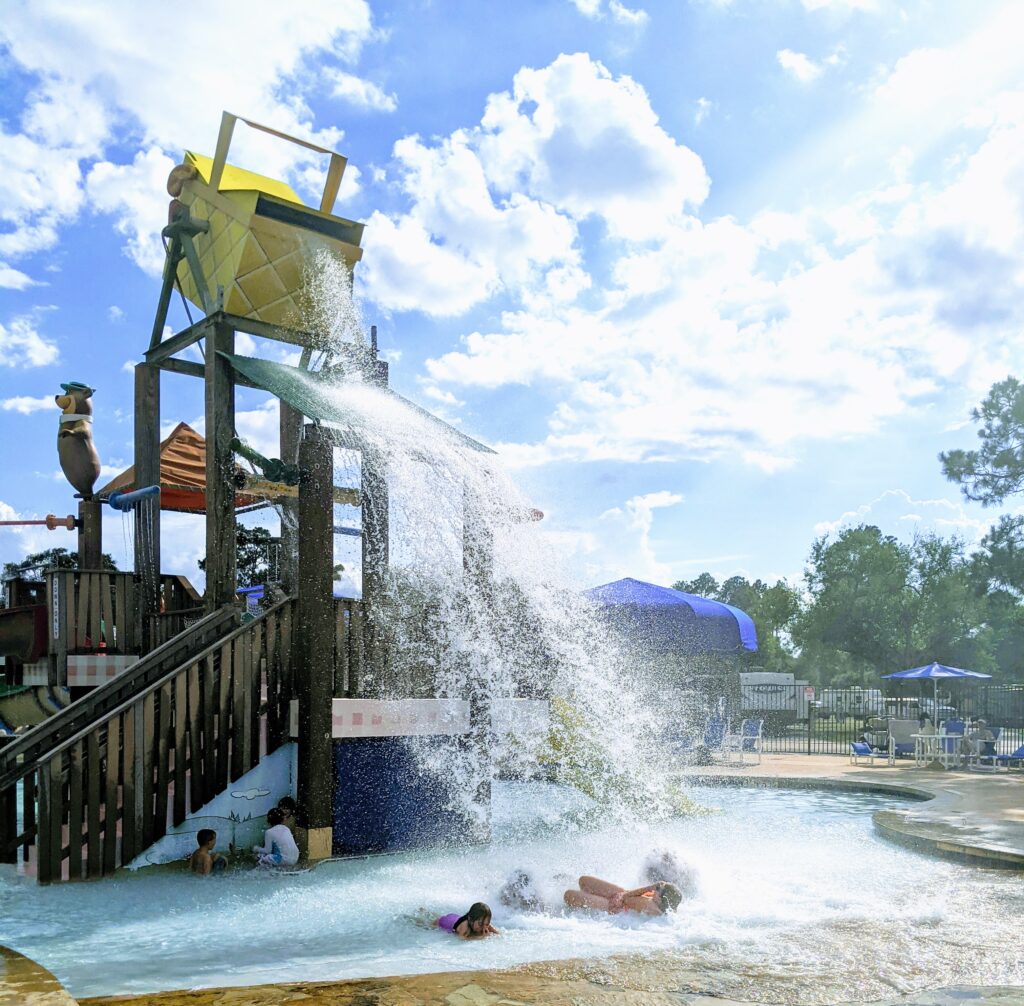 The second pool is a bit deeper but maxes out at about 4 feet. This pool is perfect for swimming and lounging, and it even has a bunch of basketball hoops and basketballs for even more fun.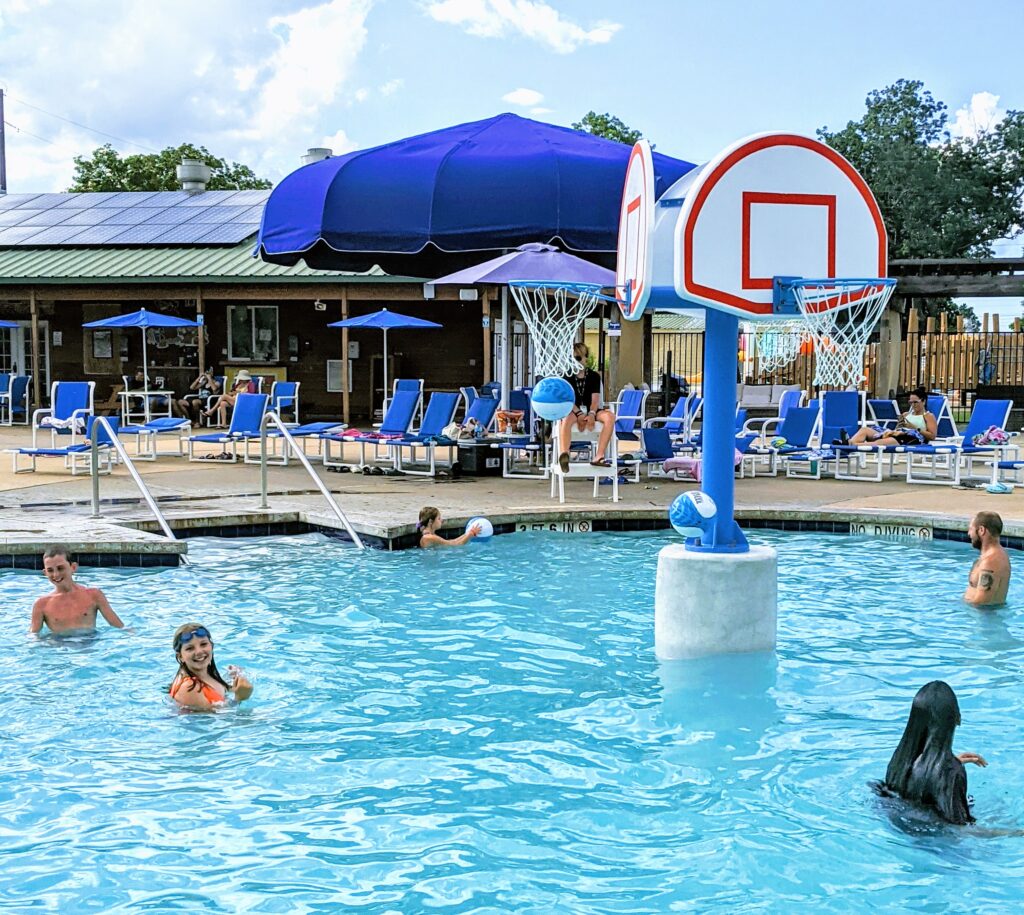 The water zone area also houses the Serpent Slide. This is a super twisty slide that's perfect for kids of (almost) all ages (must be 42″ to ride). It starts out open air and then turns into a closed slide that can be a bit scary at first if you're not expecting it!
Lazy River
The lazy river area houses the lazy river and an adorable splash pad that's perfect for little ones. The lazy river winds around with a few sprinklers and waterfalls, but mostly just lives up to its name, allowing for a leisurely float all around.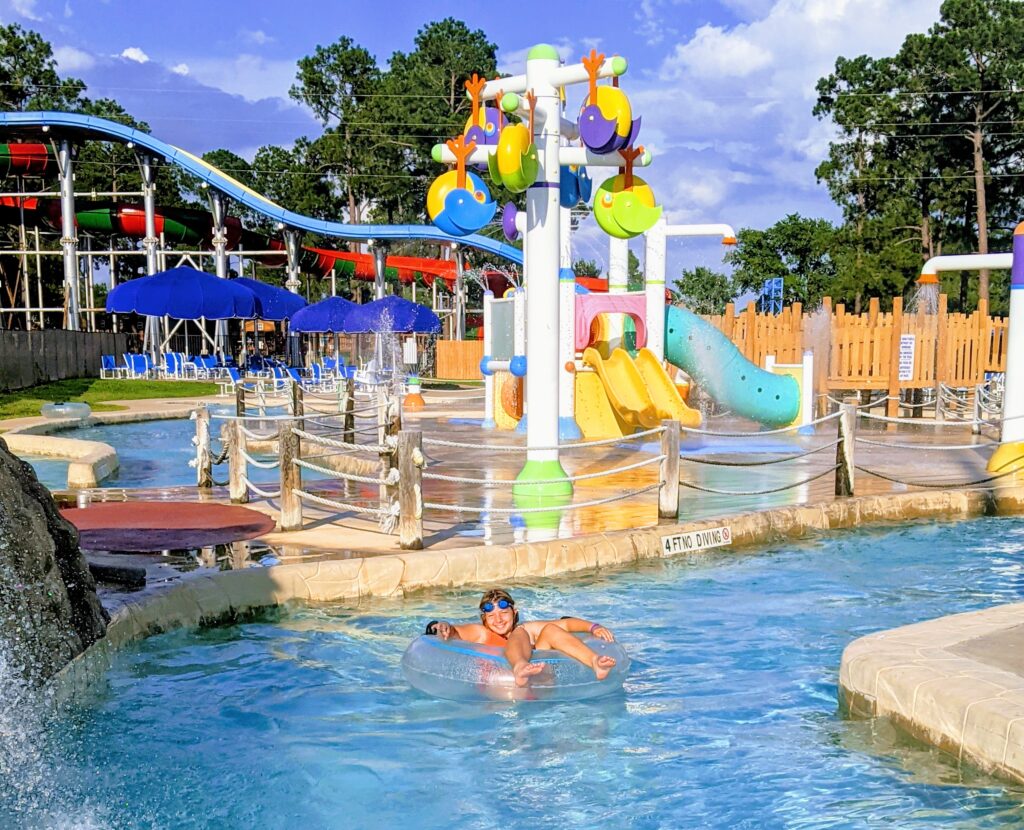 Water Slides
There are currently two huge water slides but one is closed and I believe it's being replaced. The one that's open right now is a twisty slide you glide down on a tube, slipping and splashing your way to the bottom. It's super tall, so it's a bit of a trek to get to the top, but well worth it!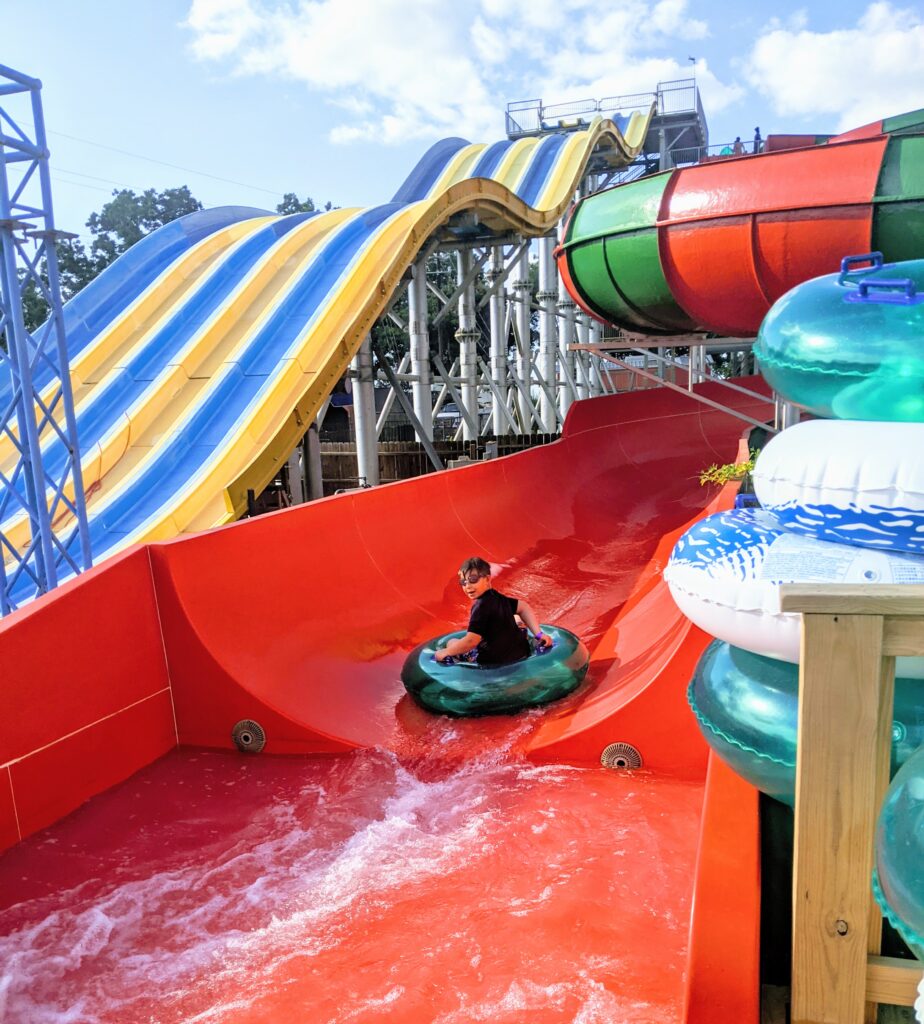 Sports Complex
After we finished swimming, the kids joined a game of volleyball over at the sports complex. In addition to volleyball, they also have basketball courts available for use. The kids joined a game and had a blast making new friends and playing.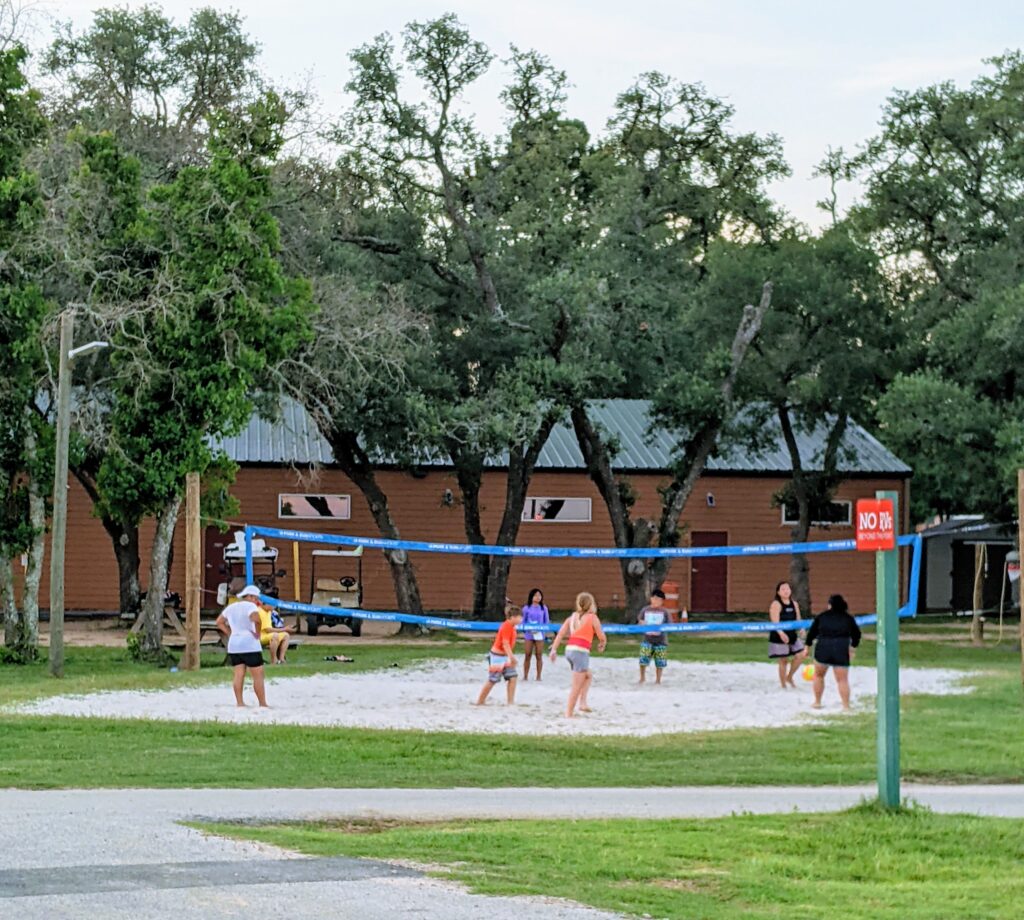 Outdoor Movie Theater
After dinner, we headed out to the outdoor movie theater for a showing of – wouldn't you know it – a Yogi Bear movie! While we waited for the movie to start, the kids played a game of Twister on the giant Twister board painted on the concrete.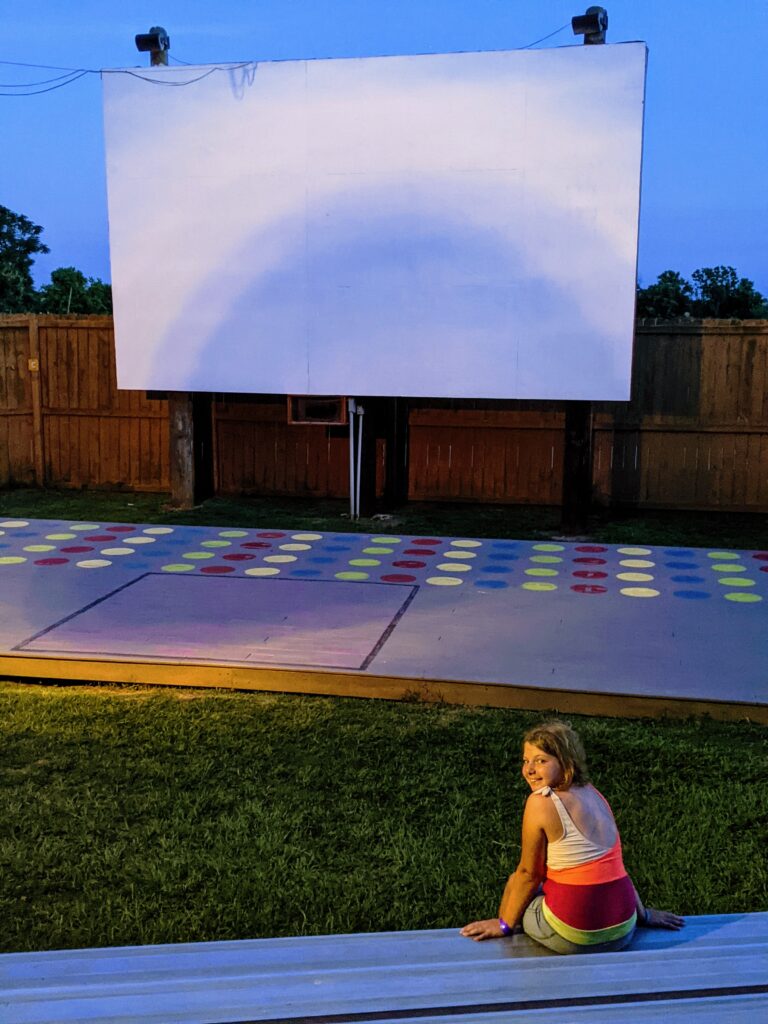 Jumping Pillow
The next morning, we headed over to the jumping pillow, where we recited the Pledge of Allegiance (to both the American and Texas flags) with Yogi Bear, and got to take a few pictures. Then the kids got to let out some of their energy by jumping on the huge bouncing pad.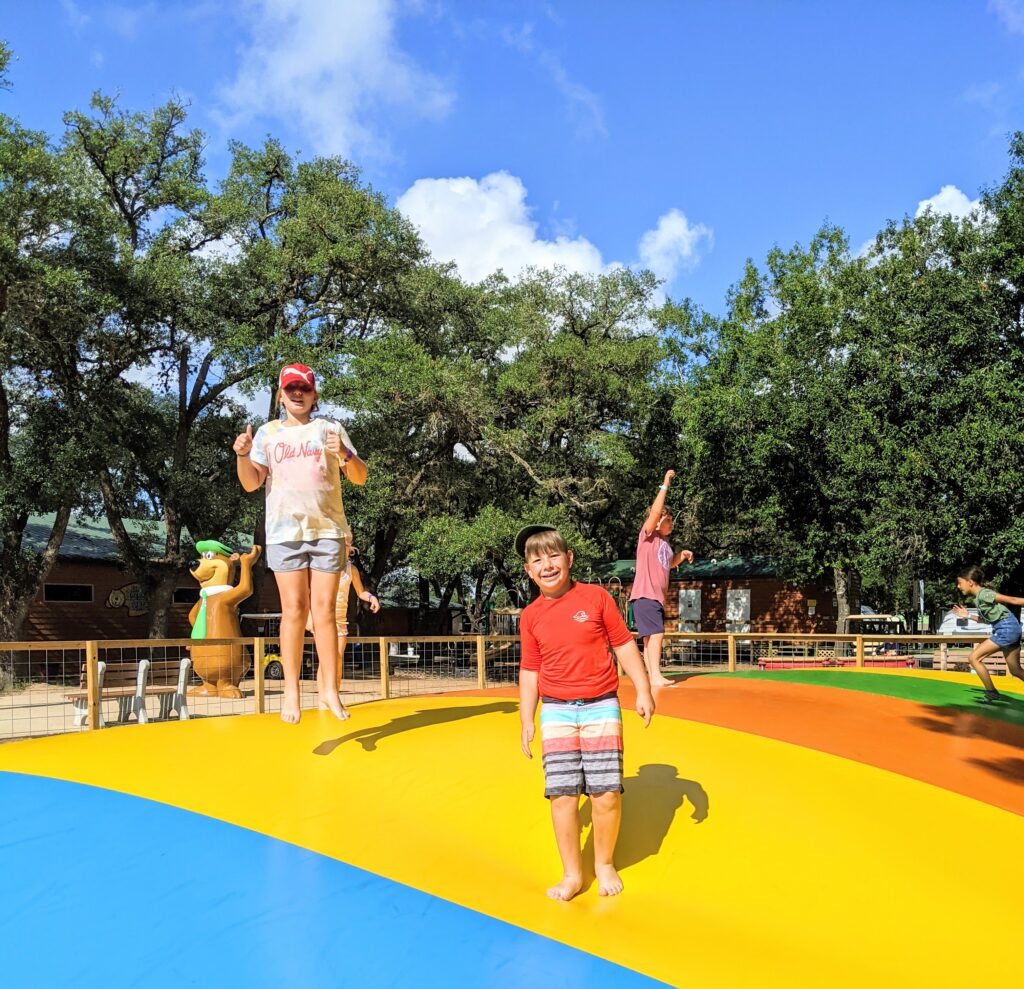 Ninja Warrior Course
After that, we headed over to the Ninja Warrior Course. It was small, and better suited for little kids, but the kids played on it for a few minutes.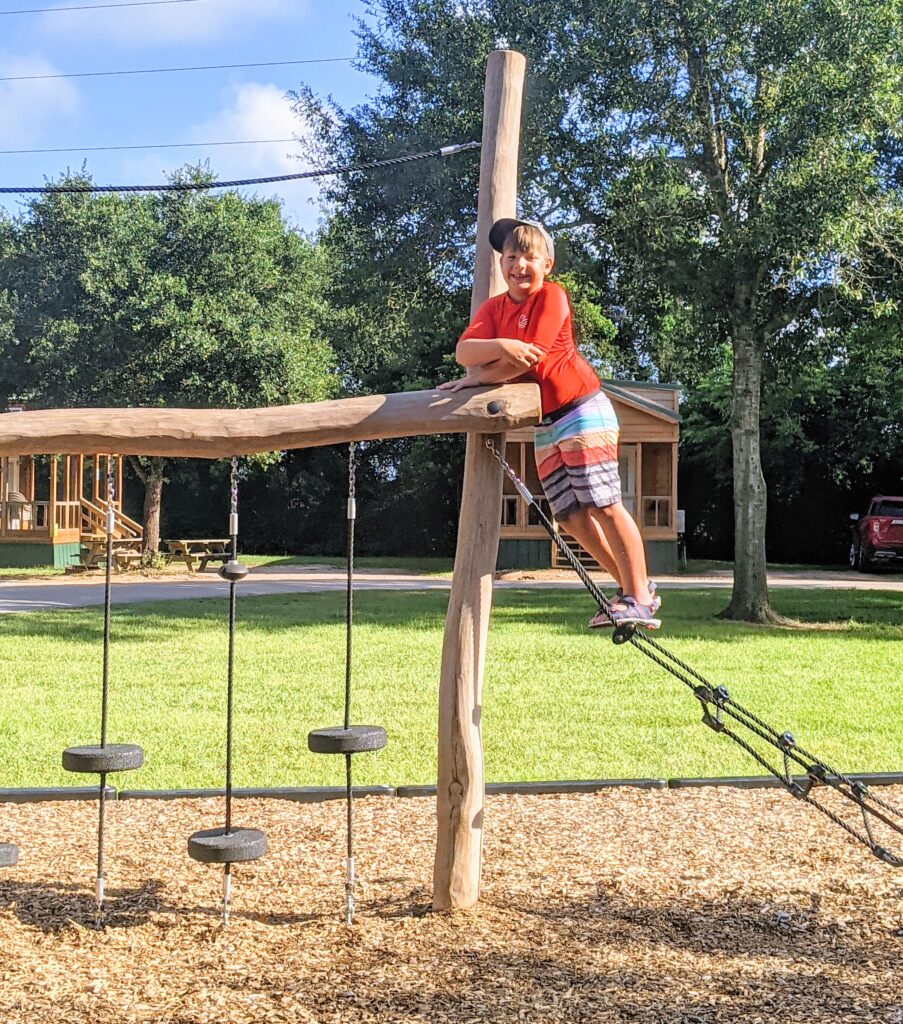 Rec Center
The Rec Center is where all the scheduled activities take place, and it also has some arts and crafts activities available all day. For a fee, you can buy ceramics to paint or t-shirts to color with fabric markers. There are also some free coloring sheets. The Rec Center hosts special activities like Bubble Fun, Bear "Hot Potato Toss" and, our favorite, Candy Bingo (my kids killed it with that activity, winning 4 candy bars).
If you're not familiar, Candy Bingo is where you bring a candy bar to participate – the number of candy bars you contribute dictates how many bingo boards you get – and the prizes for winning are, you guessed it, the candy bars.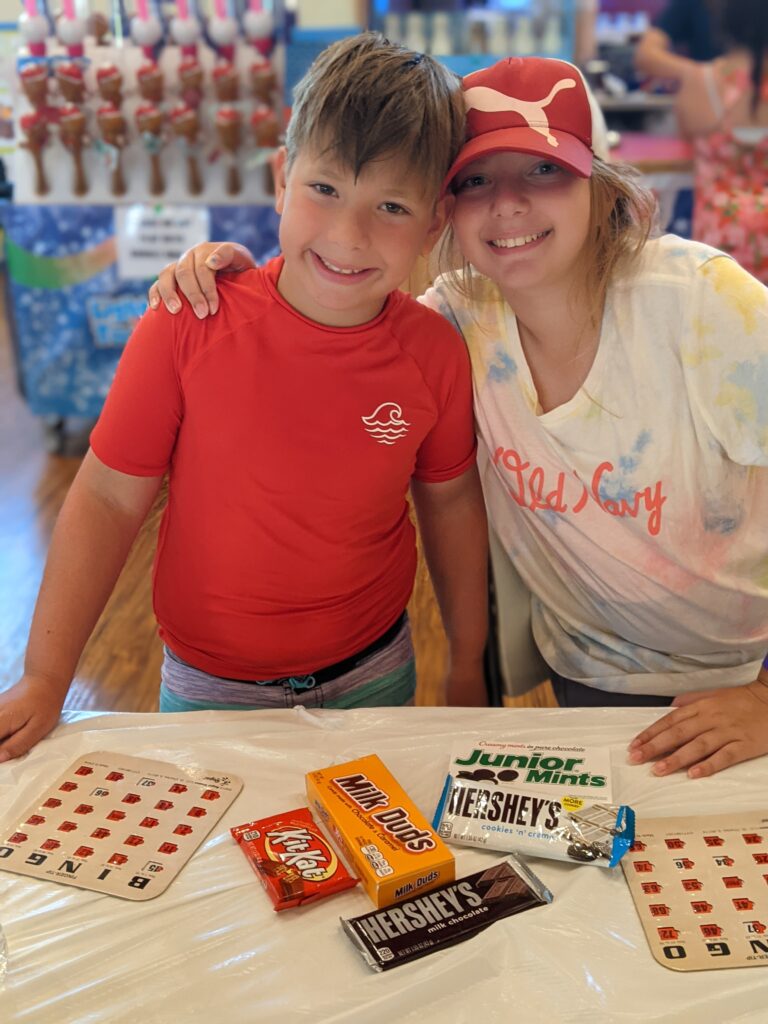 We were a bit tired of being out in the hot sun, so we opted to stay in the rec center for a bit and paint some ceramics. While we were there, we heard the train arrive and hopped on board for a wiggly ride around the park.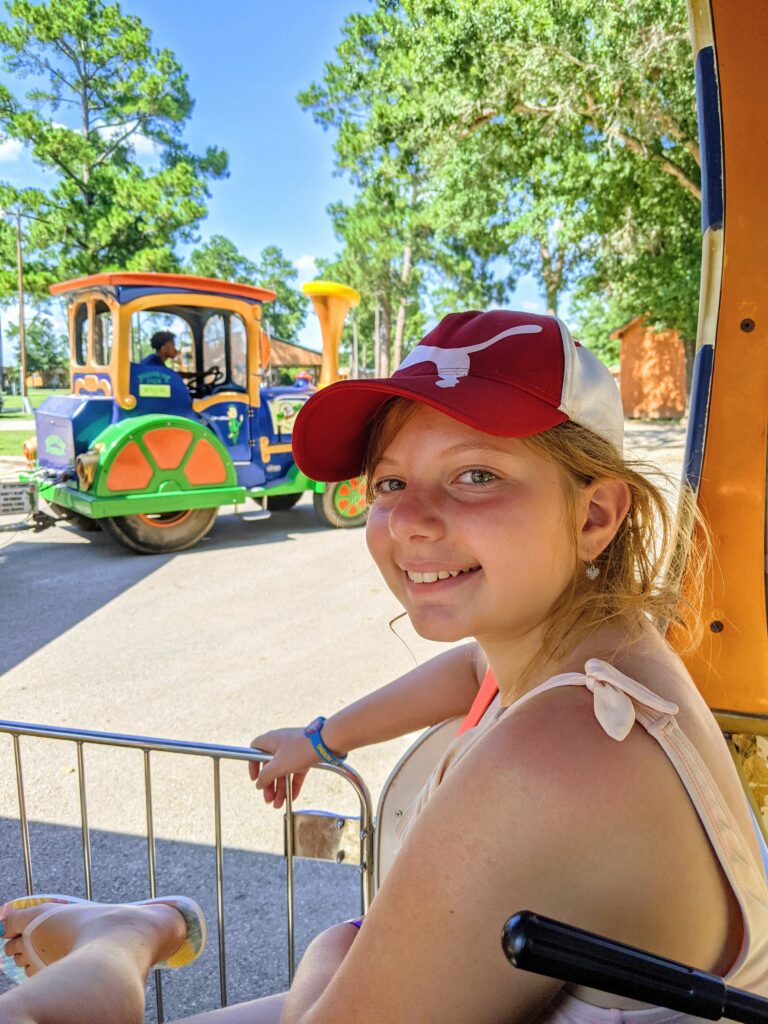 We had a great time enjoying all the amenities, but we didn't even do everything there was to do! See below for the full list.
The park is spaced out quite a bit so I highly recommend renting golf carts while you're there. You can also bring bikes to use as transportation, but bikes are not allowed after dark for safety reasons.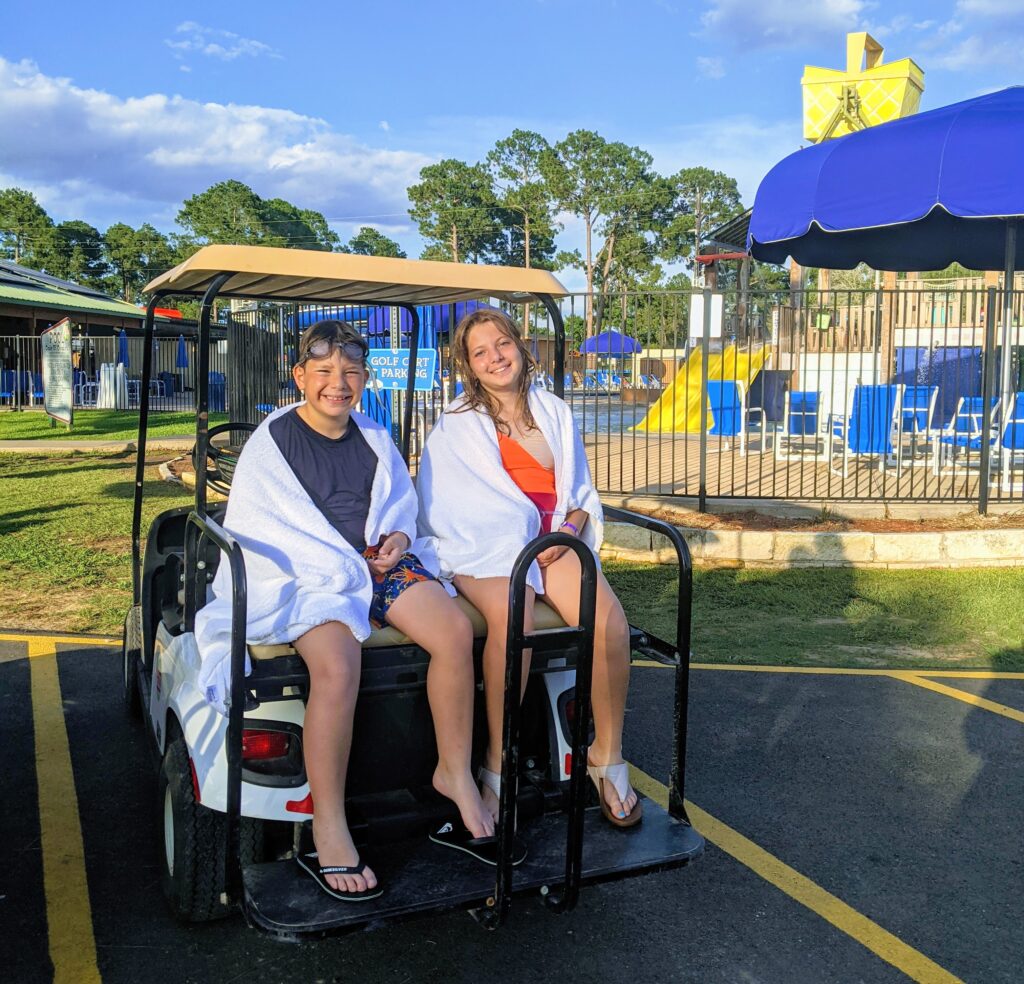 What Can You Do at Jellystone Park Waller?
Here are all of the things you can do at Jellystone.
Swim
Slide and splash in the water zone
Play basketball in the pool
Float on the lazy river
Play in the splash pad
Slide down the tall water slides
Play mini golf
Ride the train
Rent pedal boats on the lake
Fish
Jump on the jumping pillow
Play on the playgrounds or ninja warrior course
Participate in numerous special activities in the Rec Center
Grab a snack
Paint ceramics (paid)
Color T-shirts (paid)
Color coloring pages
Play volleyball or basketball
Watch an outdoor movie
Things to Know About Jellystone Park Waller
They offer day passes as well and would be a perfect day trip from Houston. (For more Houston Day Trips, check out our Houston Day Trips section)
The park is constantly being updated. They are replacing older cabins with new cabins and upgrading one of the older slides as well. If you're planning to rent a cabin, I'd recommend calling up and requesting one of the newer cabins.
Would you or have you stayed here? I'd love to get your impressions in the comments below. Click here to book your Jellystone vacation!