Round Rock, Texas, just outside Austin, is a beautiful city that seamlessly blends an array of big-city amenities with small-town charm. There are so many incredible things to do in Round Rock, making it a great destination for a weekend getaway or a longer trip! From beautiful outdoor recreation along Brushy Creek to family-fun indoor activities, this vibrant city has something for everyone. Here are some of our favorite things to do in Round Rock.
19 Fun Things to Do in Round Rock TX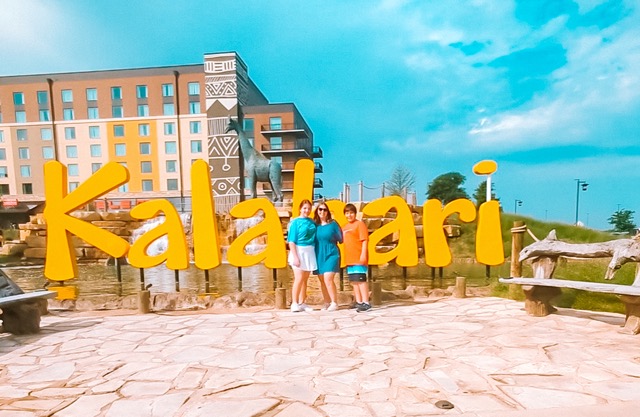 Stay and play all in one location at Kalahari, home of America's largest indoor water park. This ultimate water park destination offers an unforgettable experience for visitors of all ages. Get ready for heart-stopping thrills as you plunge down the towering slide, or, if you prefer a more relaxed pace, take a leisurely ride down the lazy river, letting the gentle current carry you away. The wave pool offers a mix of small, medium, and high waves, interspersed with calmer waters so everyone can enjoy.
For the ultimate surfing challenge, test your balance on the flow rider, where you can ride simulated waves on a bodyboard. And let's not forget about the water basketball, where you can show off your shooting skills. We spent the most time here with the kids enjoying playing against each other and some of the other kids at the pool.
Kalahari also caters to the little ones with plenty of splash zones designed specifically for babies and toddlers, with water swings, kiddie slides, and more.
See our full post about Kalahari Resorts here!
Tom Foolerys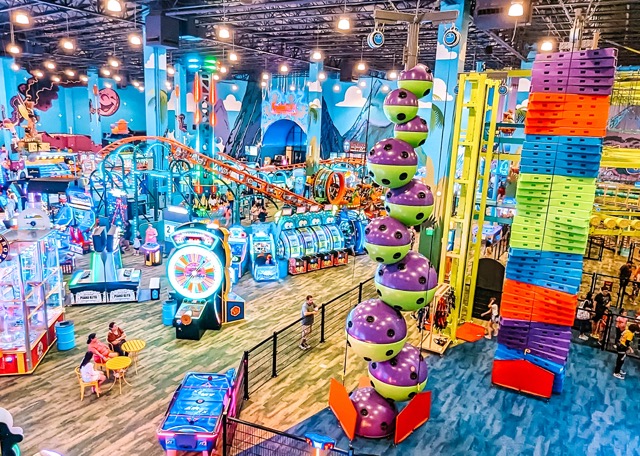 Inside Kalahari is also Tom Foolerys Adventure Park, a thrilling 80,000 square foot entertainment hub that guarantees non-stop fun for all ages. Compete for high scores (and, of course, tickets) with more than 250 arcade games. Strap in for some thrills on one of their multiple indoor roller coasters and rides.
Test your agility and bravery on the sky trail, a high ropes course that takes you on a thrilling journey above the ground, before ending off with a zip line across the expansive room. Engage in adrenaline-pumping battles with laser tag, challenge your wits and agility in the laser maze, or try not to get lost in the twists and turns of the mirror maze. Tom Foolerys is one of those places you can spend all day at, there's that much to do there!
There are packages available so you can enjoy multiple different activities without breaking the bank.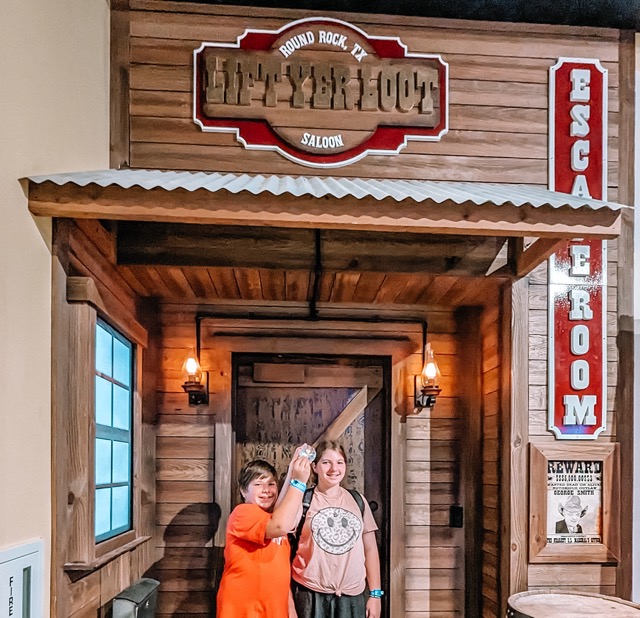 Tom Foolery's also houses two captivating escape rooms that will put your problem-solving skills to the test. Step into the Wild West with "Lift Yer Loot," where you'll find yourself transported to an old west town. Your mission? Break into the bank vault and snatch the renowned Baton Rouge diamond.
For an out-of-this-world adventure, venture into "Escape from Planet Obscura." Imagine being stranded on an alien planet, your damaged spacecraft in need of urgent repairs. You must fix your spacecraft and activate the launch sequence before you're trapped in space forever.
The thing we liked about the escape room here is that we got to do it all on our own, without anyone outside our group. It did make us realize we may not be as good at escape rooms as we may have thought, though… We did the Lift Yer Loot room and got to keep the 'diamond' at the end!
Bowling
Located inside Tom Foolerys, B-Lux Bowling features 12 state-of-the-art bowling lanes. If you're visiting with little ones, B-Lux Bowling has a range of amenities to ensure everyone can enjoy the game. Set up bumpers for individual players so the little ones can avoid those depressing gutter balls while the older kids and adults can still play a regular game. They also have cute bowling ramps for younger players to help guide the ball and add an extra element of fun.
Monster Mini Golf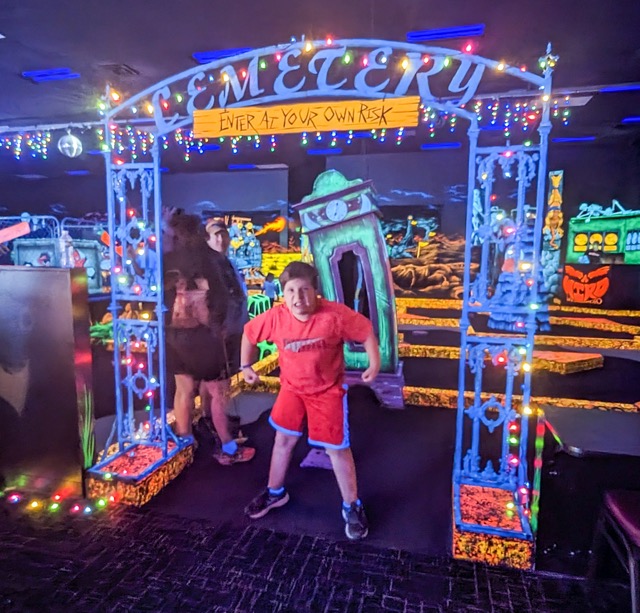 Monster Mini Golf is an indoor glow-in-the-dark miniature golf course. With 18 uniquely designed holes, this family-friendly attraction will immerse you in a world of glowing monsters, animated characters, and challenging obstacles.
As you make your way through the course, you'll notice impressive glowing murals that pay homage to the Texan spirit, our favorite being the glowing Willie "Skelson".
One of our favorite parts of this course was the hole with a handicap spinner, which added an extra layer of fun and unpredictability to the game. We spun the spinner to find ourselves challenged to play the hole with amusing modifications like "use the opposite end of your club" or "use your hand to roll the ball instead of hitting it."
The Ceramic Lodge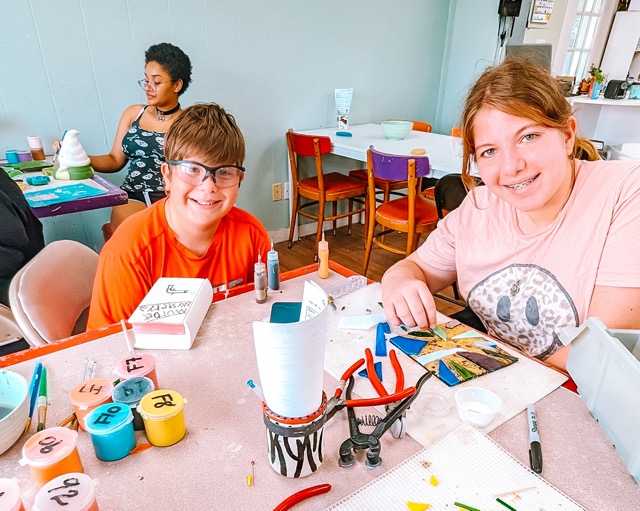 Tap into your inner artist and visit The Ceramic Lodge, a pottery painting studio that welcomes individuals of all ages and artistic abilities. Choose from a wide selection of unpainted ceramics, select your colors, and let your creativity flow. If ceramic painting isn't your thing, you can also opt to learn how to create fused glass designs.
We had a great time designing beautiful fused glass bowls. The best part is, they were able to ship our designs to us, since we were only in Round Rock for a short while.
Paige's Bakehouse Cookie Decorating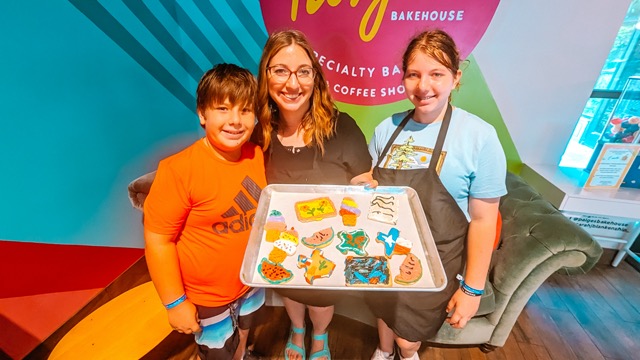 Indulge your sweet tooth and unleash your artistic side at Paige's Bakehouse with a cookie decorating class. Paige had an assortment of different-shaped cookies for us to work our magic on. She patiently showed us different techniques to create cookies that looked far better than anything I ever thought us capable of producing.
The bakery is a gem on its own, as well. Its brightly decorated walls and delicious bakery scent create an inviting atmosphere you'll have a hard time leaving.
Play for All Abilities Park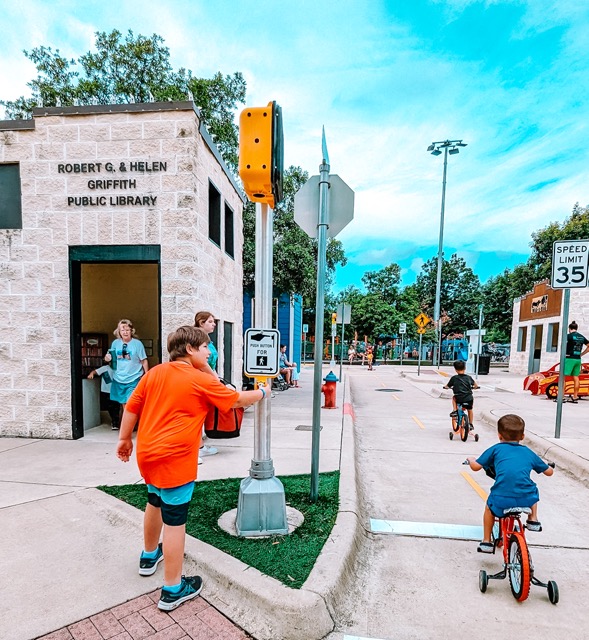 Round Rock's Play for All Abilities Park is a haven of inclusivity, designed to cater to children and adults of all abilities. This accessible park features a variety of play structures, sensory-rich elements, and interactive exhibits that foster a sense of adventure and promote inclusive play. Each 'pod' has a different theme. Try your hand at one of the musical instruments in the Rock Band pod, or try the mini zip line in the Adventure pod.
The best part of this park, however, is the miniature town, called 'Brushy Creek Village'. Complete with little streets youngsters can ride their bikes and scooters along, traffic lights, and familiar landmarks like the library, HEB, and the Round Rock police station, kids can have a blast here, roaming a city made just for them. Kids can even ride their bikes and scooters through a 'car wash', where misters spray water to help keep park-goers cool!
Chisolm Trail Crossing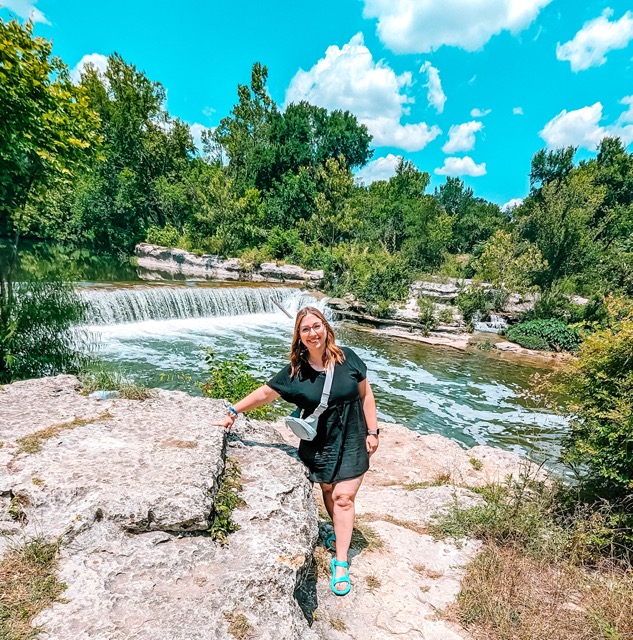 You do not want to miss this beautiful waterfall at Chisolm's Trail Park. The views here are stunning and it's the perfect spot for a picnic lunch. Wade in the creek or swim above the dam to cool off. The park itself was closed for construction when we visited but we'll have to come back to explore the fascinating sculptures we spotted from a distance.
The Round Rock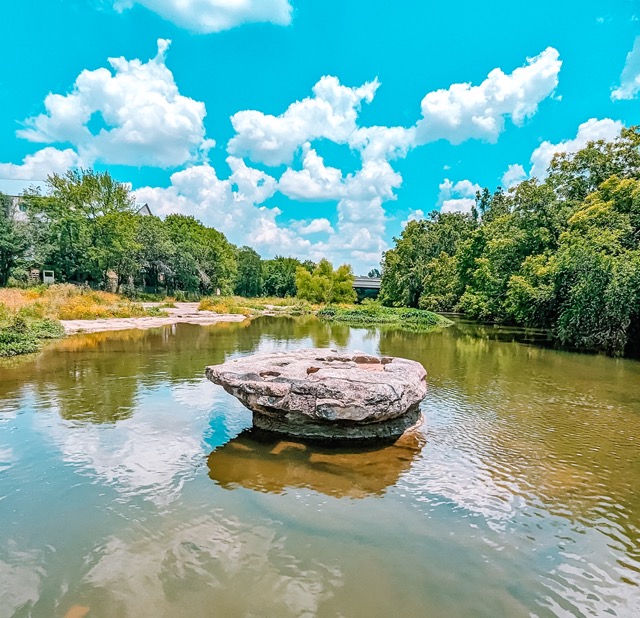 No trip to Round Rock would be complete without visiting the rock the town is named for. The rock sits in the middle of Brushy Creek, right near Chisolm Trail Park, and marks the shallow spot where wagons would cross the creek, back in the day.
Brushy Creek Trail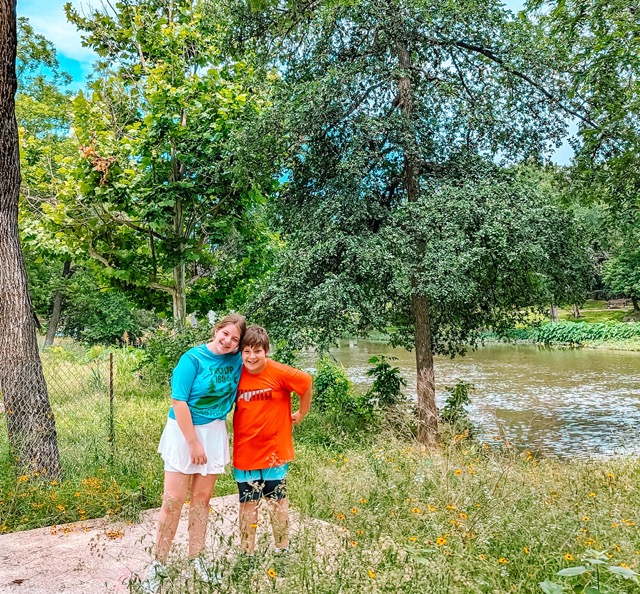 The Brushy Creek Trail offers a picturesque escape for nature enthusiasts and outdoor lovers. This scenic trail winds along Brushy Creek, providing the perfect setting for walking, jogging, cycling, or simply enjoying the beauty of nature. With well-maintained paths, scenic bridges, and serene surroundings, it offers the best of nature in the city's heart.
Round Rock Public Library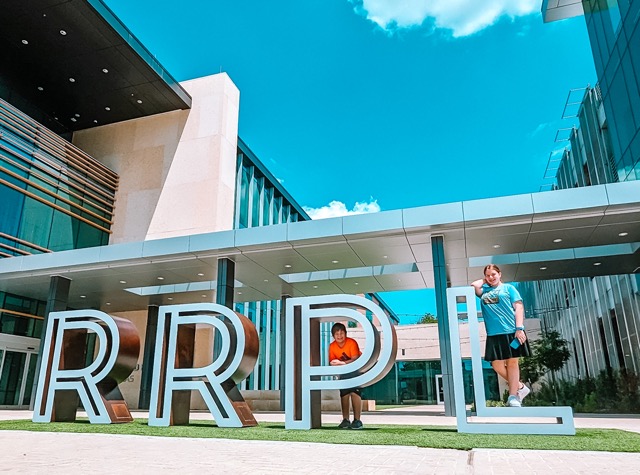 The Round Rock Public Library wouldn't be out of place in a city ten times its size. The newly remodeled three-story building has plenty of places to sit and read or study, including quiet rooms and study rooms. There's even an old bathtub to sit and read in, if that's your thing.
The outdoor spaces at the library are just as magnificent as the indoor spaces. Off the children's section on the second floor is a spectacular patio with a turf labyrinth and covered and uncovered tables and chairs.
The children's section is also home to its very own python, Rocksssanne, who lives in a tank and basks in the attention of the library's patrons. 
Andy's Frozen Custard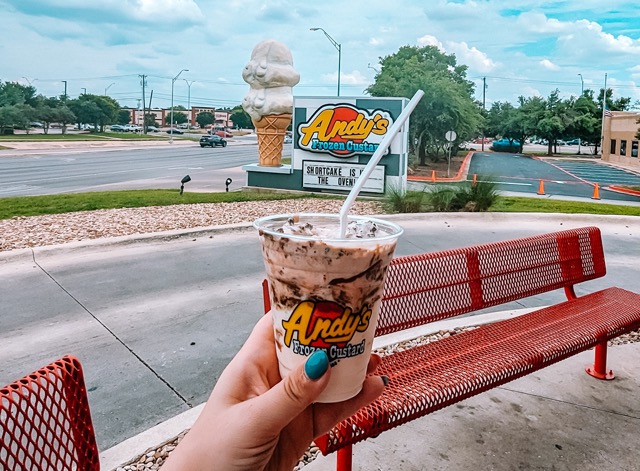 Cool off with one of Andy's famous concretes, a delicious blend of frozen custard and toppings, or a jackhammer, a blend of frozen custard and toppings with hot fudge poured down a hole jackhammered down the middle. For fellow kosher-keepers, Andy's chocolate and vanilla custard, as well as a number of toppings are all certified kosher!
Cafe Java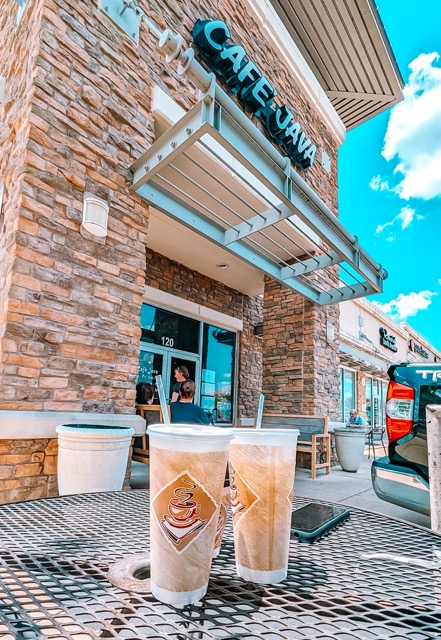 Grab some breakfast or Italian sodas at Cafe Java. You can customize your perfect soda with an incredible selection of Davinci syrups. Choose from amaretto, banana, butter rum, chocolate, orange, strawberry, white chocolate, and more!
More Things to Do in Round Rock
There wasn't enough time for us to do EVERYTHING in Round Rock, so here are a few things we hope to get to on our next trip:
Catch a minor league baseball game at Dell Diamond
Explore the park and playground at Old Settlers Park
Cool off at Rock'N River Water Park
Bowl underwater at Uncle Buck's Fish Bowl & Grill (owned by Bass Pro Shops)
Shop till you drop at Round Rock Premium Outlets
Round Rock, TX, is a city brimming with opportunities for fun, creativity, and outdoor exploration. With so many fun things to do in Round Rock, TX, it's the perfect destination for a weekend getaway or a longer vacation!
Check out more great Hill Country activities and destinations!