With so many fun things to do in Marble Falls and its close proximity to major Texas cities, it's the ideal place for a girls' trip or a weekend getaway. Marble Falls is under an hour from Austin, three hours from Houston, and an hour and a half from San Antonio.
We spent a few days here exploring so many of the unique things to do in Marble Falls. From hiking to shopping to water activities to art galleries, there's something for everyone in Marble Falls.
A full list of things to do in Marble Falls can be found on the Visit Marble Falls website. Here are a few of our favorite things to do in Marble Falls, TX.
Click here for more great things to do in Texas Hill Country.
Things to do in Marble Falls, TX
Shopping on Main Street
Marble Falls is home to an adorable main street, filled with shops and cafes. We enjoyed browsing the various boutiques, smelling the incredible soaps at Monroe's Bath & Body, checking out upscale home decor at Redid, trying on clothes at Lula's on Maine and Eve's Couture and accessories at Blue Suede Shoes, perusing pet supplies at Waggers and Swaggers, and browsing unique home goods and gifts at Oh La La Decor.
Candy & Ice Cream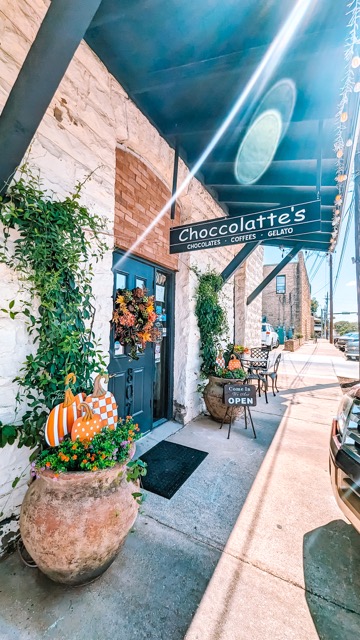 Stop into Ms. Lollipop's to browse what has to be one of the world's largest selections of candy, or grab some Hershey's ice cream to eat while sitting on a vintage diner-style stool and listening to music from the jukebox. They also have tons of cute gifts and toys, as well as a whole Halloween costume shop.
For a delicious selection of handmade chocolates, candies, gelato, coffee's and more, visit Chocolatte's. Don't forget to try their famous famous Pecan English Toffee.
Sculptures on Main Street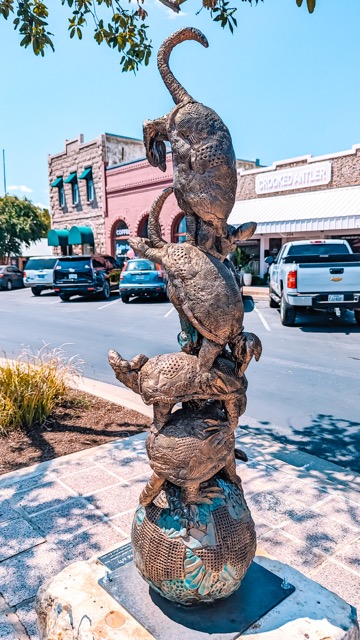 Take a leisurely walk down Main Street and keep an eye out for the unique sculptures scattered around. These artistic creations add a touch of culture and whimsy to your stroll and make for great photo opportunities. Our favorite was the pile of armadillos pictured above.
Play Music in Harmony Park
Feeling musical? Head over to Harmony Park, an outdoor musical playground in a small square on Main Street. Play around on various instruments scattered throughout the park and add a little music to your day.
The park is made up of five permanent structures with metal rods, beams, or circles, with a handheld metal club attached to each. Running the club along the instrument, or tapping on the various metal parts elicits different sounds. You can play something solo, or join in with a group for a complete street symphony 🙂
Tour Beloved Gallery
Beloved Gallery hosts the work of Akiane Kramarik, most famous for her Prince of Peace painting. It's a fascinating dive into her life and the history of the famous painting. Akiane: A Portrait of the Artist, the exclusive short film running as part of the exhibition, details Akiane's journey through poverty, childhood fame, and tragic loss to becoming the master artist she is today.
There are ten other paintings painted by the child prodigy on display as well, which are part of the tour. It's incredible to see these paintings that were painted by a mere child, as young as 4 years old, yet look like something that would have been painted by a famous painter ten times her age.
Tours are free, and last approximately one hour. They can be booked ahead of time here.
Grab a coffee or a snack at Beloved Cafe before or after your tour.
Picnic at Lakeside Park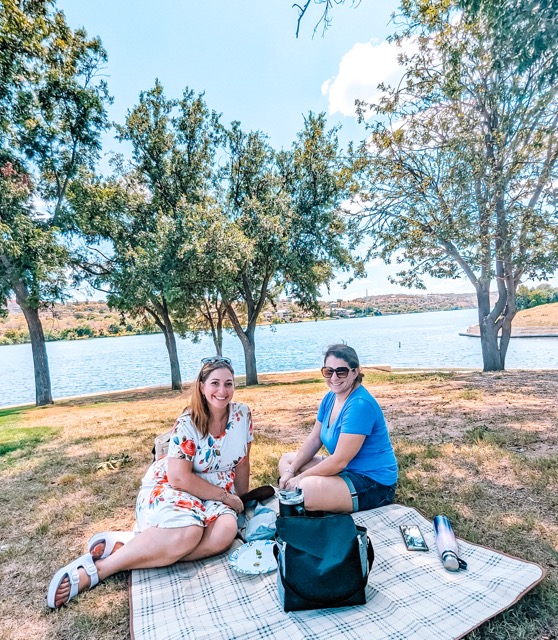 This aptly named lakeside park provides a beautiful backdrop for a leisurely picnic. At the park, you'll also find picnic tables, barbecue pits, a tennis court, a boat ramp, and even a seasonal pool. We found plenty of shady spots to park ourselves, and even though it was over 100 degrees, we had a wonderful, comfortable picnic in the shade.
Swim or Paddle Lake Marble Falls
We couldn't make a list of things to do in Marble Falls without mentioning the lake itself. The calm waters of Lake Marble Falls are perfect for swimming or paddling. Rent a kayak or SUP from Just Yakin or head to Lakeside Park to get in the water. When the sun is shining, the sunlight sparkles off the surface of the lake, just begging you to jump in and cool off in its inviting waters.
Hike Balcones Canyonlands National Wildlife Refuge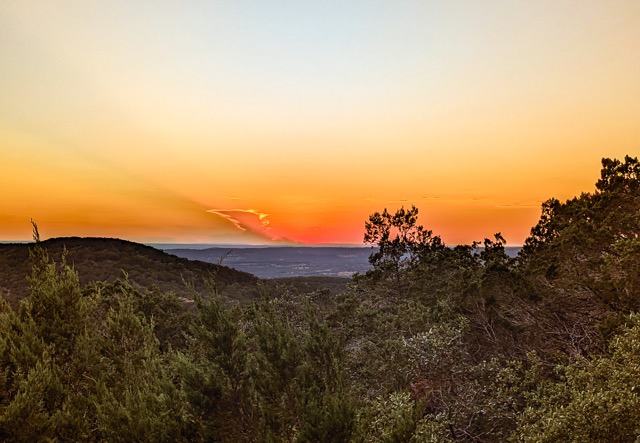 Balcones Canyonlands National Wildlife Refuge is hands down one of our favorite things to do in Marble Falls. And the best part is, it's free to visit. With its numerous hiking trails, roads, and scenic lookouts, it's the perfect spot for nature lovers of every fitness level. This is a great place for birding, as well, so you'll definitely want to bring your binoculars.
Make sure to drive up to Sunset Deck to take in the beautiful sunset. From that spot, you can see the beautiful hill country landscape for miles, and it's an incredible spot to watch the sunset.
Hike or Swim at Inks Lake State Park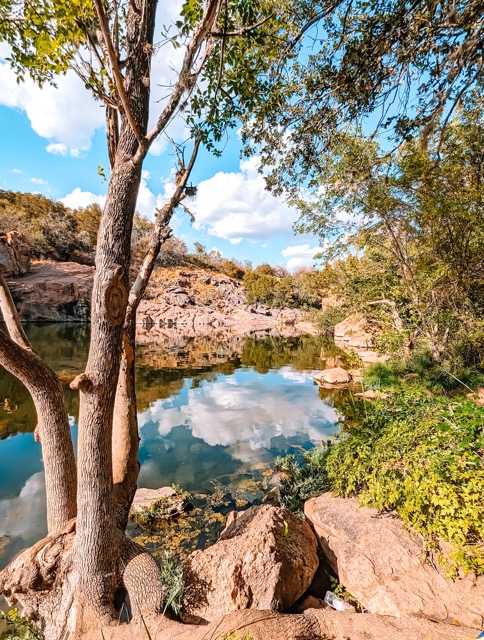 Inks Lake State Park is a beautiful state park that's home to numerous hiking trails, as well as Inks Lake, which is perfect for swimming or boating.
On land, you can camp, backpack, geocache, play volleyball, picnic, and observe nature. They have 9 miles of hiking trails through shady forests and across rocky hills. On the water, you can swim (no lifeguards on duty), boat, water ski, scuba dive and fish. Rent paddle boats, canoes, single and double kayaks, stand-up paddleboards (SUP), life vests and paddles at the park store. Weather permitting, rentals are available Sunday- Thursday from 9 a.m. to 3 p.m. and Friday – Saturday from 9 a.m. to 4 p.m.
You can also take a short trail out to Devil's Waterhole, a popular spot for swimming and cliff diving.
Entry fee is $6 for adults 13+.
Tour Longhorn Cavern at Longhorn Caverns State Park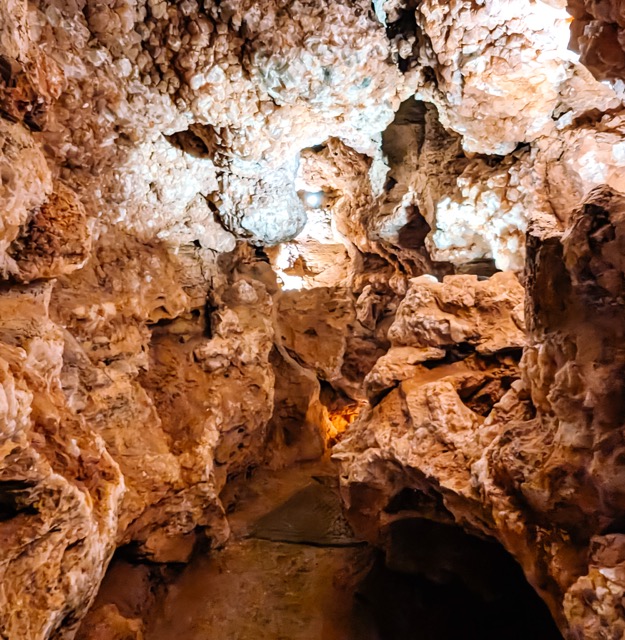 While Longhorn Caverns State Park is officially in Burnet, it's close enough to be included in our list of things to do in Marble Falls. Longhorn Cavern is one of the most beautiful caverns in Texas. From rooms covered in crystals to incredible rock formations, this cave is not to be missed. Tours are available only with a guide so book in advance or visit the visitor's center to book a tour.
If you're adventurous, you can try the wild cave tour, that takes you on your hands and knees, crawling through some of the cave's tighter spaces. All equipment is provided, but you'll need to make sure to wear close toe shoes.
Longhorn Cavern was actually the first property acquired by the Texas Parks and Wildlife board and is turning 91 this November!
The walking tour lasts 90 minutes. The fee is $18.25 for kids under 12 and $22.50 for adults 12+.
Grab a Drink at a Brewery
If exploring all the incredible things to do in Marble Falls makes you thirsty, have no fear! Marble Falls is home to a few different breweries.
Save the World Brewing Company features a pet-friendly patio and is open 3-8 pm on Wednesday-Saturday.
Bear King Brewery is open every day of the week, 11 AM – 9 PM, or 8 PM on Sundays.
Double Horn Brewery is also open every day, but their hours vary. They're open 4-9 PM on Mondays and Tuesdays, 11 – 9 Wednesday and Thursday, 11 – 10 Friday and Saturday, and 11-5 on Sundays.
Get Coffee at Numinous
Numinous Coffee Shop offers coffee and some light bites. They also roast their own coffee beans and you can buy their coffee right there at the shop. You can also watch the roasting and grinding process, as the machine is located right in the middle of the room.
Stay at Cypress Valley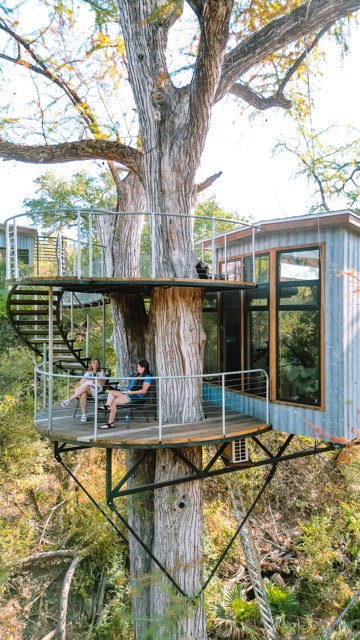 While you're exploring all the incredible things to do in Marble Falls, you'll need accommodations. Cypress Valley Canopy Tours offers stunning treehouses and yurts on a beautiful property. Sleep in a hammock in the shade of a tree, explore the spring-fed creek, swim in the pond or pool, or walk through the wild flowers in spring.
Yoki, Lofthaven, Juniper, and Willow treehouses each sleep two guests, and The Nest sleeps four guests regularly, but can accommodate up to six. The Ranch House is on the ground, but the main room feels like a treehouse looking into the creek ravine through the treetops and sleeps up to 15. Each glamping tent sleeps two and surrounds the shared amenities area—BBQ grills, pool, and games area, as well as a new Camp Store where everyone onsite can get complimentary expresso drinks or buy snacks, drinks, or items they wish they'd remembered
There you have it, the complete list of our favorite things to do in Marble Falls, TX. Have you ever been here? What did we miss? Don't forget to check out the official site for more things to do in Marble Falls!