Thousand Trails Campgrounds can be found across the country. They're known for their numerous ways to stay – tiny homes, cabins, RV sites, tent sites, even yurts!
We recently stayed at Thousand Trails Lake Conroe, which is one of seven Thousand Trails Texas properties. Located just an hour outside Houston, it's the perfect destination for a quick weekend trip!
Thousand Trails Lake Conroe Ways to Stay
At Thousand Trails Lake Conroe, you can opt to stay in a cabin, RV spot, or a tent site.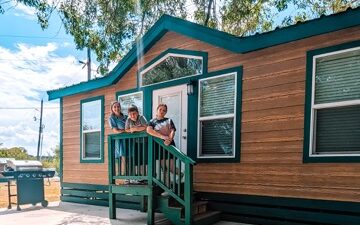 We stayed in a cabin that managed to convey a rustic, log cabin vibe while still feeling clean, comfortable, and luxurious. The cabin had a main room with a kitchenette, consisting of a stove top, microwave, sink and fridge, along with a table and chairs, and a couch.
The kitchenette was perfect for preparing meals. While there are some food trucks on premises, there aren't any restaurants, so the kitchenette definitely came in handy.
To either side of the main room were bedrooms. The main bedroom had a queen bed, while the second bedroom had the cutest built in bunkbeds.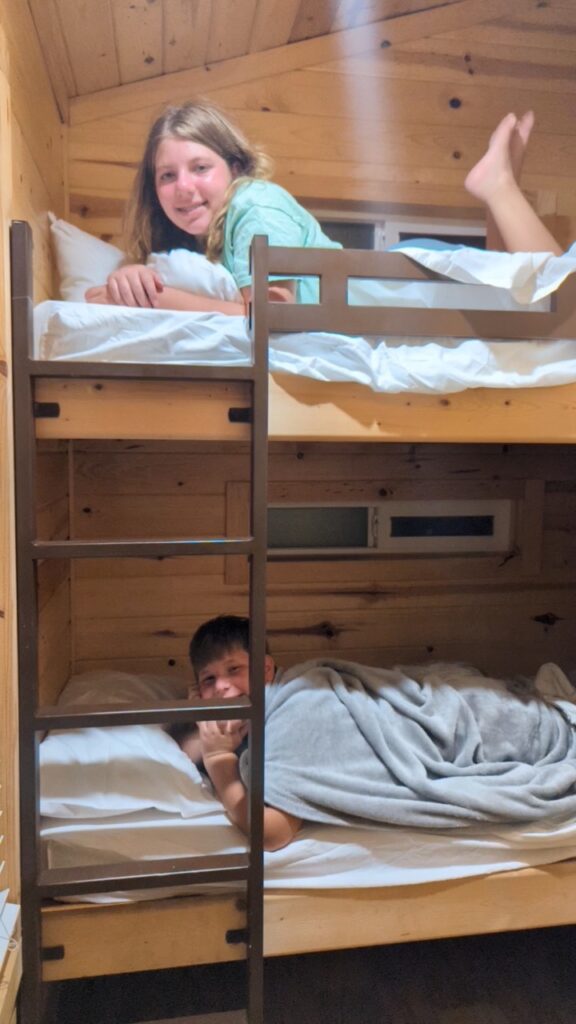 Everything felt so new and clean, which we really appreciated. Even the bathroom felt more like a hotel bathroom than a cabin bathroom.
Outside the cabin was a picnic table and a fire pit. Our First Class Scout built the fire and we roasted marshmallows for s'mores, because it's not a camping or glamping trip without s'mores!
Thousand Trails Lake Conroe Amenities
The campgrounds is located on Lake Conroe. You can walk down to the lake from your cabin or RV and enjoy a beautiful sandy beach, complete with beach volleyball. There is a small swimming area at the beach and we saw plenty of people putting up shade awnings and setting their chairs in the water under the awning to enjoy the water.
Kayaks, stand up paddle boards, and pedal boats are available for rent (head to the ranger's station up front to fill out waivers and have them unlocked for you).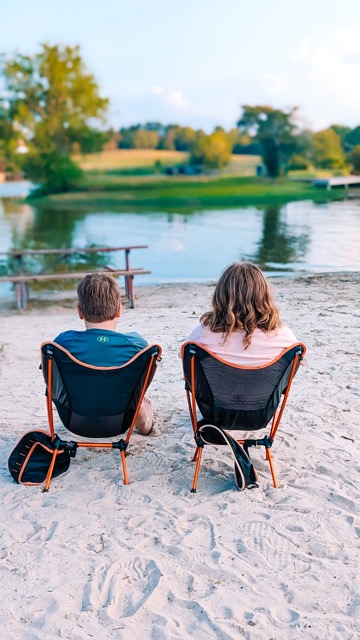 If you own a boat, you're in luck. Thousand Trails Lake Conroe has a boat ramp where you can launch your boat, and a dock where you can tie up for a few days. The lake is beautiful and even if you don't own a boat (like us), there's nothing like sitting on the dock watching the sunset.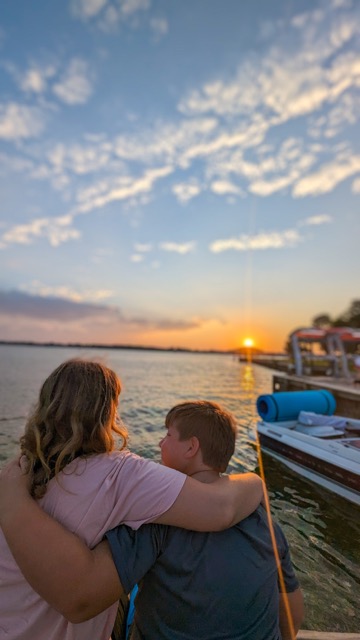 There's a fish cleaning station at the edge of the dock as well, for those who enjoy fishing.
In addition to the lake, Thousand Trails Lake Conroe has a beautiful, resort-style pool. The pool is surrounded by tall palm trees so you feel like you're in some tropical destination, not barely an hour from Houston.
We found our fellow campers to be incredibly friendly, inviting the kids to join in on a game of keep it up. Next to the pool, there's a hot tub, which we didn't make use of, considering it was August when we went, but I can definitely see it getting plenty of use during the winter.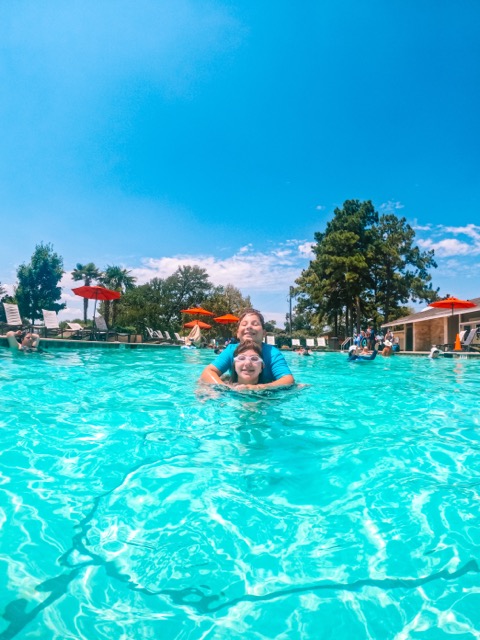 When you're not swimming or enjoying the lake, there are plenty of other activities to keep you occupied. The resort offers tennis and pickle ball courts, basketball courts, and even mini golf.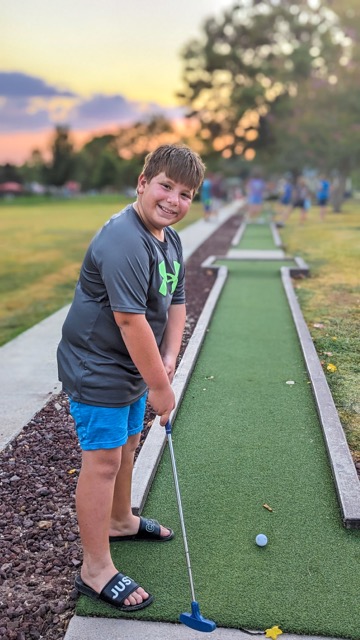 Unlike some campgrounds where you have to traipse all the way to the rec hall to check out equipment, the necessary equipment for each activity was conveniently located right there, no checking out needed. The mini golf had balls and clubs hanging right near the first hole and the basketballs were available right next to the court.
Inside the activity center, there is a whole schedule of activities taking place in or near the rec hall each day. During our stay there was bingo, coloring, chalk coloring – there were even some movies being shown on a rainy day.
Thousand Trails Camping Pass
Thousand Trails Lake Conroe is just one of hundreds of Thousand Trails campgrounds nationwide. They offer a camping pass you can purchase that gives you unlimited, free stays at any of their campgrounds across the country for one flat fee. If you love camping and enjoy the amenities of a camping resort, this is a great deal.
Thousand Trails Lake Conroe is a great spot for a quick getaway from Houston. Prepare to be transported to a different world as you leave the stress of the city behind and embrace the lakefront life. It may only be an hour from Houston but it feels a world away. If you love camping, you'll love it at Thousand Trails Lake Conroe. If you've always insisted you'd never camp, try booking a cabin and see how camping can be comfortable and fun!
If you're visiting the area from out of town, check out all the fun things there are to do in Houston and the surrounding areas.