If you've never heard the words camping and resort in the same sentence, you've obviously never visited Camp Fimfo Waco. Just an hour and a half from Dallas and Austin, and under three hours from Houston, Camp Fimfo Waco is the ideal place to get out and enjoy the outdoors without sacrificing any of your creature comforts.
Camp Fimfo Waco Ways to Stay
RV Sites
At Camp Fimfo Waco, you can bring your RV and enjoy full hook-ups, river views, and even concrete pads and patios, depending on the site type. Each RV site comes with a picnic table, charcoal grill, and a fire ring.
Cabins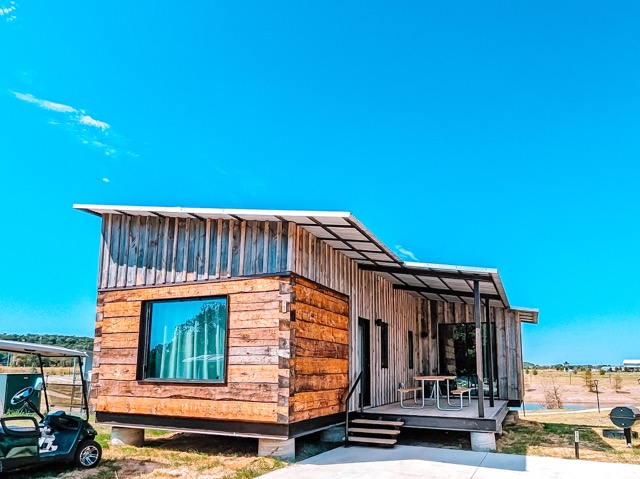 Camp Fimfo Waco has three different cabin types to choose from – and more coming soon! The Magnolia Cabin sleeps 8, the Firewheel Cabin sleeps 10, and the Mammoth Cabin, which we stayed in, sleeps 11 in three bedrooms.
The cabins are the ultimate glamping experience with modern, rustic finishes, and each cabin has a porch, charcoal grill, and a fire ring.
Tent Sites
If you want to completely unplug, you can stay in a rustic tent site. Each site comes with a fire ring, picnic table, and charcoal grill.
Once you've chosen your accommodations, it's time to check out the incredible lineup of activities Camp Fimfo Waco has going on. From pools, slides, and lawn games to daily rotating activities, there's never a dull moment!
Amenities
Pool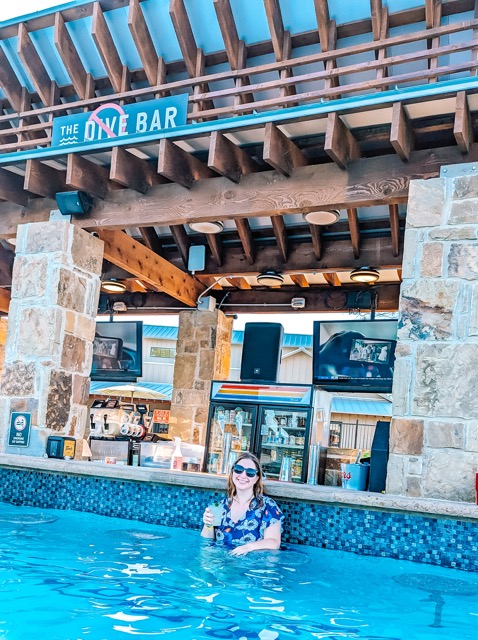 The beautiful pool features three basketball hoops (which were a huge hit with my ten-year-old son) and a swim-up bar (which was a huge hit with, well, me). We got a poolside cabana which made it easy to stow our stuff in the shade. It even had a fridge to store drinks in, and outlets to charge our phones.
Interactive Splash Zone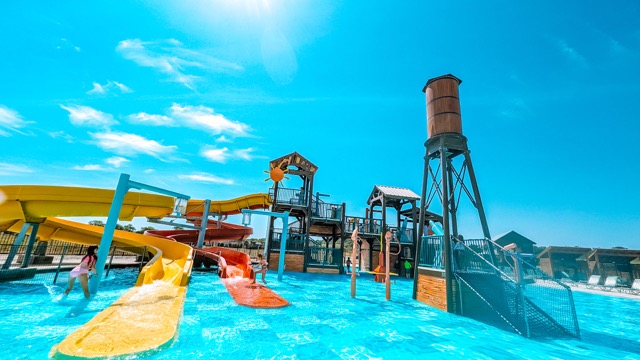 Next to the pool is a huge splash area, complete with twisty slides, straight slides, and even tiny baby slides. A water tower in the center erupts every few minutes sending gallons of water spraying out. It's fun to watch all the kids rush over when they hear the whistle announcing the imminent eruption. I hate water in my eyes but even I joined in after a while, because the pressure of the water on my back actually felt like an incredible massage.
The slides were perfect for my kids. They were tall enough and twisty enough to be fun without being the kind of tall and twisty that starts to get scary.
Throughout the splash area, there are tons of interactive splash elements. The kids were able to shoot water out of a cannon, man a pump to send water bubbling up under someone's feet a short distance away, or aim one of the multiple spray guns at unsuspecting victims.
Outdoor Games
Enjoy a round of mini golf at the 18-hole mini golf, included in your stay, or head to the General Store to check out equipment to play basketball, whiffle ball, pickle ball, tennis, horseshoes, bocce ball, corn hole, and more!
River Access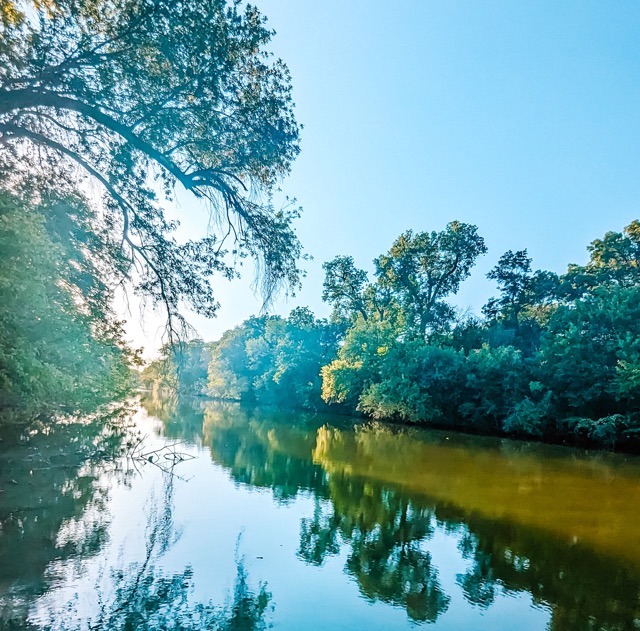 Rent a kayak or stand-up paddle board and explore the Bosque River.
Jumping Pillow
Kids love the giant jumping pillow where they can jump, flip, and let out some energy.
Playground
Let the kids play on the playground while you whip up a delicious dinner on the grill.
Squirrely's Tavern
Not interested in cooking? Head to Squirrely's Tavern for delicious dining options.
General Store
Whether you need s'mores ingredients or a souvenir, the General Store is fully stocked with anything you might need during your stay. The General Store is also where you can check out various sports equipment.
Daily Activities
To top it all off, there is a new list of fun activities posted every single day. Enjoy candy bingo, arts & crafts, poolside games, and more!
Things to Know About Camp Fimfo Waco
The park is big. You can drive everywhere, but there is limited parking in the main area near the pool. Your best bet is to bring bikes/scooters or rent a golf cart.
The activities change daily so make sure to check the list each day.
All cabins and the red carpet RV sites have access to free wifi.