It may be small, but that doesn't mean there aren't tons of amazing things to do in Johnson City Texas! Johnson City is located about an hour west of Austin, on the banks of the Pedernales River. It's about three and a half hours west of Houston, a little over an hour north of San Antonio, and just under four hours south of Dallas.
As of the last census, there were just 1,656 people in Johnson City. But despite its size, it's home to a state park, an incredible children's museum, a historical park, a safari, and multiple wineries. If you're planning a trip to hill country, I highly recommend you visit Johnson City Texas as part of your trip!
Outdoor Things to Do In Johnson City Texas
Pedernales Falls State Park
Perhaps the most famous of all the things to do in Johnson City Texas is Pedernales Falls State Park. This beautiful state park offers miles of incredible hiking trails along the Pedernales River.
The Pedernales Falls aren't waterfalls in the classic sense – they're more horizontal than vertical, but they're gorgeous nonetheless. Huge rocks block the passage of the river, allowing the water to cascade slowly down their fronts. Depending on when you visit, the falls will be stronger or weaker. When we visited in the winter, there wasn't much to see in terms of waterfalls, but our kids had the best time climbing and playing on the rocks.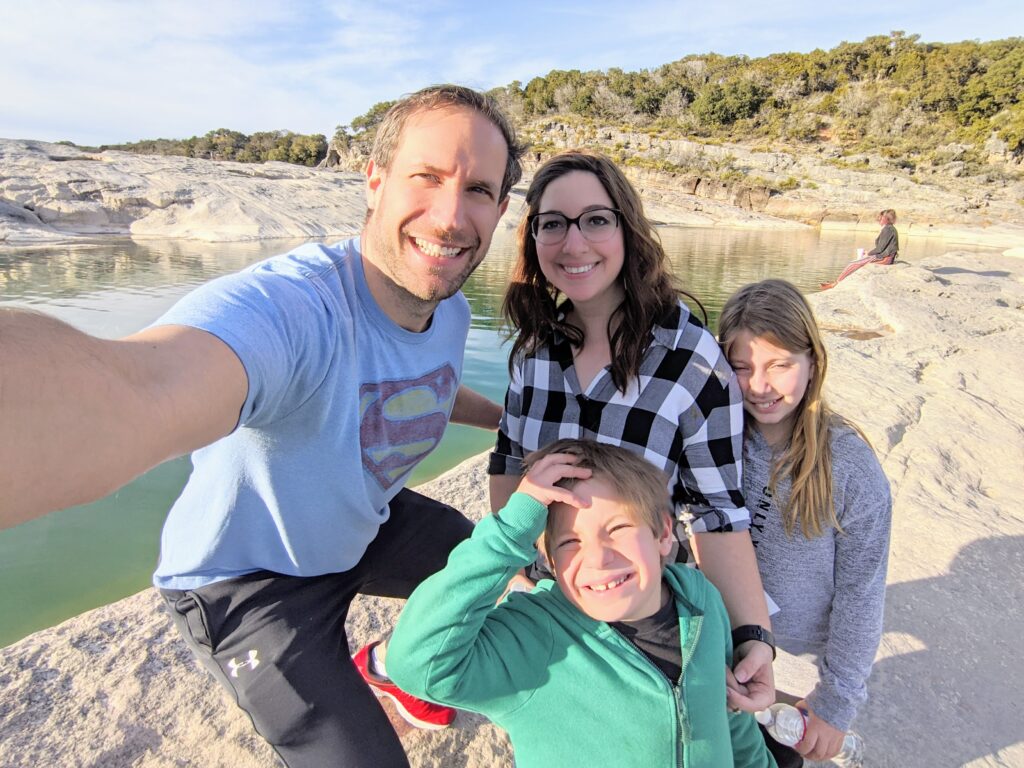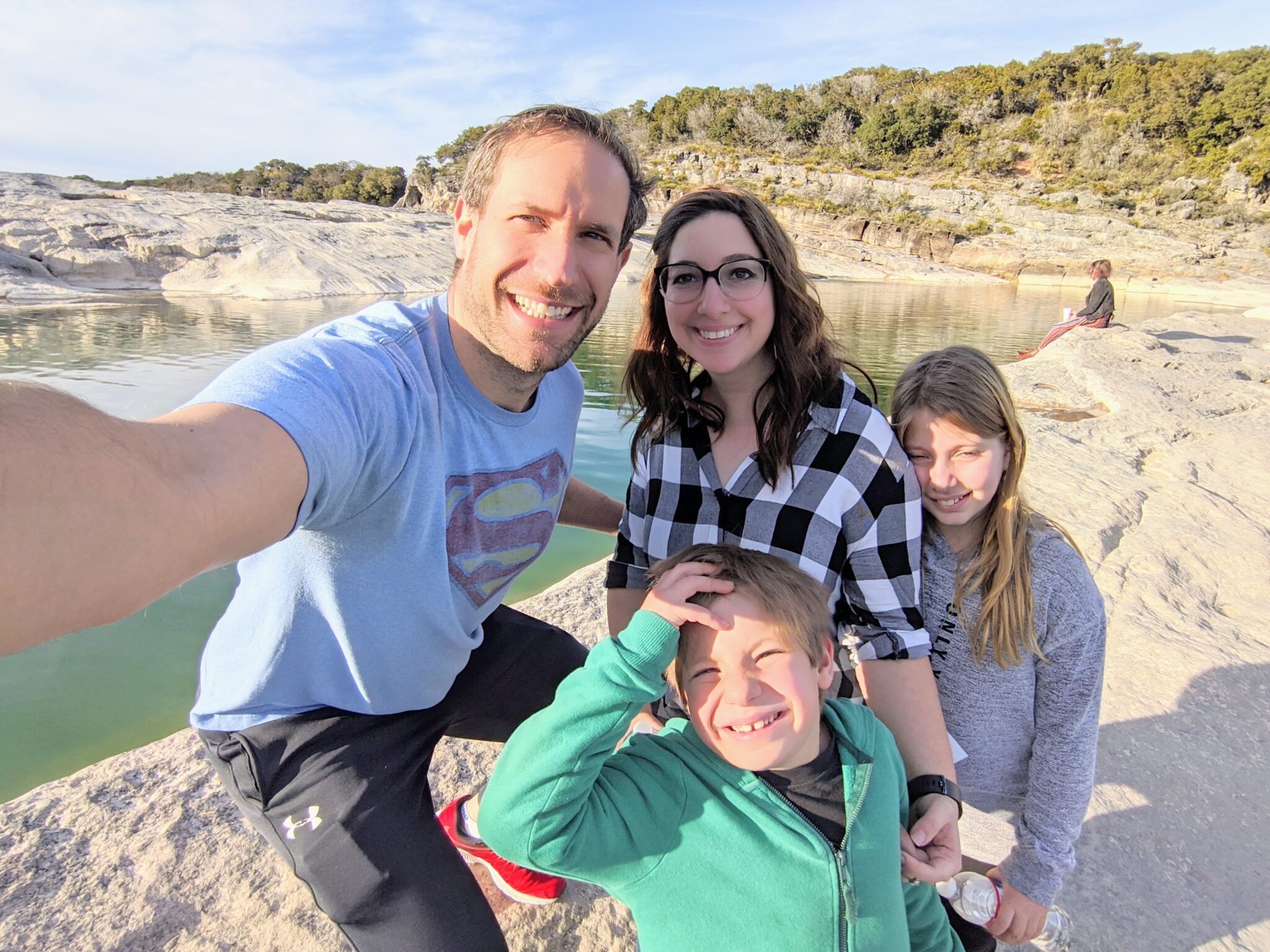 You can also swim in the river, though for safety you cannot swim directly at the falls. If you like to camp, you're in luck, as the park has camping sites, both primitive, and with electricity and water.
The hiking trails range from a short .5 mile hike with a scenic overlook looking out over the river, to a more challenging six mile hike, wrapping around mountains and canyons, with little wading pools along the way.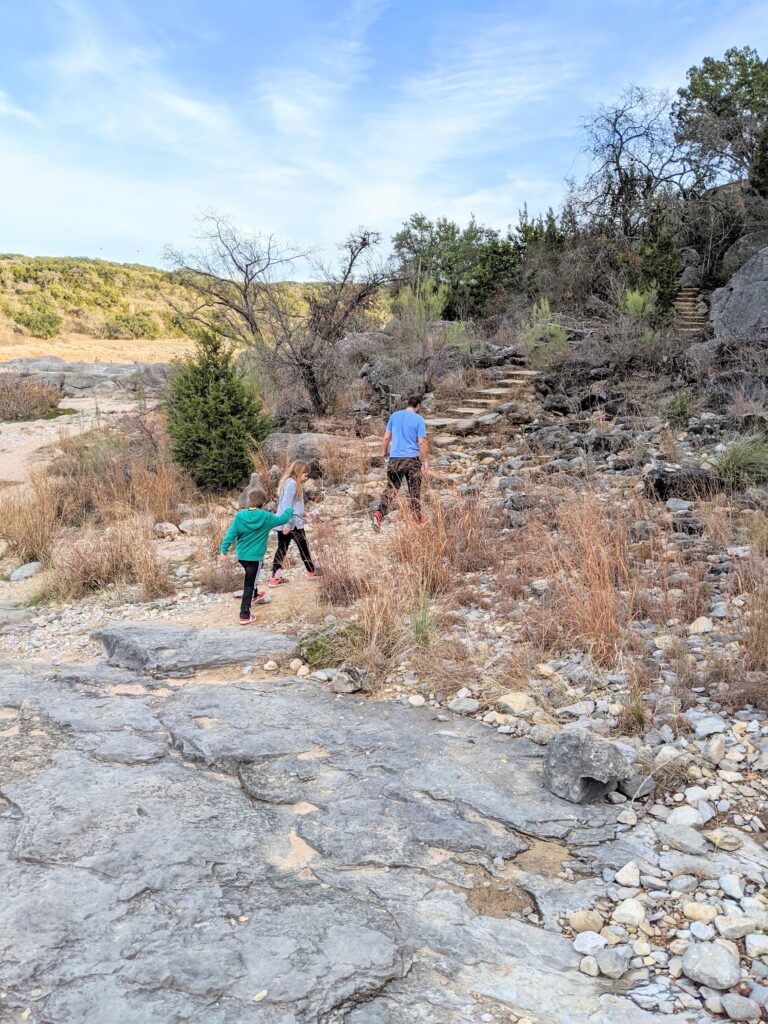 There's also a horseback trail and ten mile bike trail with plenty of obstacles. To be honest, I never really understood this – when I'm biking, I'd like a nice leisurely ride, but I must be missing something!
Bring your kayak, canoe, or tube for some additional river fun. But again, you'll need to stay away from the falls area with any sort of water recreation.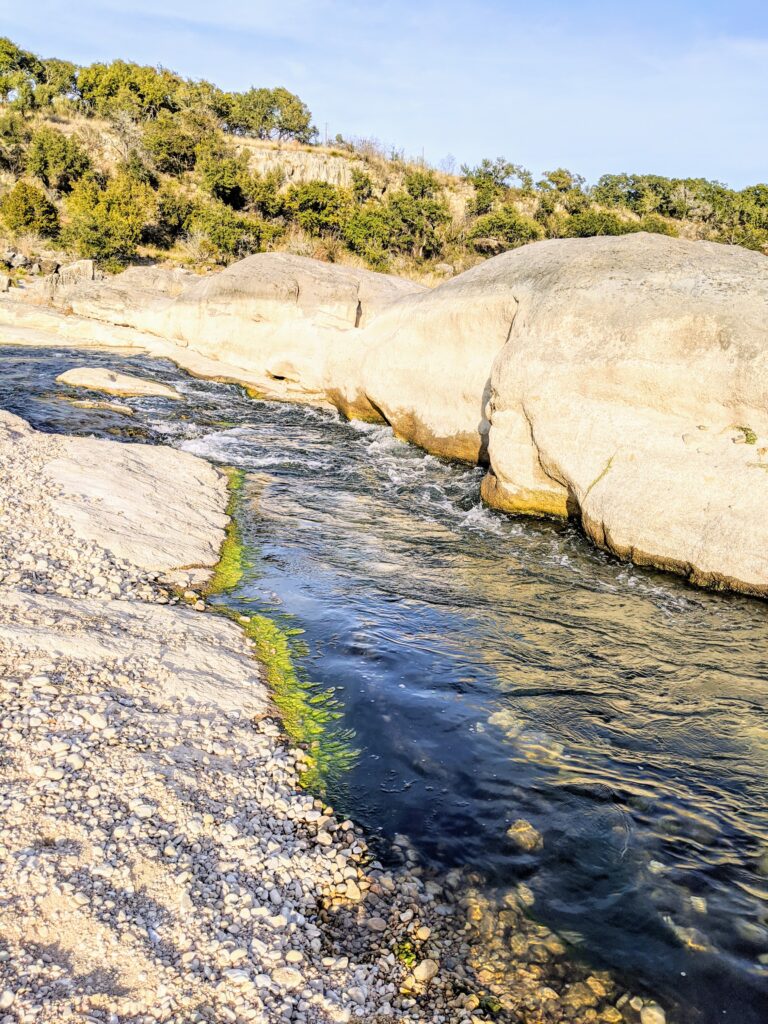 If you visit Johnson City Texas and go to Pedernales Falls State Park, make sure to take pictures and tag #texaswanderers on IG for a chance to be featured!
Lyndon B. Johnson State Park & Historic Site
Just outside Johnson City, halfway to Fredericksburg, you'll find the Lyndon B. Johnson Historical Site and State Park. Home to the Sauer-Beckmann Living History Farm, other historic cabins, LBJ ranch, as well as tons of nature, wildlife and hiking trails, the park offers so much to do, you can spend all day! Check their website for current admission information, as some parts are closed due to COVID.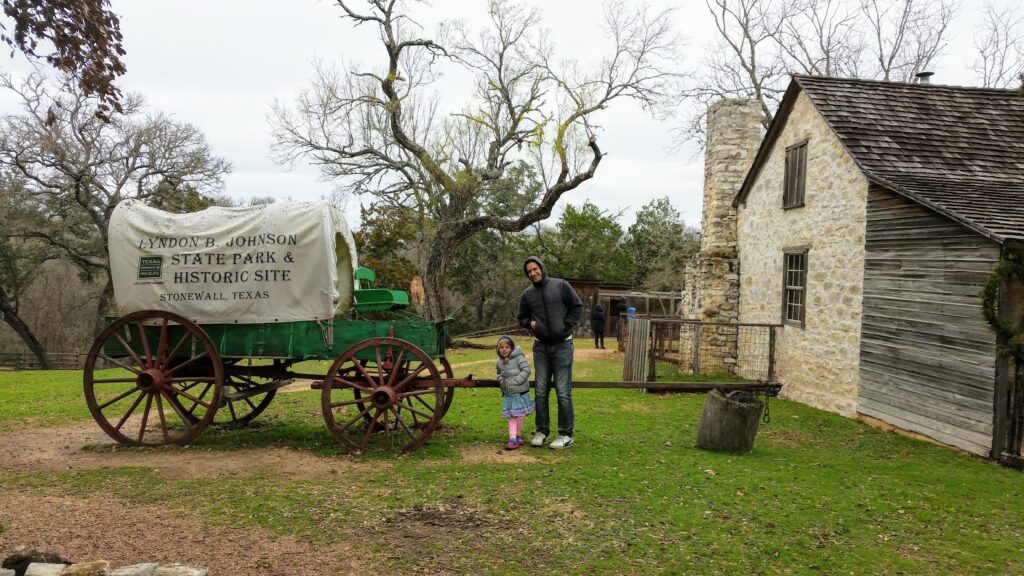 The Sauer-Beckmann Living History Farm was the home of Johan Friedrich Sauer and his wife Christine Strackbein, who purchased 188.75 acres along the Pedernales River from Casper Danz and moved here with their four children in 1869. As the years progressed, they expanded their original log and stone cabin, adding additional rooms, and eventually a two-story stone addition for their ten children.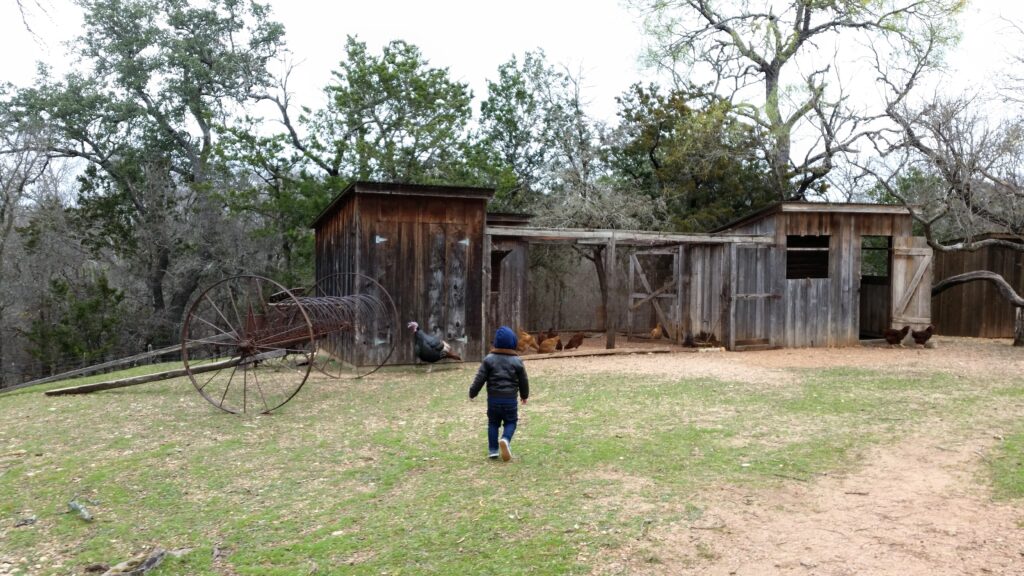 In 1900, they sold the farm to the Beckmanns, who made further modifications to the property, including building a Victorian home attached to the old structure. Over the years they sold off parts of the property, including 4 acres to President Lyndon B. Johnson in 1951. In 1966, the rest of the property was sold to the Texas Parks & Wildlife Department.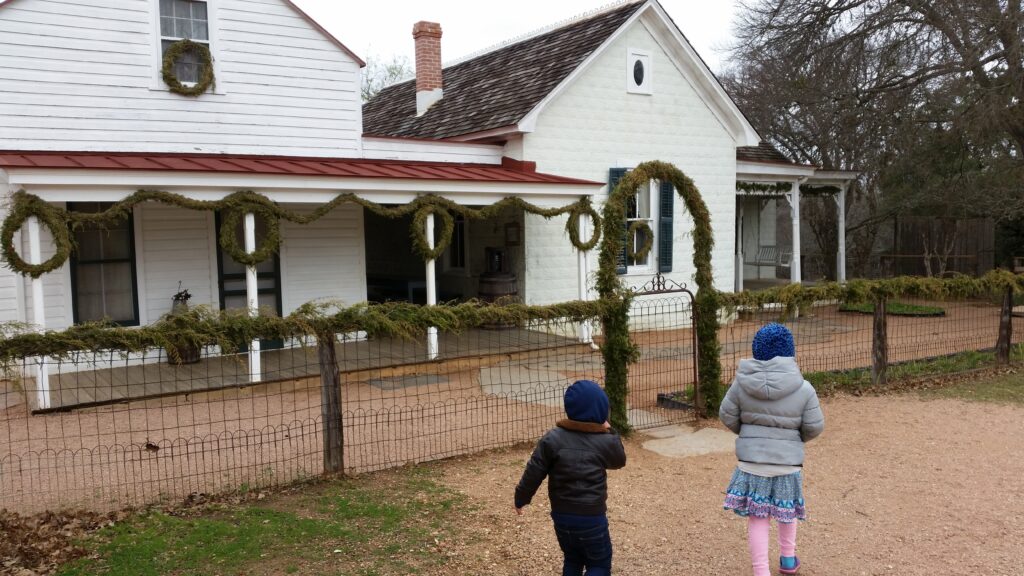 As you tour the property, (free of charge), you'll find park rangers dressed in period costumes, performing tasks that would have typically been done on the farm, like weeding the garden, working in the blacksmith shop, or knitting. They're happy to talk to you and explain what they're doing and the history of the site.
After you've toured the living history farm, head on over to LBJ Ranch, to visit LBJ's birthplace, the one-room school that four-year-old Lyndon attended in 1912, the Johnson family cemetery where he is buried, and the Texas White House. The Ranch is too big to walk, so you'll be driving to the various buildings. We visited in rare sub-freezing weather, so we appreciated the ability to warm up in the car between buildings.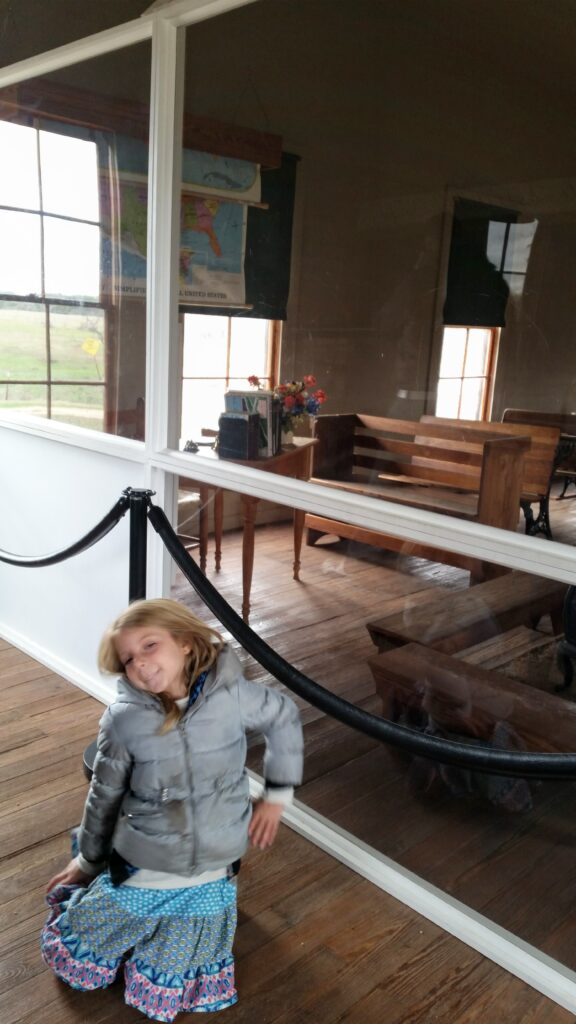 Milton Reimers Ranch Park
Exotic Resort Zoo
The Exotic Resort Zoo offers both guided and drive through tours of their safari. Right now during COVID, only the drive-through tour is operating. As you drive along you'll see (and be able to feed, if you've bought their feed) emu, wallaby, buffalo, camels, donkeys, zebras, ostriches, and antelope, to name a few.
Reservations are recommended on weekends. Admission is $16.95 for adults, $15.95 for seniors (60+), and $13.95 for children 2-12. Sacks of feed are sold separately at $6 each.
The Exotic Resort zoo also offers overnight accommodations in a safari setting. Starting at $150 a night, eight cabins are available for booking. The property includes an outdoor pool.
Indoor Things To Do In Johnson City Texas
Science Mill
Housed in a refurbished mill, Science Mill is chock full of kid-friendly exhibits. It's hands-down our favorite thing to do in Johnson City. The museum staff is friendly and helpful, and the exhibits are incredibly fun, educational, and super hands-on. Our kids never wanted to leave!
Our kids particularly enjoyed the exhibit that lets you code a variety of Texas animals to move and make noise. We coded a rattlesnake to move its head, hiss, and rattle!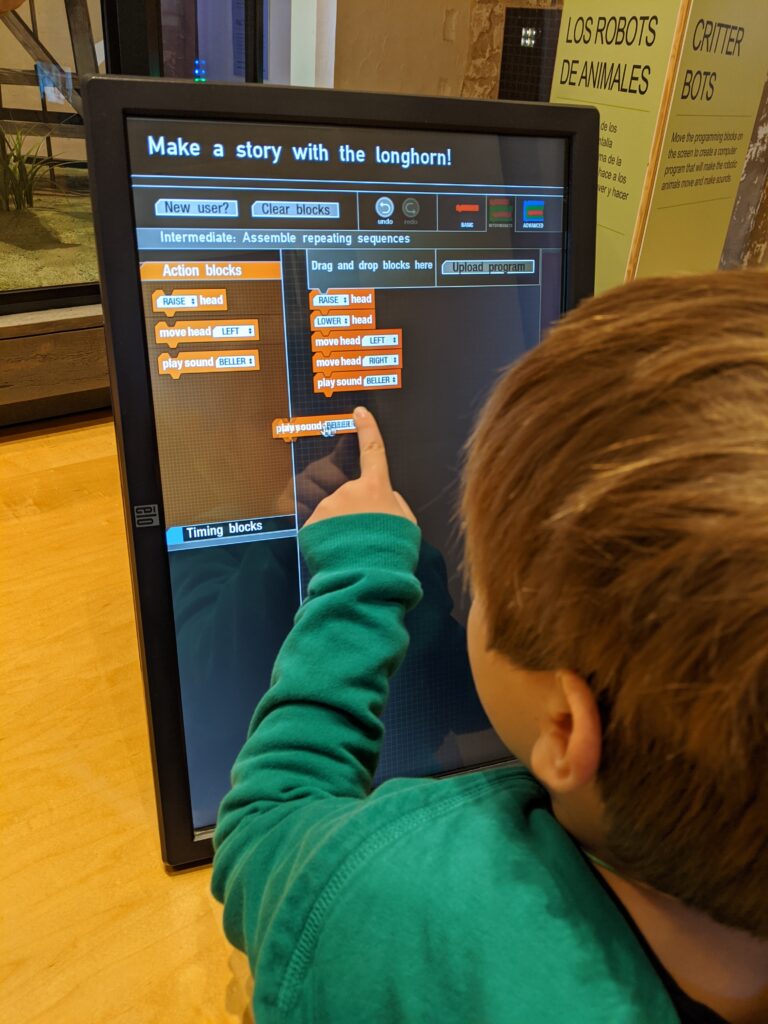 When we ran our code, the robotic animals inside the glass enclosure started moving, according to our instructions!
One of my favorite exhibits was a game that allowed you to take control of the electric infrastructure of a city. You had to balance the usage of different electricity sources like wind, solar, nuclear, natural gas, and coal, with the demands, all while taking into account the cost of each. Luckily for us, it was a quiet day at the museum, because we ended up hogging that exhibit a bit!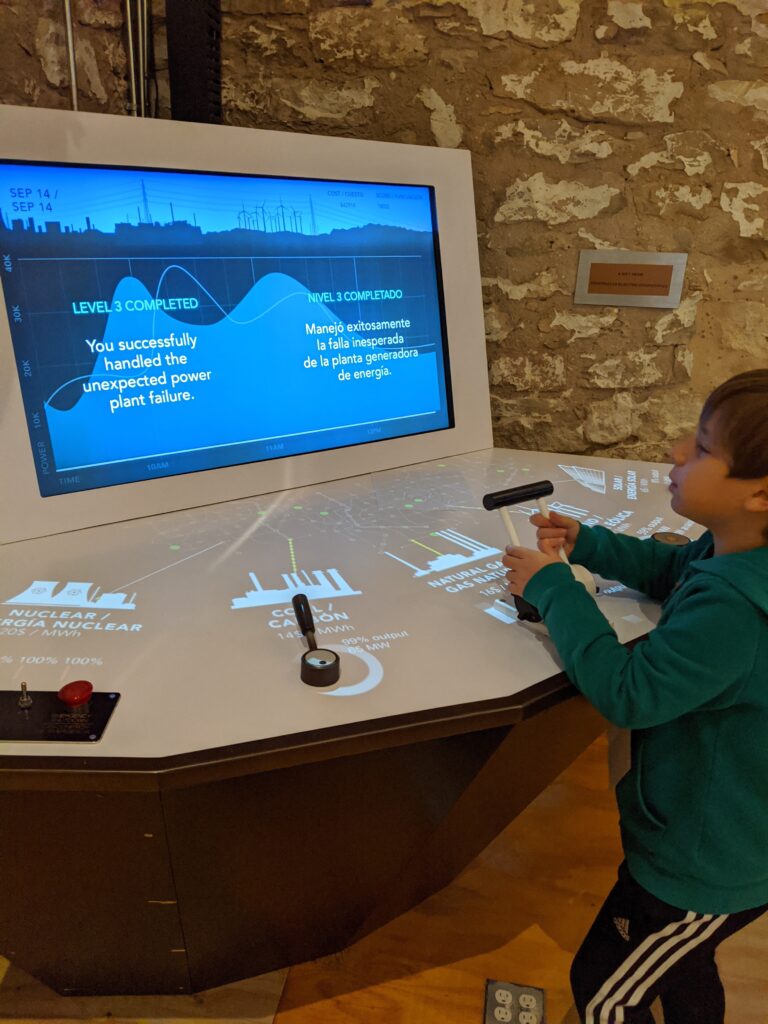 Another really fun exhibit was a sandbox with a projection of land and water over it. Piling sand in one spot created hills, while potentially uncovering water from the area we scooped the sand from. Holding our hands above the sand simulated rain, which then slid down the sides of our hills into the rivers and lakes created by the sand pilings. It was fascinating!
If you think those exhibits are cool, wait til you hear that there are TONS more like those. I'm not going to describe them all though – you'll have to go see for yourself!
There's also a movie showing every hour or so, a greenhouse, and a whole bunch of outdoor exhibits. Our favorite was an incredible, giant outdoor exhibit of pulleys, wheels, and pedals controlling the fall of dozens of balls. The balls tumbled through loops, banging, making music, and creating a cacophony of sound as they depicted the effects of gravity, velocity, and acceleration on the balls' trajectory.
The museum has been doing a lot to ensure your visit is safe, with enhanced cleaning protocols, disposable gloves for all hands-on exhibits, and your option of a number of touchless exhibits!
Adult admission is $11, and children 2-18 are $9.50. The museum is open Thursday – Saturday, 10 – 1, and 2 – 5, and Sunday 12 – 4.
Other Places to Visit Nearby
While not in Johnson City exactly, here are some other things to do within about a thirty minute drive from Johnson City Texas.
Places to Stay in Johnson City Texas
Now that you have your list of things to do in Johnson City Texas, it's time to find a place to stay! Here are some lodging suggestions in the area.
Vacation Rentals in Johnson City Texas
With a wood-burning fireplace, outdoor firepit, and convenient location near all Johnson City and Fredericksburg attractions, this rustic cabin is the perfect place to stay when you visit Johnson City Texas! It sleeps 4, is rated 4.9 stars, and averages $185/night.
Click for more information and to book.
If you've ever wanted to stay at a lighthouse, here's your chance. This 86-foot tall house comes with its own observatory, so you can see the entire hill country from your balcony. The house has four bedrooms, sleeps 9-15, and has a firepit, private pool and hot tub, and sports courts, for everything you can ever need. Luxury comes at a price though, this 4.9-star property averages $648/ night, so you might want to split this one with friends!
Click for more information and to book.
This two-bedroom cabin is perfect for family getaways, with a ping pong table, hammock, and beds to sleep 6. This property is rated 5 stars and averages $145 a night.
Click for more information and to book.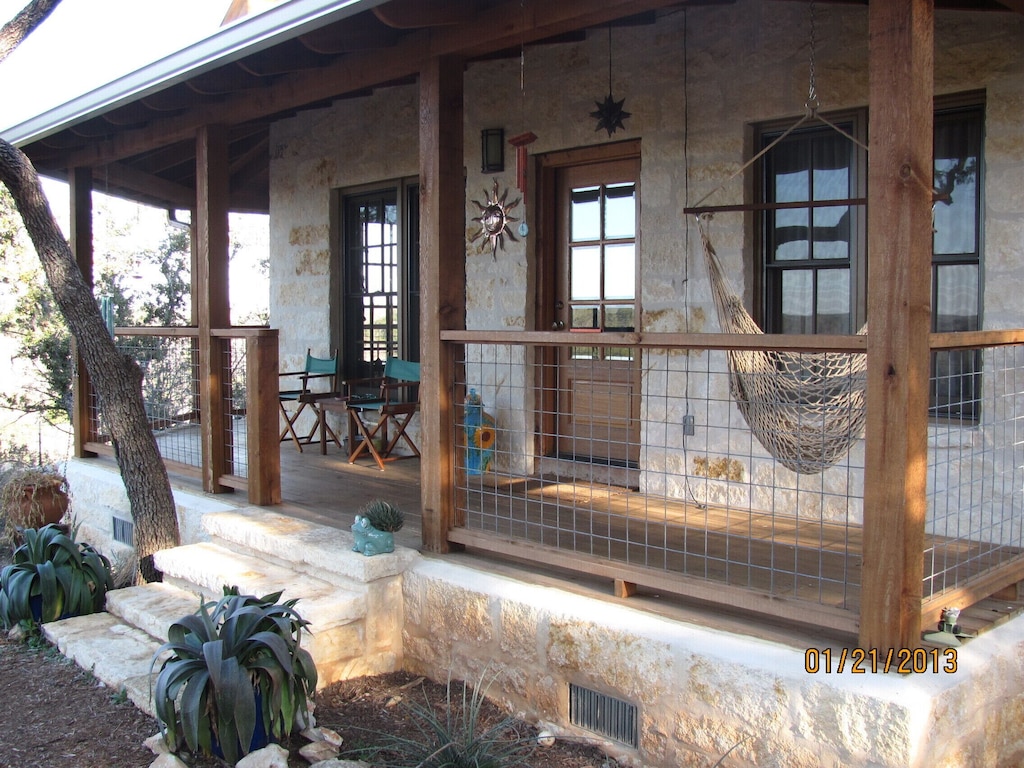 Hotels in Johnson City Texas
This hotel is rated 9.4 stars by hotel guests and offers an outdoor pool, on-site winery, and free wi-fi. Rates start at $179/night.
Click for more information or to book.
With this list, you now know exactly what to do in Johnson City Texas. If you're looking for Hill Country destinations, Johnson City should definitely be on your list. Let me know if you've been to any of these places, and what you thought in the comments! For even more Hill Country fun, check out our other Hill Country itinerary!
Also, some fun news, we were named one of the 50 Best Texas Blogs and News Sites to Follow in 2020, by Feedspot! Check out the full list for more great Texas blogs.
This post contains affiliate links, which means I may earn a small commission (at no cost to you) when you make a purchase through one of these links. Thank you for supporting Texas Wanderers!