I don't know about the rest of you but I am dreaming of fall and cooler temps, which means it's time to start thinking about the best Houston hiking trails and nature walks. Houston may be a big city, but that doesn't mean there aren't plenty of places to enjoy nature.
Houston is home to a number of nature sanctuaries, beautiful parks, and scenic walking trails. While the predominant habitat in Houston is swampland, you can find a variety of different nature elements – sometimes all in the same park!
I've put together a list of some of the best nature walks and hiking trails in Houston below. At the end, I've added a few more bonus parks and walking paths, so no matter what you're looking for, you're sure to find some way to enjoy the great outdoors in Houston this fall!
Houston Hiking Trails & Nature Walks
1. Jesse H Jones Park & Nature Center
Open daily and free of charge, this 312-acre park is the perfect day trip for anyone looking to get outdoors. The park boasts a playground, canoe launch, and picnic area Best of all, in addition to their primitive trails, the park has 8 miles of trails that are handicap-friendly and accessible with strollers.
An interesting feature of this park is that if you walk towards the creek, you'll find yourself on a white sand beach! The sand is soft and fun to play in, and while I'm not entirely certain if the creek is swimmable, it's definitely a relaxing place to chill after your hike!
An additional 16 miles of trails along Spring Creek are also accessible via this park, making this the perfect destination if you're looking for Houston hiking trails.
Location: 20634 Kenswick Drive, Humble, Texas 77338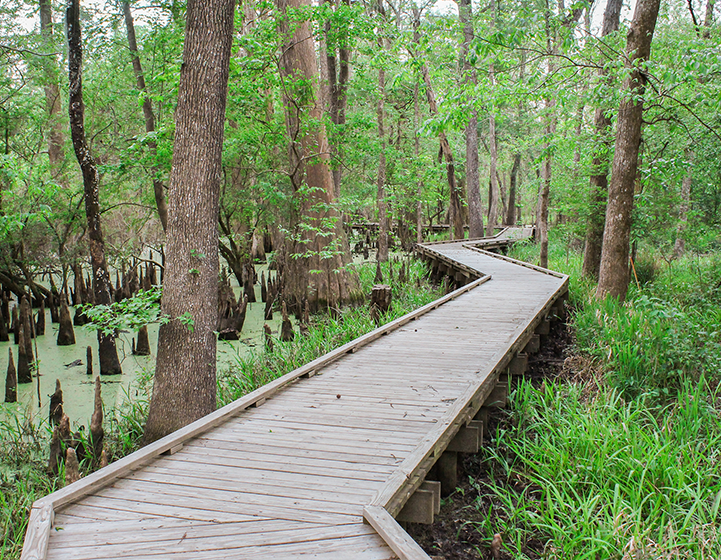 2. Houston Arboretum & Nature Center
No list of Houston hiking trails and nature walks would be complete without the Houston Arboretum & Nature Center. Open 7 am to dusk daily, the Houston Arboretum offers 5 miles of nature trails, winding through forest, wetland, prairie, and savanna habitats. There is no admission fee, but there is a parking fee of $5 everyday except Thursdays. Dogs are welcome as long as they are on a leash, and many of the trails are stroller-friendly.
Location: 4501 Woodway Dr, Houston, TX 77024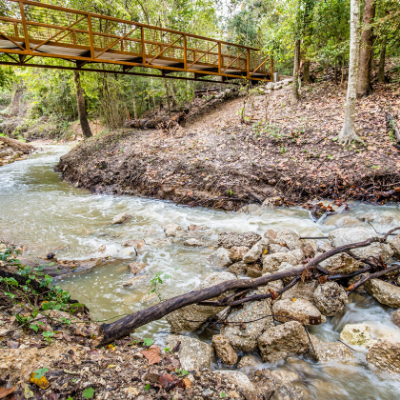 3. Edith L Moore Nature Sanctuary
This beautiful nature preserve in the Memorial neighborhood of west Houston is a 17.5-acre wooded preserve along Rummel Creek. Home to a variety of native wildlife, including mammals, migratory songbirds, shorebirds, birds of prey and a variety of species of reptiles and amphibians, this is the perfect place to get away from the bustle of the city and enjoy nature. The park also houses a 1932 log cabin, originally the home of the park's namesake, Edith L. Moore, and the only log home within the city of Houston that still stands today where it was originally built.
The trails are mostly packed earth or wooden boardwalk, which, while might be ok for strollers, is not particularly handicap accessible. Pets are not allowed.
The preserve is open daily 7 am to 7 pm and is free to enter.
Location: 440 Wilchester Blvd, Houston, TX 77079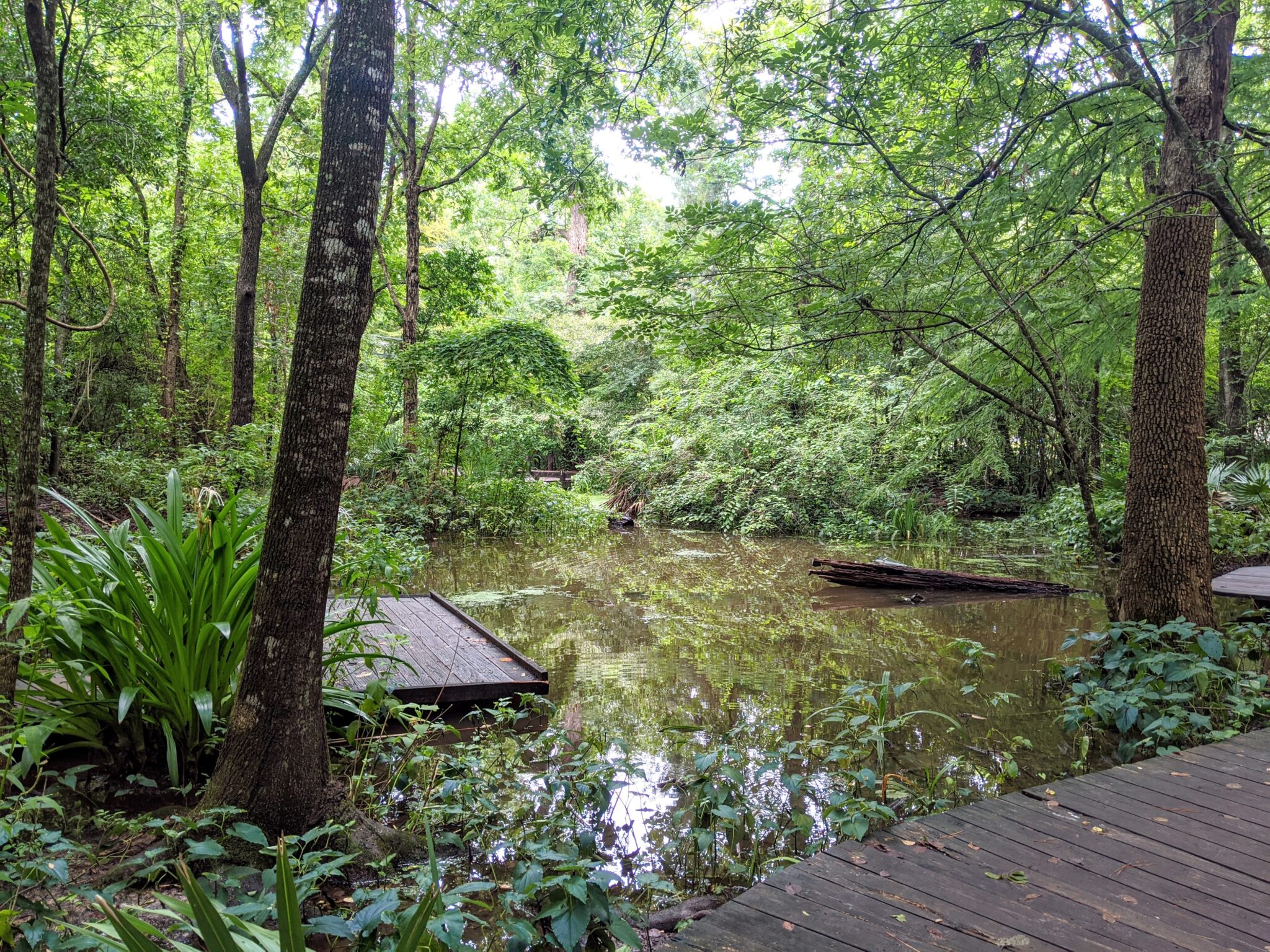 4. Memorial Park
Perhaps the most well known of all Houston hiking trails, this 1400 acre urban park offers 9 different hiking trails crisscrossing across 13 acres in the heart of the city. If you're looking for a walk or jog, or if you're pushing a stroller, you can take advantage of the Seymour Lieberman Exer-Trail, a 3-mile crushed granite trail, which is actually open 24/7.
In exciting news, a new, previously unused 100-acre section of the park recently opened to the public, with extensive trails and boardwalks to explore! The boardwalk runs around a large pond and is a pretty place to spend an afternoon.
Location: 7575 North Picnic Lane Houston, Texas 77007
5. Armand Bayou Nature Center
One of the largest urban nature preserves in the country, Armand Bayou Nature Center in Pasadena offers 5 miles of trails across 2500 acres of natural wetlands forest, prairie, and marsh habitats. Some of the trails offer shade, and some are in full sun, so choose wisely based on the weather!
In addition to the trails here, you can explore a historic farm, complete with a blacksmith, farmhouse, and a few other buildings. Close by, you'll find a bison-viewing platform, where you can climb up to see bison roaming in the field. There are a few ponds on the property where you're liable to see some alligators, too.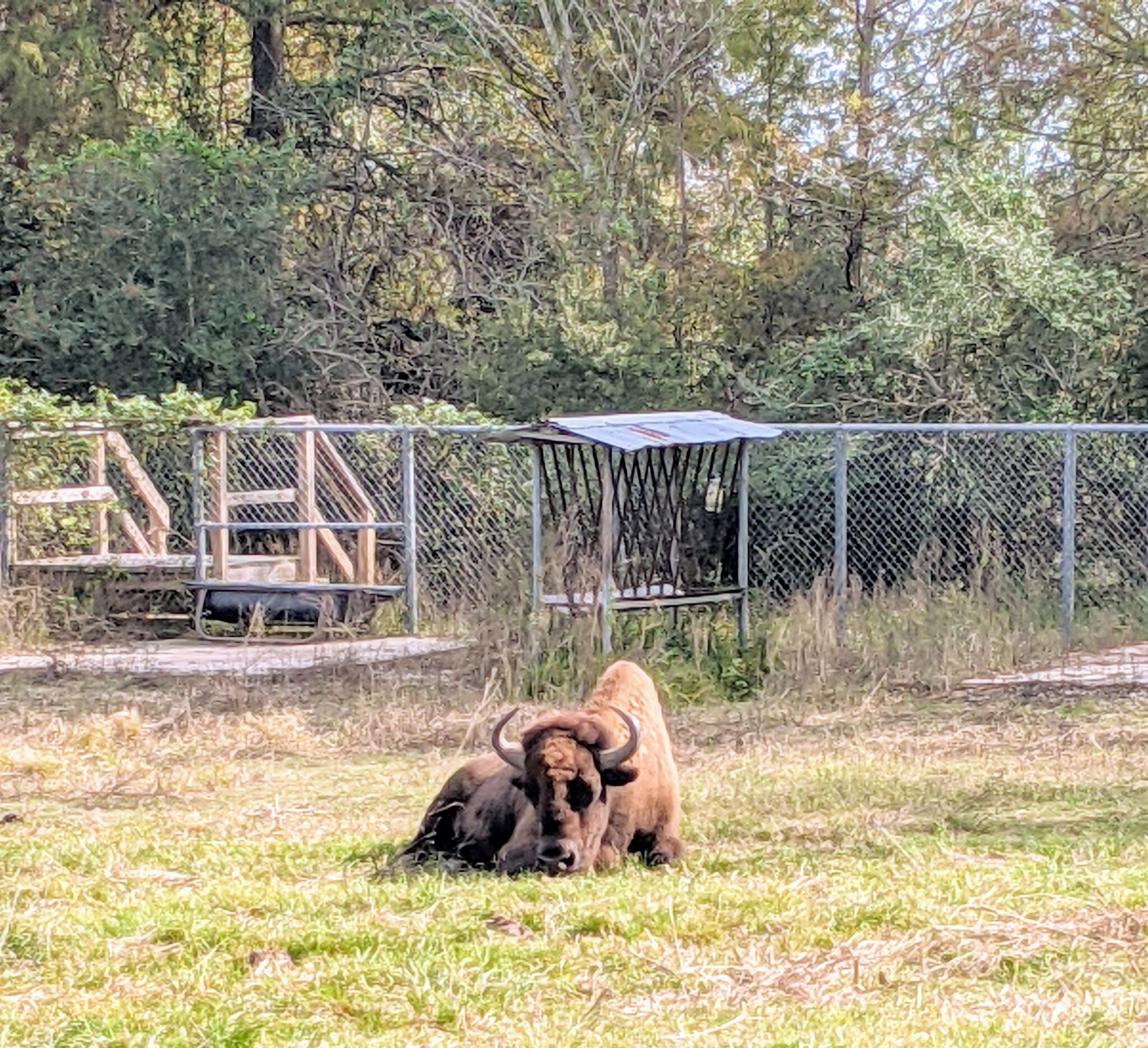 The nature center is closed Mondays and Tuesdays. It is open Sunday 12 – 5 and Wednesday through Saturday 9-5 (last admission at 4). Admission is free for children under 3, $4 for kids 4-12, and $6 for ages 13 and up.
Location: 8500 Bay Area Blvd. Pasadena, TX 77507
6. Spring Creek Greenway Nature Center
This beautiful nature center offers miles of hiking trails along Spring Creek, and is made up of multiple nature preserves. We hiked alongside a pond, through a forest and over a small hill and found ourselves on the banks of Spring Creek. Other areas offer fishing ponds, canoe launches, picnic areas, and rustic trails.
Location: 1300 Riley Fuzzel Rd. Spring, TX 77386
7. Terry Hershey Park
Terry Hershey Park is one of the few parks in Houston with something akin to hills, which make the trails at this park great for biking, though they are open to hiking/walking as well. If you're pushing a stroller, check out the Quail Trail, which is paved and should be easy to maneuver on. The 496 acre park features a canoe launch, wildflower garden, butterfly garden, playground, fishing area, and 12 miles of trails. Dogs are welcome, as long as they are on a leash.
Location: 15200 Memorial Dr, Houston, TX 77079
8. Sugar Land Memorial Park
Another great option when looking for Houston hiking trails, this 150-acre park along the Brazos river boasts 2.5 miles of hiking and walking trails, including a mountain biking trail, along with a playground, sports field, and a lake for fishing, kayaking, and canoeing. There's also a dog park right next door.
Location: 15300 University Blvd Sugar Land, TX 77479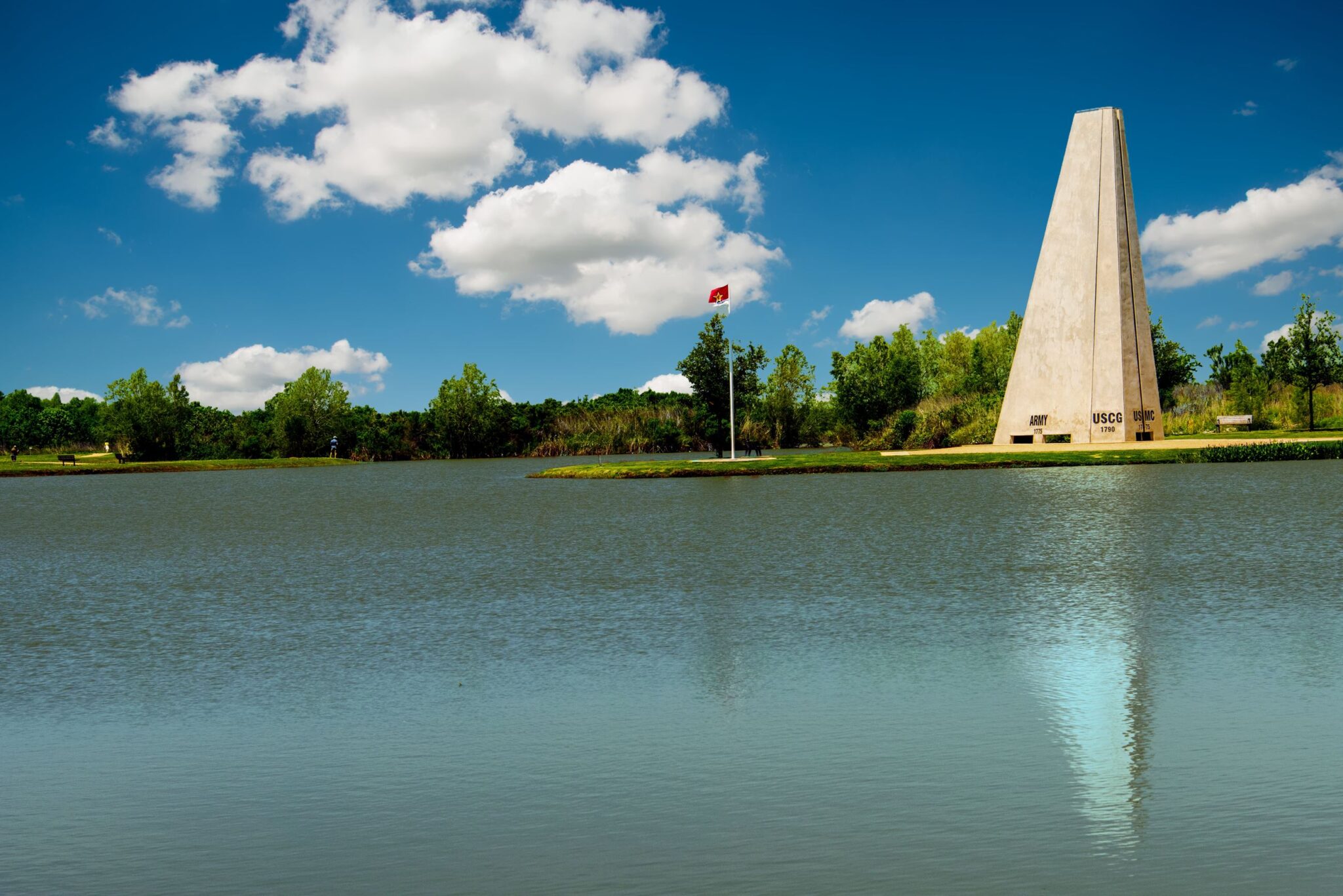 9. Willow Waterhole Greenway
Open daily from dawn to dusk, this park is a 290-acre hidden treasure in southwest Houston. Numerous walking trails surround ponds that help conserve wildlife and contain floodwaters. Paved paths make this nature trail fully accessible and stroller-friendly. Dogs are welcome as long as they are on a leash.
This is also a beautiful place to see bluebonnets in the spring!
George Bush Park has a whopping 11 miles of trails across 7800 acres in northwest Houston. The trails take you along the banks of Buffalo Bayou with beautiful scenery all around. There are plenty of paved trails, making this a great place for strollers and bikes.
As an added benefit, there is a large playground here as well, with many unique play structures the kiddos will love. You can check out our full review of George Bush Park here.
Dogs are welcome as long as they are on a leash.
Additional Houston Hiking Trails & Nature Walks
Arthur Storey Park
Arthur Storey Park has a modest 1.7 miles of trails spanning 175 acres, but makes our list of Houston hiking trails and nature walks as it's one of the few parks in the southwest part of town. The paved trails make it perfect for strollers. There's also a playground, and a duck pond where kids can enjoy feeding the ducks.
Location: 7400 W Sam Houston Pkwy S, Houston, TX 77036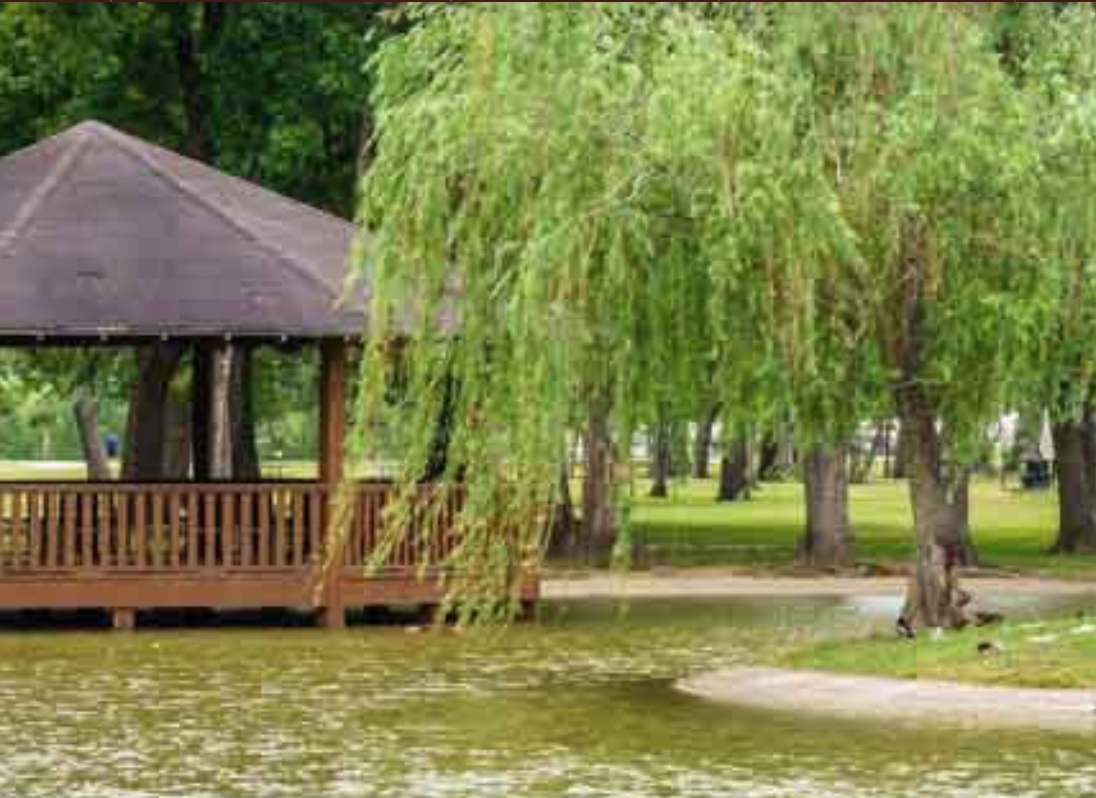 Bear Creak Pioneer's Park
This park houses a mini zoo on premises. As you traverse the two-mile paved loop, you can stop to view a number of different birds in the aviary, including vultures, owls, parrots, as well as some animals like buffalo and emu. The park also has playgrounds, sports fields, and picnic areas.
Location: 3535 War Memorial Drive, Houston, Texas 77084
Oyster Creek Park
Oyster Creek Park is a beautiful park in Sugar Land with over 3 miles of hiking trails and paved bike paths. With its beautiful fountains and gurgling streams, this is one of my favorite Houston hiking trails – and parks in general.
Have you been on any of these trails? Which is your favorite? I'll be adding to this list periodically so make sure you bookmark this page or pin it so you can easily reference when the weather is cool enough to warrant a trip to one of these Houston hiking trails!