Marathon, TX is a tiny town out in Brewster County in West Texas. It's a popular spot to stay when visiting Big Bend National Park, so I'll be showcasing some of the best places to stay and things to do in Marathon.
But first, a little history….
The town of Marathon, like so many Texas towns, started out as a railroad town. It was established in 1882 when the Southern Pacific Railroad built a line to supply Fort Peña Colorado, which had been established to protect travelers and settlers from Comanche and Apache raiders. People started settling in Marathon, and for a while, the town prospered.
Because of the water source nearby, it became a popular spot for cattle ranchers. Around the time of World War I,  a processing plant for guayule, a native Chihuahuan desert shrub from which rubber can be extracted, was established in Marathon, but when it shut down, the town's fortunes declined with it. As time went on, the population dwindled to a fraction of what it had once been.
Today, Marathon is seeing something of a resurgence, serving as a home base for travelers to Big Bend National Park, and for a new local art scene. Marathon is about 30 minutes from the entrance to Big Bend National Park, which makes it a convenient place to stay when exploring the area.
Places to Stay in Marathon
Terrazzas Adobe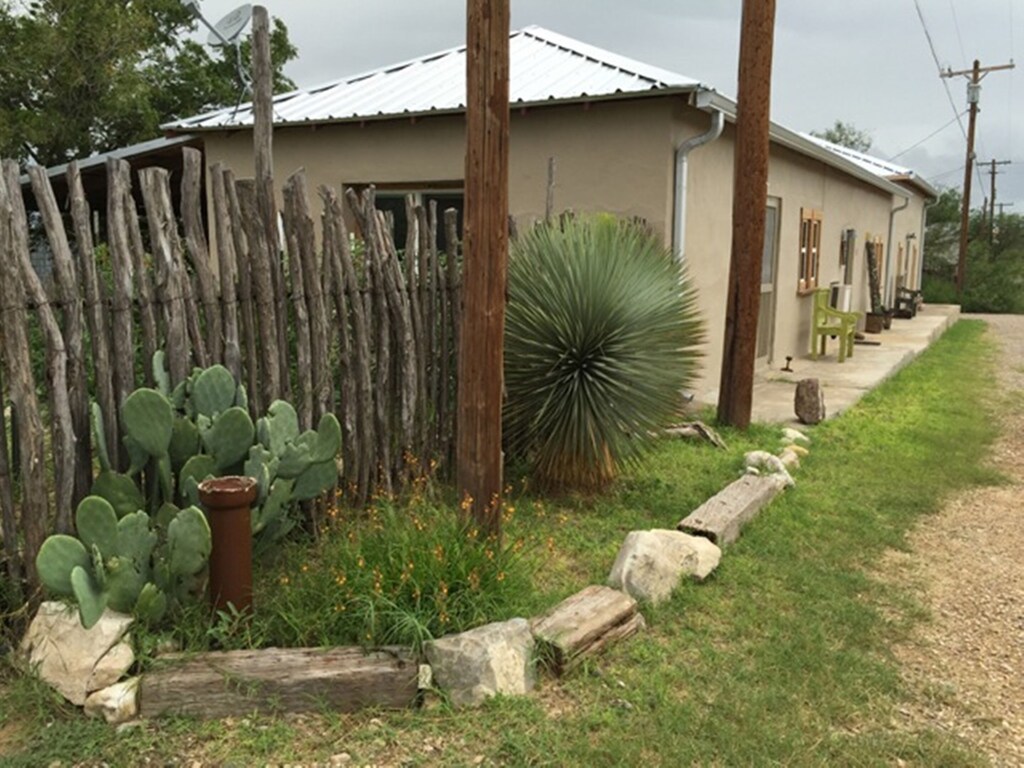 This cute little one bedroom adobe style home right near Marathon's center is a great home base for exploring all that West Texas has to offer. It sleeps four, with one king bed and one pull-out sofa bed. The cozy garden is perfect for sipping wine and star gazing in the evenings. Starting at just $120 a night, this 4.9-star rated property makes for a great Marathon vacation.
Marathon Motel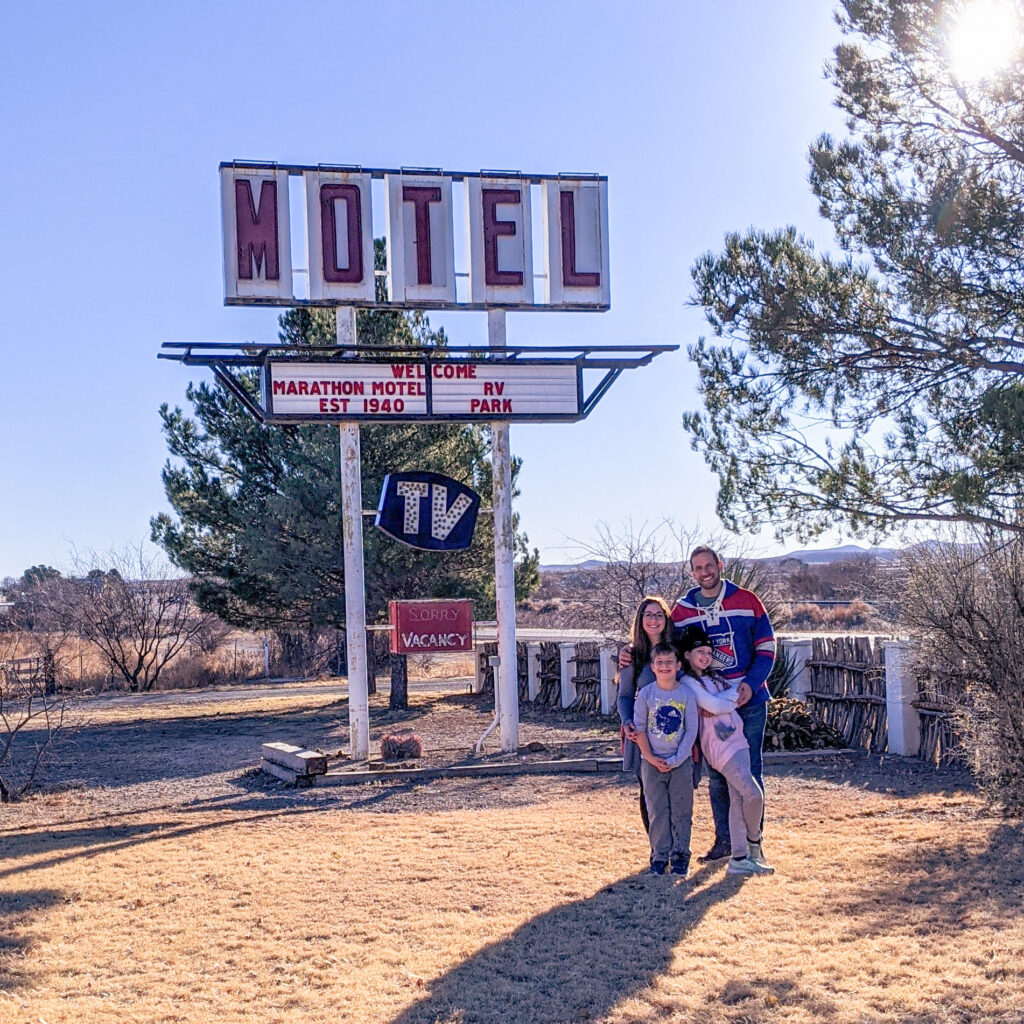 Marathon Motel has been a Marathon institution since 1940, complete with the old-school motel vacancy/no vacancy sign. One of our favorite parts of the motel was the adobe courtyard, complete with a waterfall and outdoor fireplace. We roasted marshmallows over the fire in the fireplace, and even baked cornbread in a pan, sticking the pan under the logs!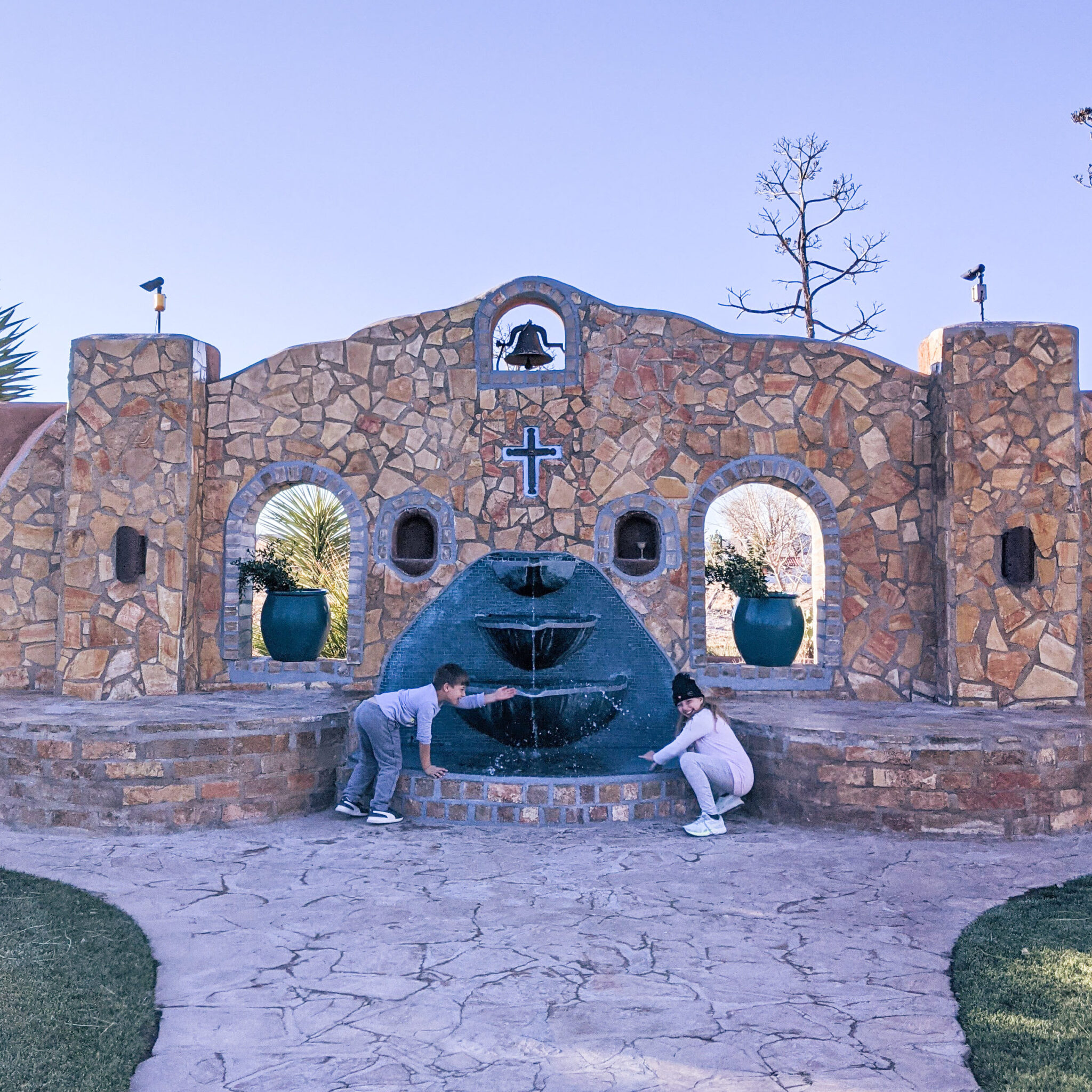 The Marathon Motel offers a few different ways to stay. You can rent a room, RV site, or even a tent site! One of the unique things about the motel is that it is a registered dark sky site, and is perfect for viewing the expansive West Texas sky. They even host star parties every night where you can use their powerful telescope to see the constellations, planets, and more. The motel is within walking distance of the rest of Marathon.
Mezcal Molly
On our recent trip to Big Bend National Park, we stayed in an adorable vintage Airstream Avion, called Mezcal Molly. The Airstream was located on the grounds of the Marathon Motel.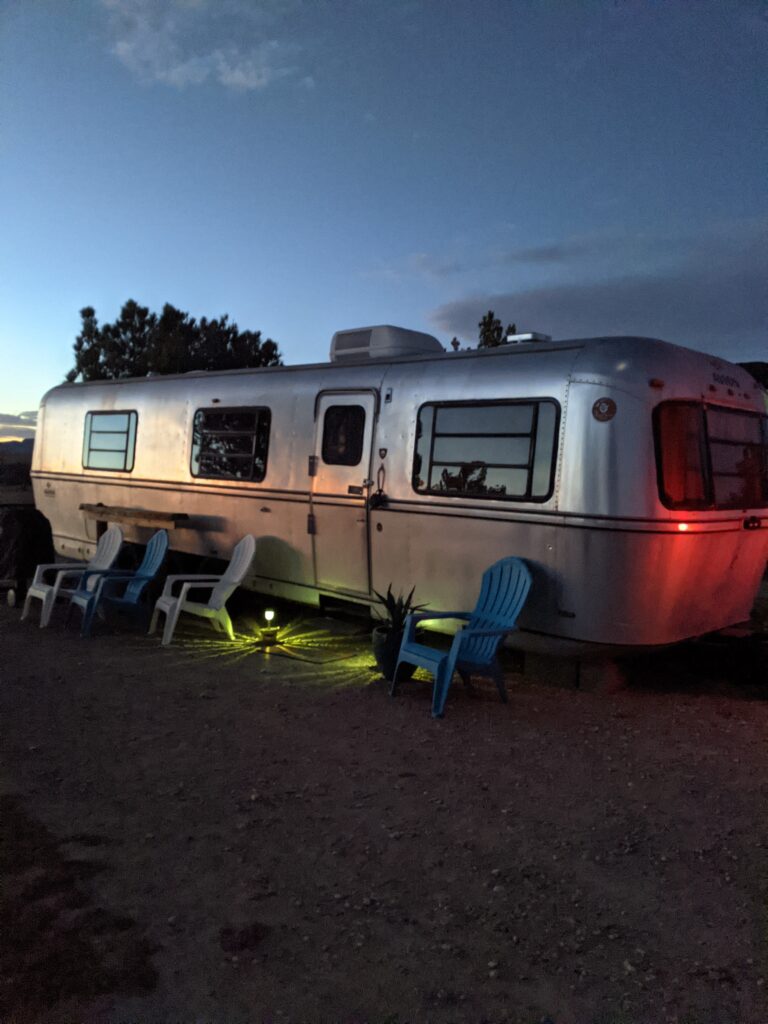 Mezcal Molly was absolutely adorable and perfectly sized for our family of four. Inside are three beds, a double and two small child-sized beds, perfect for our 11 and 7-year-olds. Along one side is a pantry, fridge, counter, and sink, and along the other is a bar with stools for indoor dining. At the far end is a small bathroom. We made sure to pack in individual duffels since we did not think the trailer was going to be big enough for our suitcases, and it turned out to be a good call.
Right outside the trailer are a picnic table and grill. The trailer is located towards the back of the park, with incredible views of the mountains, and sunrise and sunset. There are two private bathrooms right nearby, in case you need a little more space.
Casa Lavista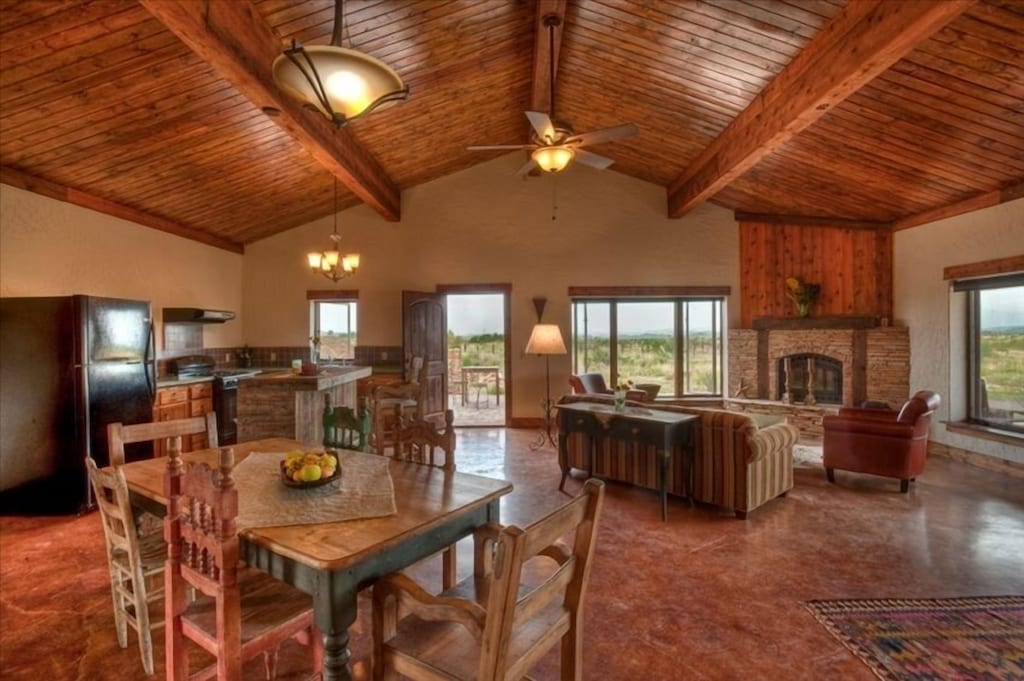 Casa Lavista is a beautiful home that can be seen from the Marathon Motel grounds. This 1200 square foot cottage comfortably sleeps six, with two bedrooms and one bathroom. It comes with a fully stocked kitchen, a beautiful stacked stone fireplace, and the most incredible views in every direction. The beautiful patio is the perfect spot to take in a West Texas sunset.
Things to do in Marathon TX
Gage Gardens
Gage Gardens is a beautiful manicured garden boasting tons of native plants, a pond with a fountain, and even a free mini golf course. We enjoyed walking the paths and seeing all the different plantlife that seems so incongruous in the desert.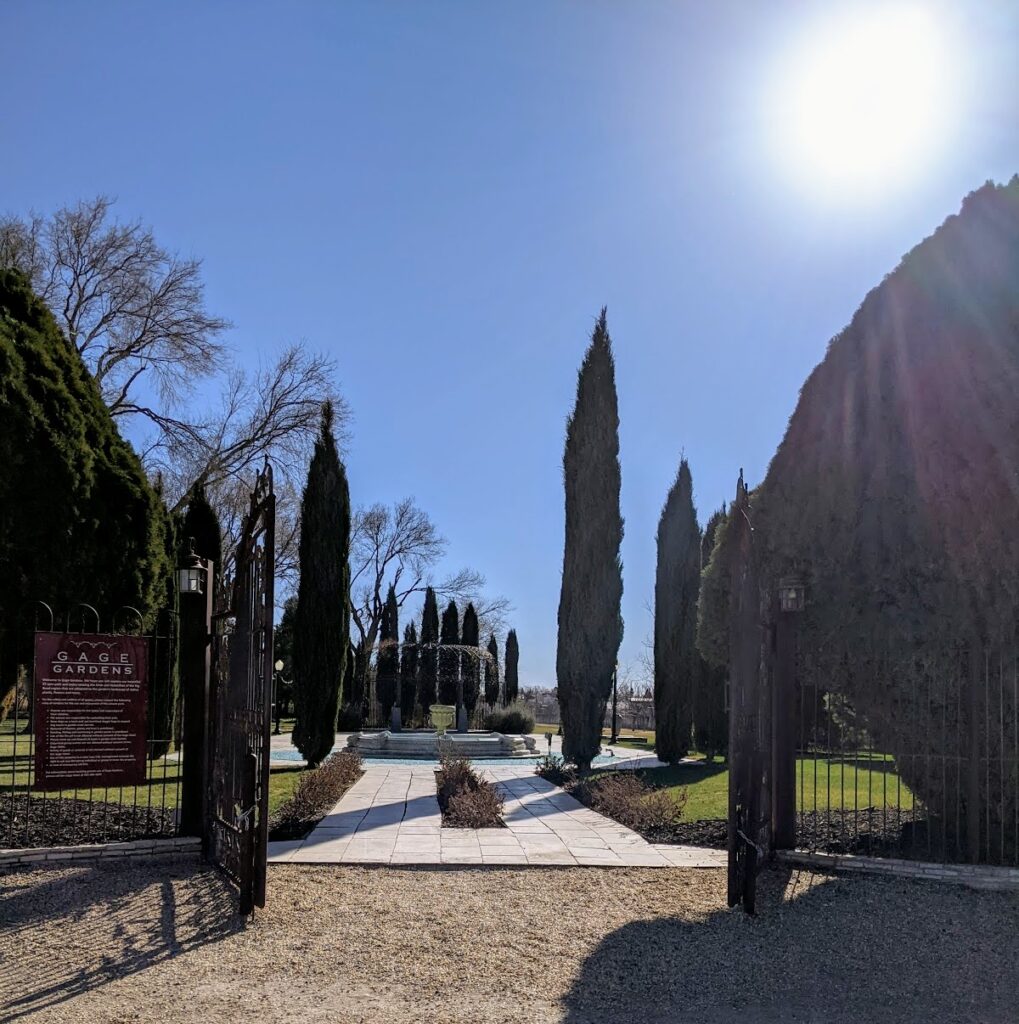 There are benches to sit and enjoy the view, and at the far end, you will find some clubs for mini-golf you can grab to play a round in a small greenway at the end of the gardens.
Address: 106 1st St, Marathon, TX 79842
Explore an abandoned railroad track
There is still a rail line that goes through Marathon, but not too far from it is an old railroad track no longer in use. If you walk along it a little way, you'll find an abandoned structure that looks to have housed water or supplies for the line. We had a great time exploring that area.
The French Grocer
This grocery store had everything we could possibly need, and some gourmet finds we didn't even know we needed. Plus it's got a cute sign outside that makes for a great photo opp.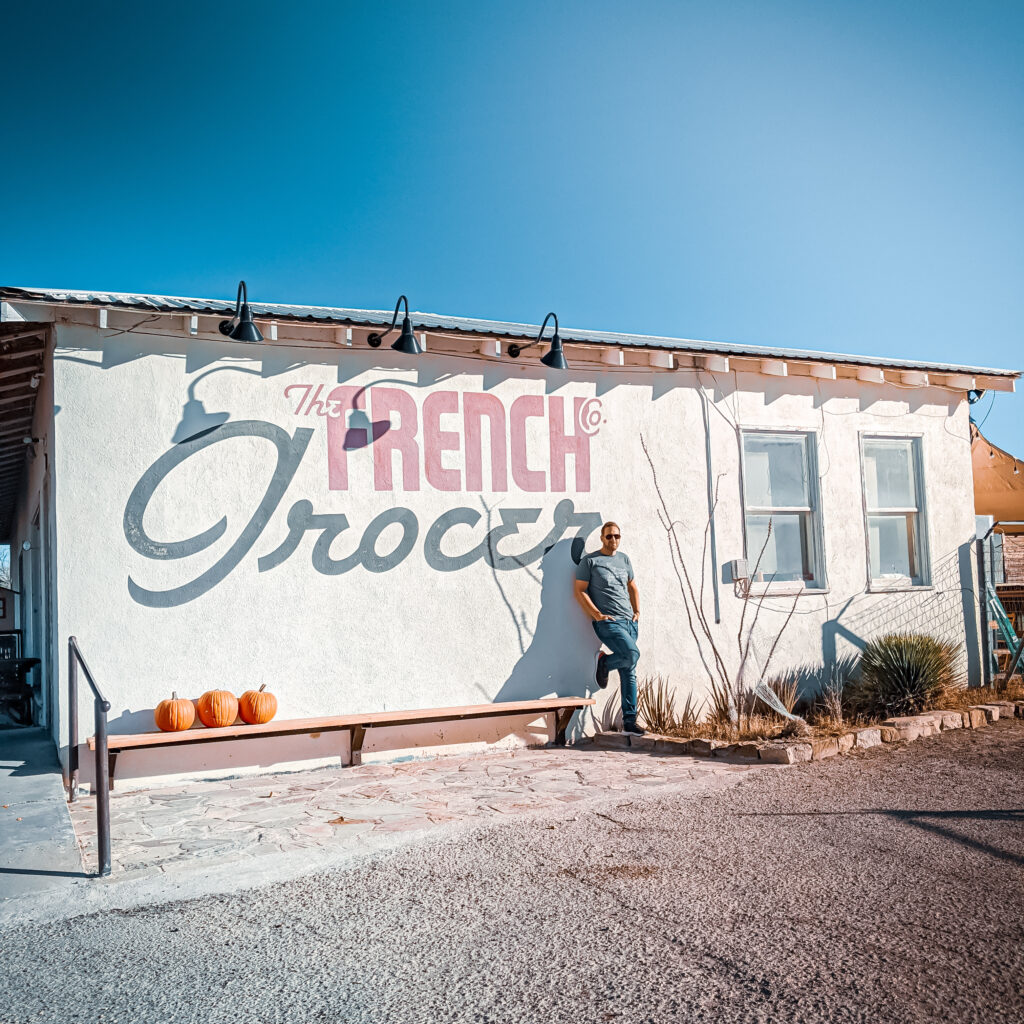 Go to a Star Party at Marathon Motel
Brewster County is part of a Dark Sky region, which means all lights need to point downward, so there is no light pollution. That means it's the ideal environment for star gazing. Marathon Motel hosts star parties on many nights, where you can get a 'tour' of the night sky! You can also rent their telescope for incredible night sky views.
Have you been to Marathon? What's your favorite thing to do there?