We thought about keeping this incredible Hill Country Airbnb a secret, so we wouldn't have to share, but our good conscience won out. Prepare to be amazed.
Let's first establish that finding this property was hard work! Our criteria for booking our early summer getaway was simple. We were looking for a place that was NOT our house where we'd just spent the last 4 months, somewhere out in the country, and with a private pool, so we could social distance.
Unfortunately, it seemed like everyone else had the same criteria too, and finding a place that checked those boxes was easier said than done. By the time we actually found a place, we were so desperate we would have taken anything.
But what we found….surpassed our wildest expectations.
The Austin Hill Country Bunkhouse is located in Leander, Texas, just 30 minutes outside Austin. It was originally built by the hosts on their property as a guest house for their children, to entice them to come visit more often. Over time, they started renting it out and finally put it up on Airbnb. Lucky for us. And, I guess, for you!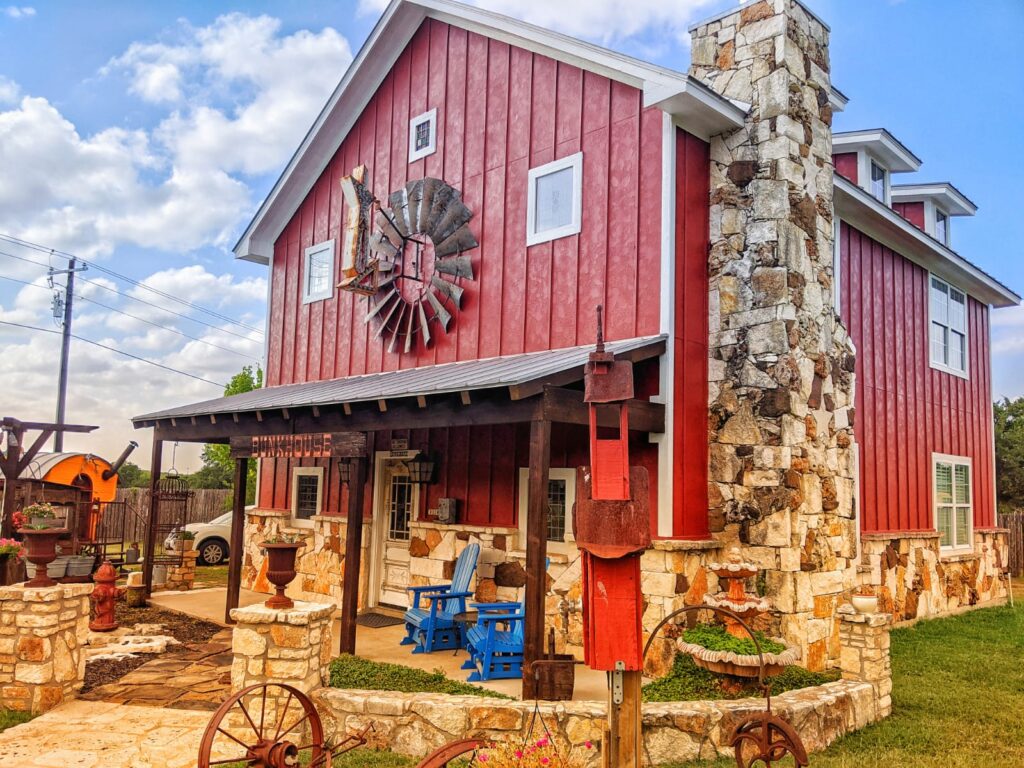 The House
As soon as you enter, you can tell someone has poured their heart and soul into this house. Every detail seems intentional. Stained glass windows illuminate the living room, and the staircase is framed by custom stonework. Upstairs, the loft is surrounded by an intricate iron railing created by the host, Sandy's, father in law.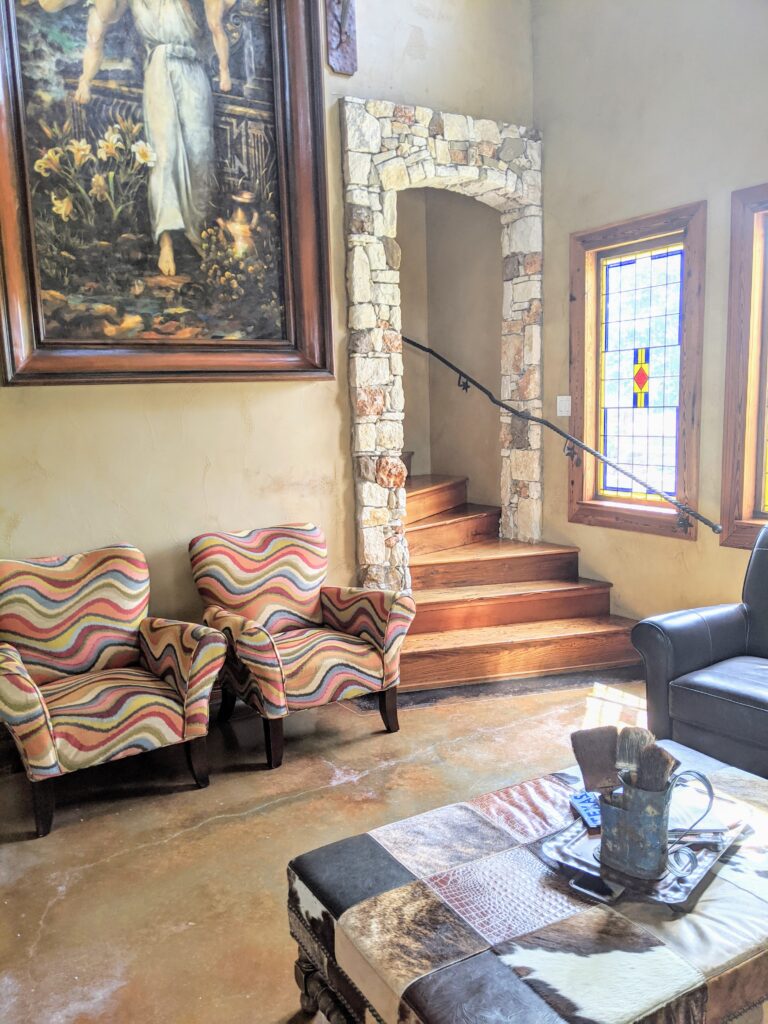 The living room boasts an old fashioned wood burning stove as a fireplace, and the furniture is decorated in cow print and leather. Three horse saddles perch above the couch, and an enormous chandelier hangs from the two story ceiling.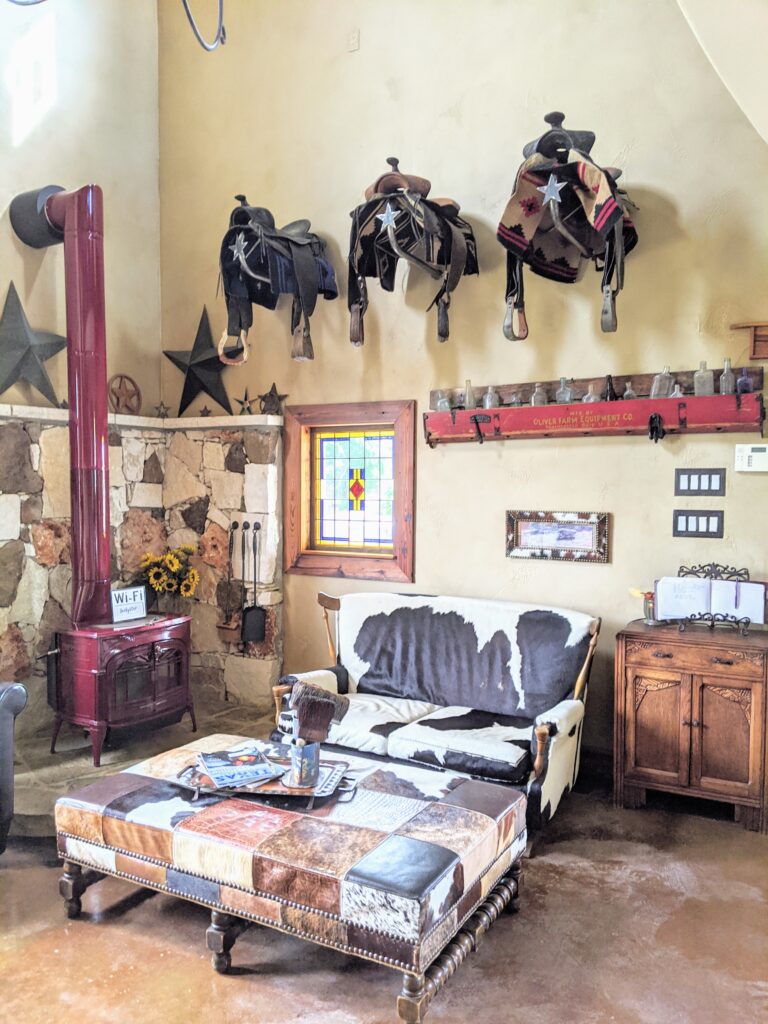 The kitchen is a charming blend of farmhouse and vintage elements. It was fully stocked with all manner of cooking utensils and even a full cabinet of spices.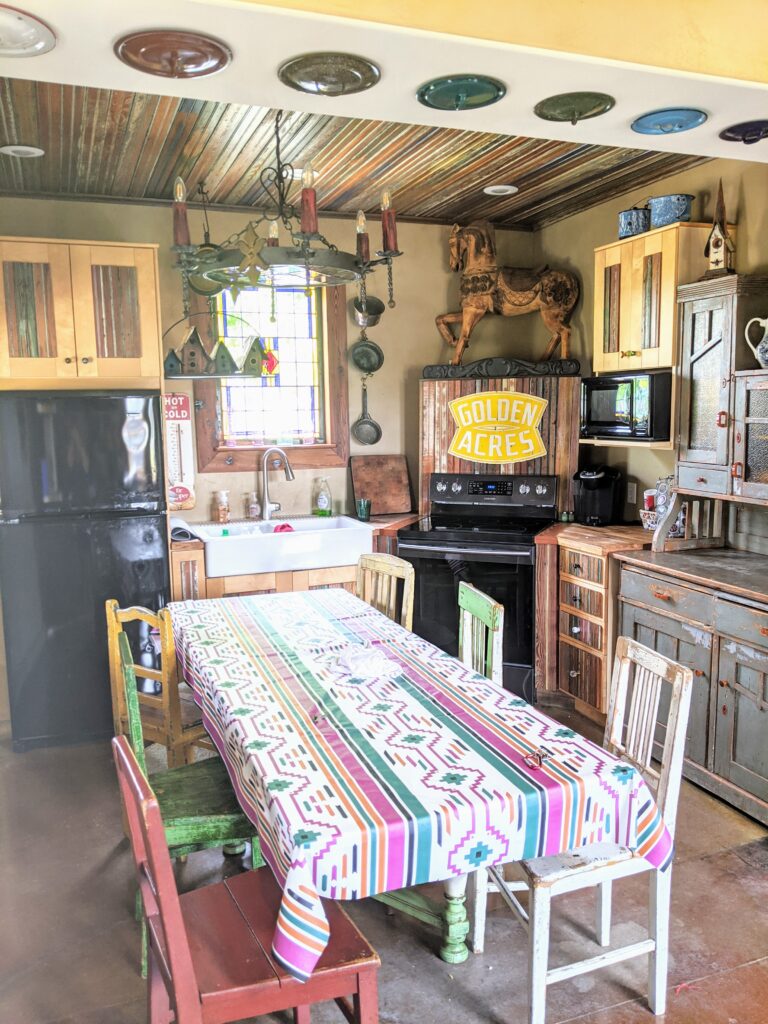 On the first floor are the kitchen, living room, master bedroom, and bathroom. The bathroom was perhaps my favorite room in the house, with a beautiful claw foot tub, and a relaxing light wall behind it.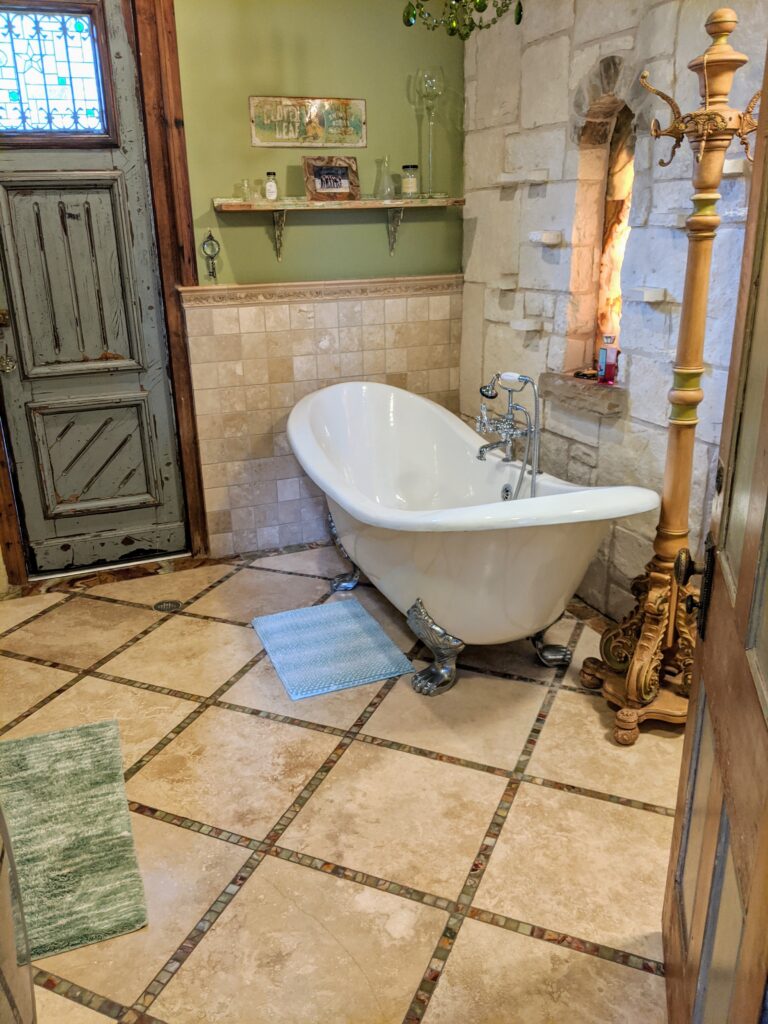 Upstairs is a loft with three sets of bunkbeds and a second bedroom, with a small nursery adjacent to it. Our kids were thrilled to notice small saddlebags tied to every bed in the loft.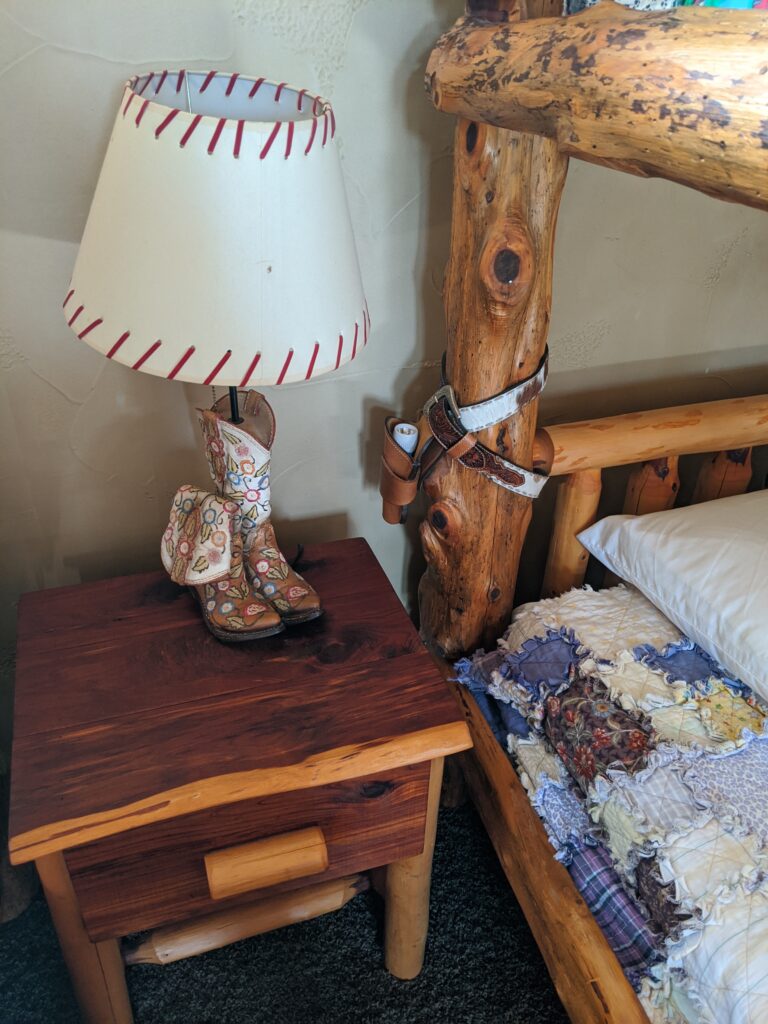 Inside each was a flashlight to allow the kids to read at night!
The Grounds
As if the space could get any cuter, just outside the bunkhouse is a covered wagon that can be rented for additional sleeping space.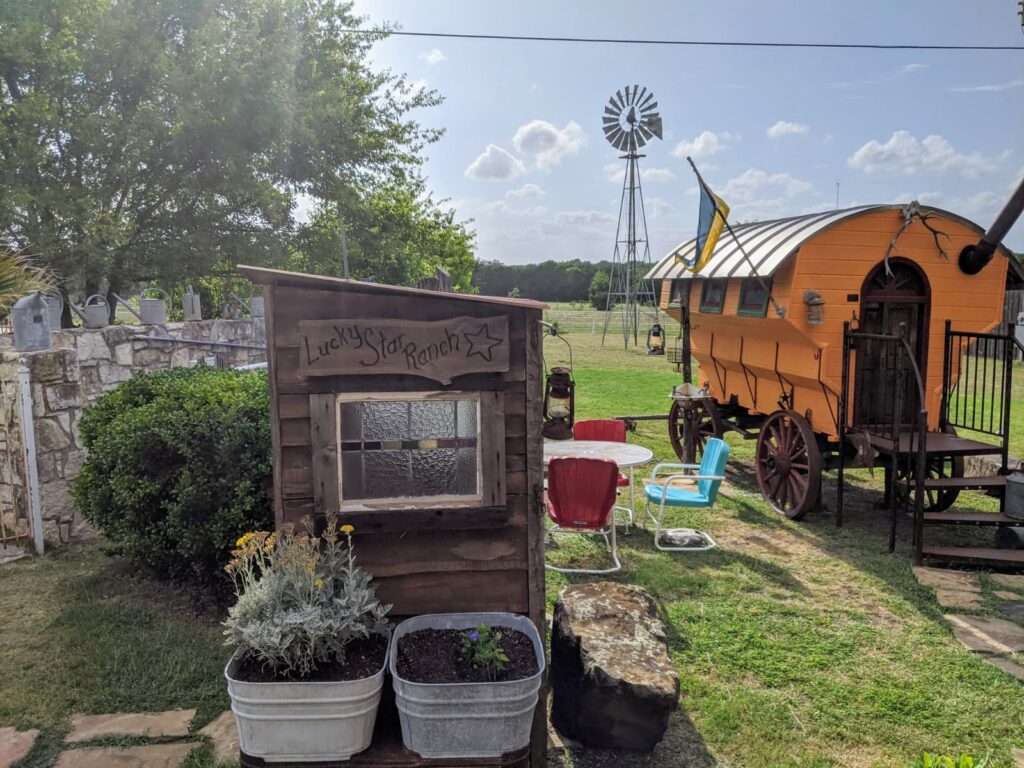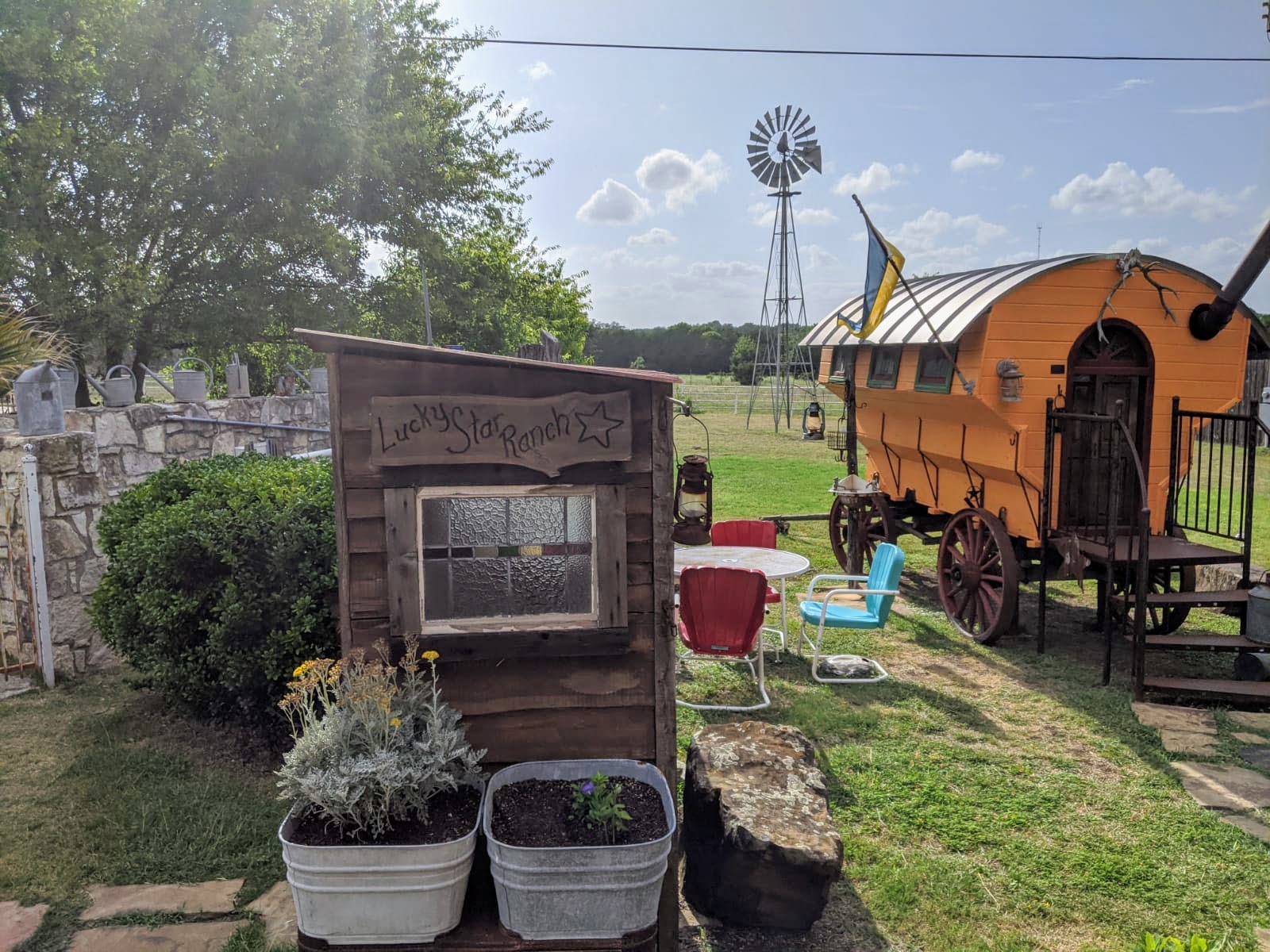 Around the bunkhouse on the other side is a beautiful garden with herbs and vegetables blooming in all sorts of interesting planters, including an old sink and bathtub. Sandy let us know that we could pick anything we found in the garden, and we had some incredible breakfasts with fresh herbs.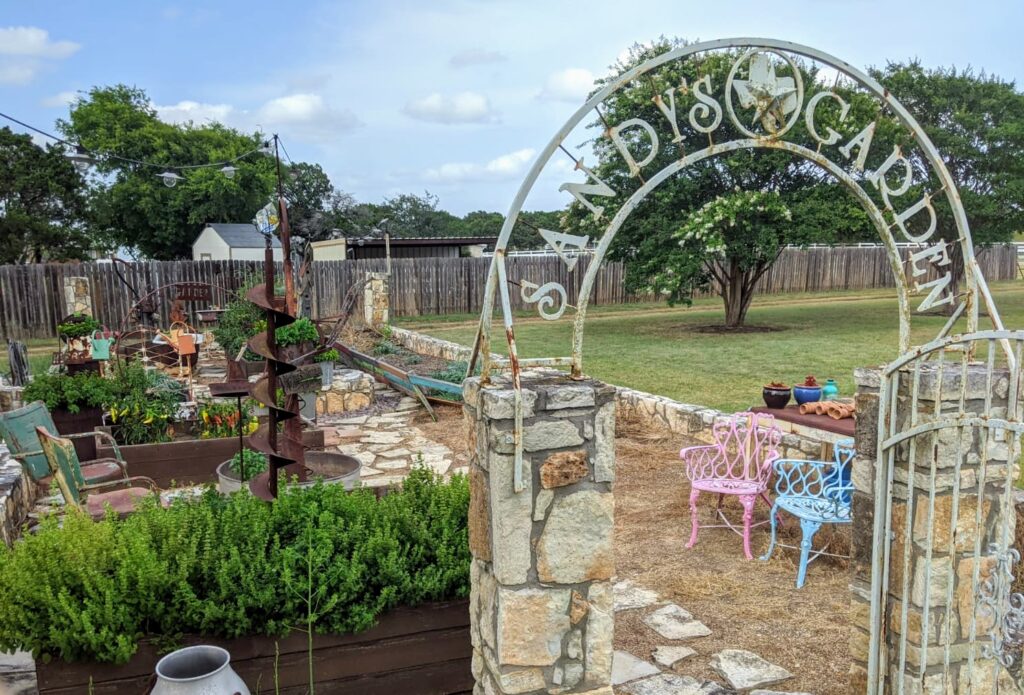 If you ask our son about the garden, he might not remember it as fondly. Excited as he was about being able to pick and eat whatever he wanted, he picked the first thing he saw and took a huge bite. Unfortunately for him, it was a hot pepper and I'm not sure his taste buds will ever be the same.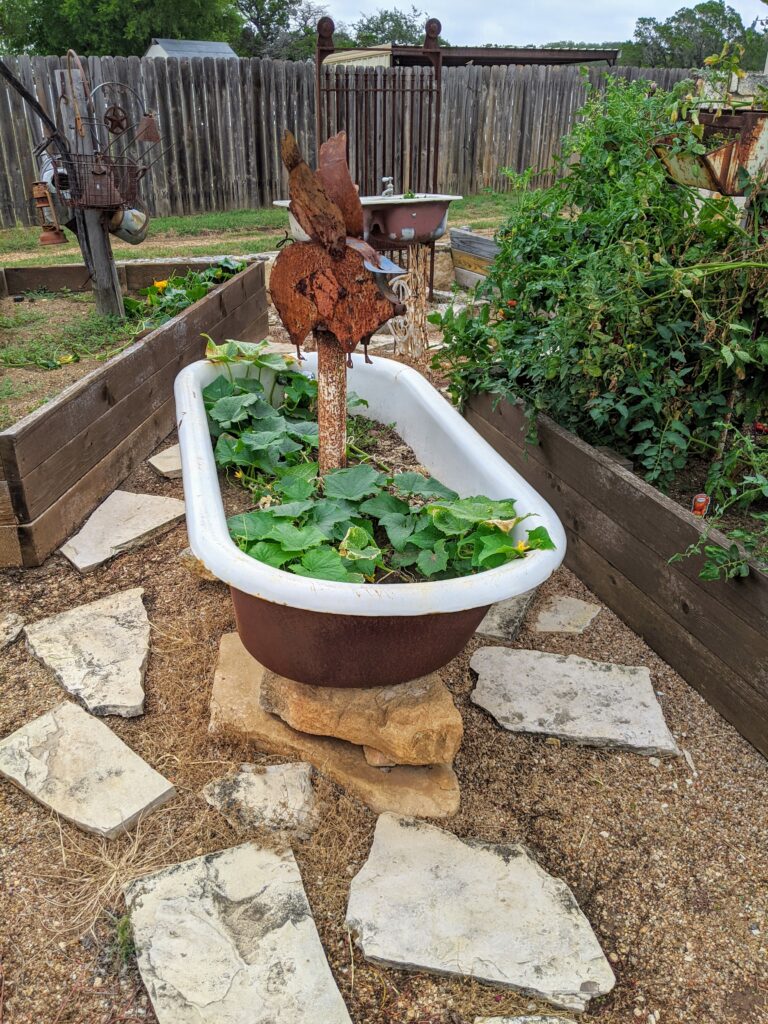 Right in front of the house is a beautiful sparkling pool with a waterfall. The pool is large, deep, and best of all when we were there, cold, and the kids had the best time splashing around.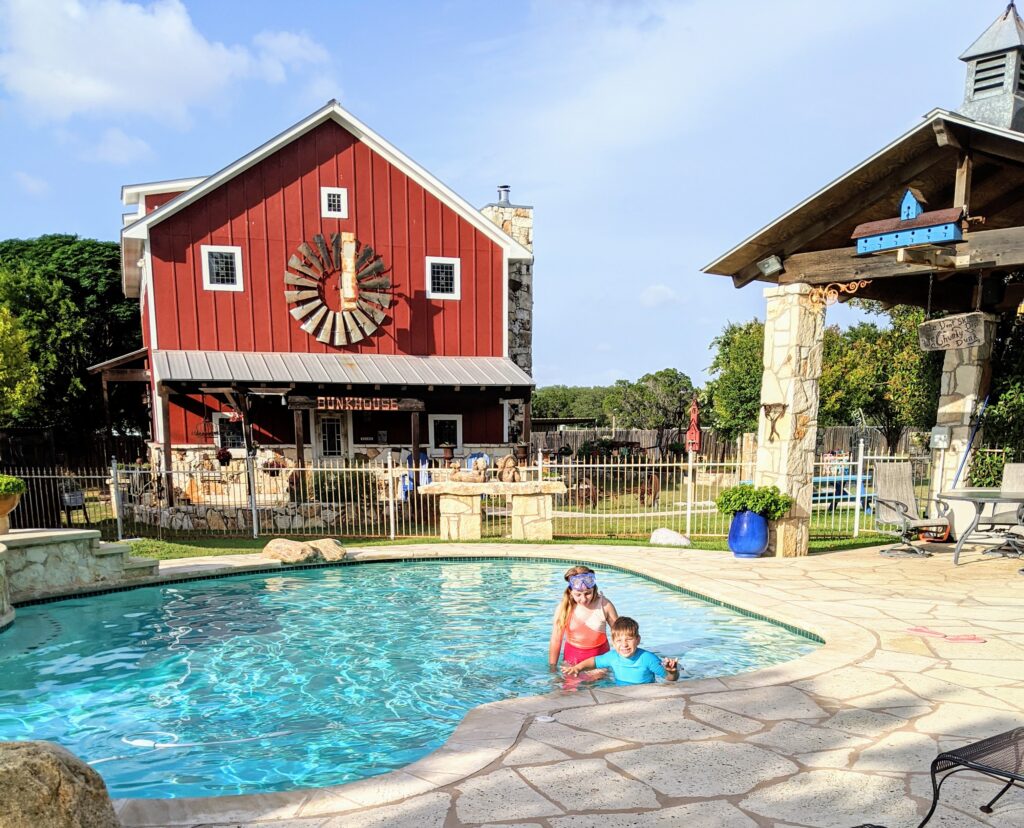 Just beyond the pool is a full-size basketball court. Sandy stocks plenty of balls at the side of the court, and we spent some trying to see how many baskets we could make, trying not to be intimidated by the cow watching us (more on that in a sec).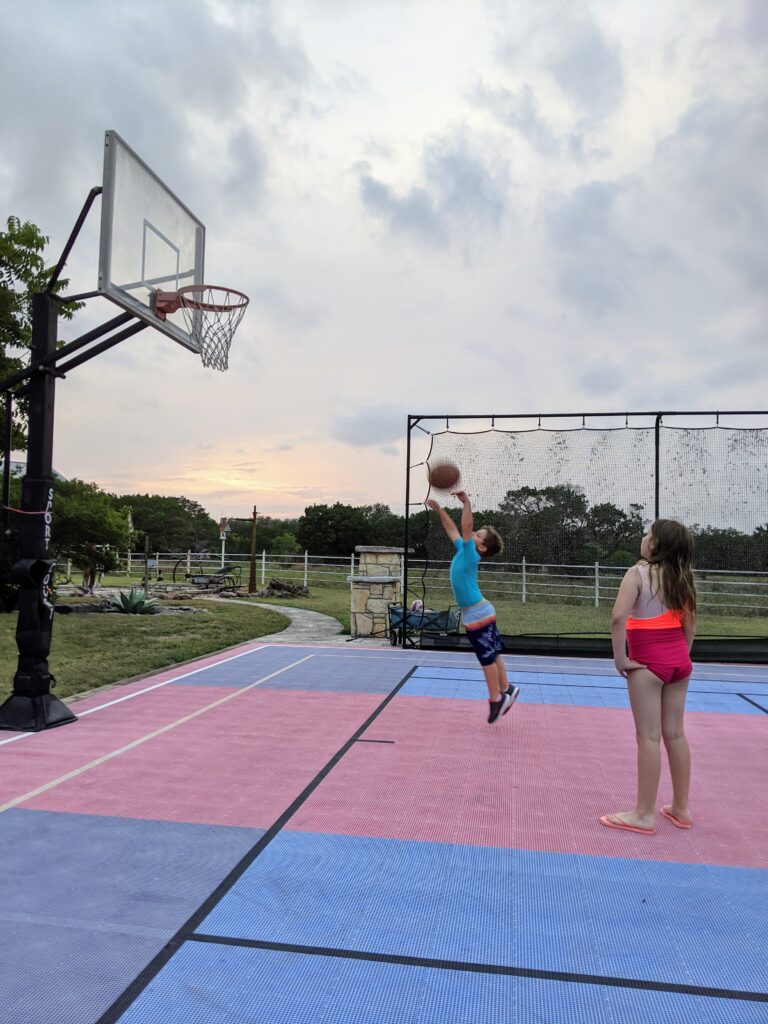 As we continued exploring the property, we were amazed at how much more there was. We almost couldn't decide what to do next! Should we roast marshmallows in the fire pit?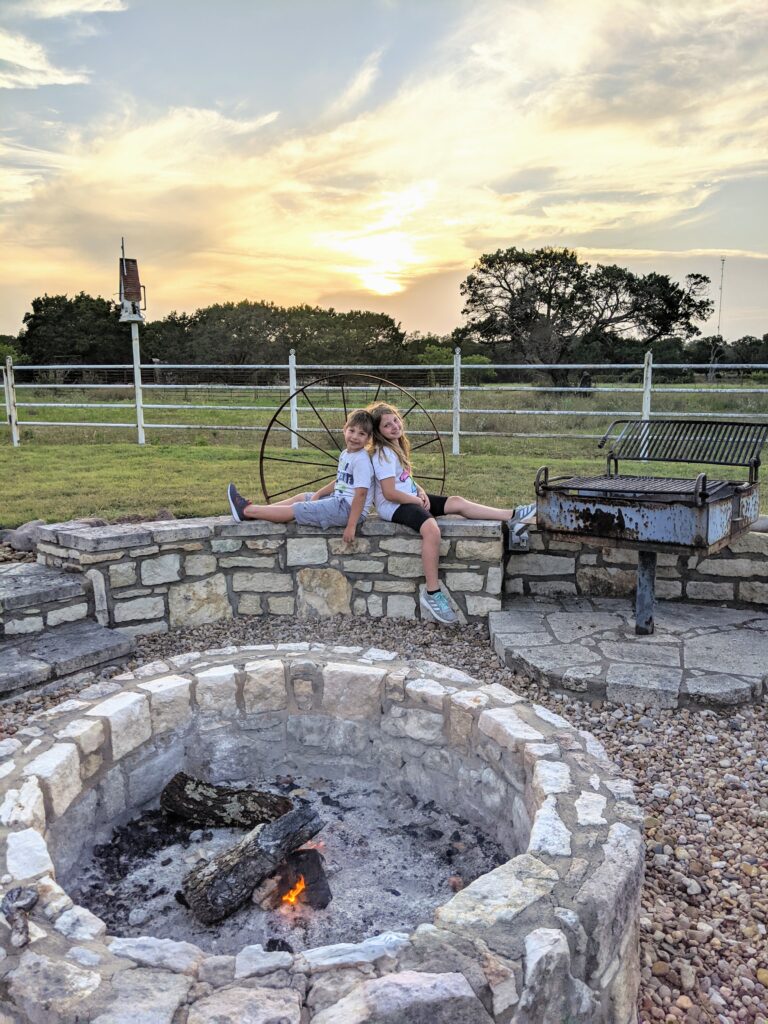 Or maybe we should light a fire in the huge outdoor fireplace, and relax on rocking chairs on the covered patio.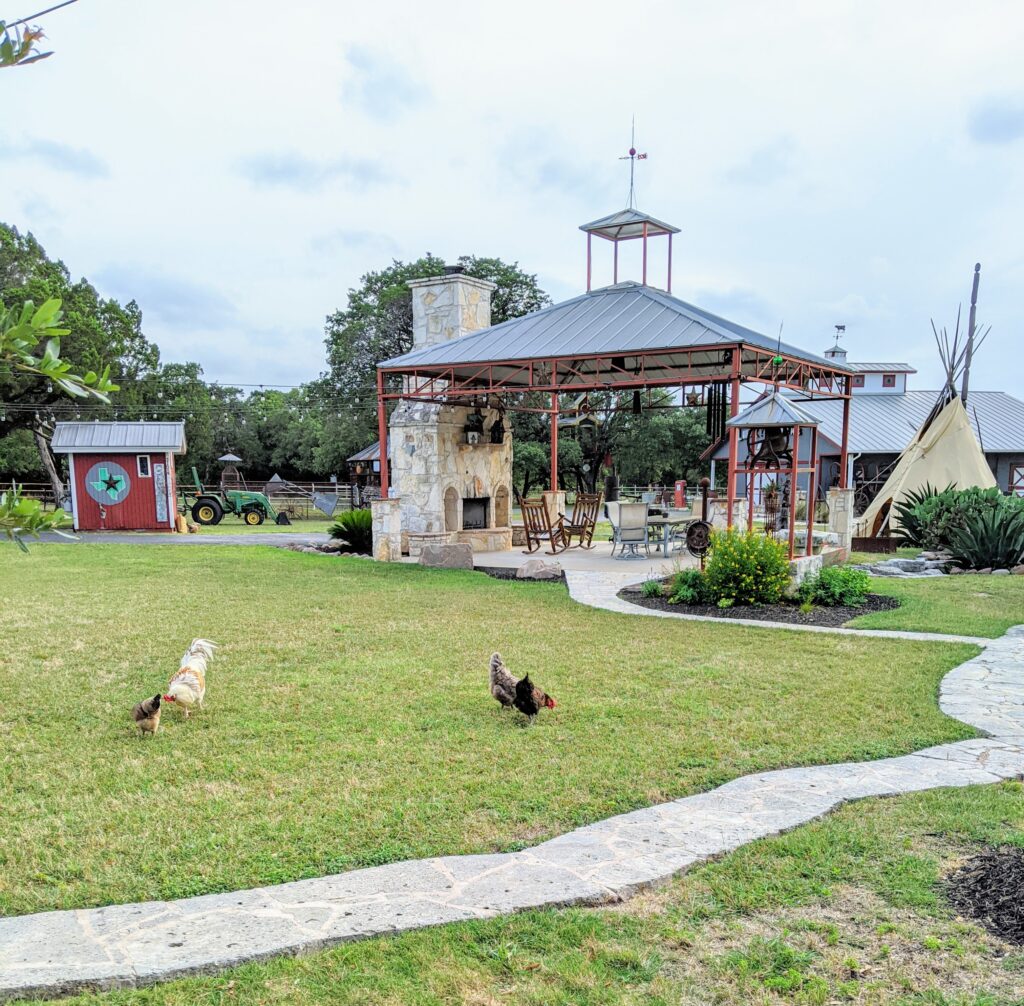 Two things might stand out to you in the picture above. One, the chickens. Yes, there are chickens roaming the property, and at night they return to their one-of-a-kind, vintage iron coop.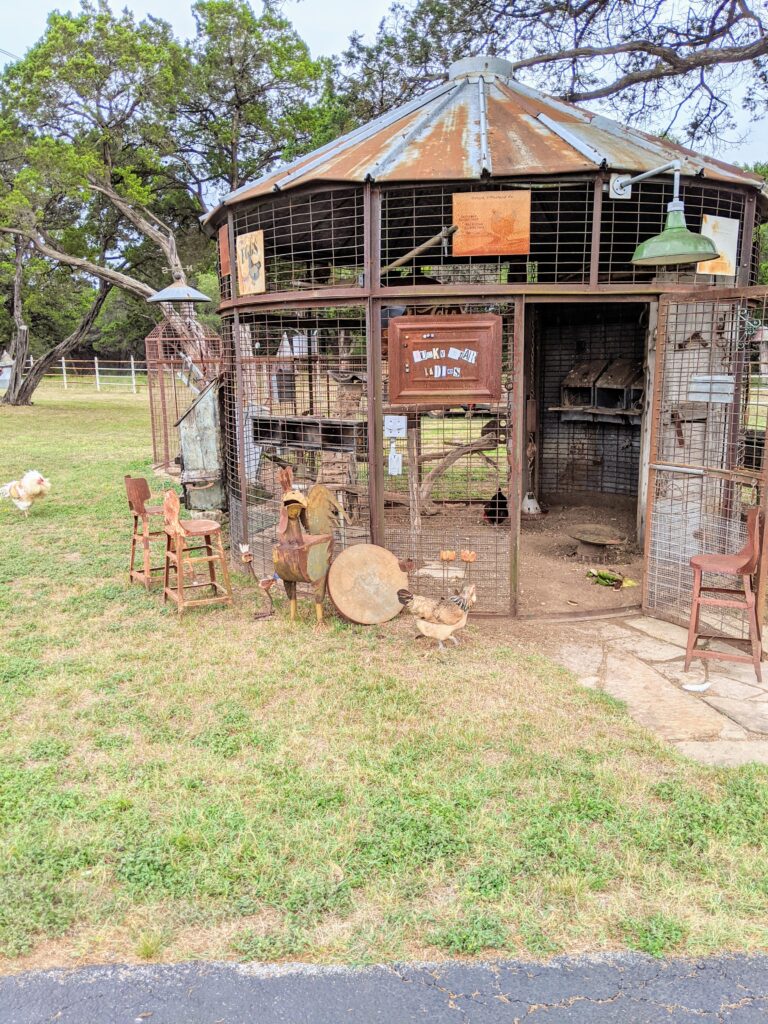 Another thing that may have caught your eye is the teepee. Yes, I said teepee and no your eyes aren't deceiving you. As if this property didn't already have pretty much everything it needed to make it the best Airbnb ever, there is also a teepee play area for kids. Or adults. No judgment here.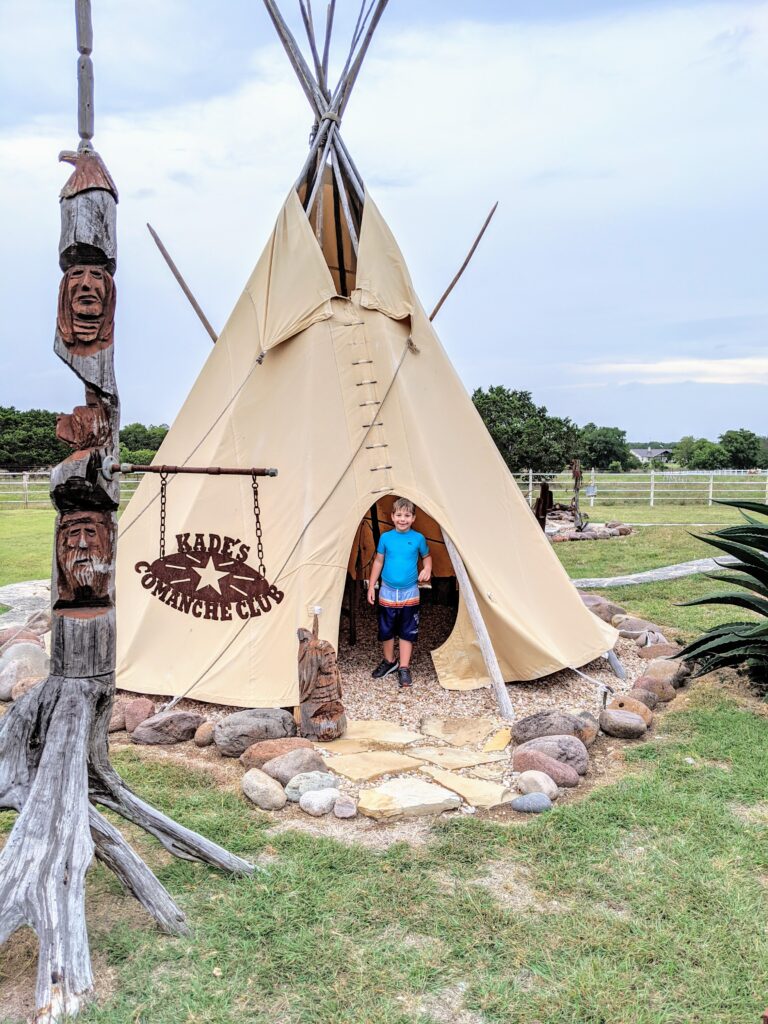 In addition to the teepee play area, there is also another kids' play area with a swing set, and, of course, in keeping with the whole amazingly over-the-top feel of this whole property, an actual treehouse.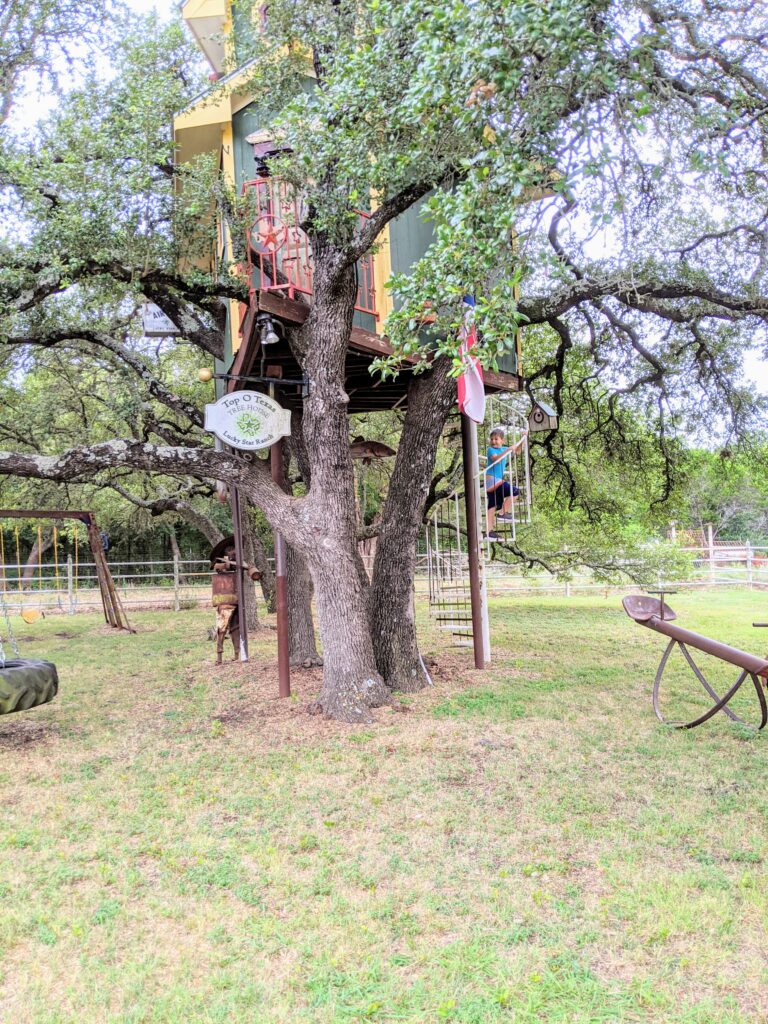 In case this wasn't enough of a wonderland already, the property is also home to a miniature horse and a cow, both of whom live in the pasture next door.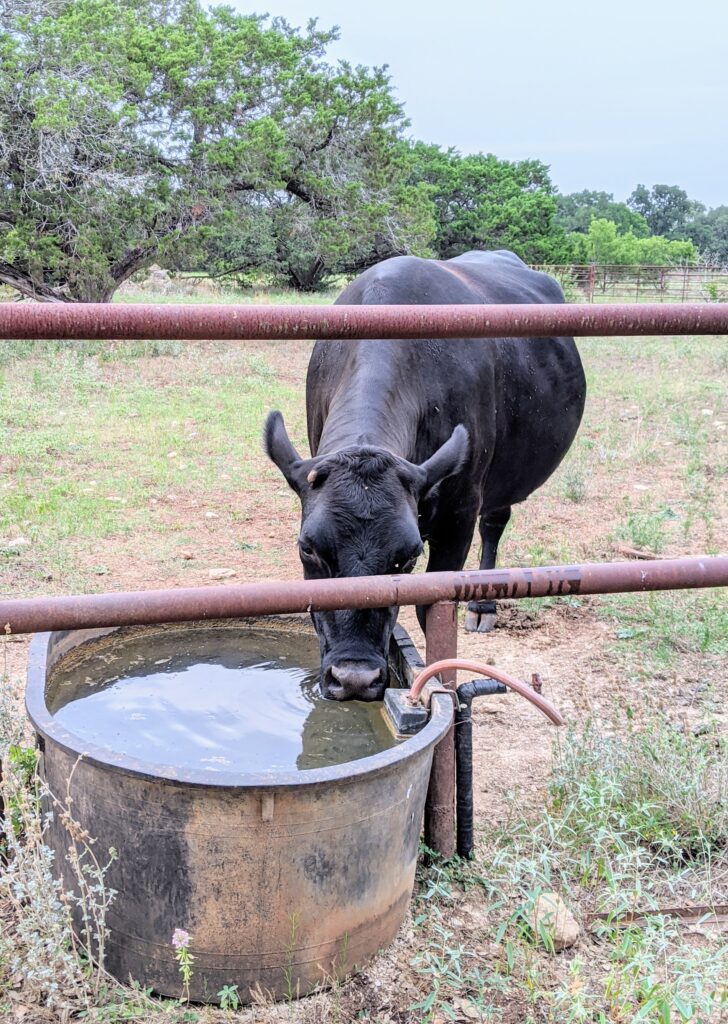 The miniature horse in particular provided endless fascination for the kids, who had never seen a horse quite so tiny!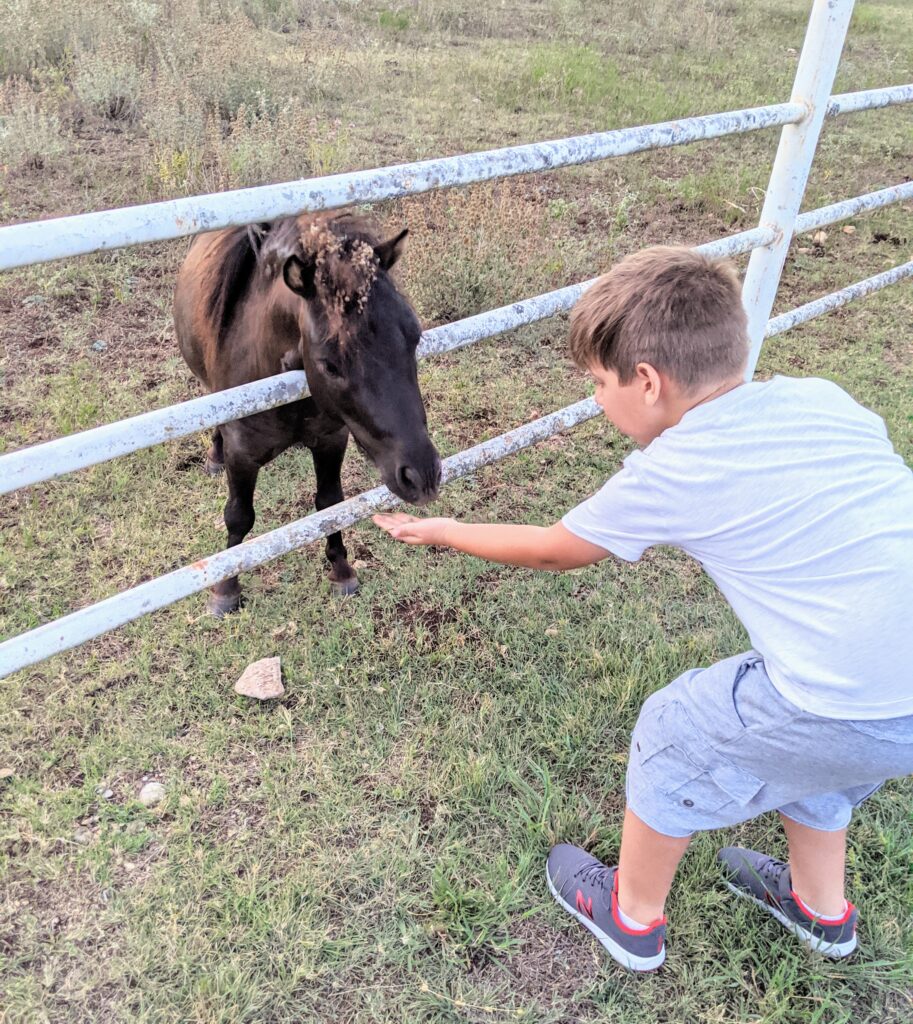 I think by now you're beginning to see understand when I say we were completely blown away by this property. The hosts thought of everything. The house was stunning, and the grounds were even more beautiful. Everywhere we turned there was something else to see and something else to do. With the pool, teepee, basketball court, tree house, and play area, this was definitely one of the most family-friendly Hill Country Airbnbs we've ever stayed in.
Unfortunately, we didn't spend anywhere near as much time there as we should have, as we were busy exploring Hill Country but we fully intend to come back and enjoy it some more!
If you're interested in booking this incredible Texas Hill Country Airbnb, click here.
This post contains affiliate links, which means Texas Wanderers may receive a small commission (at no cost to you) when you make a purchase through our links. Thank you for supporting Texas Wanderers.