If you want to visit one of the most beautiful places in Texas, allow me to share some of the incredibly fun things to do in Uvalde County. Uvalde County is made up of some picturesque towns, including Uvalde, Concan, Leakey, and Utopia, to name a few. It is also home to three breathtaking rivers – the Frio, Nueces, and Sabinal Rivers. Whether you enjoy hiking, swimming, shopping, or anything in between, you'll find plenty of fun things to do in Uvalde County.
Fun Things to Do in Uvalde County – Swimming
There are no shortage of beautiful swimming holes in Uvalde County. Summer is peak season because there are so many inexpensive places to swim, tube, or paddle on the Uvalde County rivers. Tubing is also available on the river, but make sure to check flow levels first. The places listed below all had plenty of water to enjoy, even during a terrible drought period.
Chalk Bluff River Resort is a campgrounds with cabins and camping sites along the Nueces River. They sell day passes as well, for $15 a person, $20 on holiday weekends. The view here is nothing short of majestic, with pristine, crystal clear water against a backdrop of soaring cliffs. The water here is so clear, you can see the rocks on the bottom, even in the deeper areas. Best of all, the water here is COLD. Even in August, when the outside temps were 100+, the water here was cool and refreshing.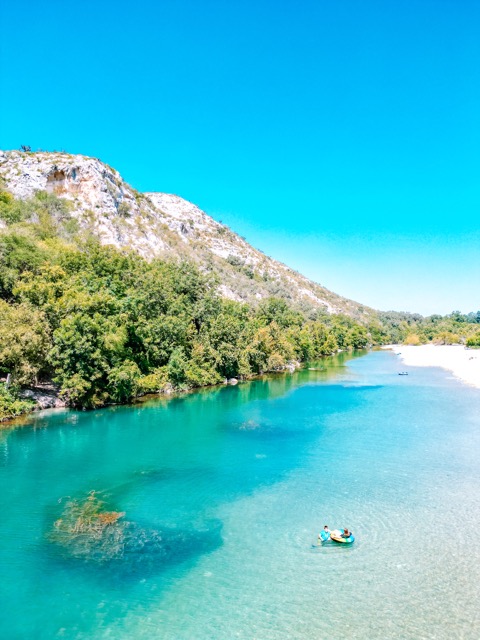 Concan Swimming Hole is on the Frio River, with some more clear, beautiful water. A giant rock in the middle serves as the perfect spot from which to jump into the cool depths. During the summer, they're open every day until 7 PM. During the off-season, give them a call to find out their schedule.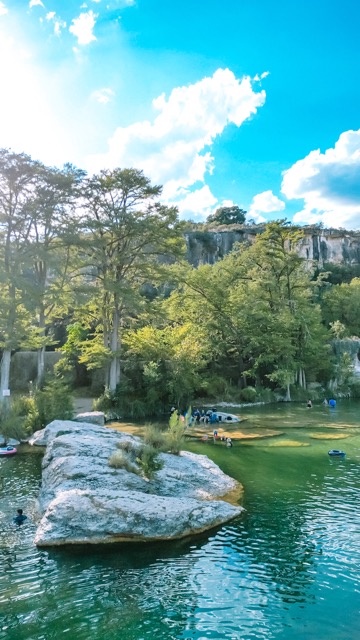 7 Bluffs Crossing
The incredible thing about Uvalde County is that because the rivers are public waterways, there are plenty of free spots to swim, as well. Driving along the road, you'll come across many river crossings, and many people just park their cars and jump into the river right there. You pretty much just step off the road into the river. At 7 Bluffs Crossing, you'll find paid parking options right by the river, but if you drive a little bit, you can also park on the side of the road.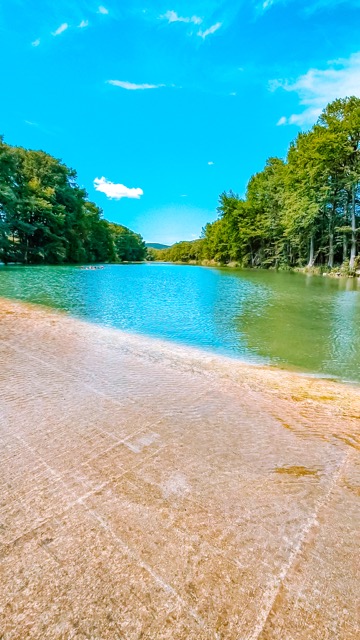 Note that the river banks are all private property, so you must stay in the river, entering and exiting only by the road.
It's pretty wild to see cars just driving along through the raised river crossing, literally driving through the river.
Garner State Park
Of course, we can't forget to mention Garner State Park. Here, you have access to plenty of river frontage, complete with grills and picnic tables. There's also a boathouse that rents paddle boards and kayaks. Along the banks, you'll find numerous rope swings and kids will have a blast jumping into the water.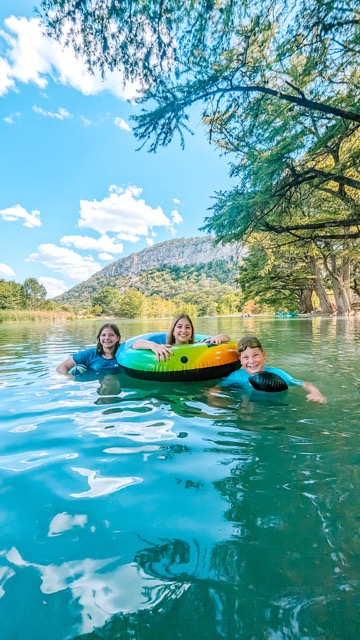 Entry to the park costs $8 for ages 13+, but if you have a Texas State Parks pass, like us, you can enter any state park for free!
Frio Country Resort
Frio Country Resort offers riverside cabins along the Frio River, as well as beautiful vacation homes. They also offer day passes for $30 per car so you can park and enjoy Kenneth Arthur Crossing. When we went, the water at Kenneth Arthur Crossing was too low to enjoy, but further down the river on Frio Country Resort's property, there was a beautiful swimming hole with mini waterfalls.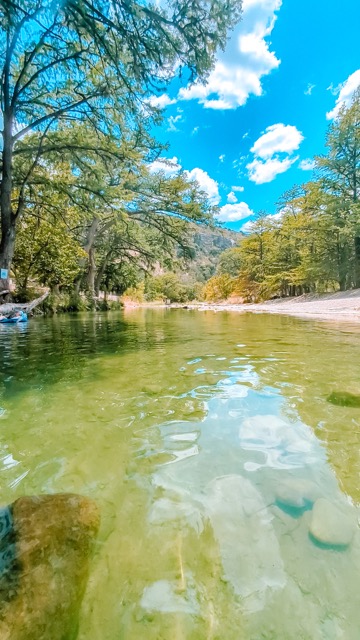 Neal's Lodge
Sharing the same water as Concan Swimming Hole, Neal's offers the additional benefit of a giant slide into the river! A day pass costs $60 for a group of 4 and includes slide passes. If you enter via Concan Swimming Hole, you can purchase slide passes for $10.
Fun Things to Do in Concan – Animals
If you enjoy interacting with and learning about animals, you'll find plenty of related fun things to do in Uvalde County.
Concan is home to the second largest Mexican Free-Tailed Bat population in the world (that humans can visit). Every night between May – September, at dusk, the bats emerge to hunt and the sight is incredible. For three to four hours, millions of bats fly out of the cage, wings flapping, filling the air overhead.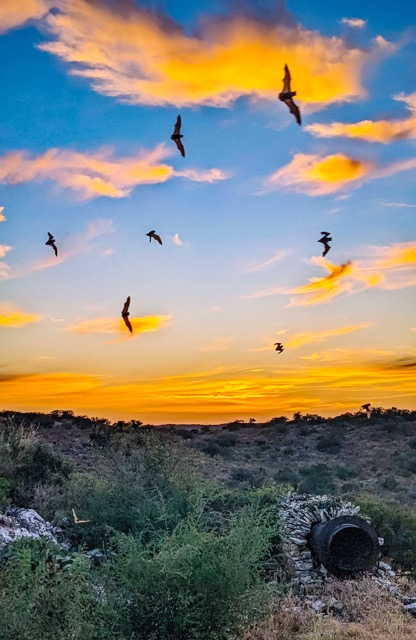 The tour meets at the closed gate. At the set time (which changes based on when sunset is), a guide will meet you at the gate and you'll drive behind him a good way up the mountain. At the parking lot, you'll leave your car and continue up a short, steep-ish path by foot. The guide is full of interesting info on bats in general, and this bat cave in particular. This is an experience you don't want to miss.
Admission is $12 + tax for ages 11+. Ages 6-10 are $10 + tax. 5 & under are free.
Chalk Bluff River Resort
Check out the animals at Chalk Bluff River Resort. Here, you'll find pigs, deer, and even a giraffe! Camel rides, farm animal encounters and safari hayrides are available for additional fees.
Fun Things to Do in Uvalde County – Hiking
With beautiful hills and mountains, there is no shortage of stunning hikes in Uvalde County
Garner State Park
Garner State Park has some incredible hikes. Our favorites have been Old Baldy and the Crystal Cave trail. Both are rated challenging, but are short enough, at just about half a mile each way, that they're doable even for kids.
The Crystal Cave trail takes you to a cave covered in crystals. The views along the way are incredible.
Old Baldy takes you to the highest point in the park, about 1800 feet up, offering stunning views of the Frio River and the surrounding areas. The peak is marked by a pile of rocks topped with an American Flag.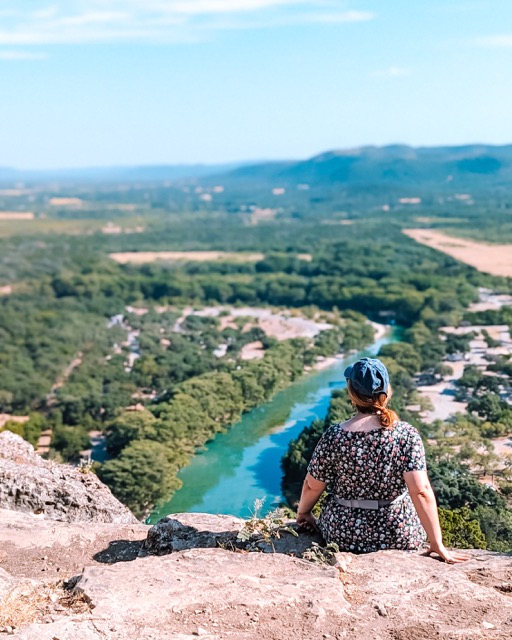 Hill Country Adventures offers guided nature tours, including birding tours and kayak tours.
Fun Things to Do in Uvalde County – Activities
Beyond swimming and nature, there are also fun activities to do in Uvalde County.
Gem Mining
Head over to Frio's Dry Fifty for some gem mining. You can purchase a bag of dirt in multiple sizes and take it outside. Their slough is conveniently located in a shady area of their patio.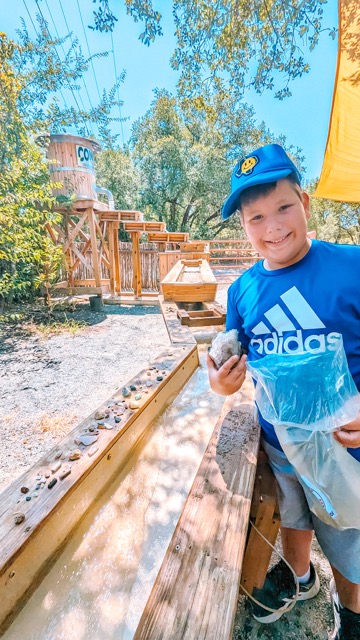 Lawn Games
Frio Dry Fifty also has some fun outdoor games like giant Connect 4 and giant Jenga. They've also got some cute photo opps, including a rusty old pink pickup truck, and a painted photo prop of a family enjoying the water that four people can stick their heads through.
Arcades
If you head into Sweet Life Candy Shop in Uvalde, and you manage not to get distracted by all the delicious candy, you'll find an opening at the back of the store leading to an arcade room! There are a handful of TVs with bean bags in front of them for gaming, as well as multiple different arcade games.
If you've got some cash to spare, you can enjoy the experience of driving and shooting actual tanks in Uvalde Texas. This activity is quite pricey, starting at $900, but it's definitely one of the most unique things you'll ever do.
Things to Do in Uvalde County – Shopping
You don't want to miss the adorable country stores out in these parts. Below are some of our favorites.
Josh's Frio River Outfitters
Here, you'll find everything you could possibly need for a trip to the river. Forgot any supplies? You'll find them here. Need souvenirs? You'll find those here too. Want to grab a coffee? There's a little cafe.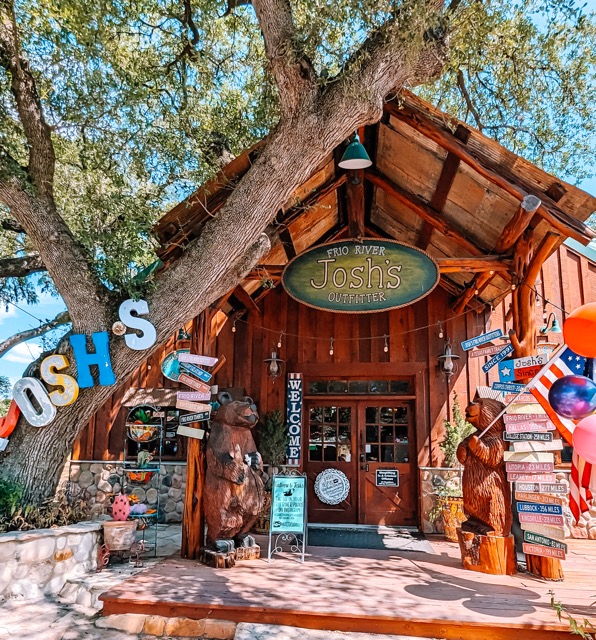 Josh's also offers tubing during peak season. Check with them prior to ensure flow levels are adequate.
Their main location is a large, lodge-like structure in Concan, but they also have a second, smaller, but just as cute, location in Leakey. The Leakey location also houses a candy shop.
Frio Dry Fifty
Frio Dry Fifty sells t-shirts, pocket knives, souvenirs, jewelry, and more. Inside the store is where you'll pick up your gem mining kits, too. Right next door to the shop is a snack shack, where you can get snow cones or Blue Bell ice cream.
Frio Country Store
Frio Country Store sells supplies like firewood as well as groceries and souvenirs.
Bear's Den
Bear's Den in Leakey, TX is a restaurant, but it also has an eclectic selection of gifts, beautifully displayed using unique props, including tables made out of car parts. There's all sorts of interesting decor there, from a giant windmill on the ceiling to an actual old ford Model T on the floor. Bear's Den is right across from Josh's Leakey location.
Sweet Life Candy Shop
This candy shop in Uvalde, TX is adorably decorated in a Candy Land theme. You'll find all sorts of unique candy here. And best of all, there's an arcade hidden behind it.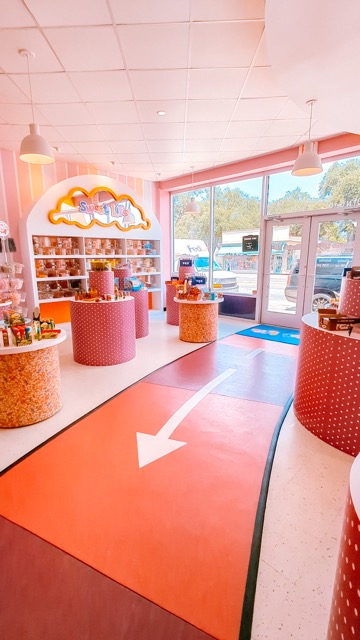 If you haven't yet been to Uvalde County, you definitely want to start planning a trip. This area is so beautiful and has so much to do all year round!