This post contains affiliate links. See our affiliate disclosure for more details.
Enchanted Rock State Natural Area in Fredericksburg, Texas is a Texas gem and somewhere you must visit at least once. The park surrounds a giant dome-shaped hill with trails around the surrounding areas, as well as a trail straight up to the peak of the dome – the iconic summit trail. This trail makes for a fabulous hike with some of the best views of hill country you'll ever see, but there are some things you should know before you head up there.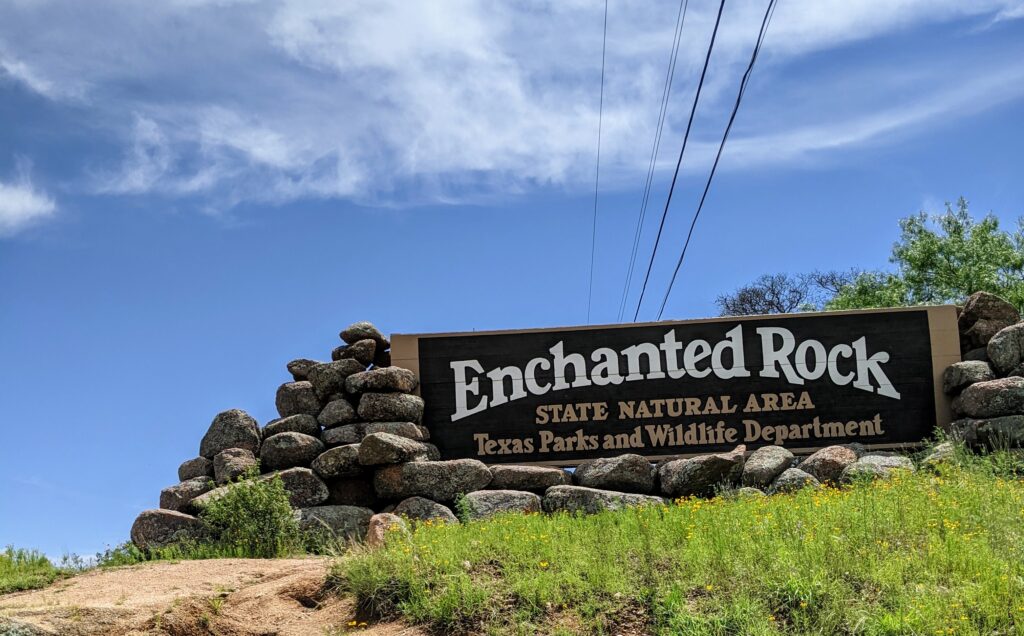 About Enchanted Rock State Natural Area
Enchanted Rock State Natural Area offers 11 miles of hiking trails, so there's plenty to do even if you don't hike to the summit. If you're coming for the day, be sure to reserve a day pass in advance, as the park reaches capacity regularly, and you can be turned away. You'll need to book in advance as even the day passes disappear quickly! If you prefer to camp, there are 55 campsites at this park, but again, those sites go fast, so be ready to book way in advance. Pets are welcome, but only on non-elevated trails.
---
Tips for Hiking Enchanted Rock Summit Trail
Here are some of our best tips for hiking the Summit Trail at Enchanted Rock.
When You Go Matters
The dome is essentially a giant rock. There is no shade whatsoever, so when you hike matters. Avoid the summer if possible, and in the early fall or late spring, try to get there as early as possible to avoid the heat of the day. In the summer, you might be able to swing a sunrise hike, as the park opens at 6:30 AM. We visited in the spring and saw so many beautiful wildflowers on the trail, so if you're able to swing it, that's when I'd recommend visiting.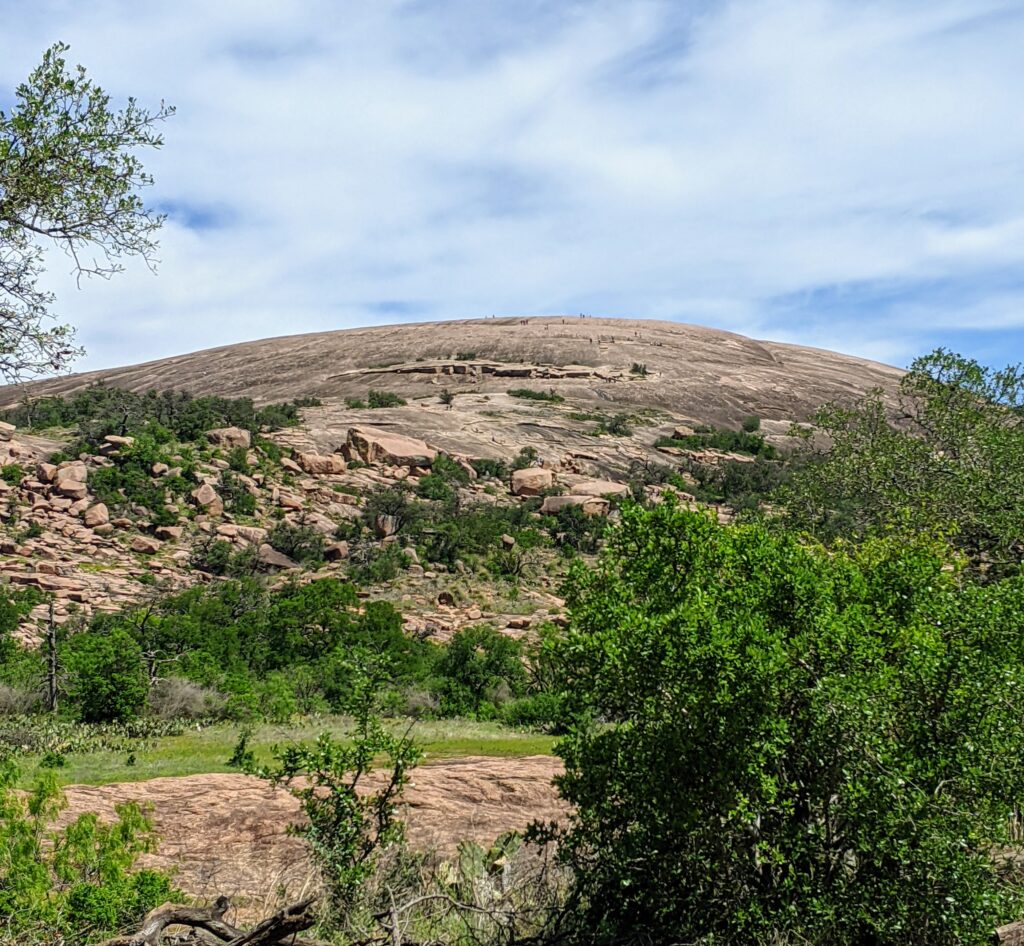 Go Before You Go
While there are showers available for campers, they are locked during the day and the only bathroom available are a whole lot of Port-a-Potties – at the bottom. We got there fairly early and they really weren't too bad, but you'll only find them near the parking lots, so just be aware.
Ditch the Water Bottle
Your Contigo water bottle isn't going to suffice here. This hike is strenuous, and, since it's Texas, it's likely going to be warm pretty much whenever you go. We love our hydration packs on hikes like these. We have these simple two-liter packs for the kids, and a combination hydration pack + backpack for the adults. They make water breaks quick and painless since the spout hangs down your shoulder strap for easy access. You'll need to remember to drink often – and. a lot!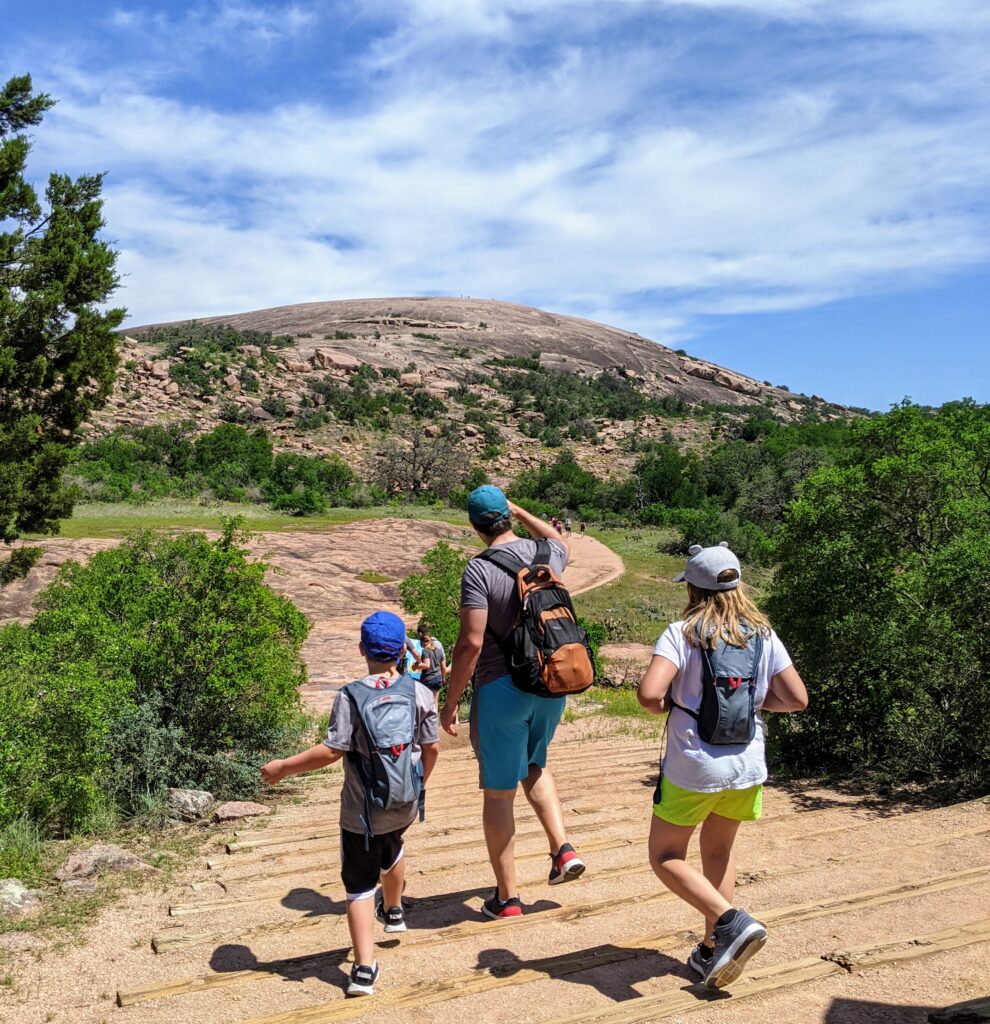 Fuel Up
Make sure to bring plenty of snacks. We opted to eat lunch about a quarter of the way down, where we found a rock formation that, while not quite a cave, seemed at least 10 degrees cooler than the temperature three steps away.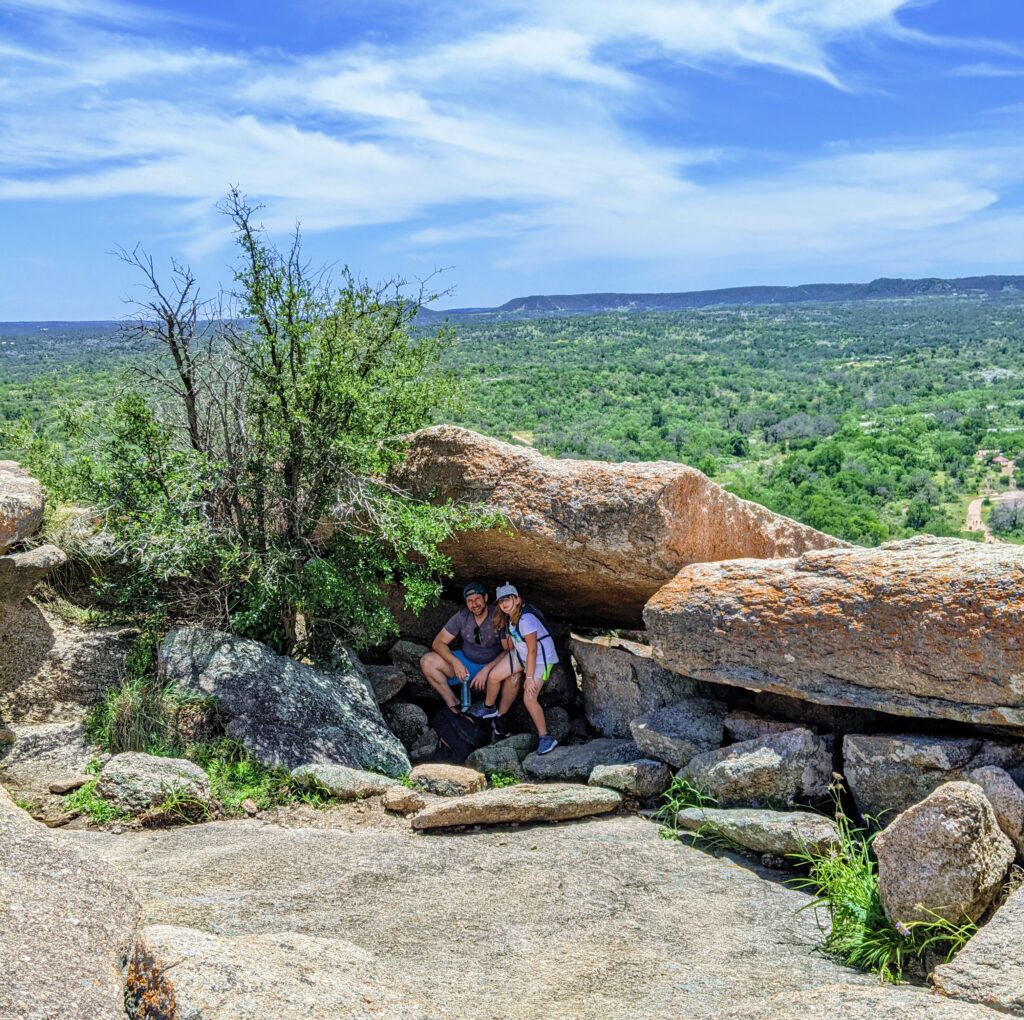 Be Prepared to Spend a While Here
We had heard that the trail takes approximately an hour and a half. And maybe it could be done in that amount of time. But we wanted to explore the summit, look for interesting rock formations and caves, and just sit and enjoy the view. We also stopped for lunch, which took a bit of time. All things considered, it took us closer to three hours to go up and back down. So if you like to take your time and explore, just be aware you can easily spend three hours on this trail.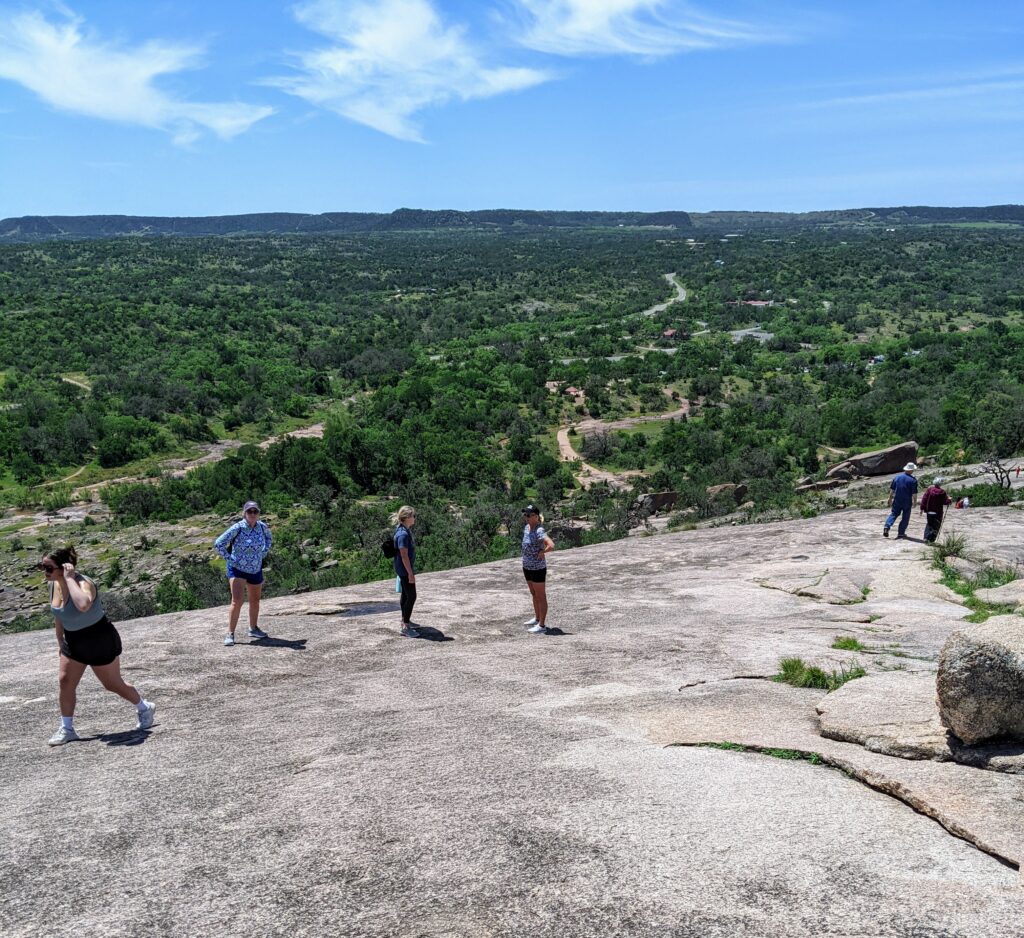 This Hike is Strenuous but Kids CAN Do It
We hiked with our eight year old and eleven year old and they (understandably) did better than me on this hike. But we saw people with kids as young as three or four attempting it. The lower part of the trail involves lots of scrambling and while it's not a walk in the park, it isn't very strenuous and little kids would likely have too much fun to be bothered by it.
It's only once you get higher up that the hike becomes less stepping up from rock to rock and more just walking up a solid, steep rock. That's where I can see very young kids tiring out, but honestly, the views from that area are so beautiful, it's worth it to just hike up there too.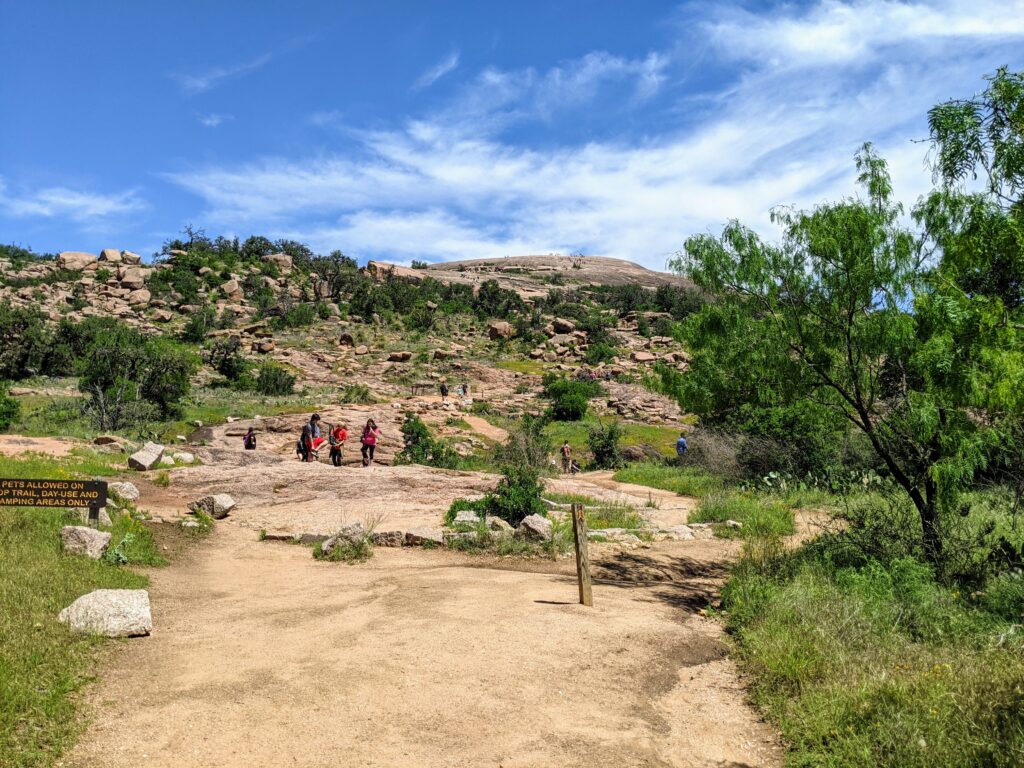 We saw many people using hiking poles, which looked like they made things quite a bit easier, especially when hiking up the bare rock.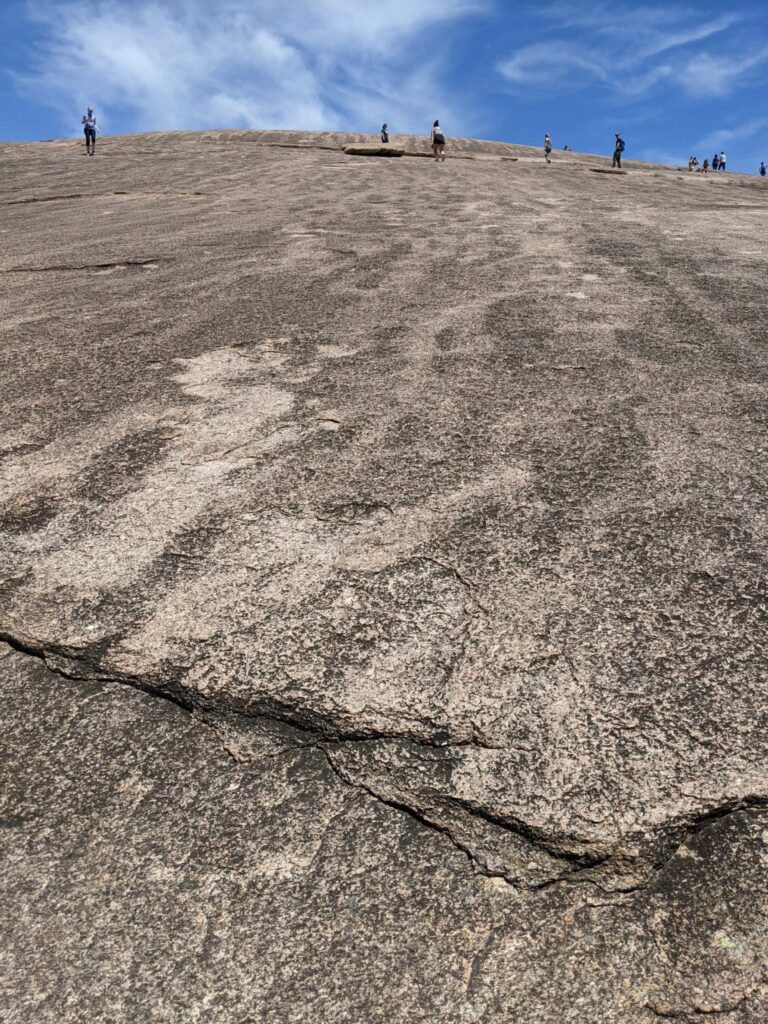 Beware the False Peaks
At a certain point, you'll see the summit in the distance and think you're almost there. You are, but not quite as almost as you think. As you crest that peak, another will come into view and THAT's the actual summit. But don't get discouraged – the view from the top is totally worth it!

Make Sure to Get Your Treat at the Bottom!
When you get to the bottom, you'll find a Kona Ice truck waiting for you and let me tell you, there's nothing as refreshing as a snow cone when you've just done a hike as strenuous as this one!
---
Places to Stay Near Enchanted Rock
This cozy, yet spacious 2-bedroom cabin sleeps up to eight, with 2 queen beds, bunk beds, and a queen sofa sleeper. Relax on a rocker on the front porch, or enjoy the screened in back porch. Under 10 miles from Enchanted Rock, you'll have plenty of time to enjoy the property and visit with the miniature horses!
Located on 53 acres, this 2-bedroom cottage is the perfect home base from which to explore the Fredericksburg area. It's just 14 miles from Enchanted Rock and sleeps six, with a queen bed in the master, and two more queens in the loft. You'll catch some fabulous hill country sunsets here!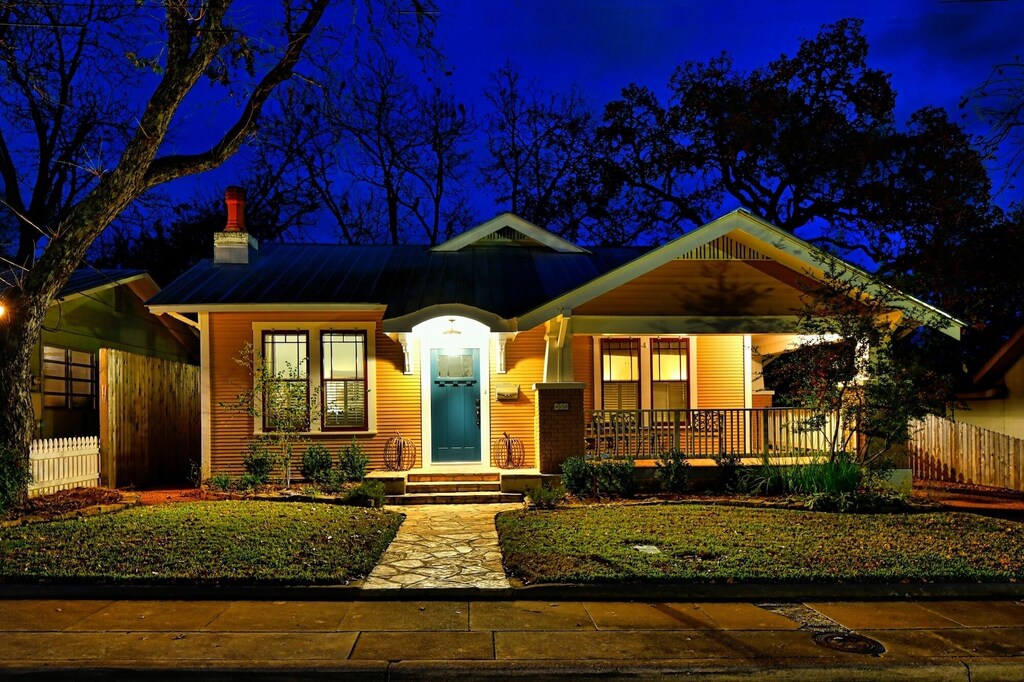 This adorable 1930's craftsman style bungalow is located in the heart of Fredericksburg's historic district. It's just 16 miles to Enchanted Rock and sleeps 7, making it the perfect rental for friends or a larger family.
We had such a great time hiking the summit trail at Enchanted Rock. There's nothing like getting to the top and seeing the entire hill country spread out before you. I highly recommend visiting Enchanted Rock when you get a chance. If you visit, be sure to let me know what you thought in the comments!