Our stay was hosted but the reviews and opinions are entirely our own.
If you love nature and the outdoors, you'll want to check out the Brookeland KOA right near Lake Sam Rayburn, in the Pineywoods of East Texas. There are tons of great things to do in the area, and the campground itself has tons of great amenities.
Brookeland KOA Lodging
Whether you like tent camping, have an RV, or appreciate the comfort of your own cabin, there's something for everyone at this campground.
We stayed in one of their adorable log cabins. The cabin had two double beds and a set of bunk beds. There was also a little kitchenette with a coffee maker, mini-fridge, and microwave, a TV, and a bathroom with a shower. All in all, it was everything we needed to feel like we were close to nature, but still not subject to the freezing night-time temps.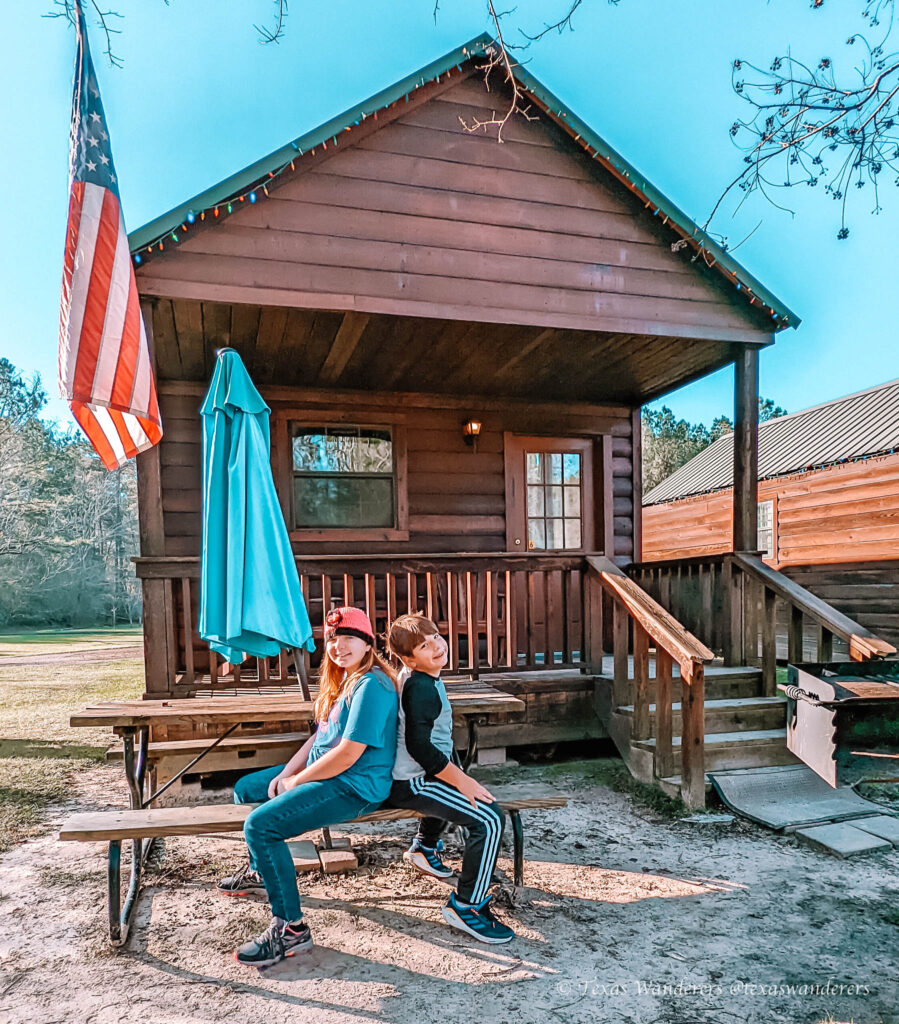 All their cabins have a/c and heat, which came in handy because it was really cold when we were there. They supplied two bundles of firewood to start, and we used those to make a cozy fire in the firepit right outside. We roasted smores and looked up at the stars over the pond.
Brookeland KOA Amenities
The campground has a store that's fully stocked with everything you might need, including coffee, snacks, firewood, ice, and some branded merch.
There are two pools in two separate areas of the campgrounds, so wherever you're staying, you're never too far from the pool. You can also rent canoes and paddle down the creek to where it meets Lake Sam Rayburn.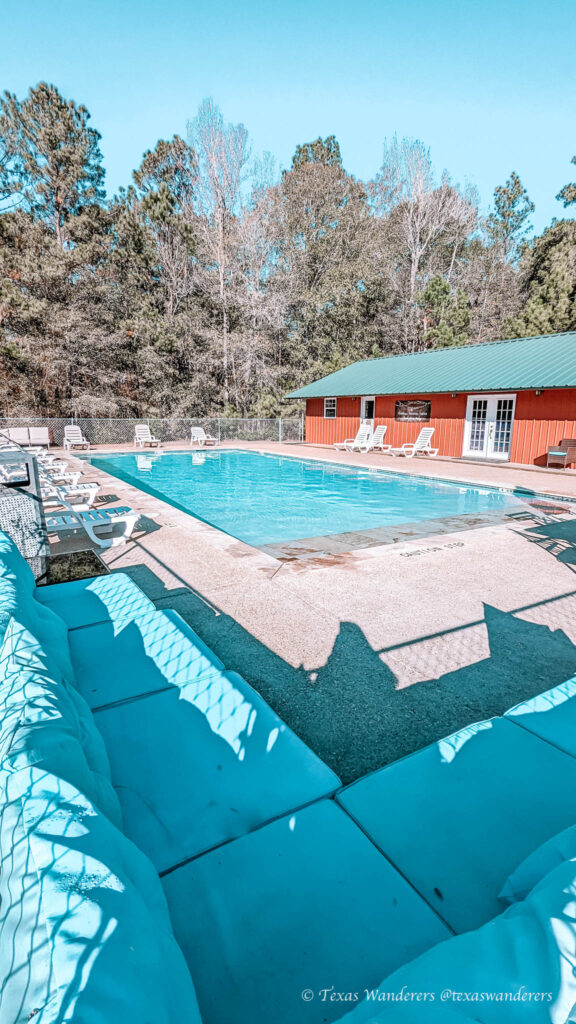 Things to Do Near Brookeland KOA
Lake Sam Rayburn
The Sam Rayburn Reservoir is the largest Texas lake that is entirely within Texas borders, covering 114,500 acres with over 750 miles of shoreline.
Fun fact: The town of Zana, Texas had died a sad death after the Great Depression and when the Sam Rayburn Reservoir was built, this ghost town was swallowed up in its depths.
Lake Sam Rayburn is known for hiking, camping, fishing, boating, and swimming. There are four marinas on the lake where you can rent pontoons, jet skis, fishing boats, wave runners, kayaks, and more.
Martin Dies Jr State Park
Martin Dies Jr State Park is best known for its paddling trails. You can rent a kayak or canoe from the park store and paddle one of the multiple paddling trails out on the lake.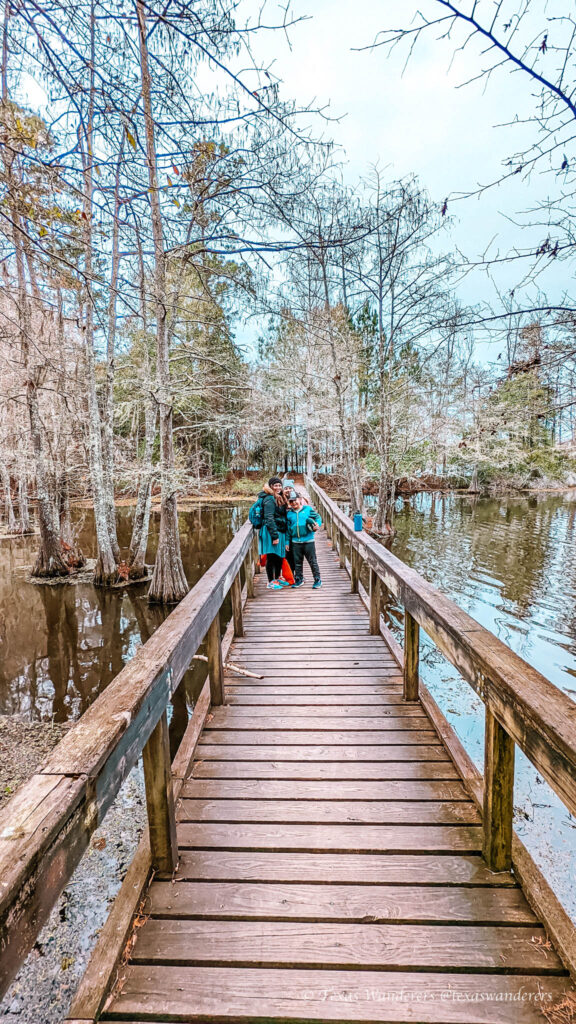 You can also hike among the tall pines, or take the trail out to the bridges over the lake to see the bald cypress trees, with their knees jutting out of the water. Martin Dies Jr State Park can almost pass for a miniature Caddo Lake because of all the Cypress trees, but of course, it can't match the sheer number of cypress trees that Caddo Lake has.
Angelina National Forest
Angelina National Forest is one of four national forests in Texas, all of them located in East Texas. The forest is typical of East Texas forests with tall, skinny pine trees towering 20 – 50 feet in the air. It's absolutely breathtaking in all areas, but these were a few of our favorite parts:
Boykin Springs Recreation Area
This area contains both campsites and a day-use area. The woods here are full of beautiful springs with little waterfalls and there's also a 9-acre spring-fed lake for fishing, swimming, and canoeing.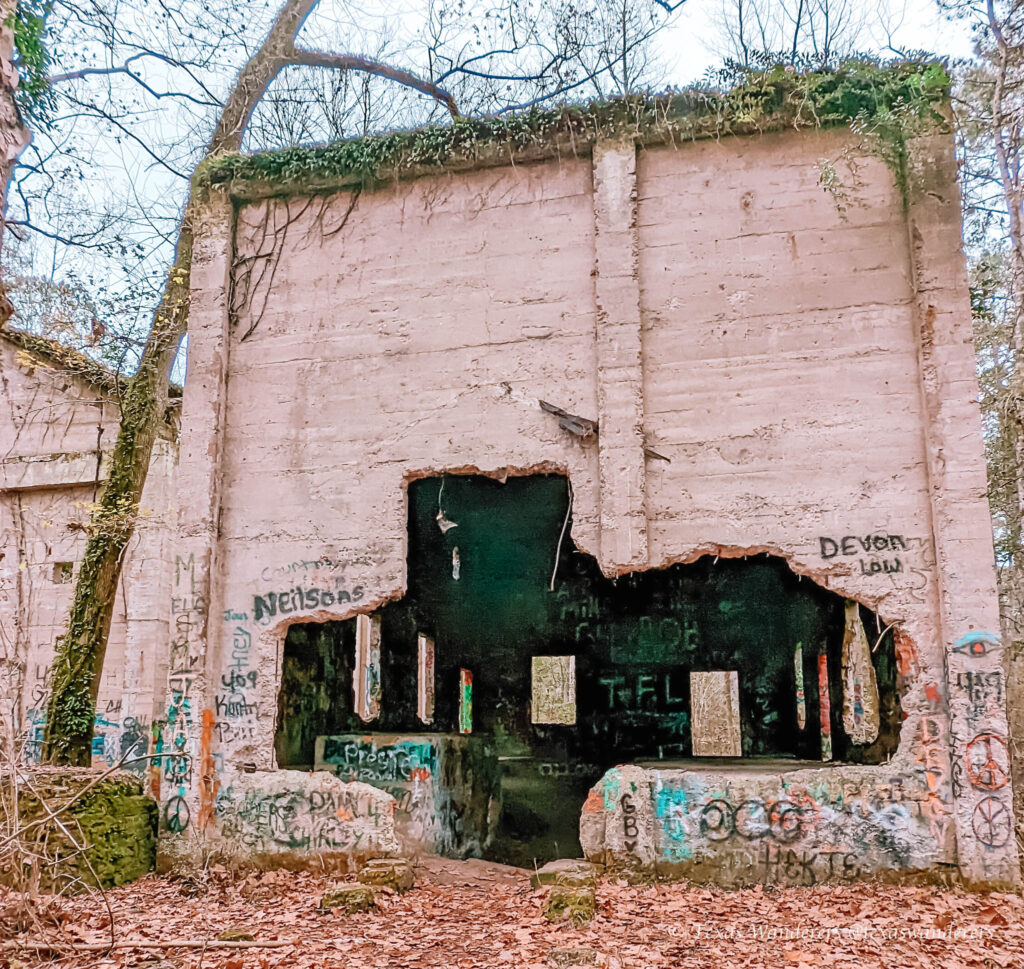 Aldridge Sawmill
If you head out on the 2.5 mile trail from Boykin Springs, you'll eventually come to the old Aldridge Sawmill. Aldridge Sawmill was a bustling business between 1905 and 1923, producing 125,000 board feet of lumber per day. The site was once home to 76 buildings, including factory buildings, offices, a hotel, and homes for the workers, but now all that remains are a few crumbling walls.
They are, however, very cool to see. Some people have graffitied up the walls but strangely, I feel like it adds to the appeal. Some of the walls look like they crumbled in the exact shape of Texas, too.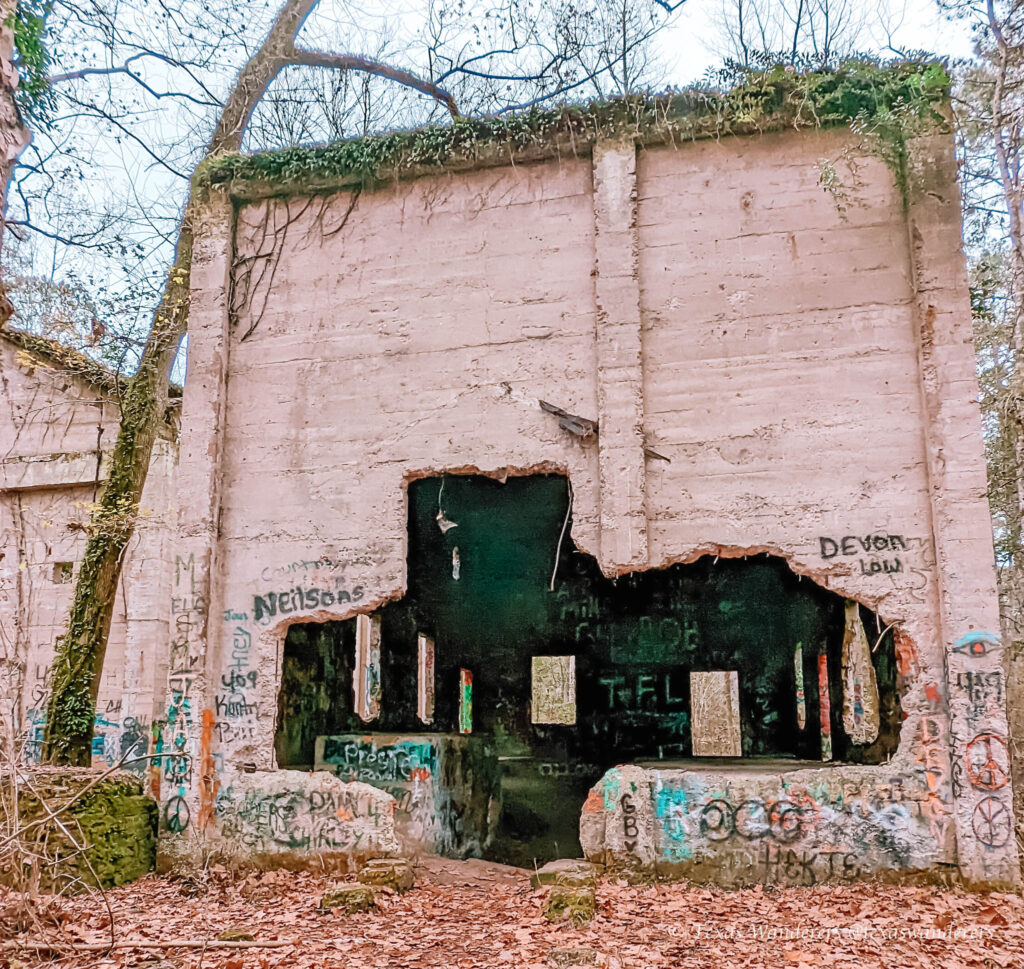 SFA Experimental Forest
The SFA Experimental Forest in Nacogdoches is the only forest of its kind in Texas. Scientists use the forest to study nature and wildlife for various purposes.
The trails here are paved, which makes them perfect for strollers or wheelchairs. You can opt to take the short loop, which is under a mile, or the slightly longer loop that's about two miles.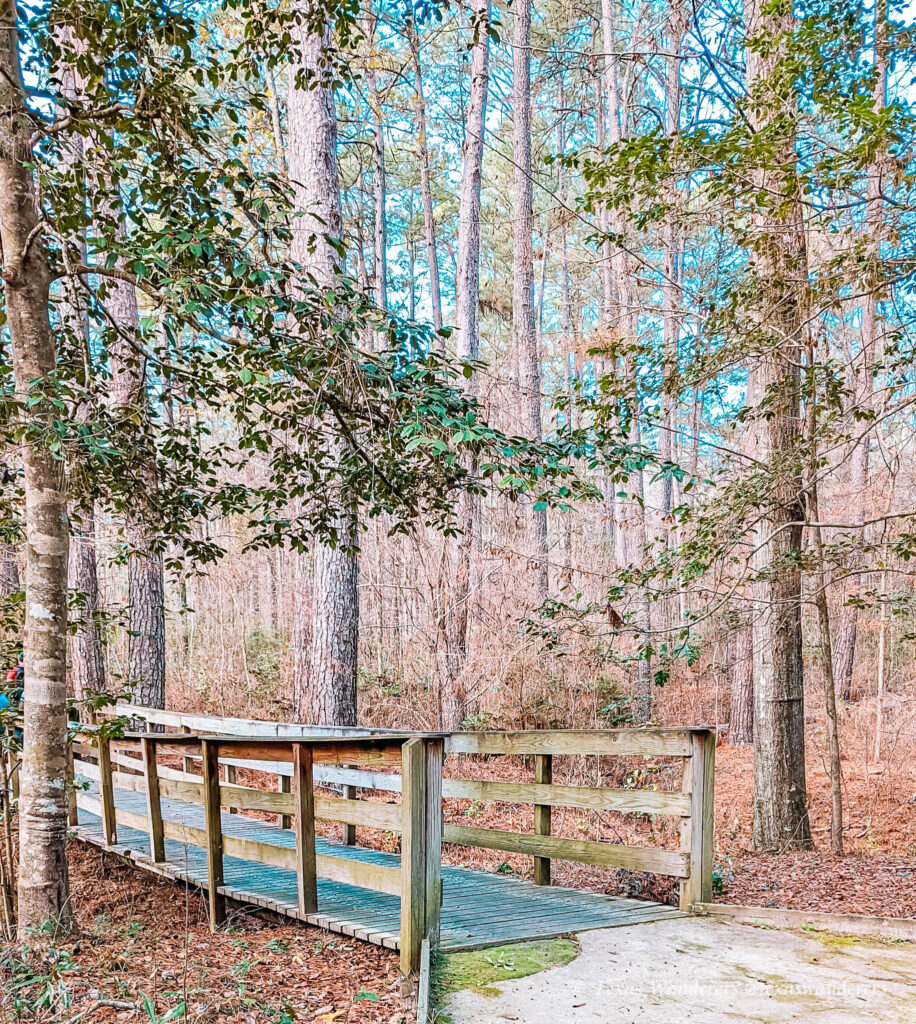 We took the shorter trail, which took us through the tall pines and over small bridges as it winded its way over Jack Creek. It was incredibly beautiful, even in December.
Patricia Huffman NASA Museum
You might be wondering what a NASA museum is doing in the town of Hemphill, Texas, a million miles from anywhere, and in fact, it's the only NASA museum not associated with a NASA facility.
The museum is actually a tribute to the shuttle Columbia, which disintegrated upon reentry and showered pieces of the ship down on East Texas, and Hemphill in particular.
At the museum, you can watch a film detailing that fateful day when residents heard the explosion and saw the debris, and the recovery efforts that followed.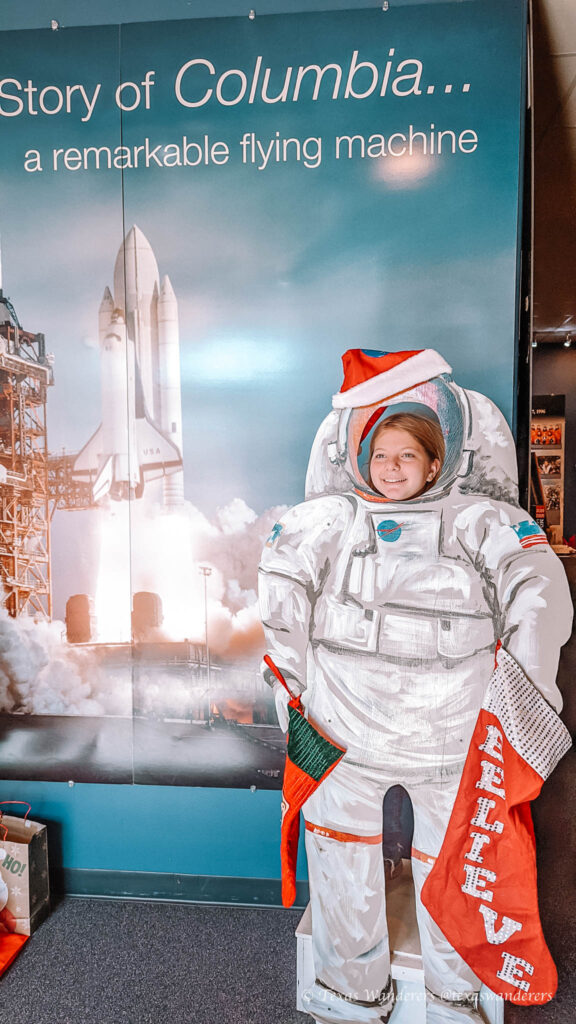 You can also see displays about each of the astronauts and the rescue worker killed in this tragedy. Each display has some personal effects donated by the family.
Huge wall displays go into detail about each of the Columbia's 27 successful missions, what their objectives were, and how they were carried out, as well as details about its last, fatal mission.
Woodville Heritage Village
The Woodville Heritage Village boasts 20+ historic buildings that were relocated from their original locations to this heritage village. You can visit a fully staged post office, sherrif's office and jail, saloon, general store, doctor's office, trains station, apothecary, and more!
You can also see bits and pieces of machinery and farm tools that were used back in the day.
On the premises is the Pickett House, a local favorite for fried chicken, chicken & dumplings, country vegetables, cobbler, biscuits, cornbread and more. When I posted about this place on Instagram, someone told me they have memories of flying in from Houston in a little plane and landing on a small runway where they'd be picked up by the Pickett House, go eat, and then be driven back to their plane!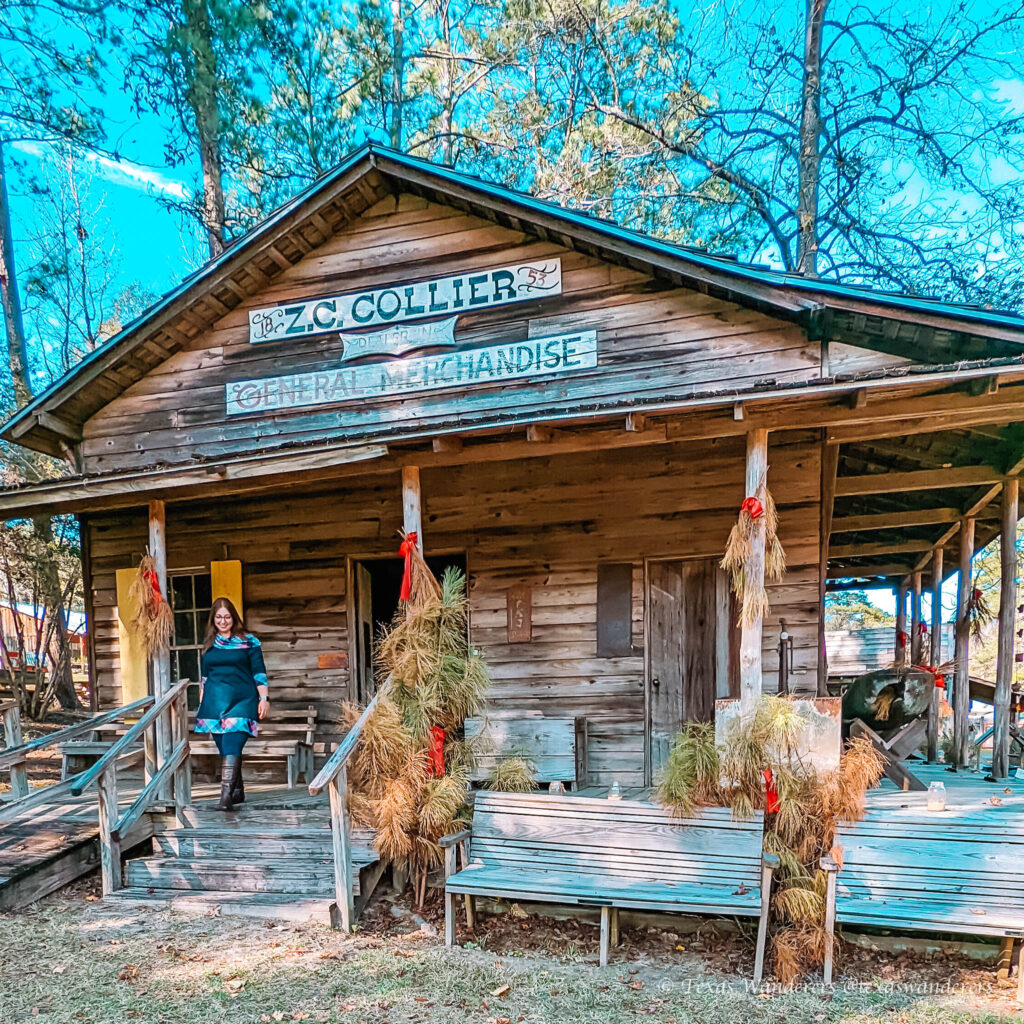 There is also a small nature trail right off the parking lot so you can explore the East Texas Pineywoods.
There's so much to do in the Brookeland area. Have you been to any of these places? Let us know in the comments below!