If you're looking for a family-friendly vacation destination, you must add Frisco, Texas to your list. Even without the upcoming Universal Studios theme park, there are an incredible number of fun things to do in Frisco. Plus, the experiences we had in Frisco were entirely unique. Many of the things to do in Frisco are things you won't find anywhere else, which makes it a must-visit on your next family vacation.
Fun Things to Do in Frisco Texas
KidZania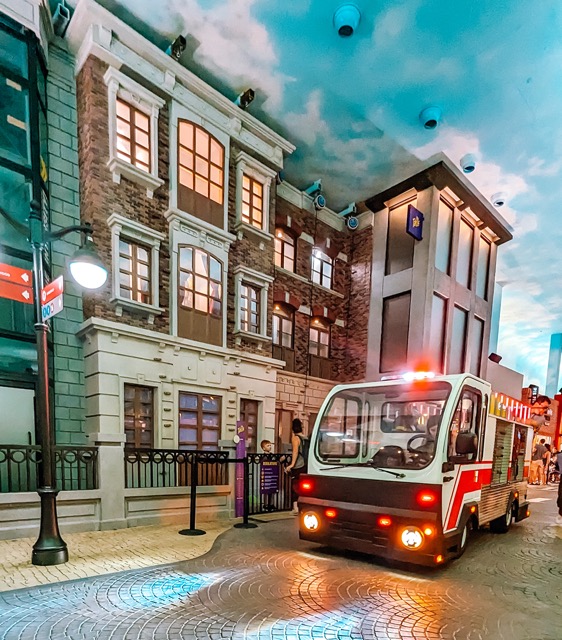 KidZania is an imaginative and interactive edu-tainment center offering an extraordinary experience for children. At KidZania, kids can explore various careers, unleash their creativity, and even earn a paycheck, allowing them to learn about the real world in an incredibly fun and immersive way.
At KidZania Frisco, (the only KidZania location in the United States), children aged 4 to 14 step into a vibrant, kid-sized city, complete with buildings, streets, and even a functioning economy. 
The city is meticulously designed to replicate a real-world environment, with over 100 establishments that represent different industries and professions. From pilot to chef, doctor to firefighter, and journalist to fashion designer, there's a vast array of jobs for kids to explore.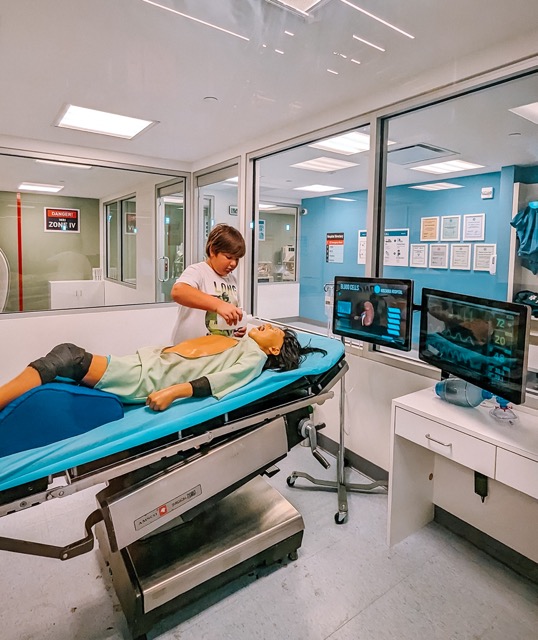 As kids take on different roles, they receive hands-on training and experience firsthand what it's like to be a part of a particular profession. Whether it's wearing a uniform, using real tools, or engaging in realistic simulations, every activity is designed to provide a genuine taste of the job. It's an incredible opportunity for children to explore their interests, discover hidden talents, and gain valuable insights into the working world.
One of the most exciting aspects of KidZania is that children can earn their own KidZos, the official currency of this make-believe city. By successfully completing tasks and contributing to their chosen professions, kids are rewarded with KidZos. 
They can then use this currency to purchase goods, services, or even save up for more extravagant experiences within KidZania, like rock climbing (up the side of a building), or a construction zone ropes course. The concept of earning and spending money teaches children important lessons about financial responsibility and the value of hard work.
KidZania is a city for, well, kids, which means parents are not able to participate in most activities. In fact, kids 8 and up are able to explore the city entirely on their own, while their parents enjoy the comfort of the parent's lounge. Of course parents are welcome to chaperone their children around the city, should they so desire, and there are a handful of activities parents can do alongside their kids. 
For my son who is obsessed with emergency vehicles, the emergency room and firefighting experiences were a dream come true. As a firefighter, he learned about different types of fires and how to fight them, before donning a firefighter's jacket and hat and climbing aboard a fire truck that drove the kids, sirens wailing, to the site of a 'fire' at a building across town.
There, the kid manned hoses and sprayed real water at a simulated fire that blazed and ebbed in response to their efforts before finally dying down.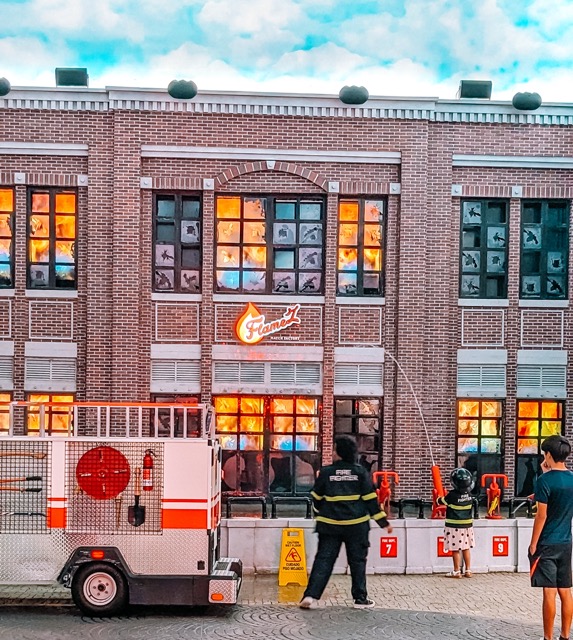 In the ER experience, they learned some First Aid basics and then boarded an ambulance, again with the sirens blaring, to drive across town to administer first aid to a 'patient' (one of the parents).
You can view a full list of activities at the KidZania website.
KidZania Prices
Tickets start at $45 per kid 6-14, $15 per adult (15+) or kids 4-5 years old. Kids under 4 are free.
KidZania Hours
Sunday – Saturday: 12 PM to 7 PM
National Videogame Museum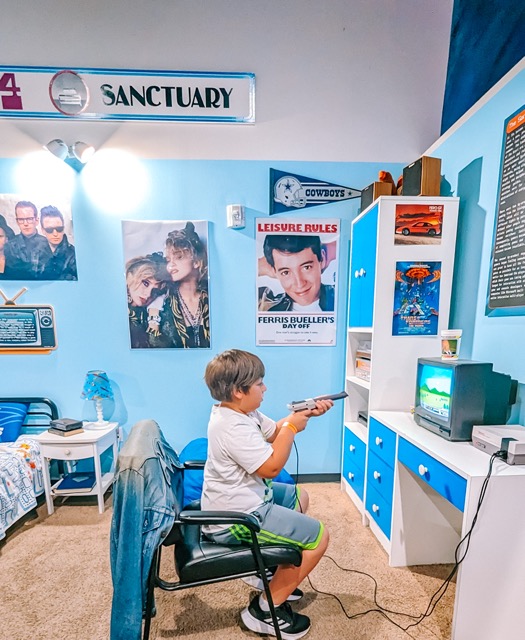 For all the gaming enthusiasts out there, a visit to the National Videogame Museum in Frisco, Texas, is an absolute must. 
The National Videogame Museum is a treasure trove of nostalgia, taking visitors on a captivating trip through the past, present, and future of gaming. From the earliest arcade classics to modern consoles and virtual reality experiences, this museum houses an impressive collection of artifacts that highlight the industry's evolution. 
The best part of this museum is how interactive it is. Visitors can play classic arcade games like Pac-Man and Space Invaders or play Oregon Trail on an old Vic 20 computer. Our kids had a blast trying out all the old game consoles and we loved the opportunity to relive childhood memories and introduce our kids to the games that defined an era.
Our favorite part was playing 80's games in an 80's environment. An 80's boy's room, complete with Duran Duran posters served as the backdrop for a game of Duck Hunt, and you were able to sit on the couch in an 80's living room, with a giant box of a TV and wood paneling, playing Burger Time on a game console so old, even I didn't recognize it.
National Videogame Museum Prices
$12 (general admission)
$10 (ages 10 and under)
$10 (Senior Citizens, Educators and active Military. Must present valid ID at time of purchase.)
Ages 3 and under are free.
National Videogame Museum Hours
Monday – Friday: 10 AM – 5 PM
Saturday: 10 AM – 6 PM
Sunday: 12 PM – 5 PM
Traintopia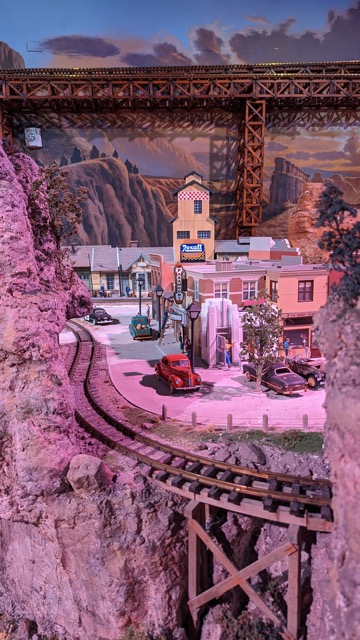 At Traintopia, we got to explore one of the most detailed model train exhibits I've ever seen. Taking up an entire room, multiple different train lines criss cross across an incredibly realistic landscape spanning from the mountains of Colorado through Arizona and New Mexico, before crossing into Texas and ending in an animated downtown Dallas, complete with changing traffic lights.
The lighting changes throughout, mimicking daylight, dusk, sunset, night, and sunrise, and the roads and buildings light up at night.
Make sure to pick up a scavenger hunt, which forces you to look even more closely at each part of the exhibit, giving you the opportunity you to notice things you might otherwise overlook. The museum offers two different scavenger hunts, one for older kids and one for younger kids, so all ages can participate.
Traintopia Prices
Adults (Ages 13+): $10
Children (Ages 3-12): $5
Traintopia Hours
Wednesday – Saturday 10am – 5pm
Sundays 1pm – 5pm.
Museum of the American Railroad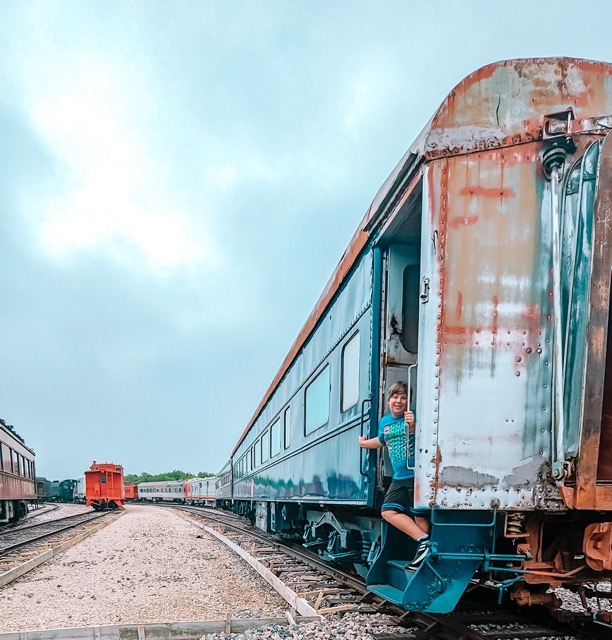 While technically part of Traintopia, the Museum of the American Railroad requires a separate ticket (although you can buy a combo ticket). The Museum of the American Railroad consists of a walking tour among a collection of old rail cars on real train tracks.
You'll have the opportunity to see the largest steam engine, largest diesel engine, and explore the inside of an old Pulham sleeper train, as well as a more recent Amtrak train. History buffs and train aficionados will enjoy seeing these little pieces of history frozen in time.
Museum of the American Railroad Prices
Museum of the American Railroad Hours
Schedule Through May 31, 2023:
Wednesday- Friday @ 11:00am & 1pm
Saturday @ 11:00am, 1:00pm, & 3pm,
Summer Schedule: June 1- August 12th
Wednesday-Saturday @9am (before Traintopia opens), 11am, & 1pm.
National Soccer Hall of Fame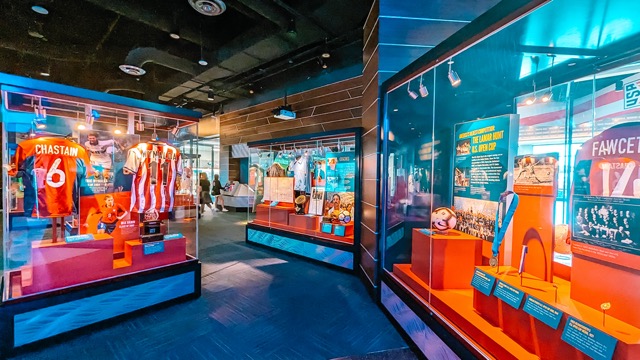 If you're not a soccer fan, you may be tempted to skip this one but I'm here to tell you – don't. The National Soccer Hall of Fame is full of interactive exhibits that will appeal to soccer fans and non fans alike.
When you first enter, you're prompted to create a profile, which includes your picture. The museum uses facial recognition software to log you in to various interactive experiences throughout the museum, allowing you to track your stats and look back on your activity.
Visitors can test their skills kicking, dribbling, and heading in a virtual exhibit where you actually kick, dribble, and head a virtual soccer ball. Learn from some of the best goalies in history in a virtual reality exhibit that trains you on blocking goals before entering you into a simulation replicating some famous saves, challenging you to mimic the goalies' moves. 
The museum also houses a vast collection of artifacts, including jerseys, trophies, and historical documents, that chronicle the evolution of soccer in the United States. From the inaugural World Cup team to iconic moments in Major League Soccer (MLS) history, the exhibits offer a comprehensive look at the milestones and pivotal events that have shaped American soccer.
National Soccer Hall of Fame Prices
Adult: $15
Youth (12 &  Under) $12
Seniors:  $12
National Soccer Hall of Fame Hours
Monday – Tuesday: Closed
Wednesday: 1:30 -9
Thursday – Friday: 1:30 – 5:30
Saturday: 10 – 5:00
Sunday: 12 – 5:00
Frisco Roughriders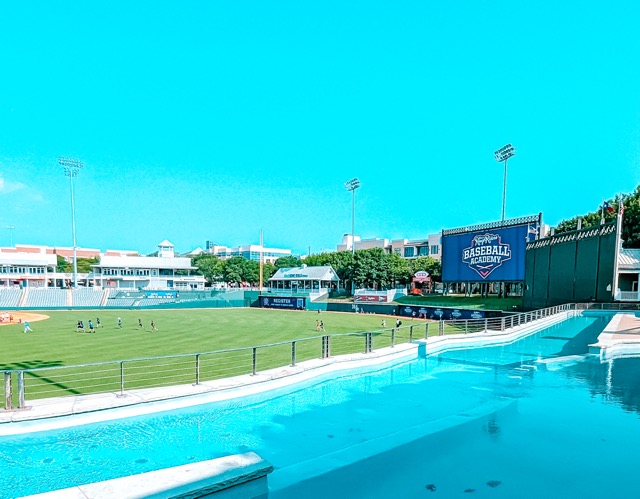 If you're visiting Frisco, you'll want to make sure to check the Rough Rider's schedule for a chance to watch this minor league team in a memorable stadium.
Watch the game from a comfortable suite stadium seating or even from a lazy river. You heard that right. On select nights, fans can purchase a ticket that allows them to grab a float and enjoy the lazy river while watching the game.
Families with kids can take advantage of this opportunity on Sundays while Thursdays are reserved for 21 and up. During the rest of the week, the lazy river can be reserved for groups.
In addition to the lazy river, there are plenty of other kid friendly amenities at the stadium. Kids can-enjoy a full playground and even bounce houses.
The Star – Dallas Cowboys Headquarters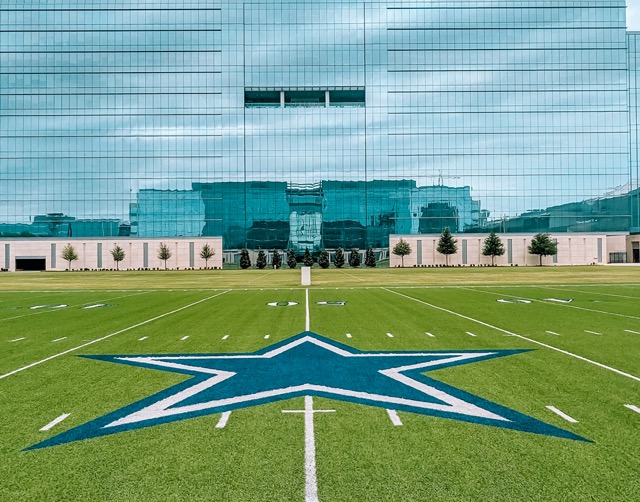 The Star proudly serves as the home of the Dallas Cowboys, one of the most storied franchises in the NFL. Football enthusiasts can take a guided tour of the iconic facilities, including the practice fields. If you're lucky, you might catch  a glimpse of your favorite player, though you'll get strict instructions not to engage.
Throughout the tour you'll be taken on a journey through the Cowboy's history from when they first became a team until today. You'll get to tour the Ford Center, the War Room, Nike Star Walk, and more. See the evolution of the Cowboys' uniform and logo, and even see all five championship rings up close and personal.
The Star Tour Prices
Tours start at $40/person
The Star Tour Hours
Tours are offered at the top of the hour every hour from 10-5 PM Monday – Saturday, 11 – 5 PM on Sunday.
Limestone Quarry Park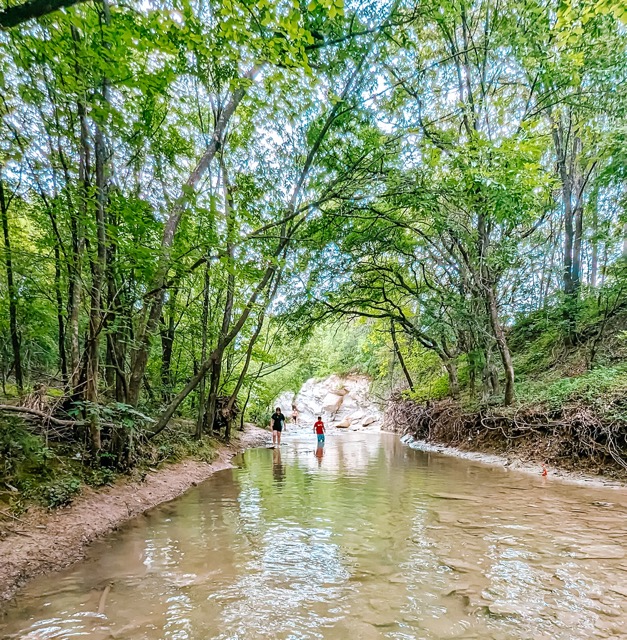 Limestone Quarry Park is an unassuming park nestled in the heart of Frisco. The park features the usual playground, basketball court, and fields, but the true gem can be found by taking an unmarked dirt path through the trees, past the playground and past the walking trails.
This nondescript little path opens up to an absolutely breathtaking, crystal clear creek. The shallow creek is perfect for wading. We walked along the creek, and even found a beautiful waterfall.
The limestone bottom that helps keep the creek so clear can also be very slippery, so water shoes are recommended.
Hope Park Playground For All Abilities 
This expansive park features two huge play structures, one for little kids and one for bigger kids. The little kids' play structure features kid-size buildings that make up a small town and farm. There is a school house and a barn, and even a train shaped play structure on a painted track. The other side of the playground features a rambling fort-like structure, complete with a tree house and climbing wall.
We didn't get a chance to explore the play areas as much as we wanted to because it was so hot, but we'll definitely visit again. Instead, we headed for the splash pad, which has a covered area that was perfect for the adults to hang out while the kids splashed around.
Frisco Rail District
The perfect destination for shopping and dining, the Frisco Rail District is Frisco's historic district. Here you'll find cute little boutiques, cafes, coffee shops, and some incredible murals.
You'll also find the Tumbleweed TexStyles flagship store. You've probably seen their Texas apparel at stores like Buc-ees and other Texas retailers, and if you're visiting Frisco, Texas, you can visit their flagship store.
The store is fun to check out because it's adorably decorated and highly Instagrammable. Plus they've got all sorts of cute Frisco and Texas apparel and home goods.
Texas Sculpture Garden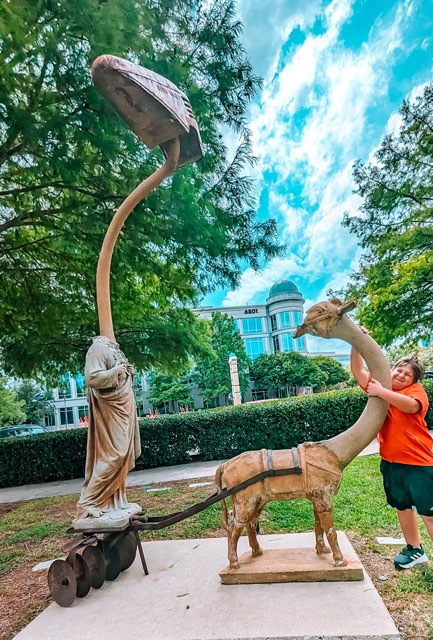 Texas' largest public sculpture garden, named quite simply, the Texas Sculpture Garden, is free to enter, and a beautiful place to wander around. Here, you'll find beautifully maintained landscaping surrounding some unique sculptures by artists from across Texas. 
Frisco Heritage Museum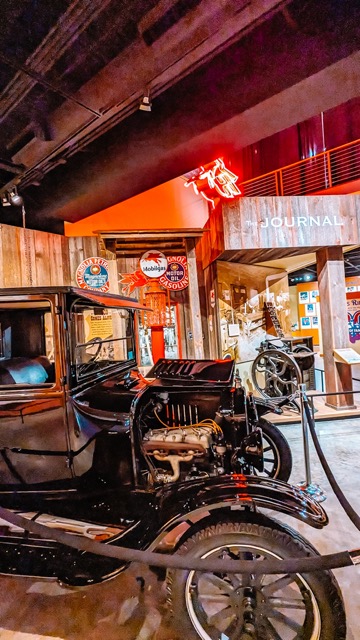 The Frisco Heritage Museum is dedicated to showcasing the rich history of the Frisco area. The museum consists of both indoor and outdoor exhibits. Inside, you'll find a covered wagon, early Ford Model T's, and plenty of information on the early days of Frisco history. 
There's even an interactive map where you can pull up pictures of historic Frisco locations and swipe to see what stands there today.
Another interactive exhibit lets you design your own cowgirl, outfit and all, and test your understanding of cowboy lingo.
Outside, you'll find some historic buildings, like a calaboose (an outdoor jail), an old house staged with period furniture, an old church, and more.
Frisco Heritage Museum Prices
Free
Frisco Heritage Museum Hours
Tuesday – Friday: 10 AM – 4 PM
Saturday: 9 AM – 4 PM
Those are all we had time for on this trip, but here are a few more things to do in Frisco we hope to check out in the future.
Some more things to do in Frisco
Sci-tech Discovery Center
A hands-on STEM museum for kids.
Comerica Center
The Dallas Stars practices are open to the public at the Comerica Center, the Stars' headquarters and practice facility.
PGA Frisco
PGA Frisco has a lot to explore. 
The Dance is one of the largest natural-grass putting courses in the US. Putters and balls are available to rent.
Margaret's Cones & Cups serves up ice cream, gourmet coffee, and treats.
Lounge by Topgolf offers an indoor swing suite, virtual games, and a kids menu.
At the Ice House you'll find hitting bays, food and drinks, and outdoor seating.
The Apron serves Texas and California fare for breakfast, lunch, or dinner.
To find even more things to do in Frisco, head over to the Visit Frisco website