I'd be hard-pressed to tell you which caught our eye first – the incredibly long, entirely unpronounceable name, or the charming, fairytale-esque property, but when we came across this Fredericksburg Bed and Breakfast, we knew we had to stay here.
When we arrived at Rarumpelpunzeldornaschenwittchen, we were greeted by the owner, and learned that he had built the two cabins (Rapunzel and Rumplestilzchen), and has plans to build more!
Just outside the door to the cabin, our kids were delighted by a miniature fairy-house type scene. A tiny stuffed mouse was set up next to a miniature door, with a tiny bicycle and chair, all enclosed by an itty bitty fence.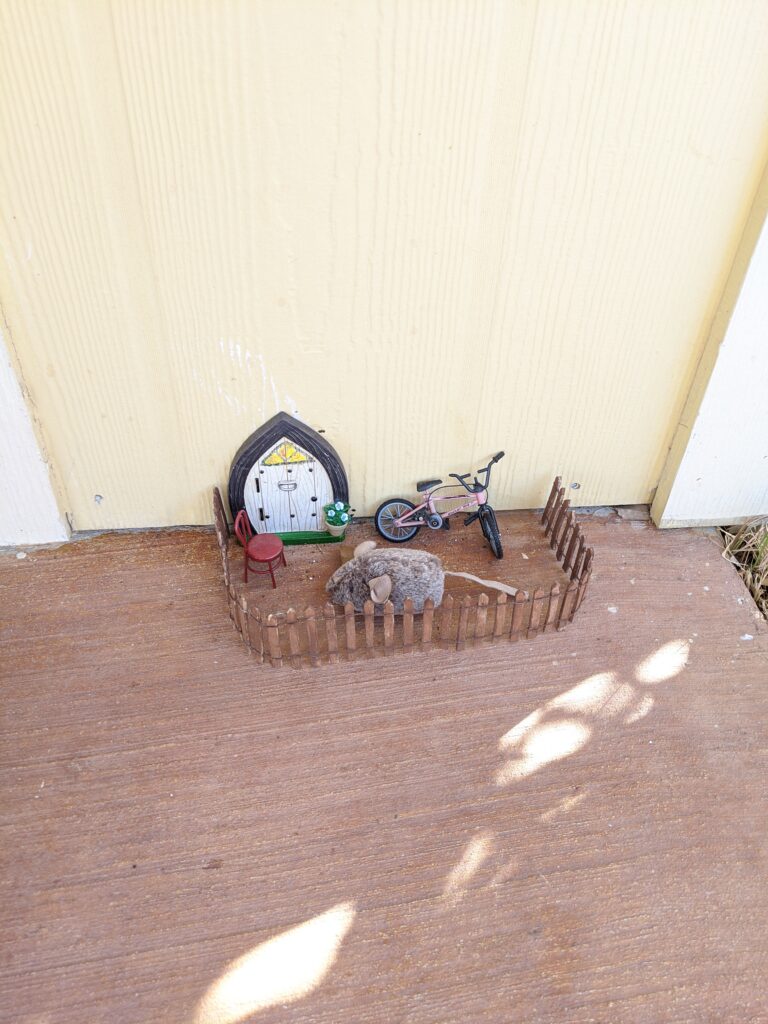 Outside the cabins were a small pond with a footbridge, and a firepit.
Inside the cabin we found a small kitchen area, table, couch, and a queen sized bed recessed under a loft. The loft was accessed by a small spiral staircase and had a small bed upstairs.
A hearty breakfast was left at our door in the morning, complete with sausage, fruit, cheese, bread, jam, and butter.
The listing states that the cabins sleep three but we booked through a third party site, so we didn't realize because the site let us book for four. It wasn't a big deal though, we ended up making a fourth bed upstairs out of couch cushions and it worked out fine.
Location
Rarumpelpunzeldornaschenwittchen is located in Fredericksburg, Texas, just under four hours from Houston, just over an hour from San Antonio, and an hour and a half from Austin.
What To Do There
On Premises
Campfire
Enjoy the beautiful property
Nearby
Fredericksburg wineries
Enchanted Rock State Natural Area
If you're looking for a Fredericksburg Bed and Breakfast, you can't go wrong with Rarumpelpunzeldornaschenwittchen (really, I just like saying the name). You can find more information and book on Hotels.com via this link.
Additional Fredericksburg Bed and Breakfast Photos
Affiliate Disclosure: Booking this Fredericksburg Bed and Breakfast via Hotels.com will earn me a small commission. Thank you for supporting Texas Wanderers!