With its whimsical shops, waterfront eateries, and beautiful swimming holes, there's no shortage of things to do in Wimberley, Texas.
Wimberley is an adorable little town in Texas Hill Country with a population of 2600. Its proximity to Austin and San Antonio (45 minutes and an hour, respectively) makes it the ultimate Texas Hill Country weekend getaway. It'll take you about 3 hours to get there from Houston and 3.5 hours from Dallas, which is still short enough to make the trip worth it.
(Psst. If you're looking for places to stay in Wimberley, click here!)
Things to Do in Wimberley – Swimming
Wimberley is known for its beautiful spring-fed swimming holes. Spring-fed swimming holes are ideal for Texas summers because they remain a constant, cool temperature all year round.
If you've ever swum in a Texas lake in August, you know that tepid, bathwater-temp water doesn't do much to cool you off. Wimberley's multiple swimming holes solve that problem. Here are some of the best places to swim in Wimberley.
Blue Hole Regional Park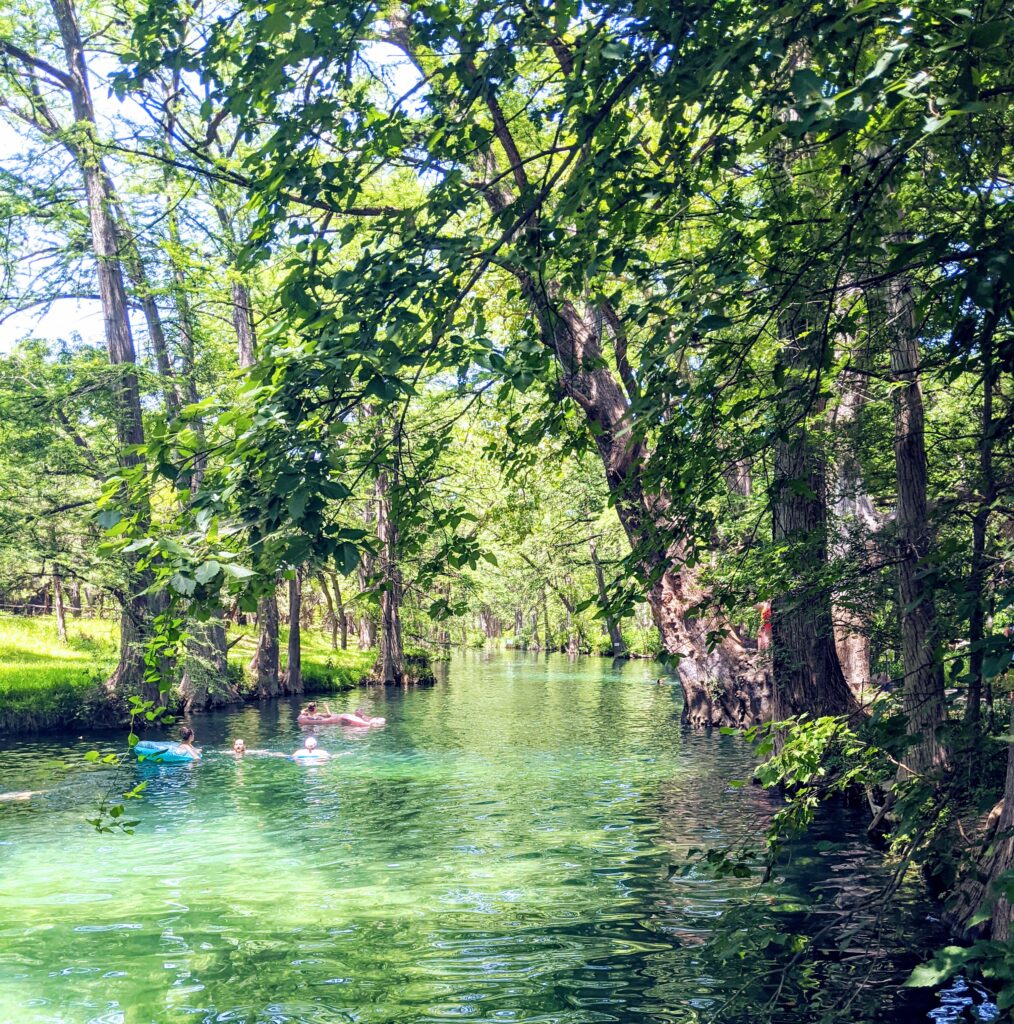 Blue Hole Regional Park is home to a section of Cypress Creek that is as blue as the name might indicate. Lined with tall, imposing cypress trees, this area looks almost otherworldly. The water is incredibly clear, filtered through limestones on its way from Jacobs Well.
The water gets deeper the farther down the creek you go, so while kids might be able to stand at the very beginning, they won't be able to just a short walk up. Some sort of floaties or tubes are recommended for everyone, so you can relax in the cool, clear water.
Rope swings hang from multiple trees along the swimming hole. As the water gets deeper, the rope swings are set higher above the water.
A pole is attached to the tree at each swing area to allow jumpers to pull the swing back if they can't reach it from the platform. A ladder allows you to easily climb back out and jump again.
Our son had the best time jumping into the water over and over and over again for hours.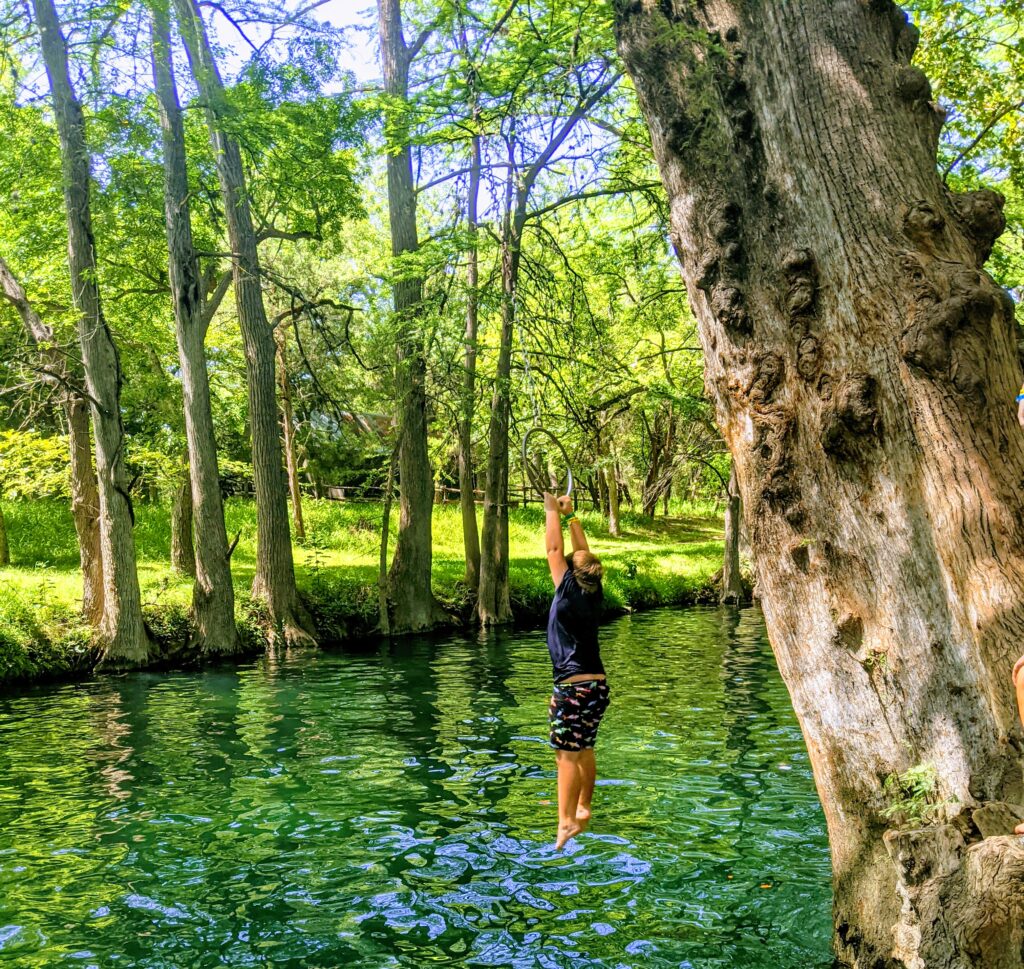 Things to Know About Blue Hole Regional Park
Entry is $12 for ages 13+ and $6 for children 12 and under
This park fills up really fast so you'll need to make reservations far in advance
Swimming reservations are available weekends in May, and then every day from Memorial Day to Labor Day, and weekends in September.
You must choose from two slots 9AM-1PM, or 2PM-6PM
You can also reserve a picnic table, though we found plenty of room to lay out a blanket on the grass
Pets are not allowed in the simming area, though dogs on a leash are welcome in other parts of the park. You also cannot bring glass bottles or alcohol. No fishing, smoking or climbing trees.
You cannot bring a grill to the swimming area either, but you can grill in the rest of the park.
There are no concession stands here so make sure to bring your own snacks!
Address: Blue Hole Ln, Wimberley, TX 78676
Click here to reserve.
Jacob's Well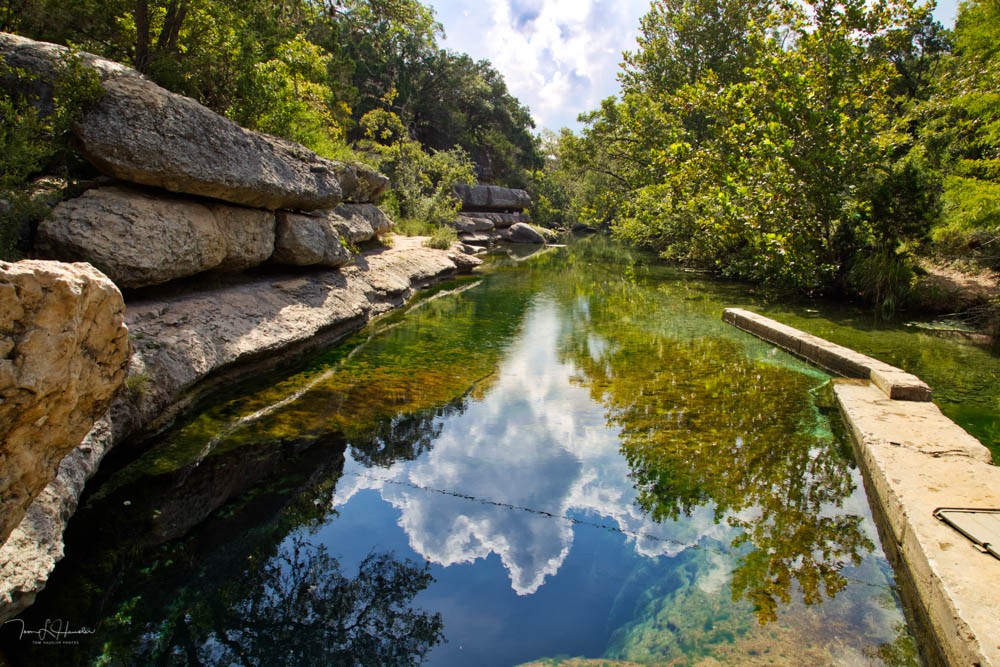 Jacob's Well is perhaps the most famous of Wimberley's swimming holes. It is an artesian spring that releases thousands of gallons of water a day, serving as the water source for Cypress Creek (and, by extension, Blue Hole). Its ultimate source of water is the Trinity Aquifer, which makes its way from an extensive underground cave system. The water stays a constant 68 degrees year-round.
The most popular activity here is jumping off the rocks into the deep, deep water. The deepest part of the cave is 140 feet. It is the second-largest fully submerged cave in Texas.
You'll want to make sure to wear sturdy shoes because there is a short (15 minute) walk/hike to get to the water. Water shoes like these come in super handy.
Things to Know About Jacob's Well
Adults 13+ are $9/pp, Kids 5-12 are $5 and children 4 & under are free.
Jacob's Well is open for swimming from May 1 – September 30
Reservations must be made WELL in advance, as this is an extremely popular swimming hole and has a 45-person maximum. Reservations are for 2-hour slots.
Address: 1699 Mt. Sharp Rd. Wimberley, TX, 78676
Click here to reserve.
Cypress Falls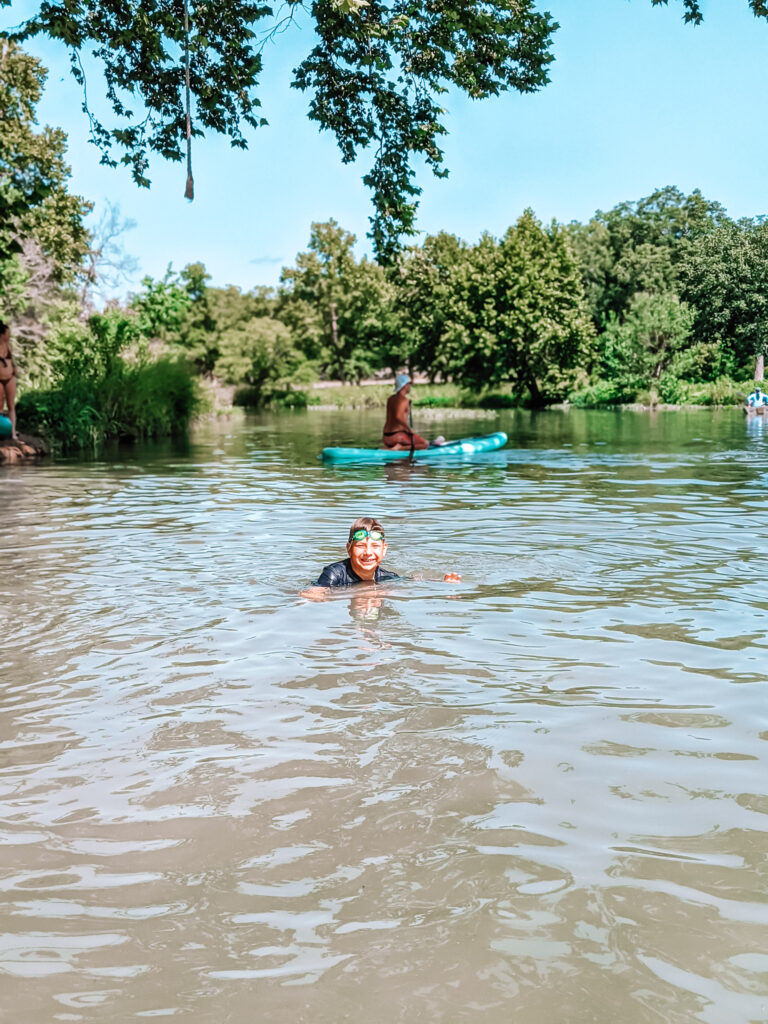 This swimming hole is well-frequented by locals, but not as widely known by tourists. Managed by The Lodge at Cypress Falls, this is another great spot on Cypress Creek. Tubes and paddleboards are available for rent, and you're welcome to fish here. There's a food truck, and even a bar with some snack options, so you never have to leave!
Things to Know About Cypress Falls
Parking is limited so you may need to park at the lodge and walk a short distance, so wear appropriate shoes
Entry is $5 per person
Entry is free for guests of the lodge
Address: 50 Marina Cir, Wimberley, TX 78676
Read our full review on The Lodge at Cypress Falls here
Things to Do in Wimberley – Shopping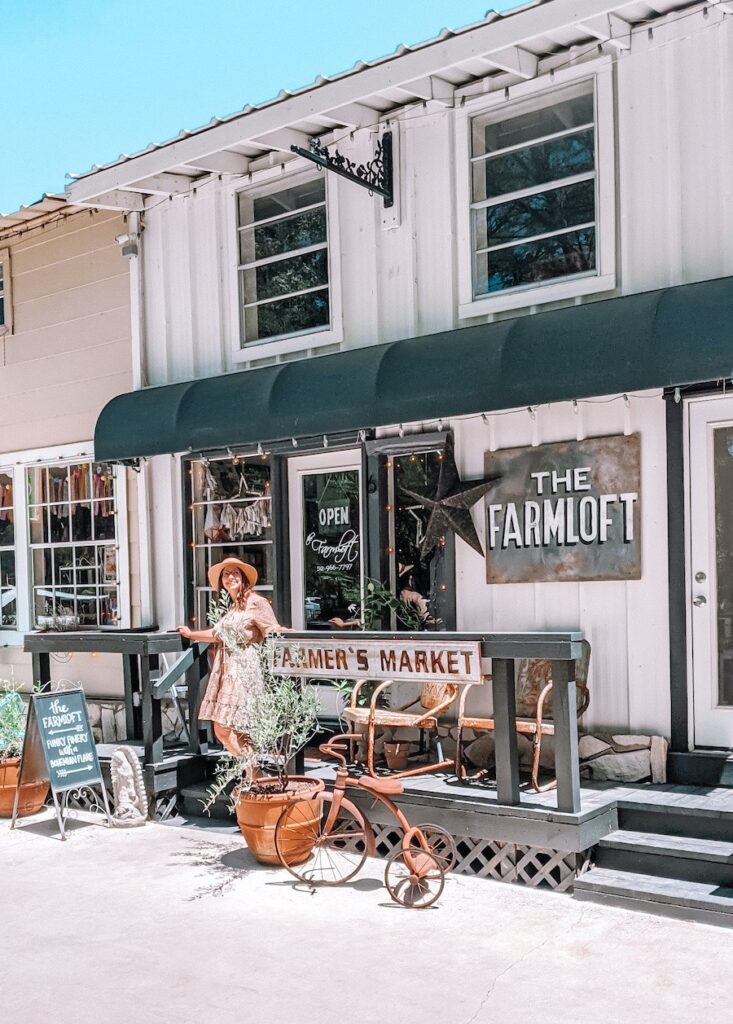 Wimberley's shopping district is full of adorable antique shops, craft shops, clothing stores, souvenir stores, candy stores, and more. There are plenty of free public parking lots available, so just park your car and enjoy walking up and down the streets.
There are multiple eateries as well, some situated along the creek, and some with live music. We saw people swimming in the creek in this area as well, so it seems like everything is fair game.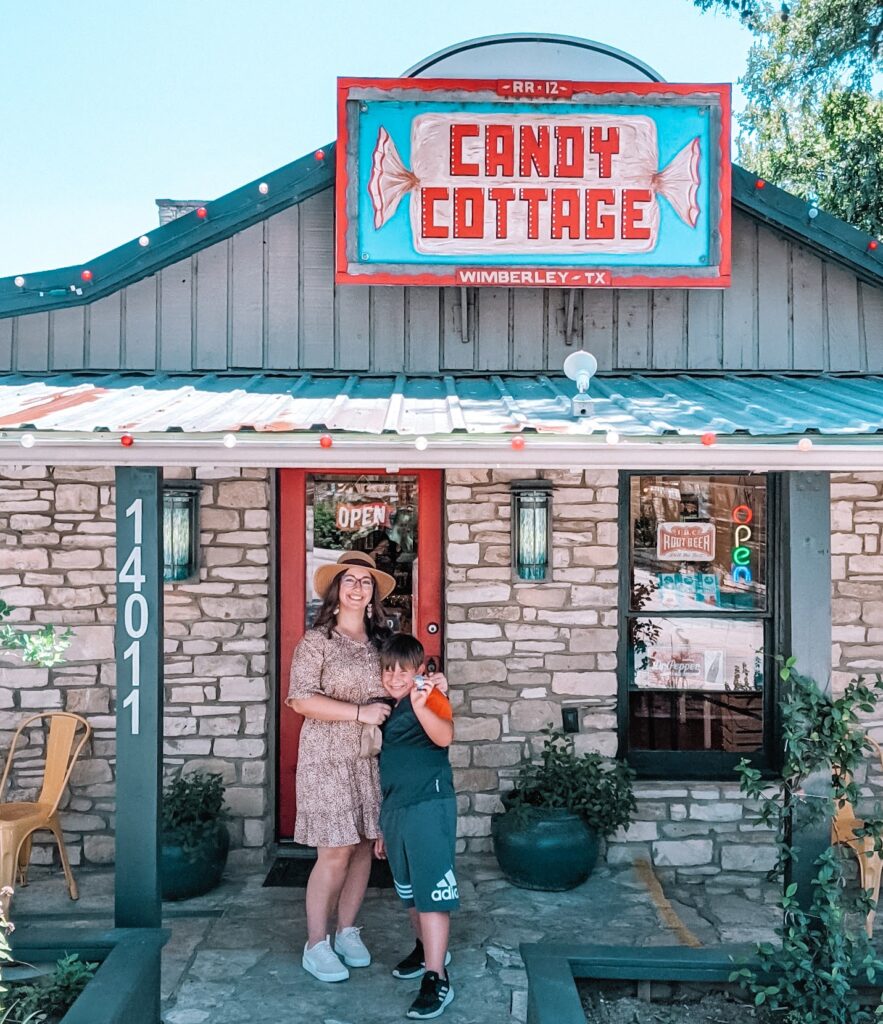 Wimberley is full of stunning murals as well. You'll also spot a giant cowboy boot in front of many stores, painted to reflect the theme of that store. At HEB, the cowboy boot was painted with groceries and food items all over it.
Wimberley Market Days
On the first Saturday of the month March – December, you can shop an outdoor market with unique finds from over 400 vendors selling everything from home decor, clothing, antiques, seasonal gifts, gourmet food items, and so much more. Plus, you can always grab some BBQ and listen to live music!
Entry to the market is free, but you'll pay between $5- $10 to park, depending on the lot you find.
Address: 601 FM2325, Wimberley, TX 78676
Things to Do in Wimberley – Adventure
Wimberley Zipline
Up for an adventure? Try zooming across ten different zip lines above the hilltops with incredible views of the Wimberley valley. With speeds up to 30 miles an hour and a maximum height of over 100 feet, this isn't for the faint of heart. When you're done, relax in the Biergarten with a beer, cider, spritzer, or soda.
Things to know about Wimberley Zipline
Tours are $100 per person, including tax
This activity is open to ages 9+ (65lb minimum)
Tours take between 1.5 – 2 hours
They currently have a special for $20 off Tuesdays
Reservations are required
Address: 376 Winn Valley Dr, Wimberley, TX 78676
Click here to book.
Things to Do in Wimberley – Museums & Attractions
Pioneer Town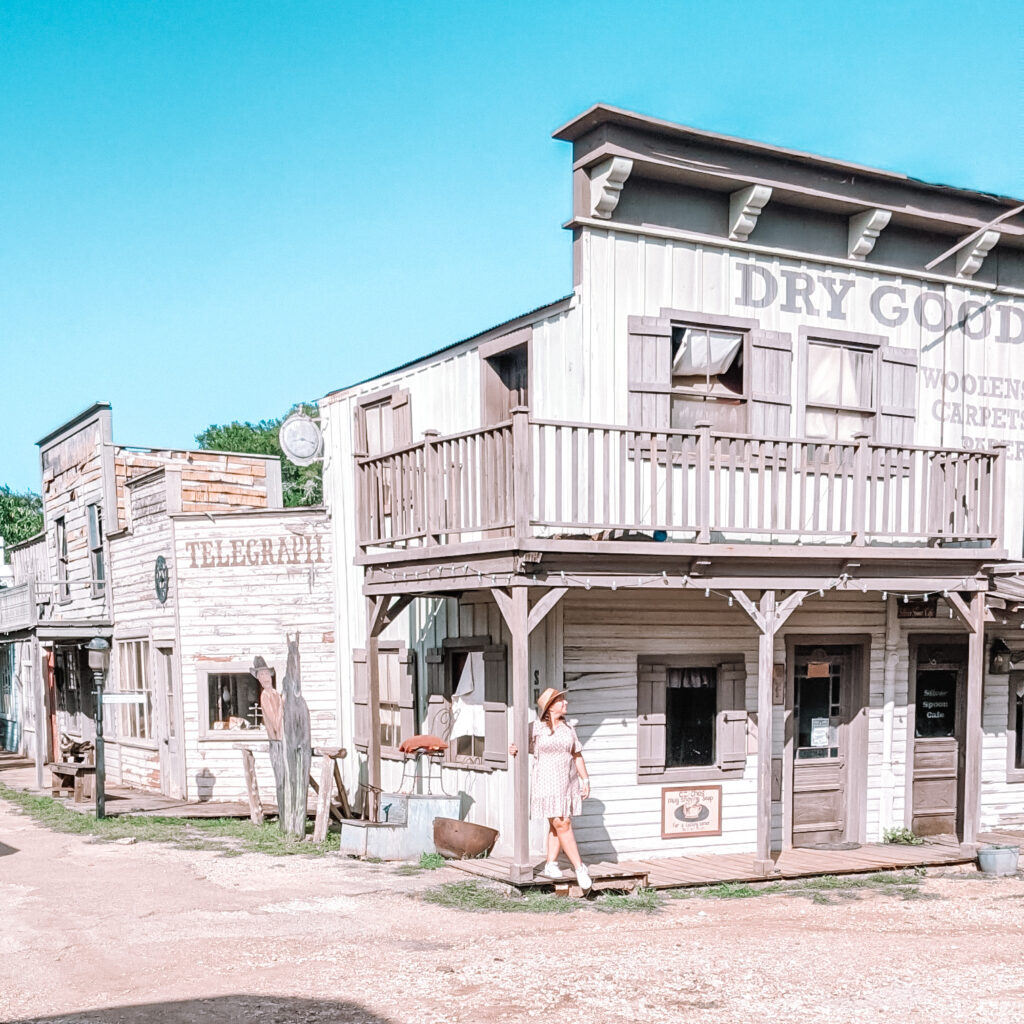 Ever wanted to visit an Old West town? Pioneer Town at 7A Ranch in Wimberley has an entire town for you to explore. There is even a Cowboy Museum you can visit, but it was closed when we went. Most of the buildings are visible from the outside only, but you can peek through the windows to see the scenes that are set up.
The ice cream parlor is an actual working ice cream shop where you can get some Blue Bell ice cream or some cotton candy. One of the other buildings is actually the back of the main office and has some arcade games (talk about mixing centuries 😉 ).
If you want to stay at 7A ranch, there are even some rooms available for rent in the town's hotel!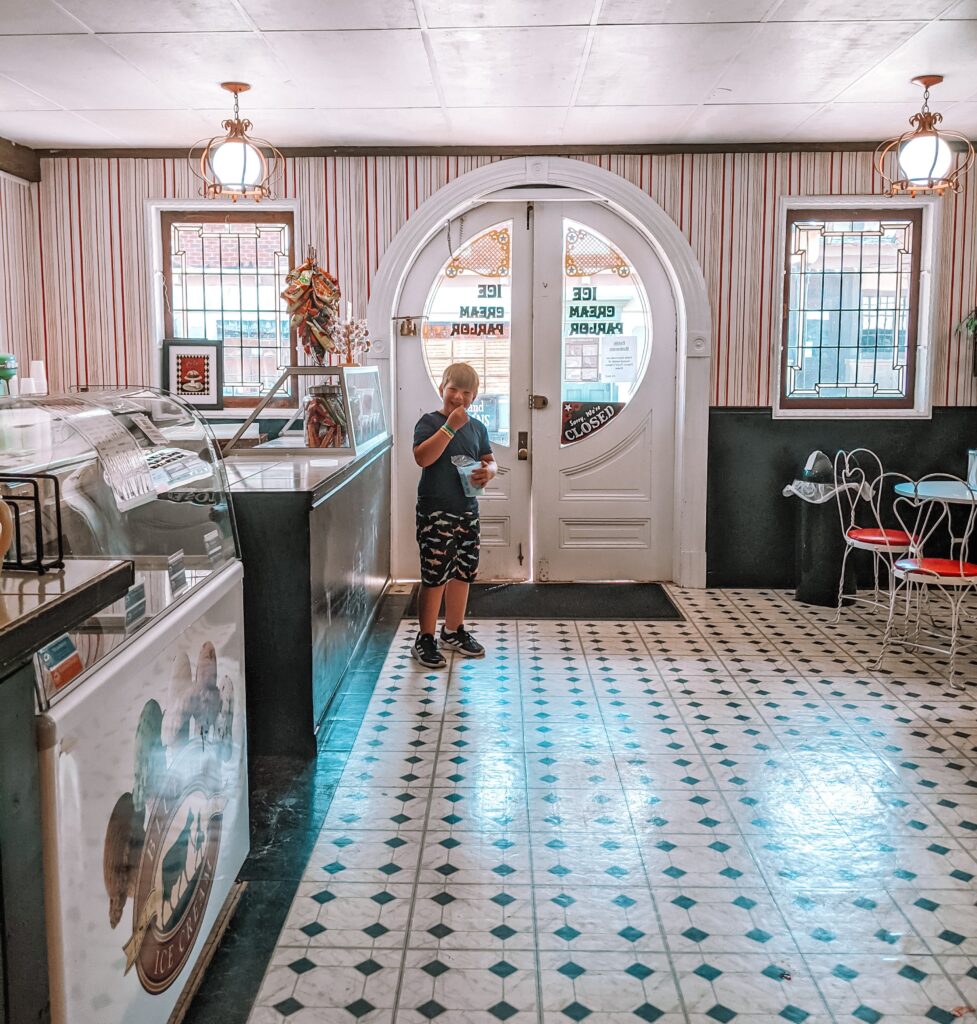 Things to Know About Pioneer Town
Pioneer Town is located on the grounds of 7A Ranch. It is free to visit.
Day passes are available for swimming in the Blanco River, if you'd like to combine activities
Most of the arcade games require cash
Address: 333 Wayside Dr, Wimberley, TX 78676
Mt Hoppe Farm
Mt Hoppe Farm serves as a sanctuary for farm animals who have been neglected, abused, or abandoned. Visitors can interact with the animals, including alpacas, sheep, donkeys, and more, hunt for fossils, buy farm-fresh eggs, or shop a selection of alpaca blankets, soaps, and Mt Hoppe apparel.
Address: 1363 Montell Road, Wimberley, Texas 78676
Have you been to Wimberley? What's your favorite thing to do there? Let us know in the comments below!