When you think tiki huts, palm trees, and hula dancers, Houston isn't usually the first place that comes to mind, but this tropical Houston family resort is changing all that.
Margaritaville Lake Conroe is just an hour north of Houston, but you'll feel like you're on a tropical island. The property is dotted with tall graceful palms and the decor is fresh and coastal, with decidedly tropical vibes, like giant parrot wall hangings, and tiki-hut inspired umbrellas.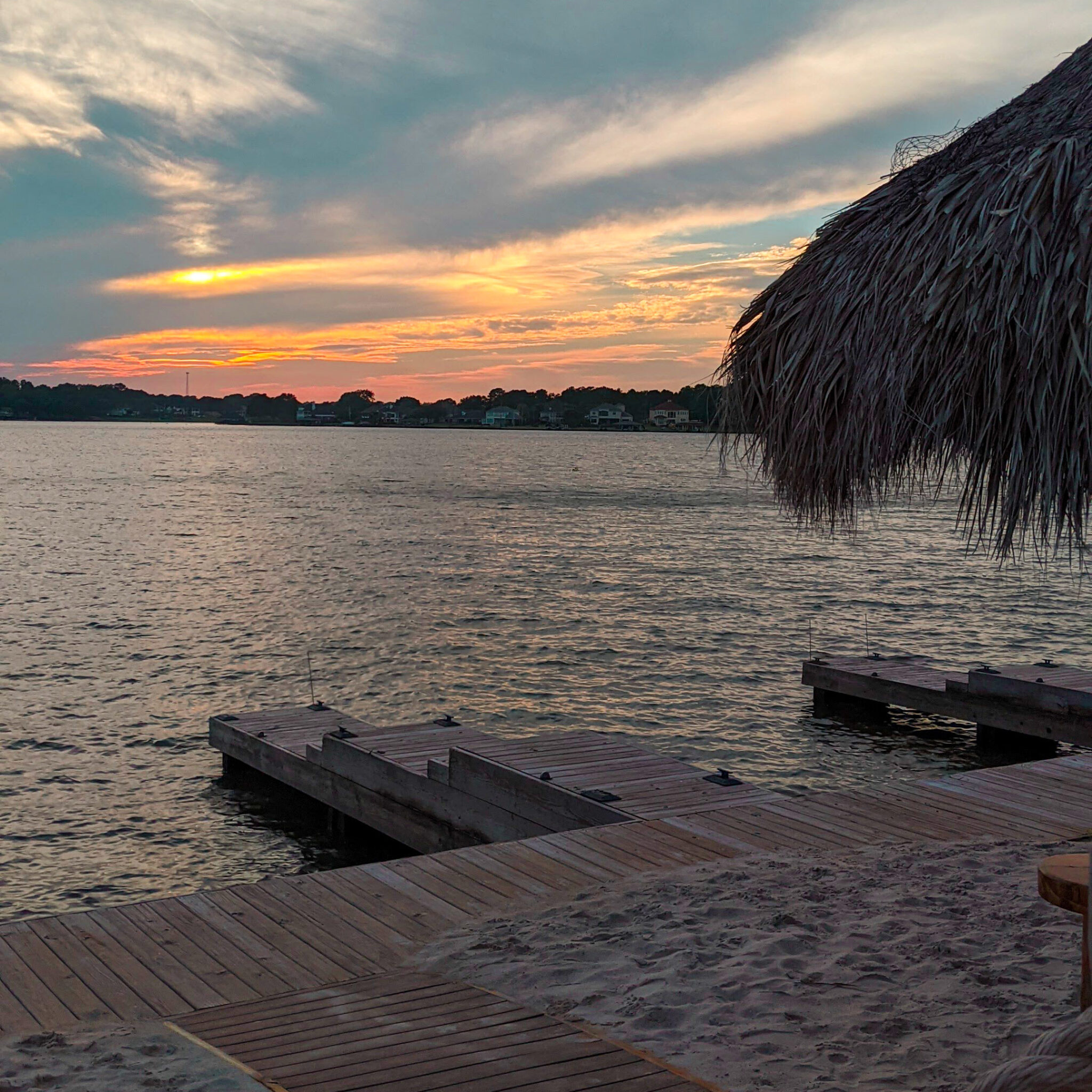 The proximity to Houston makes it a perfect Houston weekend getaway, but it's a fun vacation destination wherever you live. (For more Houston-area fun, check out these Houston-area activities)
What we loved most about this resort was how effortlessly they catered to both families and couples or solo travelers, without making either group feel like they were getting the short end of the stick. The kids had slides and splash zones galore, while the adults had bars everywhere you turn (even a swim-up bar), and even an 18+ pool. And yet, we were able to grab some ice creams for the kids at the bar too.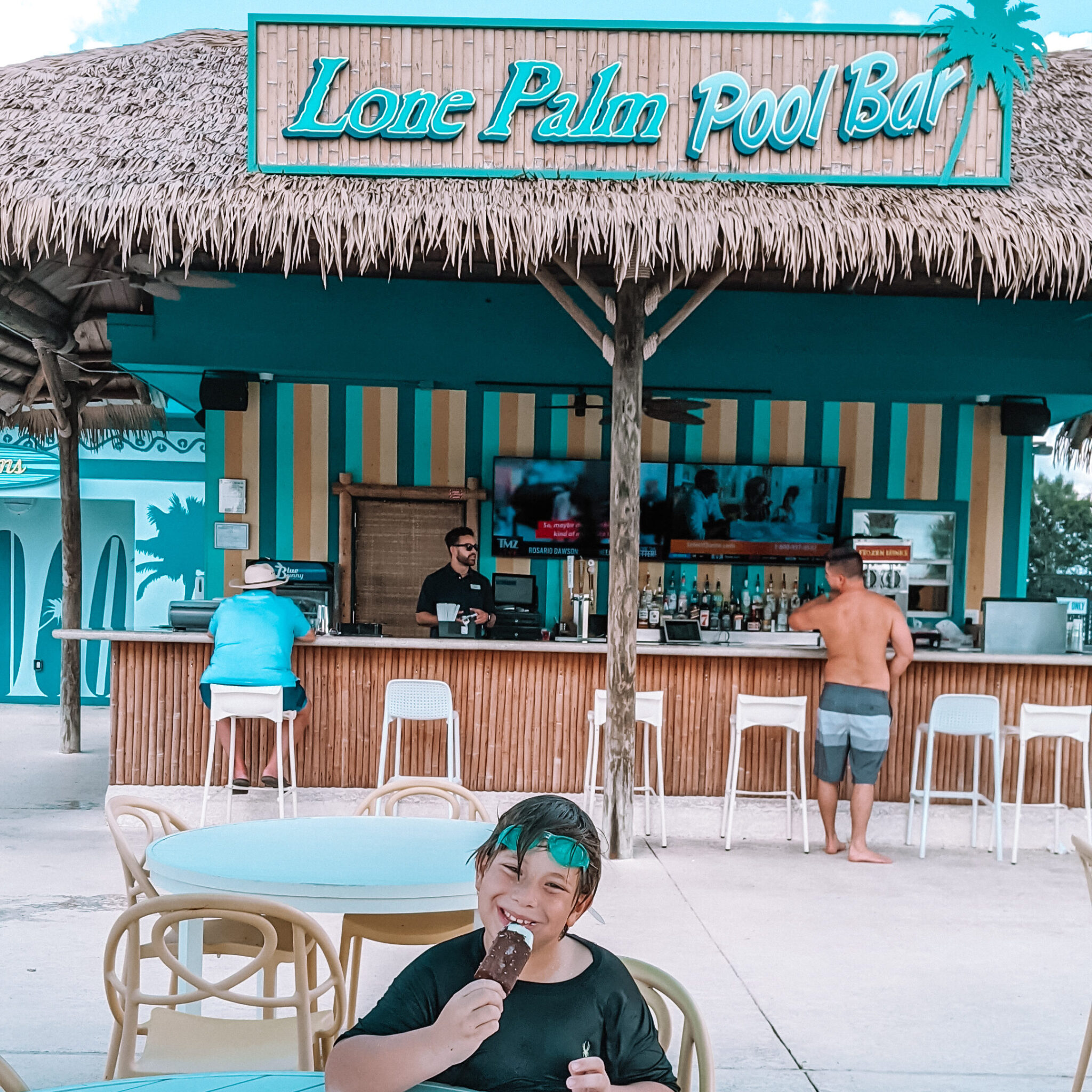 Here are some of the things we loved most about Margaritaville Lake Conroe, including both family-friendly activities and the parts that make it awesome for couples or solo travelers.
(Note: Our stay was hosted, but this post reflects my unbiased review.)
Margaritaville Family-Friendly Activities
Splash Zone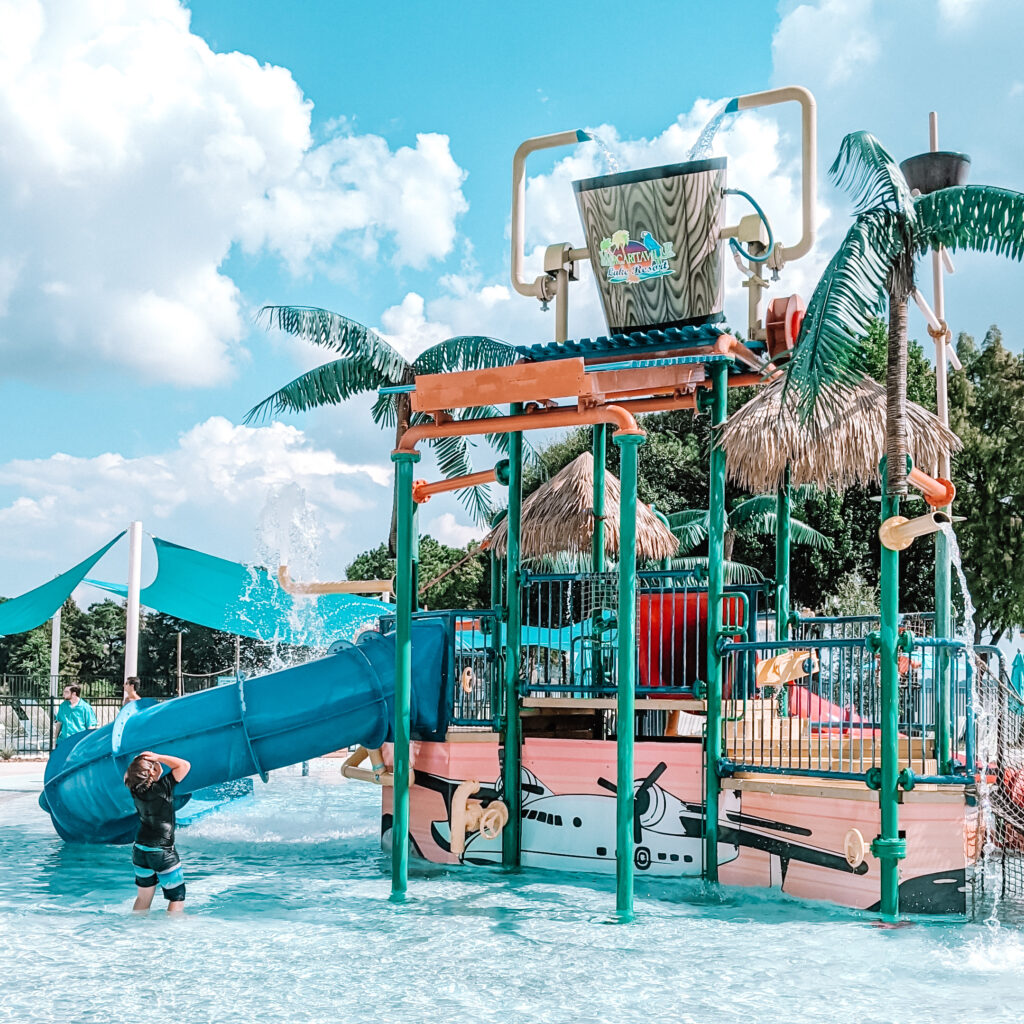 Without a doubt, the kids' favorite part of our stay was the Jolly Mon Splash Zone. The two small, unintimidating water slides, the giant bucket that tipped over every few minutes, creating the hugest splash, and multiple splash zones with levers, ropes and knobs to fiddle with to turn the flow and spray on and off, were just irresistible to the kids.
For very little kids, there was even a smaller splash pad and inches-deep wading pool even babies could make use of.
Lazy River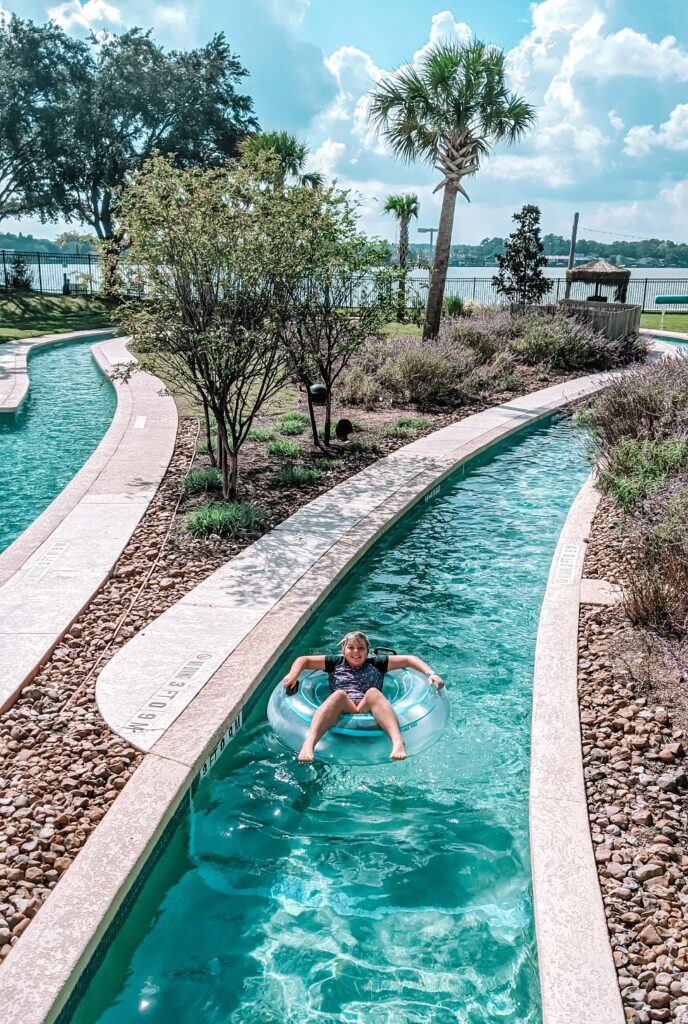 Coming in a close second was the lazy river. It pulled the tubes along at just the right pace and while it had plenty of waterfalls to keep it exciting for the kids, there was plenty of room to dodge around them if you're water-in-your-face-phobic like me. We enjoyed views of all three water areas plus the lake as we floated along, basking in the sun.
Water Slides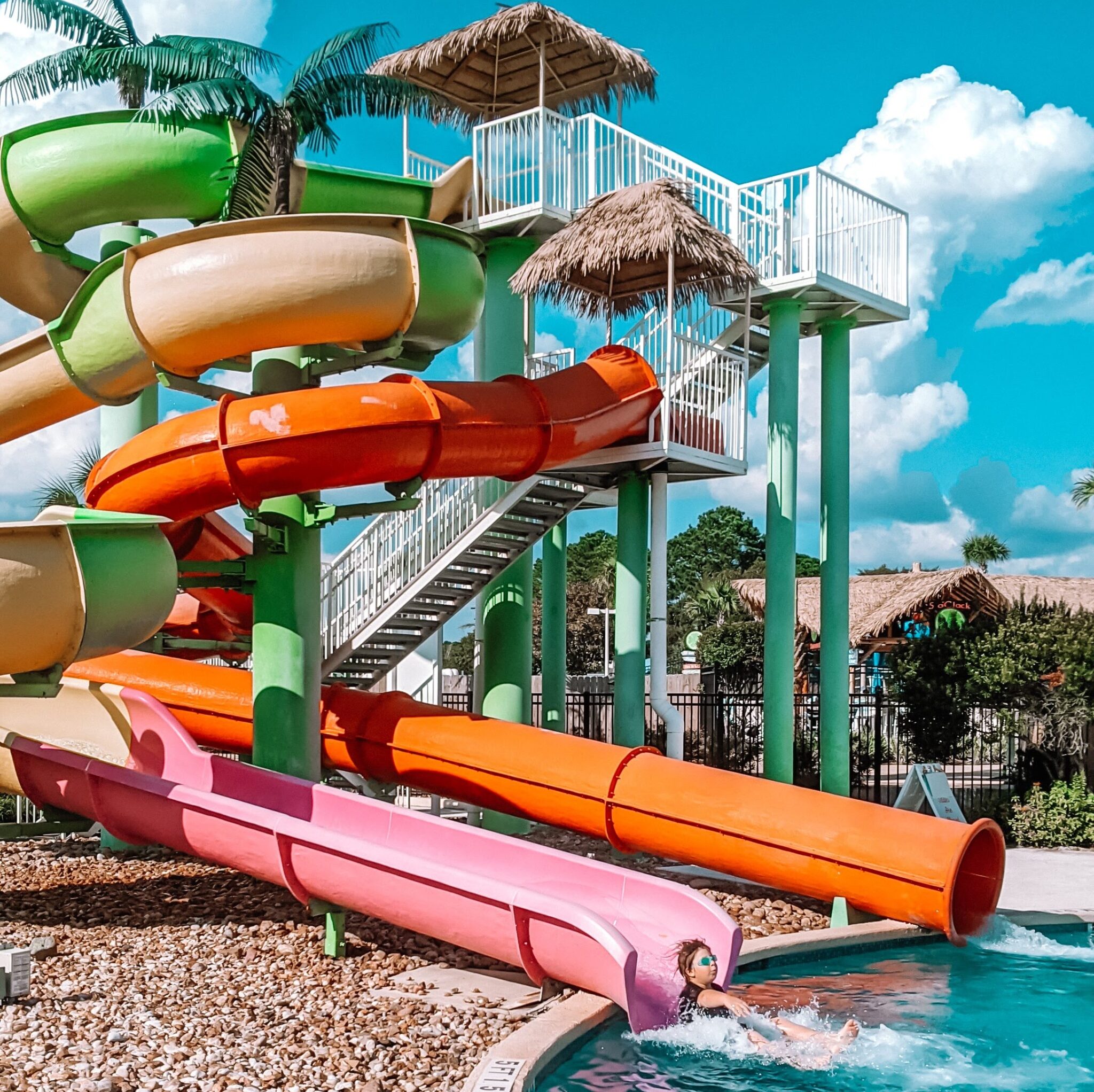 There are also two super tall water slides that empty into a large pool that maxes out at about 4 feet high, which is perfect for kids. This pool is in the same area as the lazy river and splash zone, so it's easy to move among the various kid-friendly water activities.
Mini Golf & Sports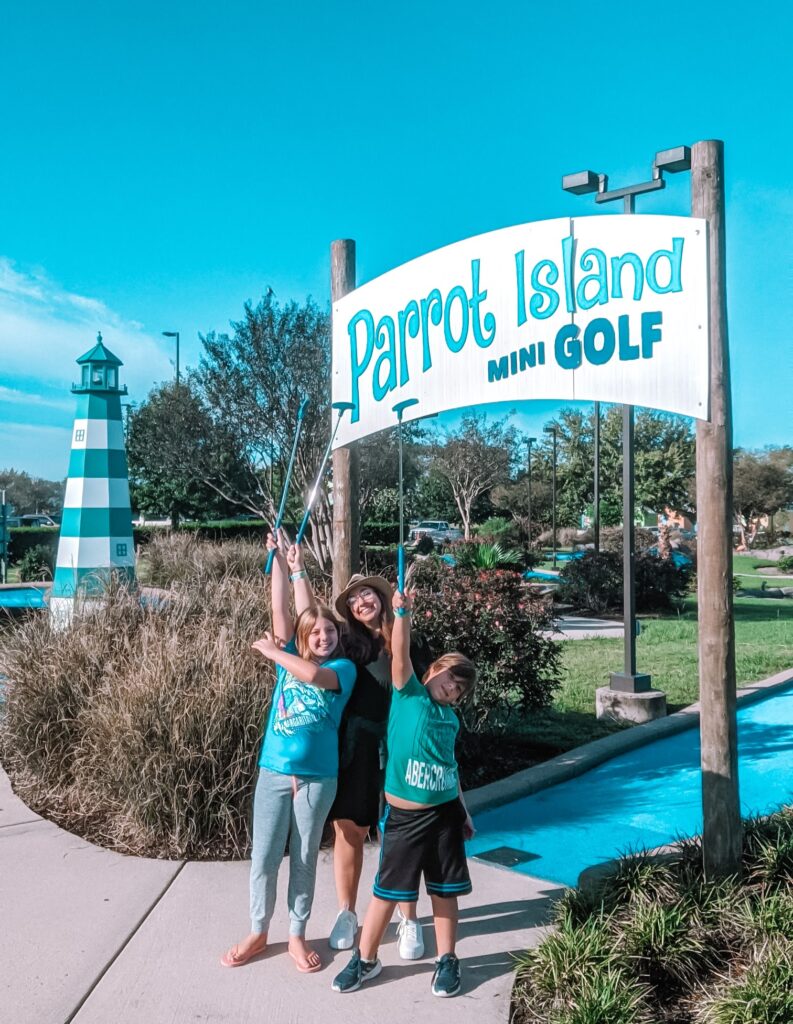 We also had a great time as a family playing mini-golf. Right near the mini-golf course are tennis, pickleball and basketball courts, which we didn't get a chance to use, but I can imagine having a lot of fun there too!
Activities & Shows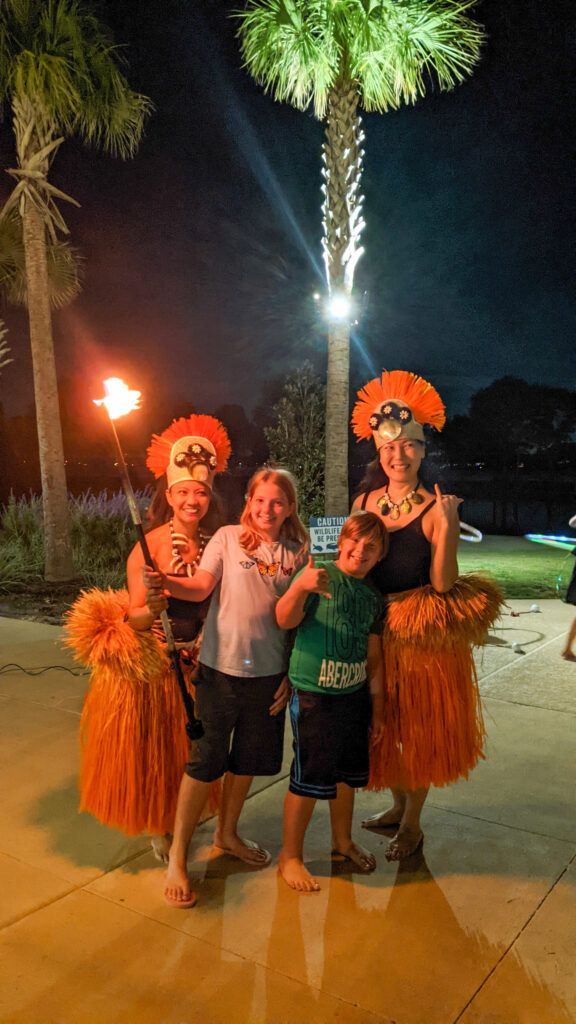 Throughout the day, there were also various activities, like a ring toss competition and rock painting, plus evening shows. My kids' mouths were literally gaping as they watched the fire dancer show (the guy drank lighter fluid and literally breathed fire – so I don't blame them, it was pretty cool). On our second night, there was a hula dancer show, where the kids were actually invited to participate in the show. The kids loved it!
Arcade Room
I put this under activities for kids, but I would be remiss if I didn't mention that after the kids were in bed, we snuck out and hit up the arcade room ourselves. But our eight-year-old is somewhat of an arcade room junkie, so we made sure to go back the next day with the kids, who had plenty of fun playing all the driving and shooting games, but mostly trying to grab as much candy as possible with the candy claw machine.
Margaritaville Activities for Couples or Solo Travelers
There is so much to do at Margaritaville for families, but there is just as much to do for couples or solo travelers.
18 & Up Pool
In the main pool area is an 18 + infinity pool overlooking the main pool. This is a spot where adults can relax and unwind in the pool, with or without a drink.
Swim Up Bar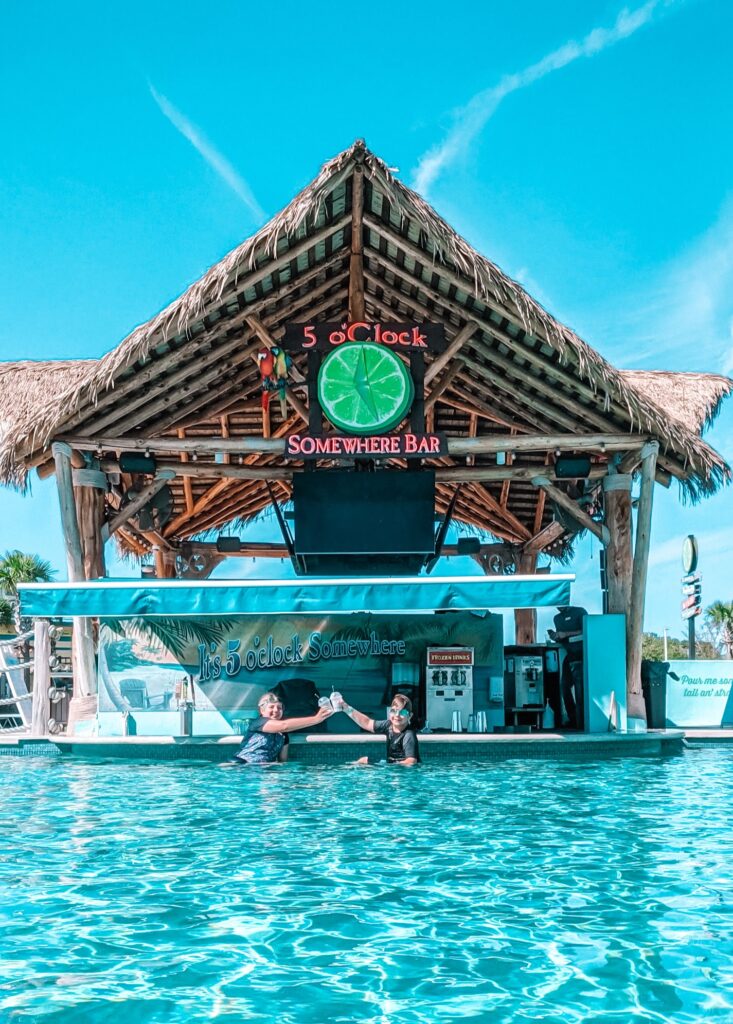 Speaking of drinks, the main pool area also has a swim-up bar. The bar is named '5 O'Clock Somewhere Bar', in keeping with the Margaritaville theme, and you can sit and chill on the underwater stools, or take your drink back to a lounge chair to sip in the sun. (The kids are actually drinking coffee-less frappuccinos in this picture, before anyone gets the wrong idea!)
Lawn Games
There's also a lawn area near the main pool with outdoor games like cornhole, ping pong and a giant connect four. Couches and chairs are scattered around, so you can grab a drink from the dry side of the bar and lounge around or play some games.
Bars & Restaurants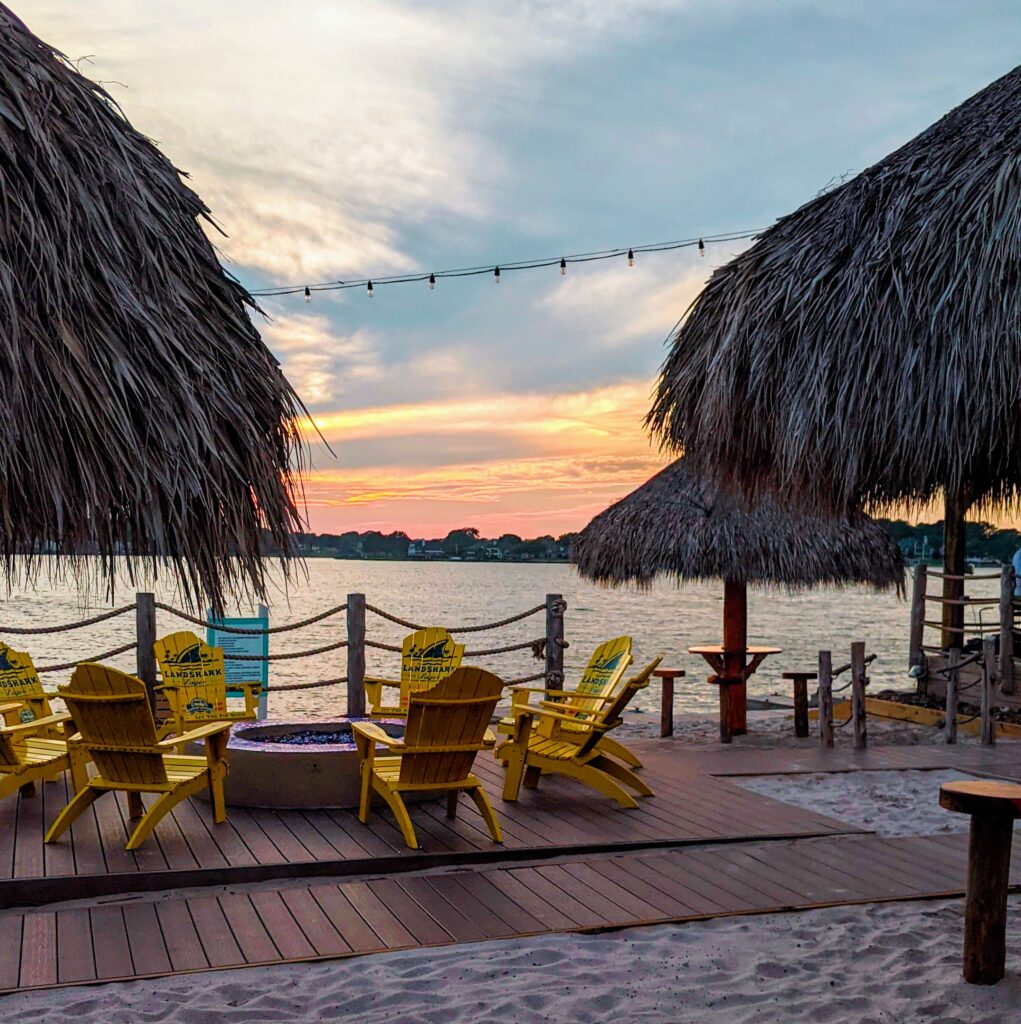 There is no shortage of bars at this resort, and there are plenty of restaurants and cafes as well. Choose from indoor dining or lakefront sunset views while sipping a drink around a firepit. You'll have plenty of options for eating and drinking throughout your whole stay.
Spa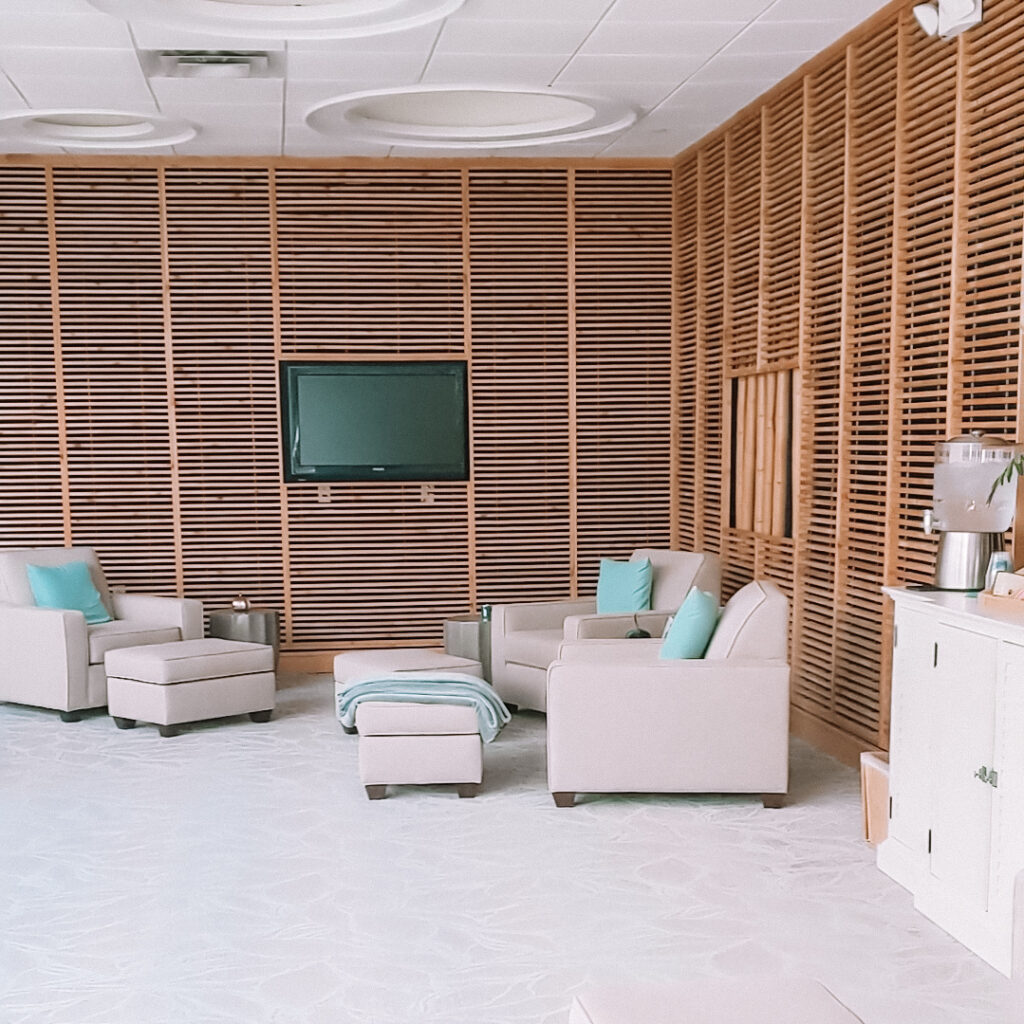 I can't neglect to mention the St. Somewhere Spa, where you can book a treatment and enjoy a day of pampering. Choose from massages, facials, body treatments, nail services, and more. I had a facial and my skin felt so amazing after!
Boat Rentals
If all of the above isn't enough for you, you can also choose to spend the day out on the water in one of any number of watercraft available for rental, from kayaks and paddleboards to pontoons and jet skis.
Golf
We didn't get a chance to check out the golf course, because, kids, but it looked absolutely beautiful. The best part is, it's open to the public, so you can book a tee time, even if you're not a guest.
Margaritaville Lake Conroe Accommodations
What I loved most about this resort is that all the rooms are suites! Each room consists of an entryway, with a bench and hooks, a living area, with a couch, coffee table, desk, and bar area, and a bedroom with a beautiful bathroom. The sink faucets in our room were dolphin tails – too cute!
To complete the tropical vibes, the rooms have topical blue accent colors and are decorated with artwork depicting parrots and tropical beach scenes.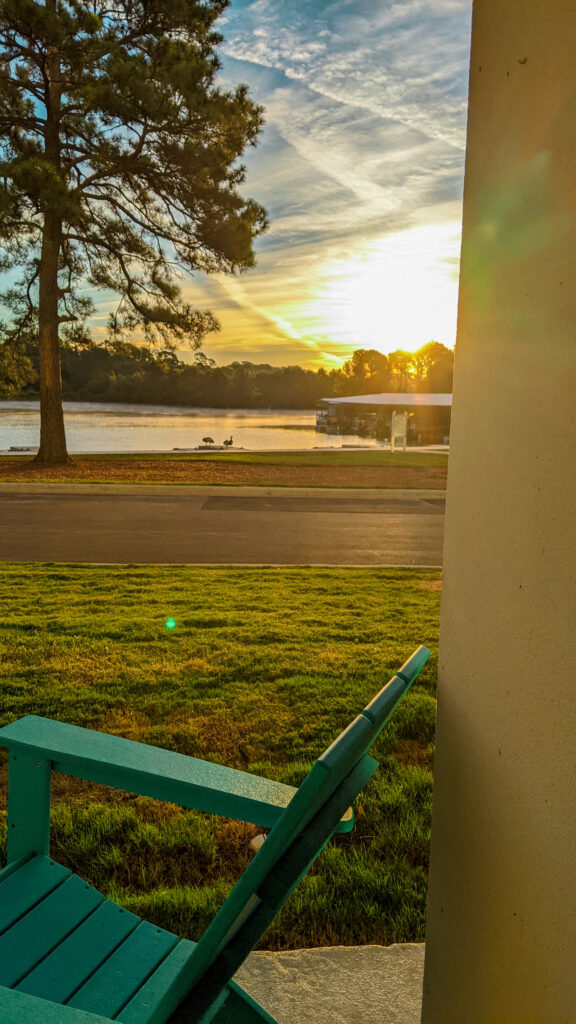 Our room was on the first floor and opened right out onto the lake. The views and the sunrises, especially, were epic.
You can also choose to stay in one of the colorful lakefront cabins at the other end of the property.
We had the most amazing weekend at Margaritaville Lake Conroe, and we can't wait to go back! What about you – does this sound like someplace you'd like to stay? Let us know in the comments!