The Texas Renaissance Festival draws more than half a million visitors over its nine-weekend stint each fall. While things may look a little different this year, the festival will open October 3 and run through Thanksgiving weekend. Tickets will not be sold at the door though, so make sure to get your tickets ahead of time here!
Texas Renaissance Festival Safety Precautions
The festival has worked closely with the state and is taking extensive precautions to ensure the safety of their guests. In fact, when speaking of the work they'd done to put together their protocols, general manager Joe Bailey mentioned that the state was so impressed with the safety protocols festival management had developed that they intend to use those to safely open other events around the state.
Here are some of the safety precautions that are being taken.
Sanitization
In addition to consistently wiping down high touch surfaces during the day, the grounds will be fogged nightly to decontaminate and ensure everything is safe and clean for the next day. There will also be over 200 hand sanitizer stations in various locations throughout the grounds.
The festival hosts more than 400 vendors who will all be participating in upholding the safety requirements. Each vendor will have a log for cleaning and daily employee screening, including temperature checks. A free on-site COVID testing site will allow for easy testing to ensure everyone's safety.
Masks and Social Distancing
Signs throughout the grounds will encourage visitors to 'wear thy mask' and inform them that 'six away keeps the plague at bay'. All staff, vendors, and participants will be required to comply with mask regulations.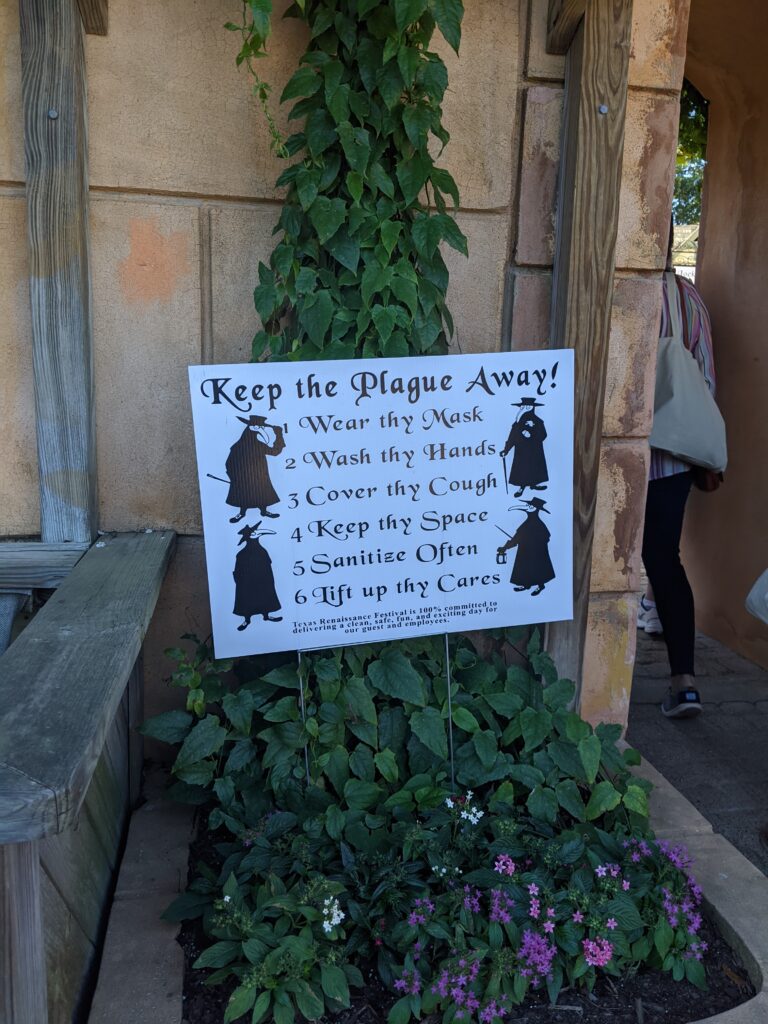 Masks at Ren Fest
To make mask-wearing a fun part of the festival there will be two daily mask contests, where visitors can win 2021 season passes for the most original mask. There will also be impromptu spot awards for mask originality throughout the day, whenever TRF staff sees a particularly creative mask.
Twenty designated areas have been set up throughout the grounds where people can sit at a safe distance from one another and remove their masks for a short period of time. Posted signs request that visitors limit their 'break' to fifteen minutes to allow everyone the opportunity to use the mask-free zone.
Social Distancing at Ren Fest
To ensure occupancy restrictions are adhered to, there will be no tickets sold at the gate. Your tickets must be purchased in advance and are date specific. You can purchase your tickets here. The park has also implemented technology at the entrance and exit that will allow them to know how many people are in the park at any given time.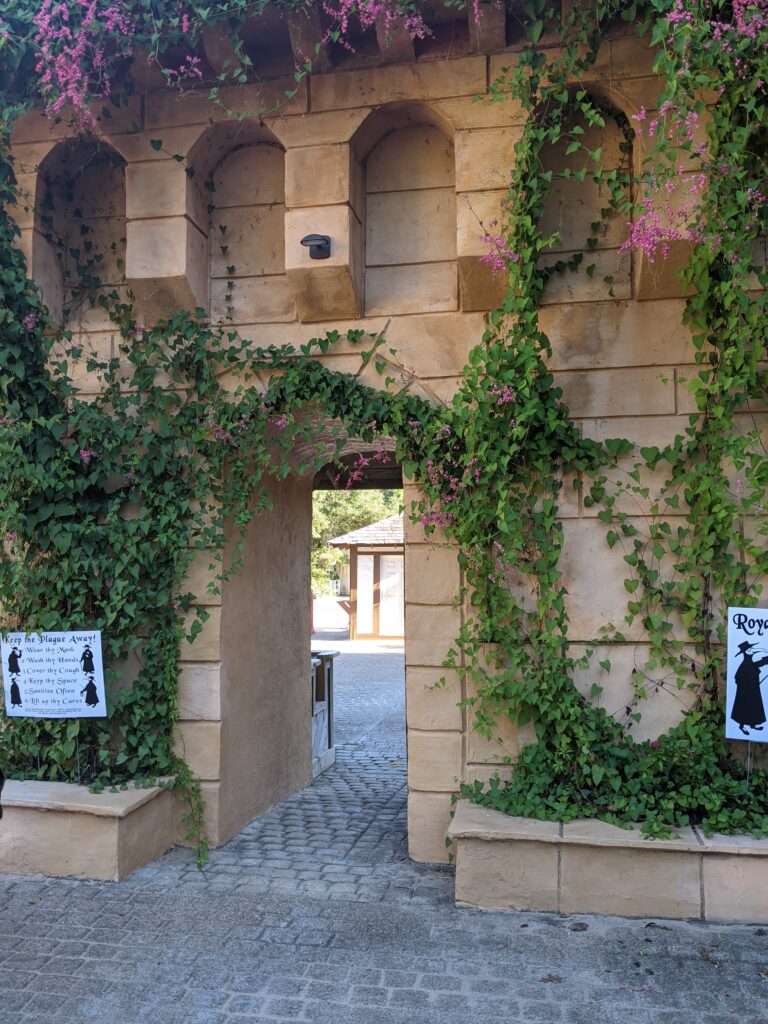 At the gate, you'll find markers indicating where to stand to ensure six feet between all visitors while waiting on line. Line monitors will be on hand to help enforce social distancing.
Seating at all shows has been rearranged to allow for maximum distance between visitors. At the jousting arena, red 'x's' mark every other bench, informing visitors that this bench is not available for seating.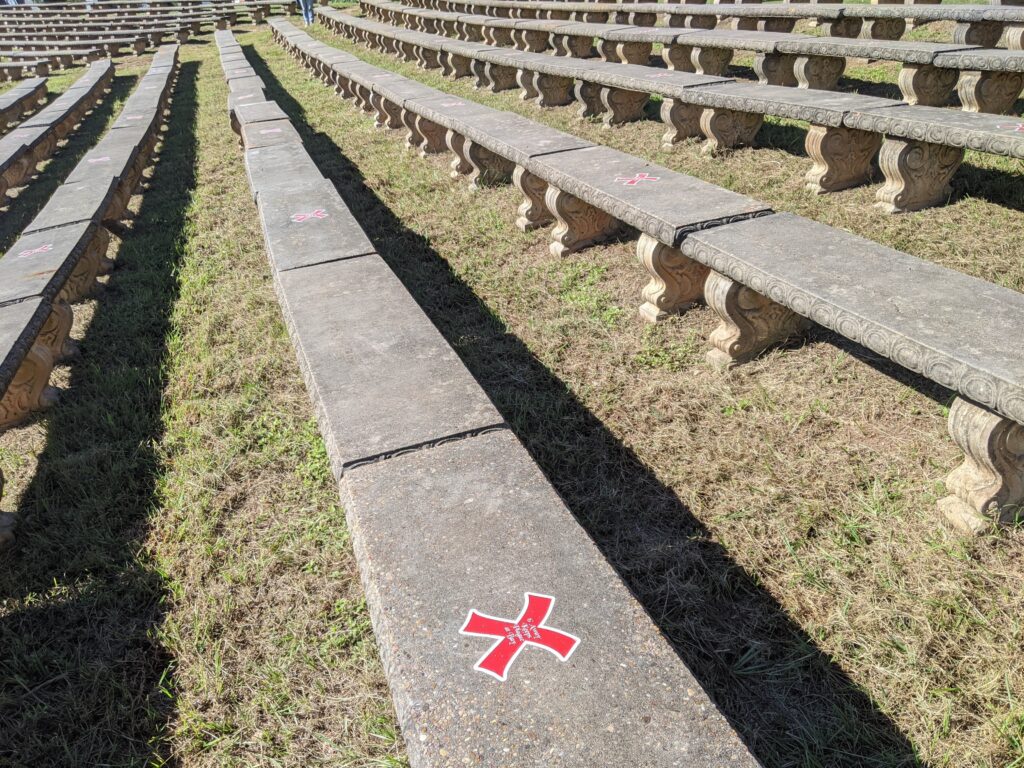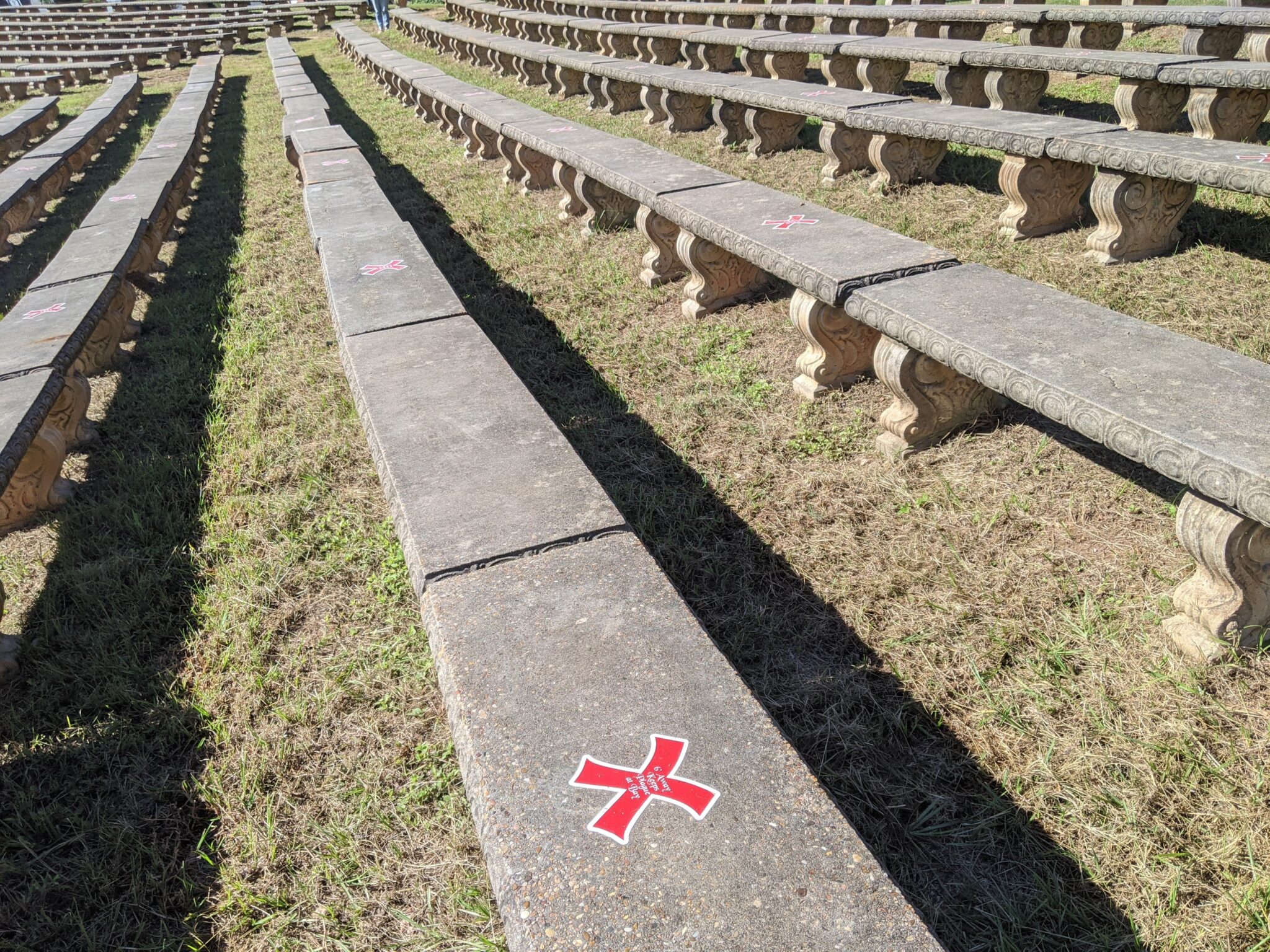 The shows themselves have been creatively modified to adapt to social distancing regulations while maintaining the immersive experience of the show.
Additional Accommodations
In addition to all the precautions taken above, the festival wants to make sure that people who are not feeling well are able to stay home without the pressure of losing the money spent on their ticket. To that end, accommodations are available for people who are feeling unwell, where they can potentially swap their ticket for another one later on, or even for the next year.
Texas Ren Fest Camping
Camping is still available on the 200+ acre campgrounds. Choose from tent sites, RV hookups, and glamping cabins and tents.
About Texas Ren Fest
If you've never been to the Texas Renaissance Festival, you're in for a treat. Entering the festival grounds, you are transported into an enchanting 16th-century village spanning more than 55 acres. Kings, queens, barbarians, pirates and other fantasy creatures all roam the fair grounds. You might meet King Henry the VIII, Lucrezi Borgias, the Winter Queen, or host of other medieval characters, all of whom will be happy to interact with you.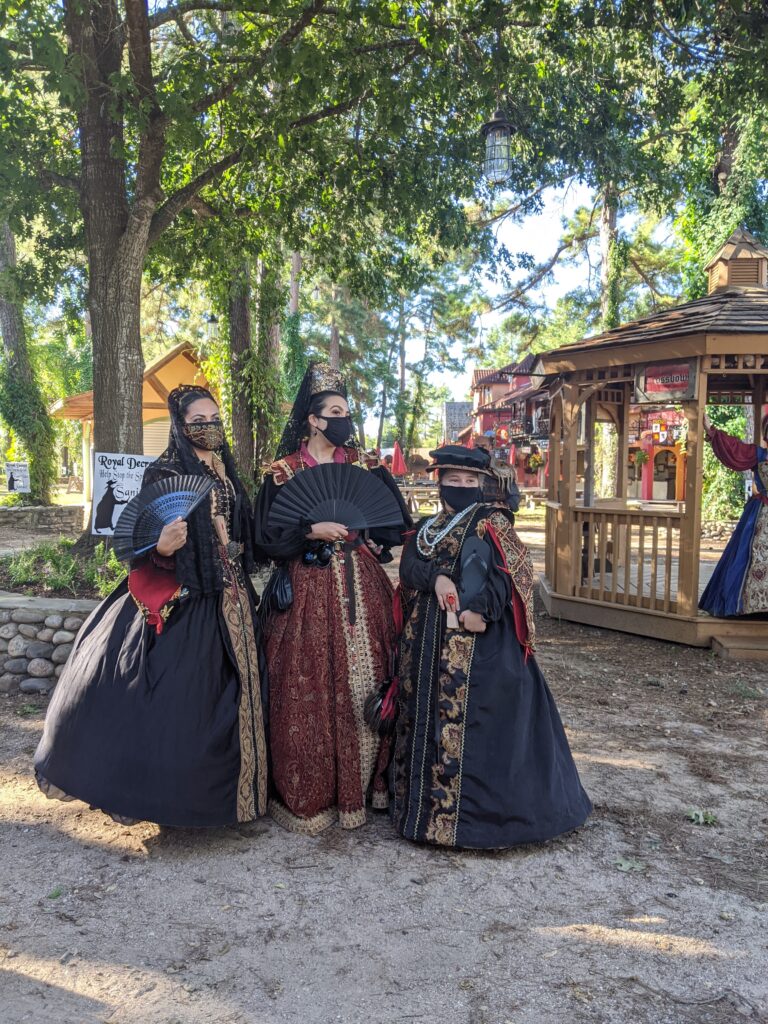 As you make your way through the fairgrounds, you'll find intricately themed buildings housing selling everything from craft items, to fair food, to clothing and more, all in keeping with the Renaissance Festival theme.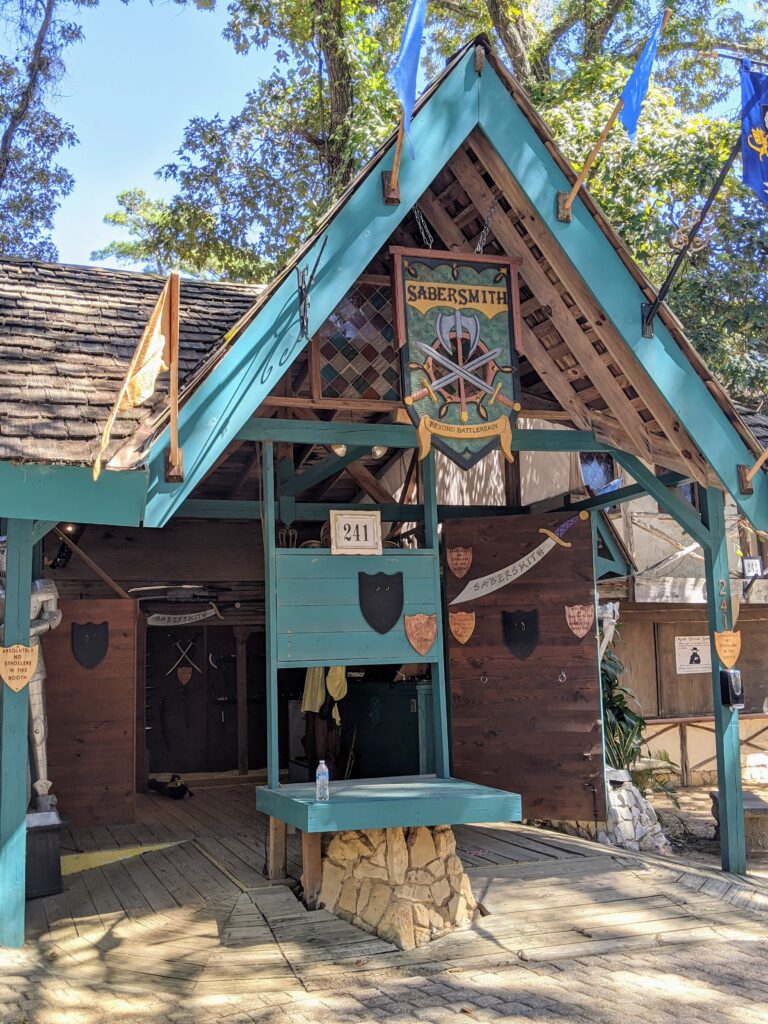 You'll find plenty of festival rides as well, available for an additional fee. Take a spin in the all-new da Vinci's Swing, a colorful ride propelled by humans, or climb up and slide down the twisty Dragon Tower Slide.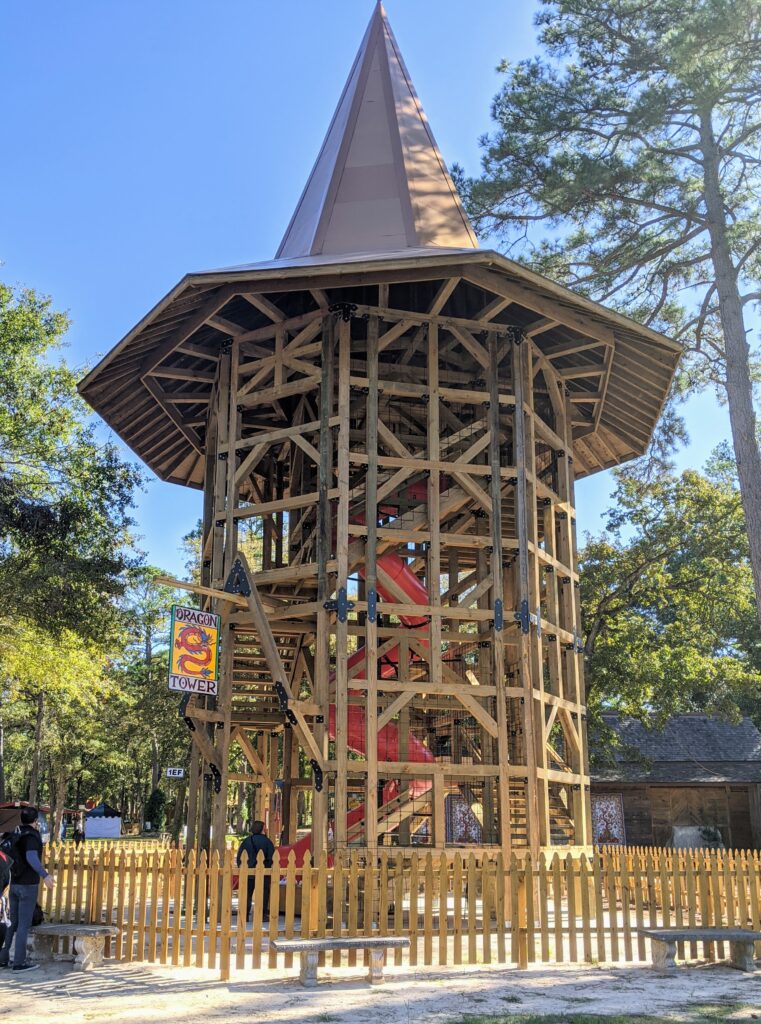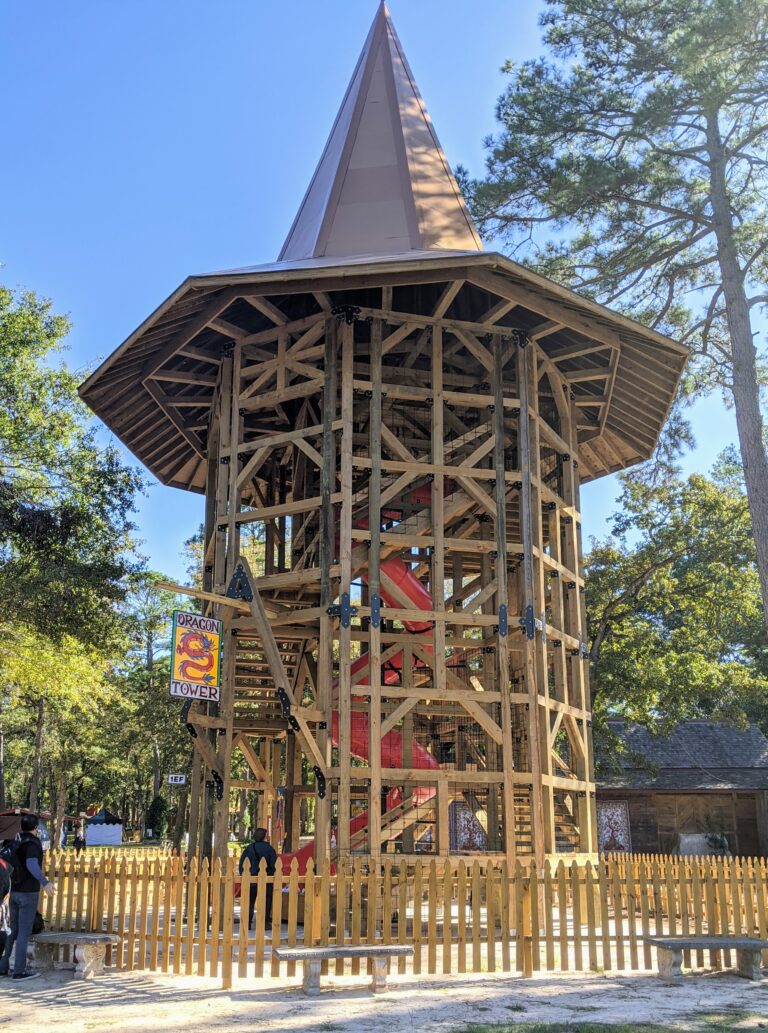 Or if you like, participate in any of the dozens of fair games, like Pluck-a-Duck, or Catapulting Frogs.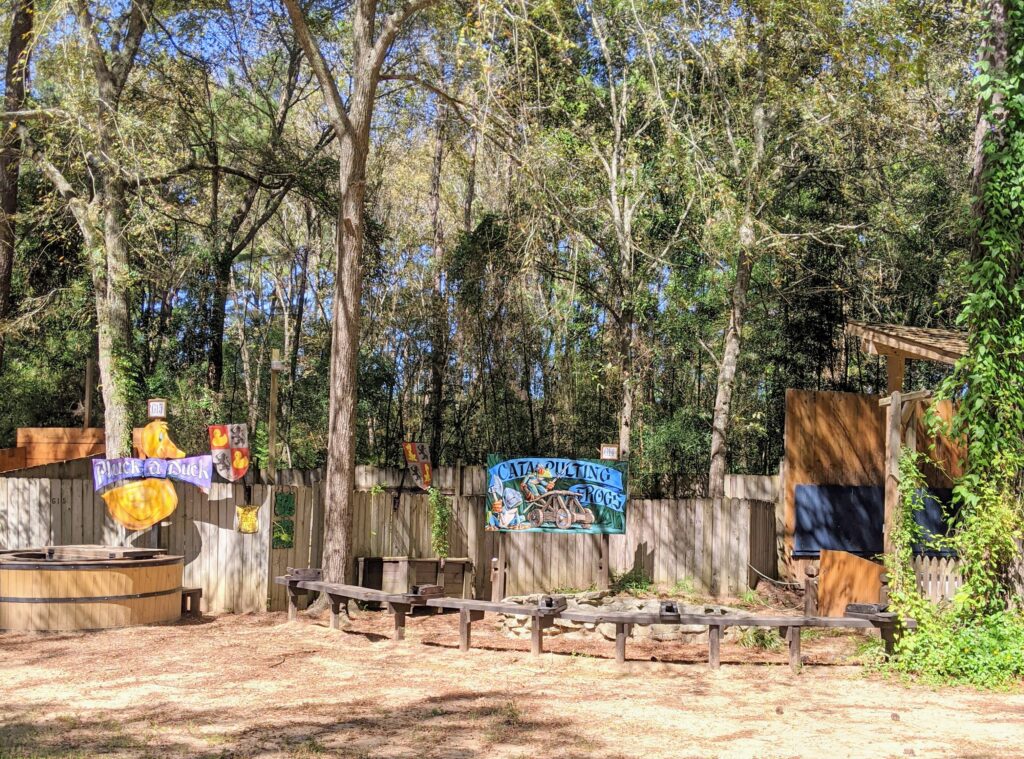 The festival also hosts dozens of shows throughout the day, in various areas. These are included in the price of admission. Watch brave, armored knights joust in the jousting arena or see performances by jugglers, fire eaters, jesters, and more.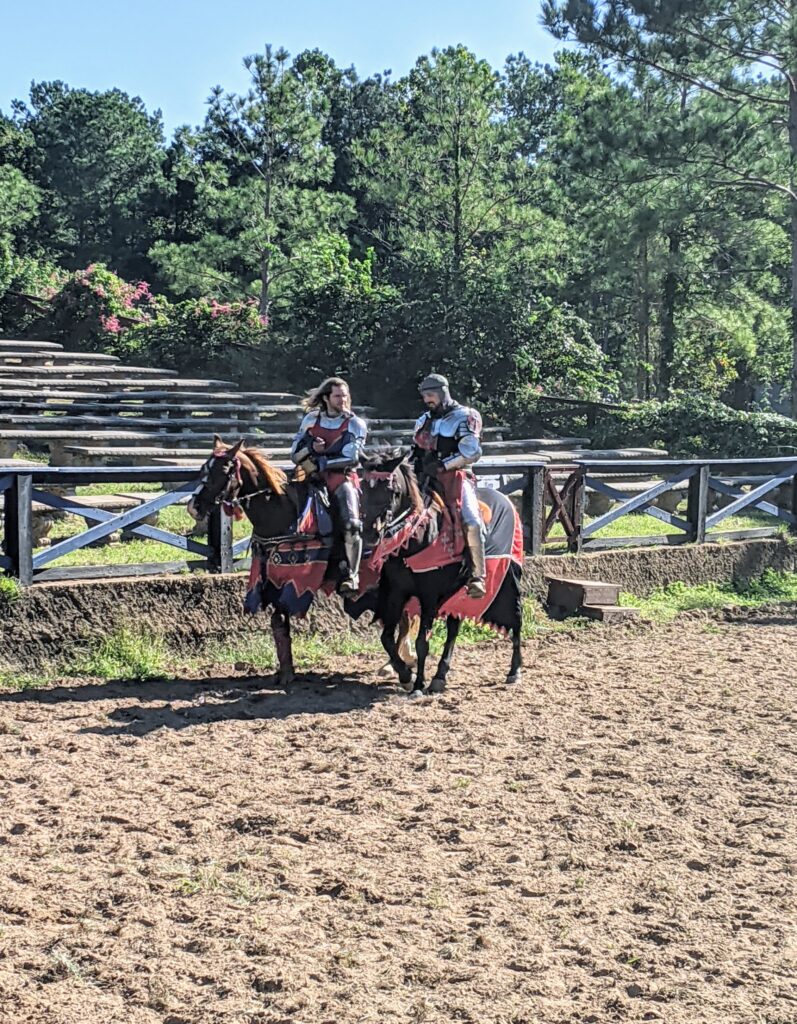 The festival is only open on weekends, from the beginning of October until Thanksgiving Weekend, including that Friday. Every weekend at the festival has a different theme, ranging from Oktoberfest to Celtic Christmas to Pirate Adventures to Heroes and Villains, and more.
New at Texas Renaissance Festival
New at the festival this year is an entirely new area that includes the 'Airy Botter and the Sorcery School Headmaster's Office' escape room, where you have 20 minutes to save the school of sorcery from a tragic end, a pirate ship museum, a rum and bourbon tasting area, and an enchanted knoll where the Washing Well Wenches will be performing.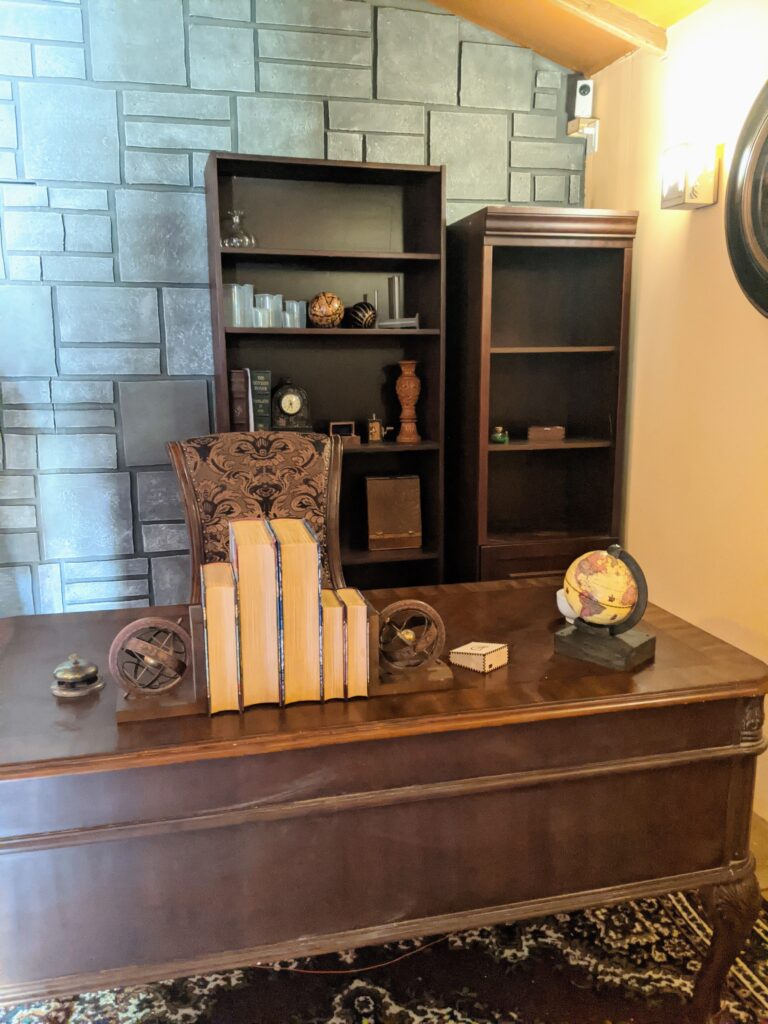 The festival also welcomes a new upscale bar called the Wyrmwood Public House. The Wyrmwood Public House is a two-story steampunk-themed bar serving Victorian-era drinks, as well as standard rum and coke types. It's the only climate-controlled location at the festival, and the only place to get craft cocktails, which are made from freshly squeezed juices. You'll find tequila and absinthe tastings here as well.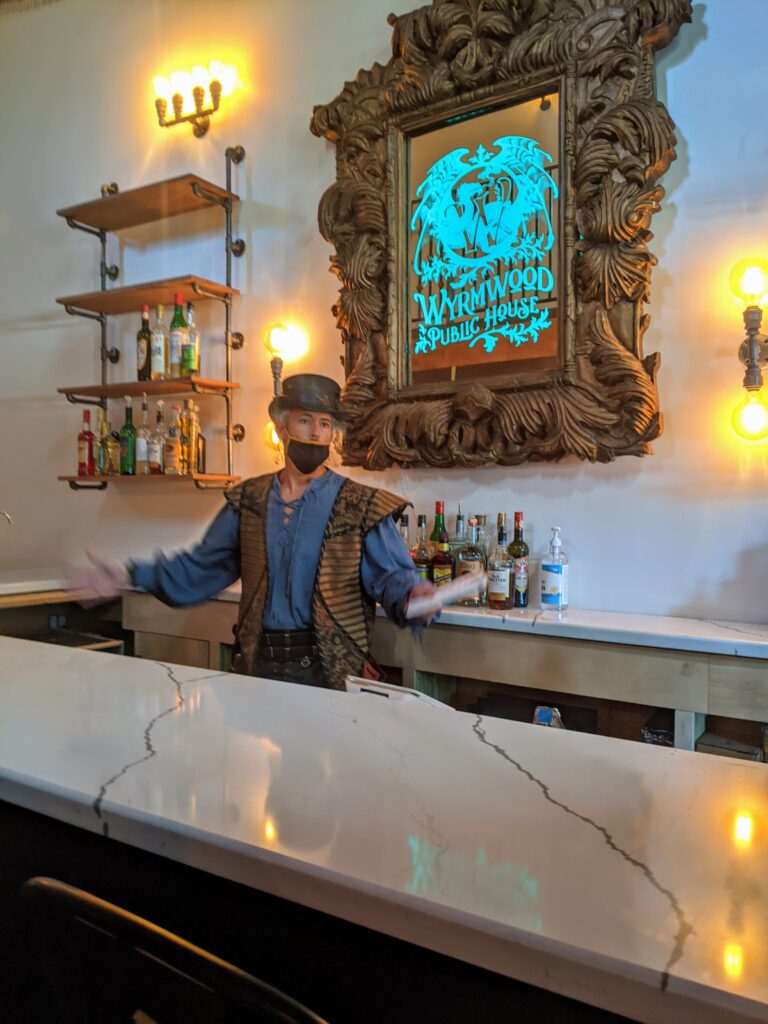 The venue will also host an aerialist show where you can even have your champagne poured by an aerialist.
The Texas Renaissance Festival is always a great time. If you've been, let me know your favorite part in the comments!