Lake Houston Wilderness Park is an expansive city park just north of Houston. It's the only city park that allows overnight camping.
Entering Lake Houston Wilderness Park, you'd be hard pressed to remember that you just left Houston city limits not far behind. Spanning over 4,700 acres, the park offers miles of trails, as well as a refreshing creek to cool off in.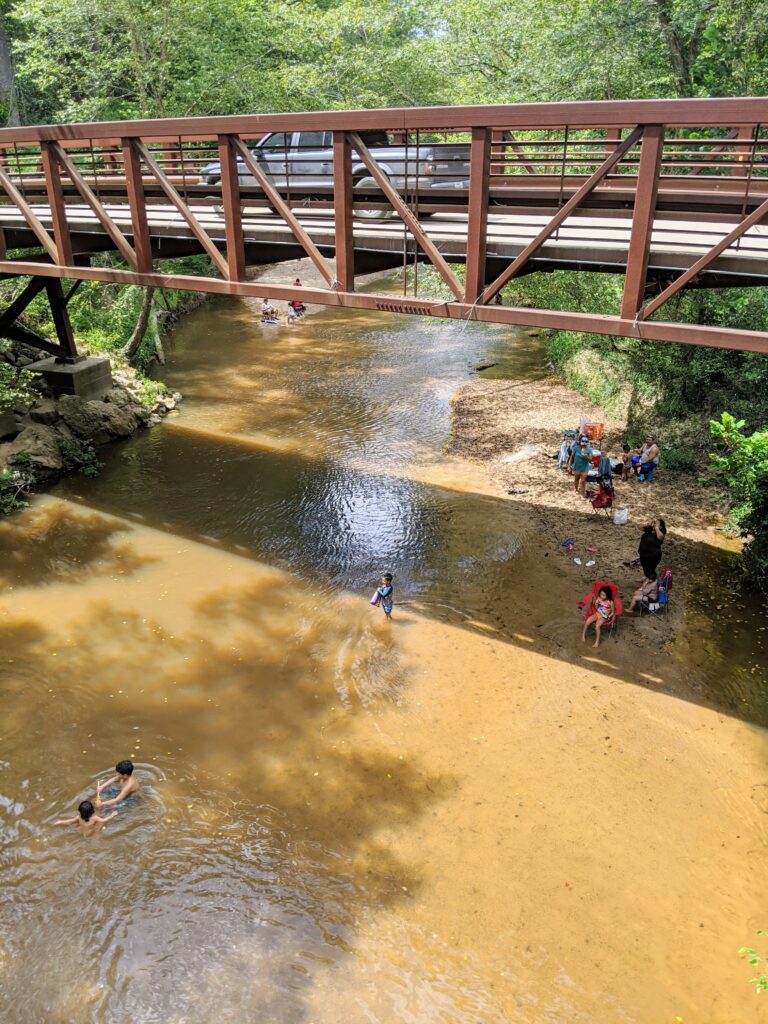 It's not all roses and butterflies though – the sad truth is that while Lake Houston Wilderness Park could be an amazing oasis, it doesn't seem to be very well maintained. Despite having our temperature taken at the front gate (which suggests a high level of care), we saw way too much trash as we walked along the creek's edge. Occasional glass bottles, aluminum cans, even a tire in the middle of the creek, all marred the natural beauty of our surroundings.
Then there was the creek itself. The water in the somewhat aptly named Peach Creek is definitely not a pristine blue. It's actually not any shade of blue. Or even green. It's brown. Chocolatey, muddy brown. Did that prevent us from enjoying splashing around and enjoying the cool, refreshing water? Nope. But in the interests of full disclosure, it had to be said.
We actually were under the impression that the creek was just for wading and splashing, so we didn't come prepared with swimsuits. In reality, there are parts that are deep enough for younger kids to enjoy swimming and most of the people we saw were in swimsuits. As we were fully dressed, we contented ourselves with walking through the water, downstream, to find a quiet spot.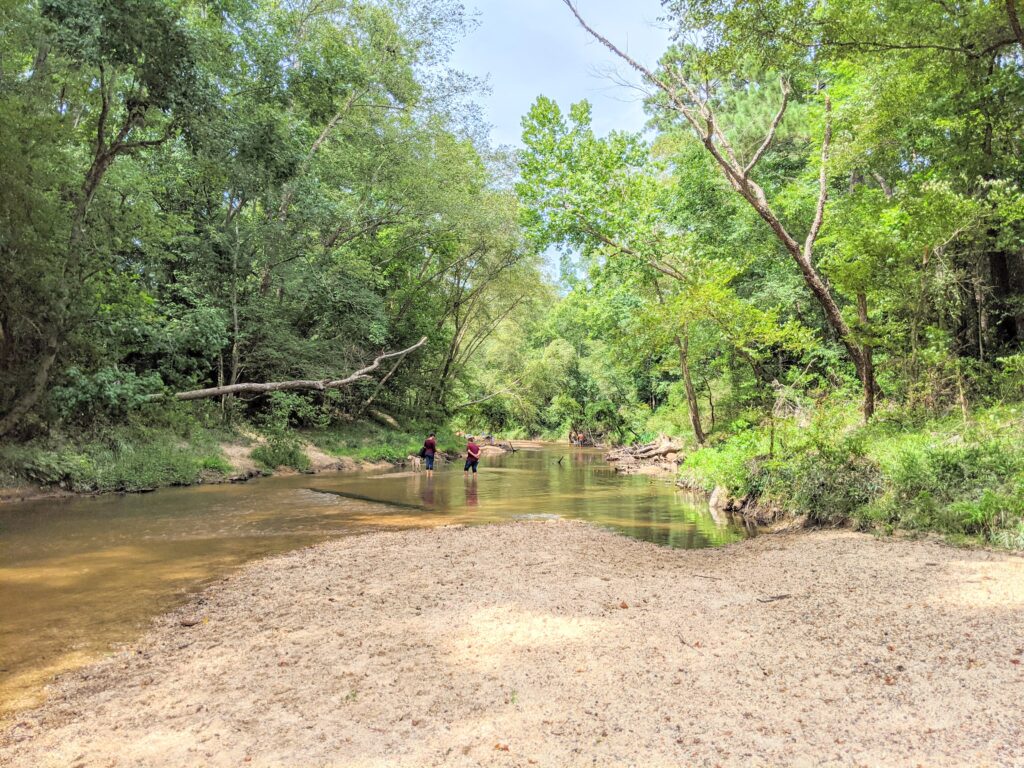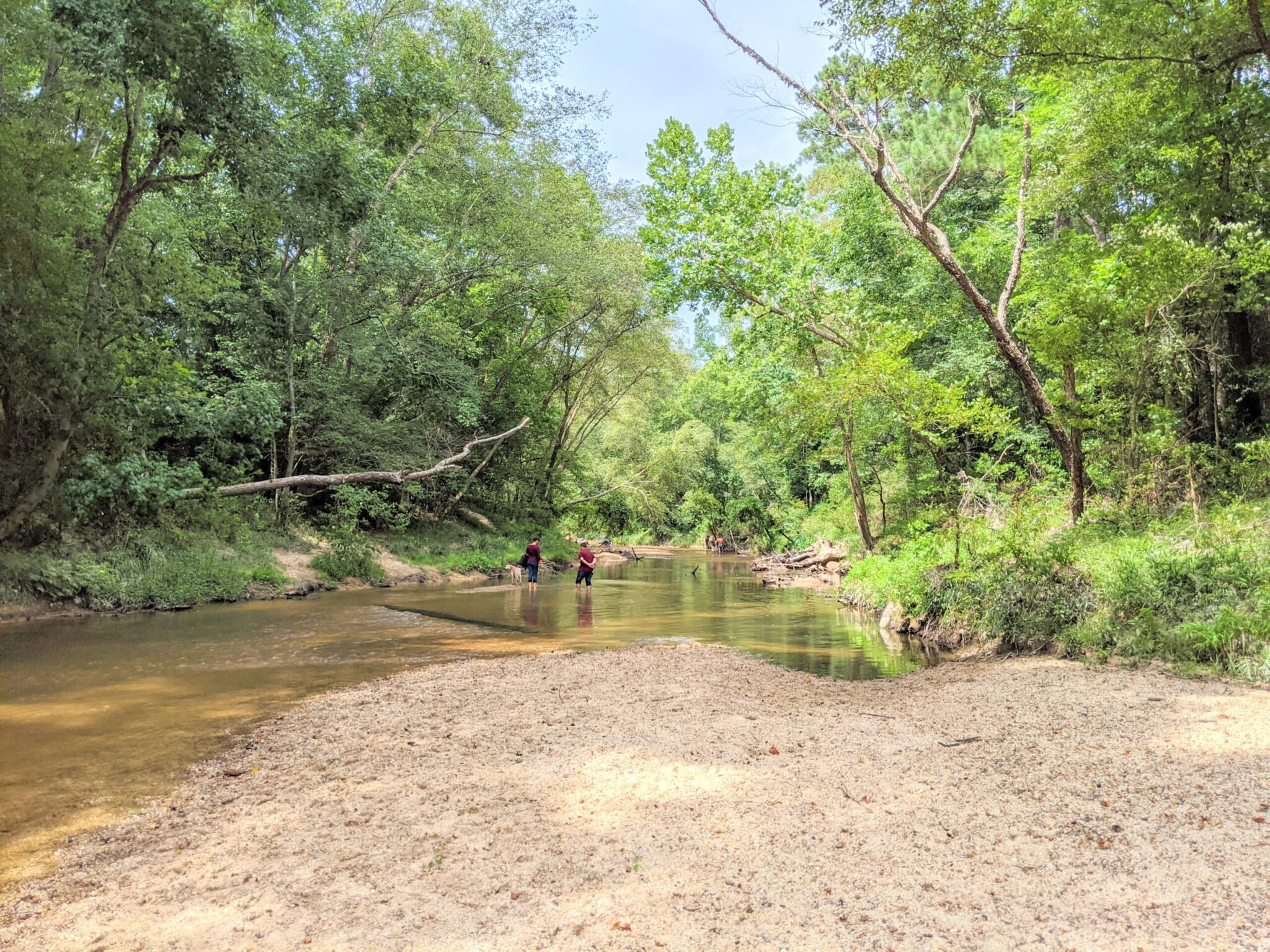 Most people were congregated near the bridge that leads from the parking area to the creek entrance, where there is also some soft sand. We found that as we walked down the stream, the crowds thinned considerably, until we could almost imagine we were the only ones for miles.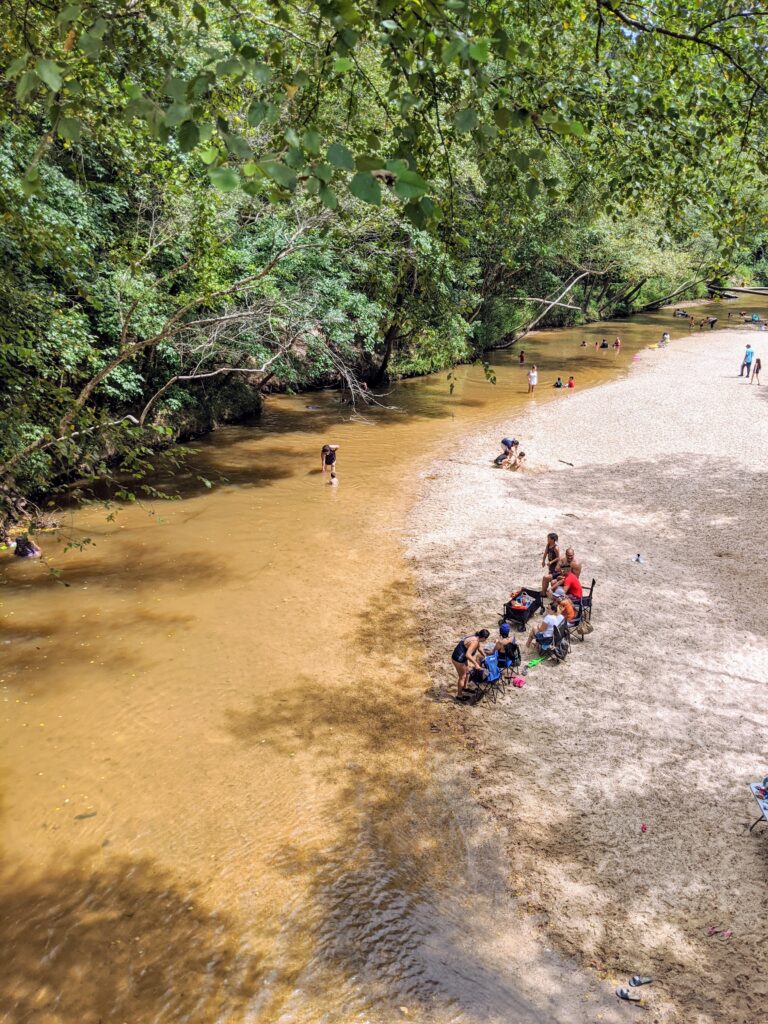 Along the way we saw makeshift swings hanging from branches that looked quite fun to swing from and jump into the water. They were pretty much always occupied, though, so we just moved on.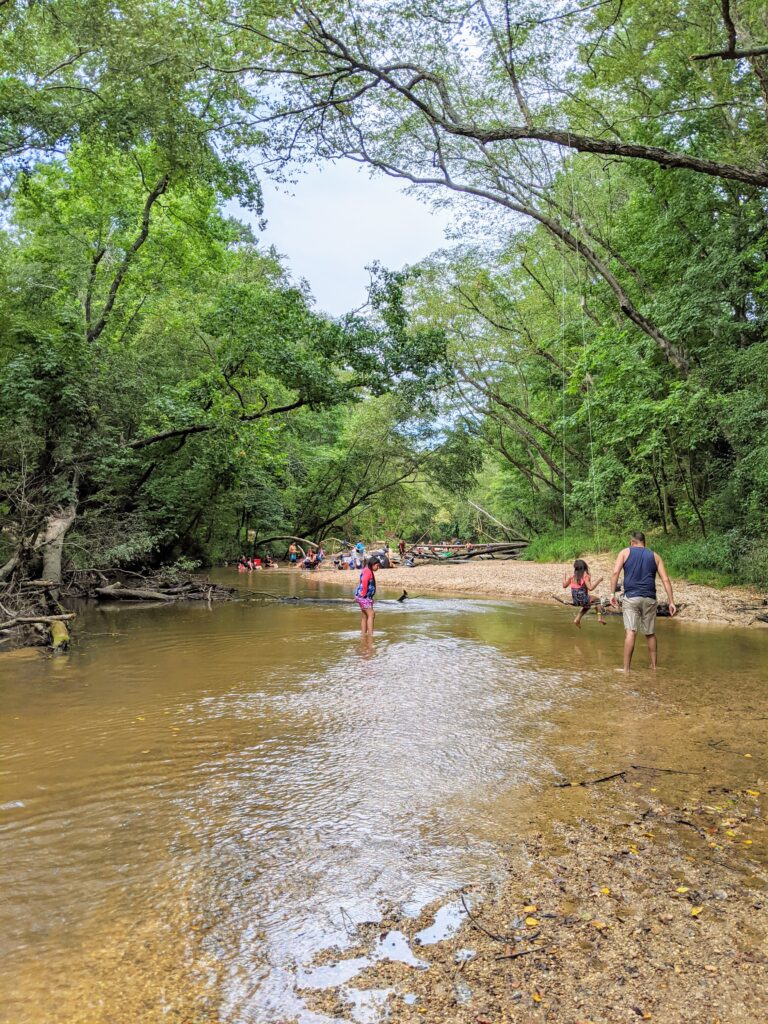 We also saw groups of people sitting in camping chairs in the water, drinking, coolers beside them, while the kids played next to them, so it seems like anything goes there.
The creek bottom is a mix of sand, rock, and at times, mud, and can be rough on bare feet. I'd definitely advise wearing water shoes.
Park signs warn of venomous snakes, but we, fortunately, did not encounter any.
While we preferred to hike IN the creek, due to the heat, there are also plenty of beautiful trails to actually hike when the weather allows for it.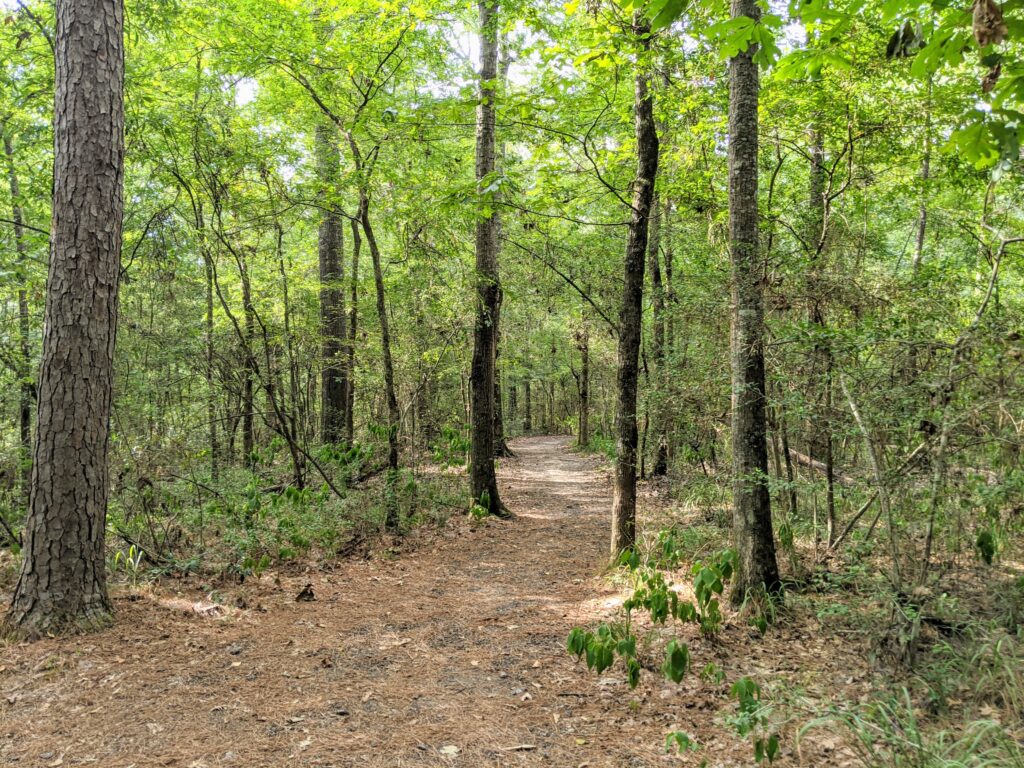 We are partial to barbecuing lakeside, so we hiked up to what was marked on the map as a lake. It turned out to be more of an oversized pond, but it did have some cabins surrounding it, so it's probably a nice place for camping. There were a few picnic tables, but we didn't see anywhere to park the car nearby, so we ended up barbecuing in the main area near the parking lot. It was fine, but paled in comparison to our sunset barbecue on Lake Somerville.
There is a small playground near some picnic tabes, which is currently roped off, due to COVID-19. It looked like it would be a fun place for kids to play while the food is being prepared, once it opens back up.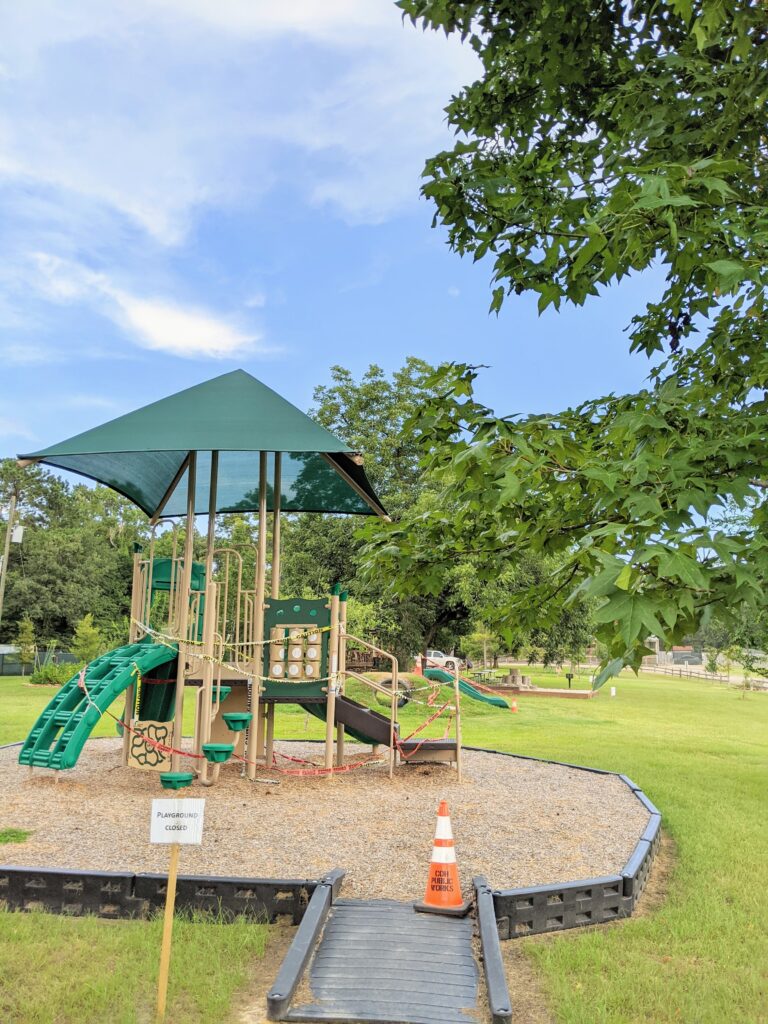 Location
Lake Houston Wilderness Park is located in New Caney, Texas, just north of Houston, at 25840 FM 1485 New Caney, TX 77357.
What Can You Do There?
Hike
Swim/wade/splash
Barbecue
Camp
Bike (bring your own)
Kayak (bring your own)
Ride Horseback (bring your own)
Things to Know
The water in Peach Creek is brown. If you're looking for beautiful clear water, look elsewhere.
The creek is rocky. Wear water shoes.
As of July 2020, Lake Houston Wilderness Park employees were taking the temperature of everyone in the car as you arrive.
No advance reservation is required for day use.
Despite the name, Lake Houston Wilderness Park does not actually provide access to Lake Houston. Instead, you can explore the creeks that empty into Lake Houston.
Cost
$3 per person aged 13 and up
Hours
7 AM until dark. (Note, Google says the park closes at 6 PM. This is not the case. Last car can enter around an hour before dark and all cars must be out by dark.)
Shade Level
The trails are very shady, with plenty of tall trees all around. The creek was also fairly shaded.
Crowd Level
The creekside was extremely crowded. We walked a bit downstream, however, and were able to find areas all to ourselves.
The trails are not as crowded.
Recommended Gear
Find more information at the Lake Houston Wilderness Park website.